Refosco Grape Varietals
Refosco has spent over a century shrouded in anonymity. Cultivated in discrete corners of northeastern Italy, Slovenia, and Croatia, the name 'Refosco' is only occasionally mentioned on wine labels. It is the equivalent of a globe-trotting spy, always in the shadows and adept at not attracting widespread attention. Yet, if there were an award for 'Europe's most esoteric wine style,' Refosco would be at the front of the queue.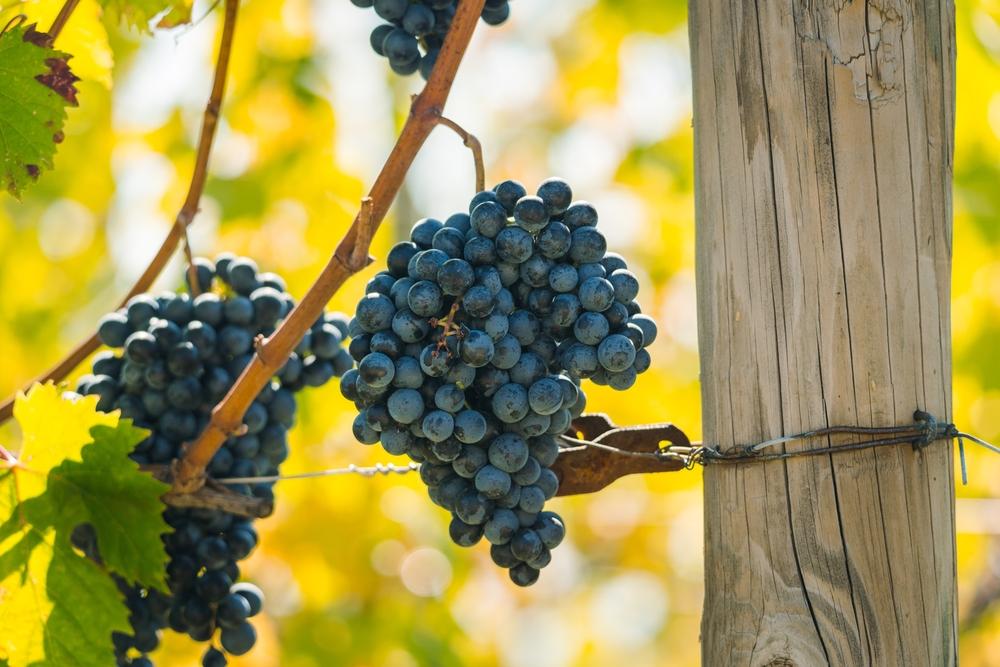 Yet, in this case, we're not talking about a single grape variety. Instead, the nomenclature refers to a family of closely related red grape varieties producing tannic and pungent wine. The dark-skinned Refosco can be subdivided into the following categories, each grape sharing common ancestry and genetic link. They would be pluralized as 'Refoschi' in Italian.
You can explore Friuli Wine Region with Cellar Tours on a private Luxury Food and Wine Vacation, dine in the best local restaurants, and enjoy VIP tastings in the top wineries.
Refosco dal Peduncolo Rosso
This is the pride and joy of select growers in the Friuli region of Italy. Its literal translation is 'Refosco with the red stems,' referring to the red stalks, or peduncle, which anchor grape bunches to the vine. The grape is generally considered superior to its brothers and sisters due to its fine tannins, ripe acidity, and mineral core. The best examples will improve in bottle for well over a decade, particularly when they are judiciously aged in new oak. Today, Refosco dal Peduncolo Rosso stands head and shoulders above the competition in Fruili-Venezia.
Refosco dal pedunculo verde
Also known as Refosko Istriano or Refosco d'Istria, this variety of Refosco is found in vineyards surrounding the city of Trieste, close to the Slovenian border. It also has a strong following in Croatia and Slovenia, where it is often matured in large oak vats for several years. The resulting wine style can be most accurately described as 'potent.' Rich, acidic and powerful wines to complement the robust dishes of the Croatian interior. Many wines can live for decades in bottle if properly stored and collared.
Tran/Terran
The specialty of the Carso appellation, situated along the coast around Trieste, is Istarski Teran, or Terrano according to the local synonym. It is also widely grown by producers over the border in Slovenia, producing a similar style of wine. However, it rarely equals the structure – or mineral refinement – of Refosco dal Penduncolo Rosso, made in the Colli Orientali DOC. Instead, the best wines tend to be rich and sturdy, requiring a few years bottle age to soften the occasionally astringent tannin.
Refosco di Faedis
There is very little Refosco di Faedis cultivated today, yet it retains a small and fiercely loyal following in the Faedis wine zone of Fruili, bordering Austria and Slovenia. Tiny volumes, to be sure, but superlative quality; fresh, zesty, and bursting with ripe acidity. Rarely exported, Refosco di Faedis will always remain a vacation discovery. Its Italian synonyms are Refoscone, Refosco Nostrano, and Refosco di Rochis.
Refosco Gentile and Refosco del Botton
Refosco Gentile (or Refosco di Rauscedo) and Refosco di Botton are the likely genetic offspring of Refosco di Faedis. Seldom cultivated, Refosco Gentile is on the verge of extinction, while di Botton is rarely seen. Two of Europe's rarest varietals indeed!
Refosco di Guarnieri
Refosco di Guarnieri is the genetic twin of the Trevisana Nera grape variety, grown in the Veneto region of northern Italy. Believed to have originated in the province of Treviso, the vast majority of Trevisana Nera is now grown in the vineyards surrounding the commune of Feltre, marketed under the IGT framework 'Vignetti delle Dolomiti.' There is also a small percentage of Refosco di Guarnieri cultivated in Fruili.
Ancient origins
Extensive scientific research and DNA profiling conducted in 2005 helped to shed some light on one of Europe's oldest viticultural mysteries: the origins of the Refosco grape? It was discovered that the Refosco family is a close genetic relative of the Valpolicella and Marzemino grape varieties, the latter being an ancient varietal grown in Trentino. This would support the theory that their genetic birthplace was the mountains of northern Italy and that Refosco was not a Greek import. Indeed, many viticulturists regard Refosco, under its numerous guises, as indigenous to this part of the world. There is also a popular theory that ancient Refosco was responsible for making the legendary Roman Puccinum, an aromatized beverage given to privileged Roman upper classes. Moreover, the Roman writer Pliny the Elder is said to have lauded its qualities in one of his many published works.
The best of Italian Refosco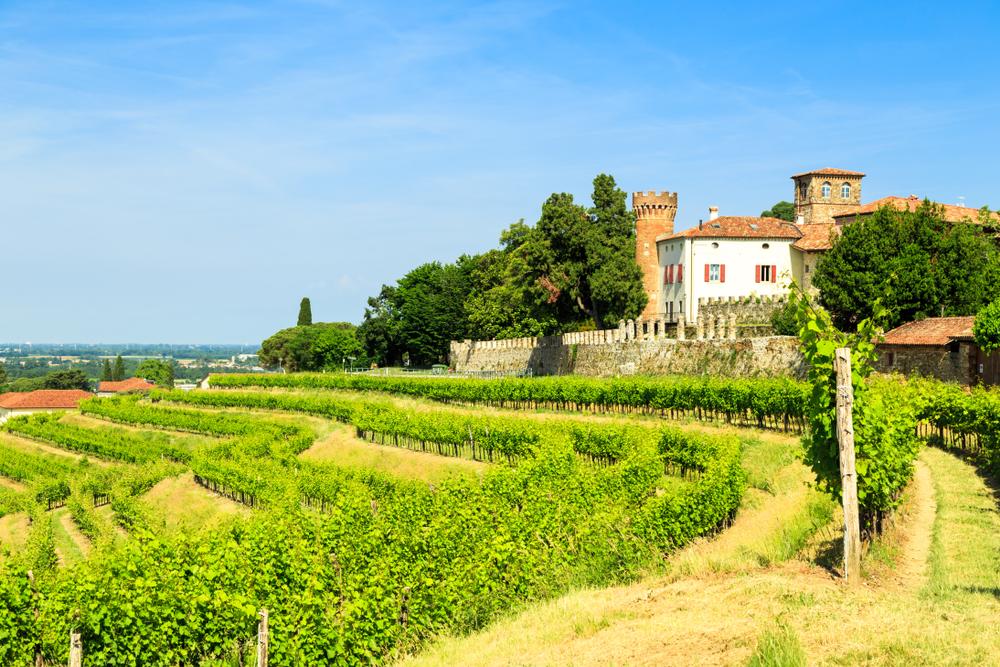 Vineyards of Buttrio, Fruili-Venezia
Wine journalists and critics are unanimous: the best Refosco in Europe is made in the hills of Fruili-Venezia. Unlike some other parts of Italy, Fruili is dominated by family estates and quality-focused growers. The region's most celebrated appellation is undoubtedly Colli Orientali DOC.
Located in the province of Udine, the appellation was created in 1970. It covers a broad range of red and white styles, with over 1,900 hectares under vine and a diverse mix of indigenous and imported grape varieties. The vineyards of the Colli Orientali boast an exceptional terroir, planted on complex, mineral-rich soils. Refosco dal Peduncolo Rosso has developed a noticeable synergy with the sedimentary marls and sandstone of the region, producing the most fragrant and racy wines imaginable. This is the seminal destination for authentic and premium-grade Refosco.
However, the local version of Refosco is not easy to cultivate. It is a late-ripening variety, prone to cropping at undesirably high levels if left unchecked. If the winemaker wishes to avoid producing acidic mouthwash, then judicious pruning and leaf pulling throughout the growing season are de rigueur. Many growers green harvest in the summer – this involves removing immature and slow-developing bunches from the vine, enabling the plant to focus its metabolism on ripening the healthy berries. For some species of variety, green harvesting is beneficial – for Refosco, it is essential.
After that, the winegrower faces a tough and precise balancing act. The vineyards of Colli Orientali, although protected from cooling winds by the Slovenian Alps to the northeast, often enjoy relatively cool autumns. With vines planted on slopes that rise to above 300 meters, the grower must aim to ripen the grape's hefty tannins before October rains set in. A difficult trade-off can occur between ripeness and freshness. Underripe Refosco is an unpleasant drink: anemic, astringent, and tart, and when overripened, Refosco is jammy and cloying.
Flip the coin to a perfect growing season, and you're left with a deeply-colored and powerful wine, with bags of fresh acidity. It resembles a cross between Valpolicella and Sangiovese, both in structure and flavor; in its youth, Colli Orientali Refosco is characterized by signature aromas of red berries, particularly dried cherry and raspberry. With age, notes of coffee, aniseed, and wood smoke should emerge. It is a very flexible and adaptable variety, often complementing blends including Cabernet Franc and/or Merlot. Under the Colli Orientali DOC rules, both single-varietal and blended styles may be produced.
Does Colli Orientali have a rival? It would probably be the Carso DOC, an appellation situated on the Adriatic coast, west of Slovenia. The term Carso means 'Rocky Land,' which is an apt summation of the local terroir. Vineyards are planted on a steep plateau of calcareous soils: ancient limestone and sandy marl. The topography of the region, however, varies enormously. The upland zone is very undulating, with steep slopes and concomitant cool growing seasons, even in summer. But move south towards the lowland vineyards of Trieste, and you'll encounter a more Mediterranean climate, marked by warm summers and temperate winters. The local Refosco variety responds well to these iron-rich soils, producing wines of moderate alcohol, racy acidity, and piercing aromatics. The trademark bouquet of violets, sour cherry, and raspberry is impossible to resist, particularly when joined by Friulian cuisine.
Food Pairings
Refosco is rarely a wine that lacks tannin or 'presence.' Its moment arrives when dinner is served, cutting through all manner of rich and robust dishes with its famous acid line and grippy tannins. The Fruilians are passionate gastronomes, embracing culinary influences from northern Italy, Austria, and neighboring Slovenia. Indeed, cultural complexity is a hallmark of Fruili-Venezia. Venetian cicheti will often appear alongside salt cod and polenta, cuttlefish stew, boiled pork, and sauerkraut. Refosco can handle them all.
Of course, many visitors would not even be aware that Refosco is gracing their table. The dramatic shift of emphasis from place to grape over the past 40 years has done esoteric Italian varietals no favors, 'obscured' as they are by appellation laws and regional labeling. The Refosco family of grape varieties will probably never achieve fame or fortune. But they offer rich rewards for the oenophile who covets the road less traveled.
Top producers of Refosco wines: