A narrow, winding road flanked by vineyards and lined with straight-as-an-arrow cypress trees leads through the undulating Tuscan hillside toward the Poggio Antico Winery. The setting – a rustic 200-hectare estate, dominated by woodlands, olive groves, and vineyards – is spectacular, but no less so are the stellar wines produced by this family-run Montalcino winery. The iconic Brunello di Montalcino wine was the first in Italy to receive the most prestigious wine classification, D.O.C.G. (Denominazione di Origine Controllata e Garantita – controlled and guaranteed from the origin), and along with other wines, has been consistently praised in international media.
Poggio Antico, one of the highest-altitude estates in Tuscany, dates to the early 19th century, although no wine was made here until the 1970s when a wine cellar was built. In 1984, the Milanese couple Giancarlo and Nuccia Gloder, who had fallen in love with the estate, its wines, and this beautiful corner of Tuscany, bought Poggio Antico. Since 1987, their daughter Paola has managed the winery; in 1998, her husband, Alberto Montefiori, joined her.
The estate's high altitude – which ensures cool nights – leaves an unmistakable footprint on the wines made here, creating a full bouquet that's hard to find elsewhere in Montalcino. Enjoy a tour and VIP tasting at this exquisite winery while on a Private Wine Tour of Montalcino, organized with Cellar Tours.
Wines produced
Poggio Antico - Brunello di Montalcino Riserva

100% Sangiovese - 13,5% alc. Only made in best vintages. Minimum 5 years aging between oak and bottle.

Poggio Antico - Brunello di Montalcino "Altero"

100% Sangiovese - 13,5% alc. Modern style Brunello aged in large tonneaux French oak for two years.

Poggio Antico - Brunello di Montalcino

100% Sangiovese - 13,5% alc. Aged for minimum three years in large oak barrels.

Poggio Antico - Madre

50% Sangiovese & 50% Cabernet Sauvignon - 13,5% alc. This is Poggio Antico's premium Super Tuscan wine, tiny production.

Poggio Antico - Rosso di Montalcino

100% Sangiovese - 13,5% alc. Young wine with fresher acidity.
Winery details
53024 Montalcino (Siena)
Italy
Tel +39 0577 848044
Fax +39 0577 846563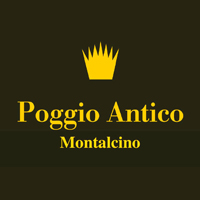 Appellation

(DOCG) Brunello di Montalcino

Founded

1970's

Area under vine

2.5 hectares (80 acres) of the estate are under vine. Of these, 15.5 hectares (38 acres) date from the '70s and are in the process of being uprooted and replanted in order to increase the plant density, which used to be 3,300 vines per hectare (1,350 vines per acre) and in the new vineyards is now 6,060 (2,453 vines per acre). Another 17 hectares (42 acres) were planted in May 1997 and May 2001.

Age of vines

15.5 hectares date from the 1970s, 17 hectares date from 1997-2001

Oak barrel origin

New Slovenian oak barrels and 500 Liter French oak barrels are used. The two sizes of barrels affect bouquet and tannin differently, so they may be alternated to differentiate the wines.
Winemaker

Alberto Montefiori & Paola Gloder

Owner

Gloder Family

Production

For pre-2001 vintages, production is 75-80,000 bottles (about 6,500 cases) annually. For the 2001 and later vintages, total production is 90-95,000 bottles (about 7,700 cases).

Grape varietals

30 hectares (74 acres) are planted with Sangiovese and 2.5 hectares (6 acres) with Cabernet Sauvignon