Óbidos is one of Portugal's loveliest villages, located in the center of the country in the Ribatejo region. It is a "must-see", if visiting central Portugal, along with the nearby beautiful villages of Batalha, Santarem, and Tomar. Óbidos is extremely picturesque with an enormous preserved castle crowing the village, and narrow cobblestoned streets lined with bougainvillea filled balconies leading up to it. Like many Iberian cities, it was founded by the Celts and later occupied by Romans, Visigoths, and Moors. Finally, the warrior King Alfonso Henriques captured the town from the Moors back in the 12th century. An unusual tradition was born a century later: in 1282, King Denis gave the village of Óbidos as an extravagant wedding gift to his queen, Isabel. From then on, until the 19th century, the actual town of Óbidos was part of the dowry of all Portuguese queens! Today, Óbidos is called "The Wedding City" and indeed attracts plenty of lovers and honeymooners to its charming and very romantic old town.
This pretty village looks much as you imagine it did back in 1282, with ancient streets, medieval walls, and whitewashed houses. It's hard to imagine that in 1755 it suffered massive damage from an earthquake, and only fifty years after that was again punished, being the site of fierce Napoleonic wars. Luckily, much of the village survives, and in the late 20th century, the Portuguese government began significant repairs to many of the ancient buildings. Today, visitors can even sleep in the amazing castle, which has been converted into a luxurious "Pousada," a historic Portuguese hotel. There are a few times during the year that are particularly special to visit Óbidos, namely for the Ancient Music festival held in October and at Christmas time when it comes alive with nativity scenes, Christmas markets, and live entertainment.
Gastronomy & Wine
Portuguese cuisine in the center of the country is, like other regions, heavy on seafood. Camarões (shrimp), Carapau (mackerel) and Anchovas (anchovies) can all be found on local menus. Also typical in the Ribatejo is roast meat, often prepared on fiery grills. Many restaurants in the region offer outdoor dining, where you can enjoy freshly roasted beef along with rich, local wines. The wines of Ribatejo are quite well-known, mostly dry reds. Top wineries include the "Quinta de Alorna" and the "Convento de Tomar". Vegetables also feature heavily on the menu, as the region is highly agricultural, and you will find plenty of veggies and beans ("Favas" and "Feijãos").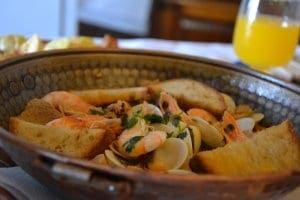 Highlights
The Igreja de Santa Maria

Located in the central square, the "Praça", this gorgeous church was interestingly chosen as the site for the child-king, King Alfonso V's, wedding at his tender age of 10! Perhaps even more bizarre is that his fiancée was his 8-year-old cousin, Isabel. This was back in 1444; times were quite different then indeed. Most of what you see in the church now though dates back to the Renaissance period although there are perfectly preserved 17th-century Portuguese blue "Azulejos" (tilework that was brought to Portugal by the Moors).

Take in the delightful medieval village of Obidos on our Portugal Wine Tours. As part of a longer trip (link to Portuguese Odyssey) or as a day excursion from Lisbon, Obidos is a "must see".

Caldas da Rainha

Literally, the "Queen's Spa", this little town located only a few miles north of Óbidos became famous for its healing waters and was founded as a Royal Spa back in 1484, by the Queen Leonor (the wife of King Joao II). These days the town is more famous for its pottery and its Jewish heritage (during WWII, hundreds of Jewish refugees settled in this Portuguese city, creating a lively Jewish community.)