The term 'cross' can occasionally invoke negative connotations in the wine trade. It implies something artificial, unnatural, and perhaps even unauthentic. Nothing could be further from the truth; vine crossings have occurred throughout history and are responsible for such noble grape varieties as Pinot Noir and Cabernet Sauvignon.
Read more about Portuguese Red Wine
You can explore the Portuguese Wine Regions with Cellar Tours on a private Luxury Food and Wine Vacation, dine in the best local restaurants, and enjoy VIP tastings in the top wineries.
Alicante Bouschet, however, owes its origins to the ingenuity of one man: Henri Bouschet. Admittedly, it was initially created as a workhorse varietal, used to bolster the color and weight of Mediterranean bulk wines in the 1800s. Yet, in the 20th century, growers reevaluated their attitudes to the grape, coaxing quality out of Alicante Bouschet rather than simply quantity. As a result, it has become a symbol of Portugal's modern-day confidence and international clout, contributing a great deal to the potent red wines of Alentejo in the south. Once maligned by quality-focused producers, Alicante Bouschet has undergone a long-overdue renaissance. It is now on the premium wine map.

Alicante Bouschet Vineyards in Alentejo
History and viticulture
There is a long tradition of scientists crossing different varieties of Vitis vinifera. Like clonal selection (it is said that there are over 1,000 different Pinot Noir clones in Burgundy), crosses are used to achieve a consistent level of quality and to enhance the vine's disease protection. Muller-Thurgau, for example, was created in the 19th century by crossing Riesling and Madeleine Royale. Meanwhile, Alicante Bouschet came into being in 1866 after Henri Bouschet crossed Petit Bouschet with Grenache. Robust, hardy, and capable of delivering substantial yields, the variety soon found a willing audience worldwide. It became embedded in the South of France after phylloxera devastated Europe's wine industry in the late 19th century, even reaching Bordeaux and Burgundy.
Alicante Bouschet was also exported to the US, again appreciated for its inherent strength and generous crop size. Yet as the late-20th century saw consumers prioritize premium styles, Alicante Bouschet became viewed as an anachronism – at least by quality-led growers. Over the past two decades, winemakers have started to take the variety seriously, focusing on better site selection and more restrained fermentation and maturation.
Indeed, it is possible to coax greatness out of Alicante Bouschet, but it is far from straightforward. It is known as a "teinturier" in winemaker circles – this refers to a certain type of Vitis vinifera with darkly-colored flesh. In most red grape varieties, the pulp is crystal clear, as is the juice.
As a result, it is easy to produce over-extracted and inky black wine from Alicante Bouschet – simultaneously full-bodied and yet 'empty.' Without constant pruning, the variety can deliver yields of over 80 hectoliters per hectare; the rule of thumb is that anything over 50hl/ha gives lackluster wine. In addition, it is prone to grapevine diseases like anthracnose and downy mildew. In short, it isn't easy to grow if you aspire to quality.
So how should one manage this early ripening conundrum? First, a precise set of conditions must align poor, infertile soils, old vines, and constant pruning through the growing season. Only then will Alicante Bouschet shine in bottle, producing structured and concentrated red wines.
Winemaking
In broad strokes, there are two schools of thought regarding the best way to handle Alicante Bouschet. One is to accentuate the natural qualities of the grape, extracting the maximum color, alcohol, and flavor, creating a very voluptuous style of wine. What emerges in bottle can be wonderful when paired with grilled meat dishes and heavy casseroles. This category of red may lack subtlety, but ripe Alicante Bouschet can offer unparalleled strength and concentration.
But this paradigm is not without its detractors. To keep acidity levels in balance, certain winemakers prefer to produce a more restrained and fresh style, scaling back the extraction and picking earlier than their neighbors. A gentle pump-over should extract just the right amount of tannin and color in the winery. Modern firms typically use stainless steel tanks to carefully monitor fermentation temperature – lower temperatures help maintain the grape's exuberant fruitiness. The wine will be racked and transferred to a new vessel for maturation when making premium styles. Cheaper brands are bottled relatively quickly.
Like Grenache, oenologists are divided regarding the role that the new French barrique should play. There is no doubt that Alicante Bouschet will manage a certain percentage of new oak without being overwhelmed; the grape's formidable structure can mesh very well with cedarwood and vanilla flavors. But concrete and aging in amphora are currently in vogue, subjecting the wine to gentle oxidation without absorbing any flavor from the barrel. Concrete can offer the best of both worlds if a lighter, more subtle version of Alicante Bouschet is sought.
Today, both mono-varietal and blended styles are available on the market. Alicante Bouschet is inherently suited to blending, bolstering the color and tannin of wines made in the Mediterranean. The most harmonious marriages tend to be with Grenache, Tempranillo, and even Syrah.
Yet to get a feel for this misunderstood red grape, it's best to seek out a single-varietal brand. Textbook Alicante Bouschet will reveal itself in a heartbeat; the pungency of crushed black fruit, white pepper, and cinnamon. The palate should combine boldness with finesse, with notes of blackberries, plum, and sour cherry – age will bring forth mocha and tobacco. The best wines pivot between freshness and concentration, with a force of personality that is seldom found in other grape varieties. A poor example will be full and heavy, with no depth or length on the mid-palate. Such wines are best left alone.
Alicante Bouschet's future in Alentejo
While Alicante Bouschet is planted in many regions, including California, Chile, and Spain, Alentejo's finest expressions are undoubtedly made. Once known as "the breadbasket" of Europe, the vineyards encompass a large expanse of south-eastern Portugal, covering almost a third of the nation. As a result, winegrowers have an unrivaled variety of terroirs at their disposal, from fertile loamy soils interspersed with metamorphic rock and limestone outcrops. However, the climate can be a challenge; thousands of hours of sunshine a year can easily lead to overripe and aggressively alcoholic red wines.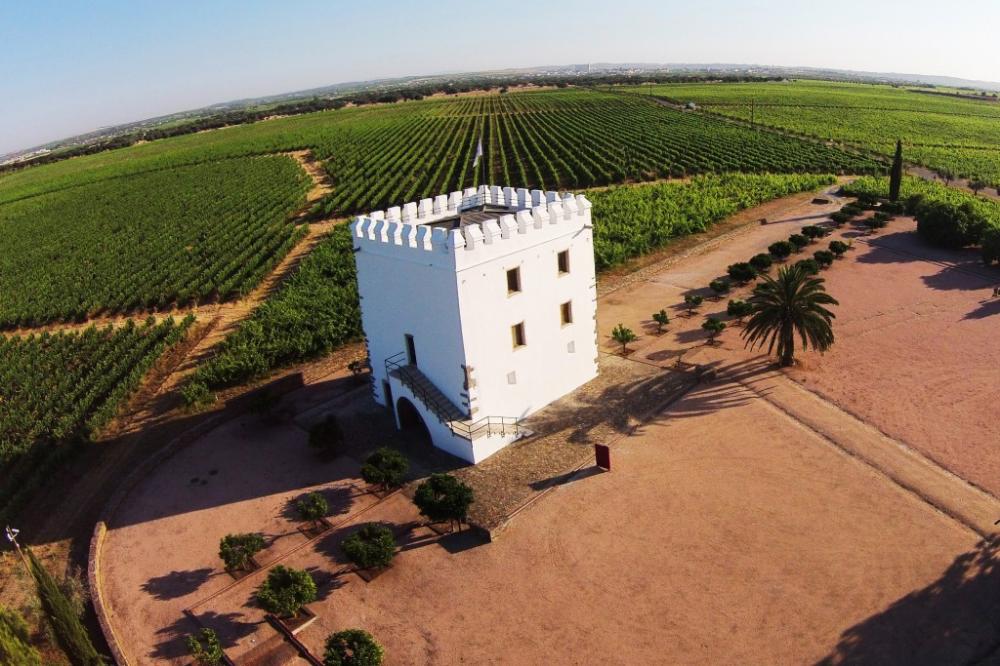 Historical tower and vineyards at Herdade do Esporão winery
Unfortunately, this was the standard Alentejo flag bearer of the 1980s. The region was formerly dominated by government cooperatives in the 20th century, churning out vast quantities of plonk. Then came the pioneers, such as Australian winemaker David Bavistock at Herdade do Esporão.  Men like Bavistock helped turn it all around, encouraging wider investment from domestic firms and global capital. Contemporary Alentejo is now full of boutique wine estates, with a tourism offering that can match Stellenbosch and Napa for choice and quality. Indeed, many of Alentejo's best restaurants are found in the wineries, as if you needed another excuse to visit this stunning part of Portugal! Today, Alentejo is anything but static. Its viticulture is being transformed.
The quality of Alicante Bouschet now being made in Alentejo is a testament to this ongoing revolution. Growers are increasingly seeking out cooler sites in the sub-region of Portalegre, where vineyards can rise to 1000 meters above sea level. Rainfall is higher than in the south, with later harvests and abundant granite and schist soils. With first-rate raw materials, winemakers can craft wines that would have been unthinkable 25 years ago. There is a nobility to contemporary Alicante Bouschet, a precise and vibrant style of red wine that has not forgotten its roots. A reminder, then, that freshness and power are not necessarily mutually exclusive.
Top producers of Alicante Bouschet: