La Pesquera, in 1972, Alejandro Fernández and his wife Esperanza licensed their bodega in Pesquera. This was well before Ribera del Duero was a well-known region for quality wines. The 16th-century lagar and press house serving as grape receiving and processing through the 1982 harvest. (His machine shop, which ceased business in 1985, still serves as the source for stainless tanks and countless other items for vineyard and bodega.) The barriques are a mix of American, Spanish, and French oak, custom-cured and made by Spain's finest coopers. Alejandro developed and expanded vineyards, his Viña Alta in 1972, the area's first to be wire-trained. A current total of over 500 acres of mature vineyard is spread out over a variety of terroirs. Wines produced by Alejandro Fernández are made exclusively from the difficult, quick-maturing Tempranillo variety, of which he is considered a master. His world-famous Tinto Pesquera has aged a minimum of 18 months in oak, with selected Reservas and Grandes Reservas remaining in barrel for 24 months and longer. Other excellent wines by Alejandro Fernández include Condado de Haza, Dehesa la Granja (In Zamora, near Toro), and El Vinculo (In Ciudad Real, La Mancha).
Wines produced
Pesquera Crianza

100% Tempranillo, 18 months in oak.

Pesquera Reserva

Tempranillo, 24-36 months in oak.

Pesquera Gran Reserva

100% Tempranillo, 36-48 months in oak and bottle.

Pesquera Janus Gran Reserva

100% Tempranillo, 36-48 months in oak and bottle.
Winery details
C/ Real n. 2,
47315, Pesquera de Duero
Valladolid
Tel +34 983 870 037
Fax +34 989 870 088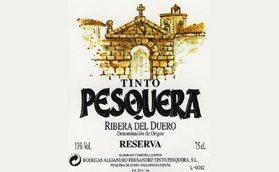 Appellation

Ribera del Duero

Founded

1975

Area under vine

150 ha

Age of vines

100 year old vines

Oak barrel origin

American
Winemaker

Eva Maria Fernandez

Owner

Alejandro Fernandez

Grape varietals

Tempranillo