One of Spain's genuinely legendary winemaking regions, the pristinely rural Ribera de Duero in central Spain, is home to some of the world's best and most exclusive red wines and an alluring destination for wine tasting tours. Laid out on a sprawling plateau along the Duero river banks, just 120km north of Madrid, Ribera del Duero is a land of extremes. Biting winters, sun-bleached summers, and high altitudes work hand-in-hand with clayey, silty, and limestone soils to create the ideal conditions for Tinto Fino, the local name for the Tempranillo grape, which makes up 95 percent of wine production. In 1982 the Denominación de Origen (D.O.) of Ribera del Duero was founded by an association of wineries and growers to improve the quality of the region's wines and ensure regulatory standards
The heart of the Ribera del Duero is the Milla de Oro, or Golden Mile, a short strip of land hugging the Duero River (which runs west toward Portugal, slicing through the Spanish wine regions of Toro and Rueda before becoming the Douro and nourishing Portugal's Douro and Porto regions). The Milla de Oro looks no different than the countless rows of vineyards cutting across the landscape nearby, but this is the home of iconic wineries like Vega Sicilia, Pingus, Abadia Retuerta, and Mauro. The unique terroir here first proved that this often harsh and arid region could produce exquisitely expressive reds that would become renowned worldwide.
Visiting
Cellar Tours organizes exclusive luxury Ribera del Duero Wine Tours, featuring top producers, privately chauffeured, dining in the best local restaurants, and staying in charming countryside hotels.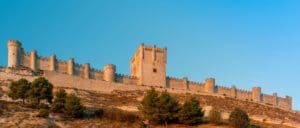 History
Wine has been made in the area since the Roman era, but it only became widespread with monasteries' arrival in a story repeated throughout the world. Although producers like Vega Sicilia have been making world-class wine here for more than a century, the region's true winemaking boom did not come until the late 20th century. These days, however, the region has a sealed reputation for outstanding quality and good value. In 2017 the region had 288 wineries producing 97.8 million bottles of wine; with 22,500 ha under vine. Ribera del Duero is second only to Rioja in the volume of D.O. wine sold within Spain.
Although Ribera del Duero is above all a rural region, with vast swaths of vineyards standing between each town, several lovely villages are scattered about. Winemaking is centered in Peñafiel, Roa, Aranda de Duero, and San Esteban de Gormaz, which all sit along the river Duero banks. The region straddles four historic Spanish provinces: Burgos, Segovia, Soria, and Valladolid, so monuments including medieval cathedrals, Roman-era constructions, fortresses, and castles are within easy driving distance to the vineyards and winemaking villages. Throughout the region, you will find the hearty countryside cuisine; central Spain is famous for rich pork dishes and delicious cured Spanish Ham, flavorful sheep cheeses, roasted lamb, and wonderful stews.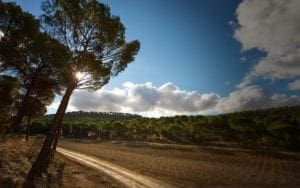 Geography
The Ribera del Duero region is located on a plateau south of Burgos. It extends approximately 117km between Valladolid in the west and Soria in the east, following the Duero river course, which has deposited sediment and clayey sand on the vineyards over the millennia. The plateau ranges in altitude from 700m to 900m above sea level. In the summer, the temperatures can exceed 40C, while the winter temperatures can drop below zero. On average, the region receives over 2400 hours of sunshine per anum, perfect for vines' cultivation.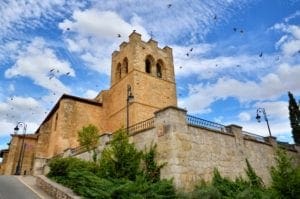 Riberia del Duero Wine Region Map
Located in Castilla y Leon, halfway between Bilbao and Madrid, Ribera del Duero is a vast and arid fine wine region punctuated with Crusader castles and mile after mile of vineyards. The primary grape here is Tinto Fino (AKA Tempranillo), and it is used to make a range of mid-level all the way up to ultra-premium wines. Vega Sicilia and Pingus are wine royalty at the super top end. At the same time, fabulous premium level bodegas include Pesquera, Mauro, Emilio Moro, Aalto, Hacienda Monasterio, Pago de Los Capellanes Lopez de Cristobal, to name but a few of the excellent wine estates in Ribera. Towns of interest in the region include historic Peñafiel, medieval Peñaranda de Duero, and Aranda de Duero with its gorgeous underground wine tunnels. Foodies are well served at Michelin starred Le Domaine at the Abadia Retuerta wine estate, which also houses a stunning hotel in a converted monastery.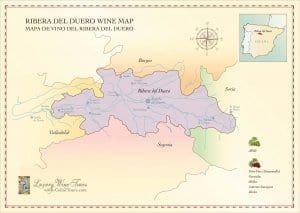 The home of Spanish bold reds
If you're searching for bold reds, look no further. Ribera del Duero answers the call with aromatic Tinto Fino wines that seduce with intensity and balance. Miniscule quantities of Cabernet Sauvignon, Syrah, Garnacha, Malbec, and Merlot are also grown, although these varieties are used almost exclusively for blending. Above all, you can expect a top Ribera del Duero to be structured with a good body and powerful fruit flavors that rub shoulders with none-too-subtle woody notes.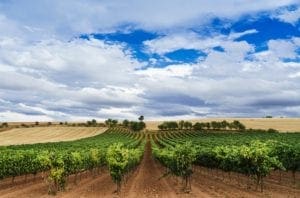 Aging Requirements
Crianza  – wines with a minimum aging of 24 months, of which at least one year is in oak barrels and the remainder in bottle
Reserva – wines with a minimum aging of 36 months, of which at least one year must be in oak barrel and the rest in bottle.
Gran Reserva – wines with a minimum aging of five years must be in oak barrels and the rest in bottle for at least two years.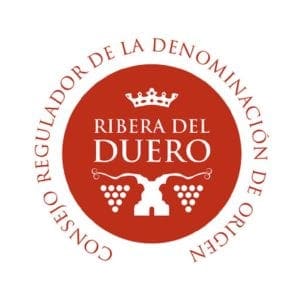 Recommended Wine Producers in Ribera Del Duero Wine Region