Brittany is the ultimate travel destination for lovers of the great outdoors, the sea, and diverse cuisine. The historic French region lies on France's west coast encompassing the peninsula above Nantes and the Loire Valley. The English Channel enfolds Brittany to the north, and the Bay of Biscay surrounds the region from the south. Historically, the Celts inhabited this piece of France, one of the most important agricultural areas today. The region's varied geography and rich history have shaped Breton cuisine into a gastronomic wealth of ingredients from land and sea.
Read more in our Guide to French Cuisine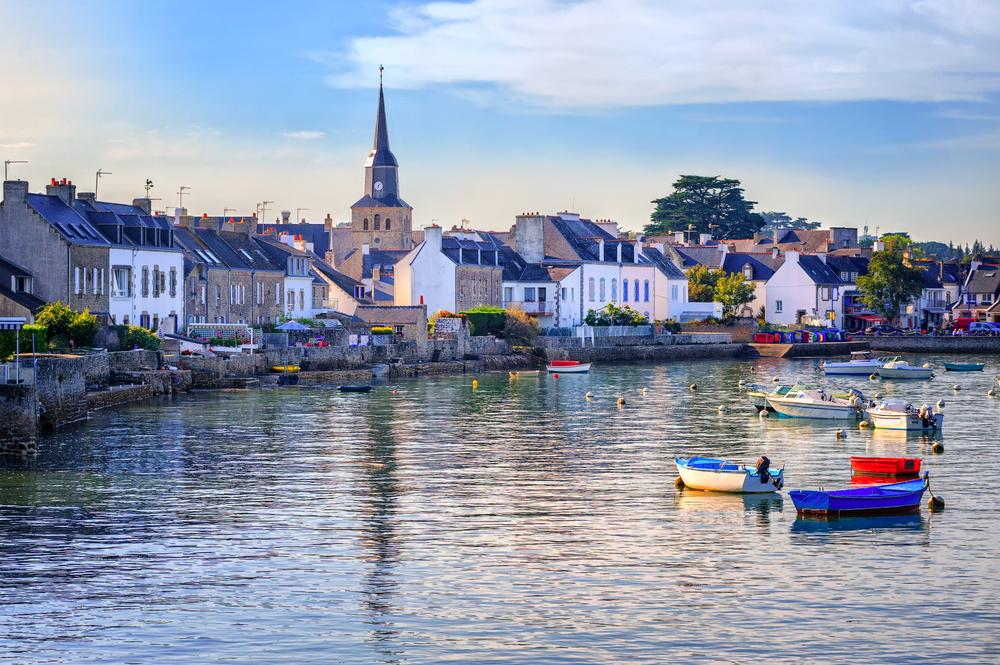 What Breton Cuisine is All About
A Bounty of Seafood
Seafood enthusiasts have a lot to look forward to in Brittany. As France's most Atlantic region and a peninsula encapsulated by water, shellfish, mollusks, and fish abound. Some of the most famous aquatic specialties include Coquille Saint-Jacques des Côtes-d'Armor (king scallops), Moules de Bouchot de la Baie du Mont-Saint-Michel (mussels), Belon and Cancale oysters, langoustines, and Breton sardines.
Oysters are cultivated amidst the waters of northern and southern Brittany in twelve main growing areas. Their umami-driven, saltwater flavors pair best with a glass of dry Muscadet from nearby Nantes. Then, slurp them up fresh along the coast of Brittany with sweeping ocean views.
Brittany's king scallops come from the Côtes-d'Amor region. Coquille Saint-Jacques can't be missed whether sautéed in butter and wine, prepared as a gratin, or baked covered in cheese. You'll find local mussels on the menu as moules frittes and moules marinières. Order moules frites when craving crispy, salty French fries to complement the mussels' melt-in-your-mouth, delicate texture. In contrast, moules marinières offer even more flavor, as the mussels are steamed in white wine, butter, shallots, parsley, and other herbs.
For those who can't pick just one seafood specialty, there's always the Breton seafood platter stacked high with an assortment of fresh seafood. Or when colder weather arrives, try soupe de poissions, a flavorful fish-based soup, and cotriade, a stew rich with a variety of seafood.

Seafood market in Brittany
Other Gastronomic Specialties of Bretagne
Besides seafood, Brittany is a livestock breeding and dairy production leader, with over 16,000 dairy farms. Cows grazing on the verdant Breton pastures produce delicious milk, which goes into the world-famous Breton butter. Used in most recipes in Breton cuisine; this butter is salted with the equally revered fleur de sel de Guérande. Widely recognized as one of the world's finest salts, fleur de sel is collected from the Atlantic through a series of intricate marshes in Guérande.
Buckwheat is also a prominent staple in the Breton kitchen. It's the key ingredient behind the region's famous savory galettes and is used in various regional products. Enjoy a glass of cider, Brittany's main beverage of choice, alongside these buckwheat pancakes or sweet crepes. Just as in Normandy, cider is hugely popular in Bretagne where over 600 apple varieties grow. Still, sparkling, dry, and sweet cider proliferate the region.
Brittany also boasts an atypical French produce grown in the surrounding ocean waters. Several types of seaweed and algae are incorporated into Breton cuisine. They are be cooked with other vegetables, preserved into spreads, or dried into flakes to add umami flavors to any dish.
While strawberries are one of Bretagne's most popular land-based crops, these juicy, fragrant red fruits grow throughout the region, but Plougastel is most well-known for strawberry cultivation.
Aperitif in Brittany
To savor the most outstanding local ciders for an aperitif, look to the Cidre de Cornouaille AOP, established in 1966; the designation provides quality regulations for 28 producers. These are semi-dry ciders made from 100% pure apple juice with fine bubbles and a subtle bitterness. Known as the Breton Champagne, Royal Guillevic is France's only red label cider that's bone dry and bottle-fermented; in addition, it can only be made with the Guillevic apple variety.
In addition to cider, Brittany also produces Pommeau de Bretagne AOC that's frequently enjoyed for an aperitif. Pommeau is made with two-thirds unfermented apple juice with one-third cider brandy. It's aged in oak casks for a minimum of 14 months, and the final product has around 17% alcohol by volume. Unfortunately, there are only 17 producers in Brittany making Pommeau today.
Moreover, there's couchen or apple mead made from fermented honey; this spirit gives the nod to the region's Celtic past. A handful of producers also distill whiskey in various parts of Brittany, made with local buckwheat and the more traditional malted barley, rye, corn, or wheat.
Popular Entrées in Breton Cuisine

Savory Gallette
Galettes & Crêpes
Buckwheat galettes are one of the most signature dishes of Breton cuisine. Generally, these thin pancakes are known as galettes in Haute-Bretagne, or Upper Normandy, and called crêpes in Basse-Bretagne, or Lower Brittany. The traditional Breton recipe for crêpes consists of flour, eggs, milk, and butter. In contrast, savory galettes are made with buckwheat flour and filled with different ingredients for a heartier meal, such as eggs, ham, mushrooms, or asparagus. A glass of Champagne or a local sparkling cider is the perfect palate refresher with buckwheat galettes. For sweeter crêpes, try a sweeter style of either beverage.
Andouille de Guémené
Andouille de Guémené is a gastronomic pork specialty in Breton cuisine. These sausages originated in the 18th century. They're made from the pig's large intestines seasoned with onions, wine, and an assortment of spices. Once wrapped in natural casings, the andouille de Guémené are smoked and then dried for up to 9 months, resulting in intense flavors. Pair these unique pork sausages with a glass of Syrah from Northern Rhône appellations like Cornas or Saint-Joseph. Syrah's concentrated blueberry and plum flavors with subtle pepper and tobacco notes make an excellent match for smoked sausages.
Soupe de Poissons
Soupe de poissons is the model entrée for those looking to start the meal with a taste of the sea. The fish soup is made with vegetables like turnips, carrots, leeks, and tomatoes. While cooking, fish heads, eel, and crab flavor the broth. They're skimmed out at the end of the cooking process, and the soup is strained through a colander. This remaining flavorful broth is soupe de poissons and is often served with a garlic, saffron sauce called rouille, grated cheese, and croutons. Enjoy a glass of Alsatian or German Sylvaner with this fish soup, as the wine's subtle herbal and mineral flavors are perfect for this delicately flavored dish.
Main Courses in Brittany

Cotriade, fish stew
Kig Ha Farz
Kig ha farz, which means 'meat and stuffing' in the Breton language, is a dish once enjoyed by the region's peasant class. Prominent in the region of Léon, kig ha farz is made from several types of meat like sausage, pork knuckle, and beef, slowly simmered in a broth with root vegetables and buckwheat flour. The peasants would set everything to simmer in the morning and come home to a complete meal after a long day's work. An earthy Pinot Noir from Burgundy or the Loire Valley is delicious alongside the rustic flavors of kig ha farz.
Poulet au Cidre
Besides drinking for an aperitif, regional ciders are also incorporated into recipes of Breton cuisine like poulet au cidre. To make the dish, onions and apples sauté in Breton butter. Pieces of chicken are then browned in the same pan. Next, cider, cream, nutmeg, and salt are added. All ingredients simmer together until the chicken is tender and coated in the velvety sauce. For an irresistible wine pairing, enjoy a dry Chenin Blanc from the Loire Valley with poulet au cidre. Chenin Blanc is loaded with quince, pear, and apple flavors to match the dish's flavors, plus bright acidity to contrast the creamy sauce.
Cotriade
Perhaps the most famous seafood recipe in Breton cuisine, cotriade is a fish stew made with many types of fish. Mackerel, red mullet, conger eel, herring, and hake may all be included. The stew is seasoned with leeks, onions, garlic, vinegar, potatoes, and a bouquet garni of fresh herbs. Be sure to have a baguette on hand for soaking up the seafood flavored broth and a glass of dry white wine like an aromatic Sancerre or Pouilly-Fumé to refresh the palate.
Galette Saucisse
Galette saucisse is a popular street food in Brittany, especially in the Ille-et-Villaine department. Grilled pork sausages are wrapped in buckwheat galettes and dressed in your choice of condiments. But, of course, there's no better or more authentic match for galette saucisse than a dry local cider.
Regional Cheese from Brittany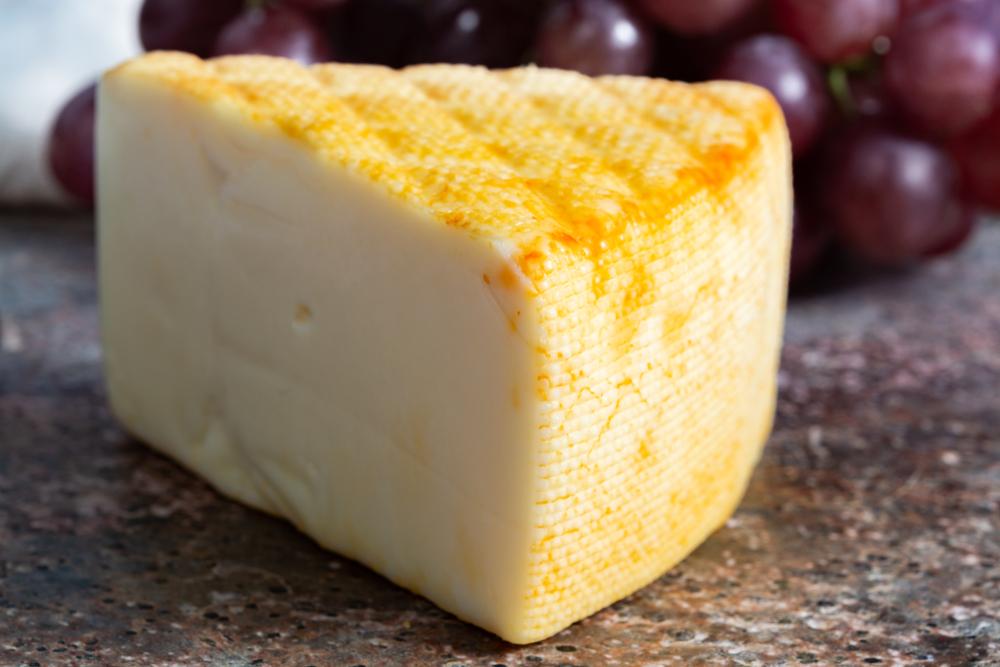 Saint-Paulin, semi-soft cow cheese
Although Brittany isn't widely recognized as a leading region for French cheeses, there are still several types of fromage worth seeking out.
Brittany's Sweet Treats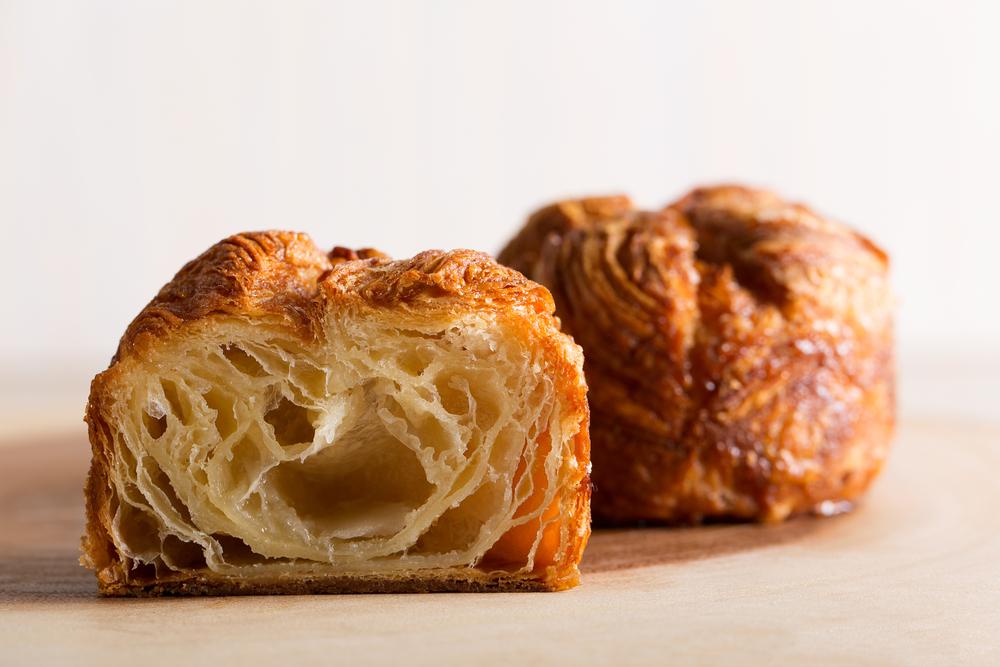 Kouign-Amann cake
Kouign-Amann
Easily the most famous dessert in Breton cuisine, kouign-amann is a butter-laden cake created in the 1800s. Perhaps the fattiest pastry in the world, this delicacy is literally named butter-cake in the Breton language. The cake was developed in a pastry shop in Douarnenez in 1865 when the owner had nothing left to sell. To make this sweet treat, Baker Yves-René Scordia used leftover bread dough folded around excessive layers of butter and sugar. Thus, the kouign-amann was born.
Far Breton
Far Breton resembles a clafoutis or flan-like cake made from flour, milk, eggs, butter, prunes, and raisins. It was initially a savory cake in the 1800s served alongside meat. Over time, more butter, sugar, and eggs were added to transform Breton into the dessert it is known as today.
Salted Caramels
The original caramel au beurre sale (salted butter caramel) was first created in Bretagne by Pastry chef Henri Le Roux, who invented this gourmet specialty in his chocolaterie in the 1970s. After exploring the region, these salted butter caramels are the ideal souvenir to bring a taste of Breton cuisine home with you.
---
About Nicole Dickerson
WSET certified international wine writer with a passion for rare varieties and cellar hand experience in both hemispheres. Join me in the vineyards and cellars of the wine world at palmandvine.com.