Loire Valley Wine Region Guide
Where Tradition Meets Innovation in the Garden of France's Wine Country
EXPLORE ALL OUR GUIDES TO FRANCE'S WINE REGIONS
Introduction
Flowing over 1000km from central France west towards the Atlantic, the Loire Valley is a misunderstood region. For many consumers, it is Europe's principal source of fresh and fruity Sauvignon Blanc, made in appellations that include Touraine, Pouilly-Fumé, and Sancerre. Yet the Loire is undoubtedly the most diverse and extensive of France's classic wine zones. Such are the benefits of growing vines in an astonishingly varied landscape; there is a vast difference between Muscadet on the Atlantic coast and the pungent Cabernet Franc reds of Anjou. Much of the region is steeped in tradition, but at the same time, plenty of new quality-conscious producers are emerging in all the appellations. Welcome to the Garden of France.
Winemaking and regional classifications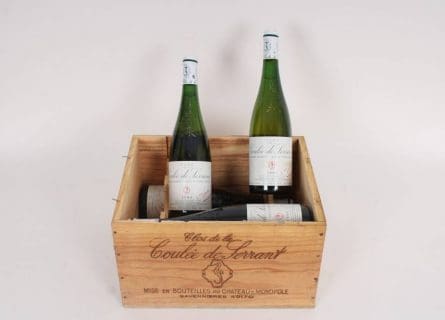 Again, generalizations are simply impossible. The region boasts over 85 separate wine designations, producing a broad palate of styles, including fragrant Gamay, zesty Sauvignon Blanc, and fruity sparkling wine – delicious but nothing like Champagne. Yet one does detect some unifying characteristics among this broad spectrum of categories when tasting from west to east. Over 50 percent of the Loire's annual production is dedicated to white grapes, most commonly Sauvignon Blanc and Chenin Blanc. Single-varietal expressions are all the rage here, as assemblage (blending) is not a major part of local wine culture. The exceptions are Cremant d'Loire and sparkling Samur, Vouvray, and Anjou; growers often blend at least 2-3 different varieties to enhance complexity.
Winemaking in the Loire has also changed out of all recognition in the 21st century. Anjou-Saumur is a classic example: the making of Chenin Blanc used to be exceedingly simple; many would say rustic. In the 1980s, mechanically harvested berries were crushed and pressed (typically in a wooden basket press) before the juice was clarified in ancient wooden vats without temperature control: no oak, sophisticated laboratory equipment, or delicate protective handling. The results in bottle were rarely memorable: hard, acidic wines that lacked grace and charm. Thankfully, the advent of protective handling, fermentation in stainless steel, and temperature control have revolutionized quality across the board, as producers now compete with their counterparts in the New World. The most venerable Chenin Blanc wines, made by Coulée de Serrant, involve prolonged skin contact vinifications, yielding a very intense and phenolic expression of the grape. Their complexity and depth have no equal; however, most growers now favor primary fruit over oxidative funk. This is what the market demands.
Geography and terroir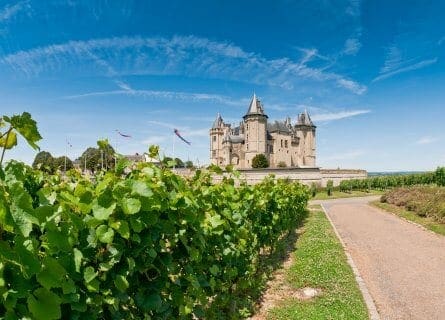 You'll find the vineyards of the Loire Valley in northwestern France, stretching from the Atlantic to the town of Sancerre. The area under vine is subdivided into four subregions: Lower Loire (maritime region), Middle Loire, Central Loire (flanking Burgundy), and Upper Loire. Therefore, one encounters significant variations in climate, soil, and tradition; a tidy summation of local winegrowing conditions is simply impossible.
Lower Loire
Our journey down the Loire begins with the Pays Nantais, southwest of Nantes (well worth a visit in its own right). Muscadet is the primary wine produced here, an extremely dry and steely wine perfect for shellfish. The most important appellation is arguably Muscadet de Sèvre et Maine, with the best wines bottled using the "sur lie" technique. This means the wine spends a period of time on the yeasty sediment left over after fermentation for added richness. Further east and stretching towards the south of Anjou and Saumur is the heart of the Vins de Pays du Jardin de la France; increasingly good value white is appearing here.
Middle Loire
The Anjou appellation is one of the valley's most important producers, encompassing red, rosé, and white wines. It covers a vast area north and south of the River Loire, from the west of Angers east to beyond Saumur. The quality is generally high, with some stylish, oak-fermented whites from the region's major white variety, Chenin Blanc. Reds tend to be light, ripe, and juicy, with more full-bodied examples from Gamay, Cabernet Sauvignon, and Cabernet Franc. The best red has its own AC, Anjou-Villages, and some excellent wines are being made from Cabernet Franc and Sauvignon. The most excellent wines here are the intense dry whites of Savennières and the dessert wines of Coteaux du Layon. These sweet wines are relatively restrained and age-worthy, with a beautiful honeyed richness. A small amount of fine sweet Chenin Blanc is also made at Saumur and labeled Coteaux de Saumur.
The vineyards of Saumur are also a haven for sparkling wine production. As well as sparkling Saumur, there is also the catch-all appellation of Crémant de Loire; there are a few offshoots of the big Champagne houses in the region. Quality can be outstanding, and the wines are not expensive. The wines are more green apple in character than rich and biscuity in the style of Champagne. Saumur's best wines are the barrel-fermented still-white Chenin Blancs of the Saumur AC and the rich, ripe reds of Saumur-Champigny. Wines from the appellation Chinon are produced exclusively from Cabernet Franc, light, elegant, and soft wines.
Central Loire
Moving east along the river, we arrive at Touraine. Like Anjou, there is a catch-all Touraine AC. Sauvignon Blanc is a principal grape; think crisp, refreshing gooseberry-flavored whites. In the far west of the region are the red wine appellations of Bourgueil and Saint-Nicolas-de-Bourgueil north of the river Loire and Chinon just to the south. The best of these wines are excellent value delicious soft reds. Finally, just to the east of the city of Tours are the vineyards of Vouvray and Mountlois. Vouvray is on the north of the river, Montouis, just to the south. Some fantastic dry and sweet wines are made here; the latter can be some of the world's greatest and longest-lived sweet wines. Green and minerally in their youth, they become increasingly rich and honeyed with age—sheer elegance in a glass.
Several less famous Touraine appellations are, nonetheless, worth a look. To the west of Tours can be found Touraine Azay-Le-Rideau, and to the east of Vouvray and Montlouis Touraine-Amboise and Touraine-Mesland. Gamay, Cabernet Franc, and Cabernet Sauvignon feature for the reds and Chenin Blanc for the whites. To the south of Blois are the regions of Cheverny and Cour-Cheverny. To the North of Tours, we come across the Coteaux du Loir region and its sub-region of Jasnières.
Upper Loire
Further east, we arrive at the heartland of Sauvignon Blanc in The Loire. The star appellations are Quincy, Reuilly, Menetou-Salon, Sancerre, and last by no means least, Pouilly-Fumé. That pungent, crisp, refreshing style of Sauvignon was coined here long before those New Zealanders started exporting what has become the white wine drink of choice for many wine lovers. Good Pinot Noir is also made at Sancerre and, to a lesser extent, at Mentou-Salon. Different in style from Burgundy, the wines are usually extremely light and refreshing to drink and can be enjoyed even unaccompanied by food.
The lowdown
Extolling the virtues of the Loire Valley to skeptical oenophiles is not always easy. It offers neither the prestige of Bordeaux nor the terroir-driven allure of the Cote d'Or; there is no established culture of vineyard classification here. But, most importantly of all, the Loire does not provide a roll call of blue chip wines and collectible labels. Except for Coulée de Serrant, there are no cult wines to elevate the region in the eyes of wealthy collectors. The grim fact is that individual brands with AAA ratings generate overarching prestige (just ask Pomerol) – traded rather than actually enjoyed. For that reason, many wine lovers tend to marginalize the Loire Valley and leap headfirst into Bordeaux, Burgundy, and Champagne.
Yet this is a grave mistake. For one thing, the diversity of wine styles available alongside this famous river has no parallel in Europe: exceptional sparkling wine, lovely, unflashy reds, moreish Chenin Blanc, late-harvest dessert wines, and minerally Sauvignon Blanc that bares no relation to the hyper-pungent Kiwi paradigm. That said, individuals mean as much as appellations in the Loire Valley, often more. A lesser wine from talented, hardworking producers will be better than a supposedly top wine from a lazy one.
However, due to improvements in viticulture and winemaking, the number of lackluster whites – and reds – has declined significantly over the past decade. The net result is that almost all wine from the Loire is far better than it used to be, particularly the Chenin Blanc wines of Anjou and Saumur. The moan 15 years ago was that wine was becoming terminally globalized and homogenized: Merlot this and Chardonnay that. But what is the same about Loire Chenin, available in various guises and made by some brilliantly talented younger winemakers? The answer is nothing at all. Of course, Sancerre and Pouilly-Fumé remain consumer favorites; however, Chenin should be on your list if you want stupendous quality at fair prices.
Yes, indeed – the grape is absolutely wonderful and sorely underrated. Loire Chenin has carved out its style among Chenins: apple and stone fruit, great minerality, and total purity. It ages well, develops more honeyed flavors in bottle, and always refreshes the palate with the welcome acidity. That piercing fruit, that precision, reaches an apogee in the skeletal vineyards of Savennières. The wine world's greatest bargain awaits. You just need to reach out and grab it!
Facts & Figures
Key wine styles
Dry white wines; late harvest and botrytized sweet wines; light-bodied reds; sparkling wine
Appellation structure
Over 85 separate wine designations, including AOCs and IGPs
Average annual production
320 million bottles per annum
Approximate number of wineries
Loire Valley gastronomy
The wines of the Loire are perfect for those long summer nights and warm evenings. But the region can also provide a memorable food pairing: Nantes and Tours dazzle visitors with their impressive architecture and abundant good restaurants, bistros, and bars. The cuisine of the region, born in the kitchens of stately chateaux, ultimately became the cuisine of France as a whole; coq au vin, beurre blanc sauce, and Tarte Tartin originate in the valley. Indeed, over 85 separate wine designations translate into a bottle for every context, palate, and occasion.
A Guide to the Gastronomy of the Loire Valley: Read more
Loire Wineries Recommended by Cellar Tours
History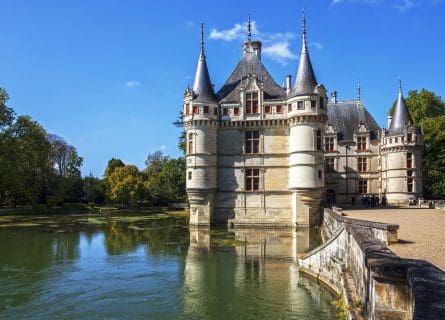 In centuries past, the Loire Valley was a key strategic area, relatively close to the French capital and situated on the frontier between northern and southern France. It has long been an agriculturally rich province, conquered by the Romans in the last century BC. After that, the Loire River became one of Roman Gaul's most important transport hubs, moving goods (including wine) from the Atlantic to central France and beyond. Meanwhile, over a quarter of the world's population, including territories in Spain and North Africa, lived and died under the rule of the Caesars.
However, this grand political project collapsed in the 5th century as rival factions gained a foothold in Western Europe. By AD 476, the Western Roman Empire had been replaced by warring tribes and chaos. Yet Frankish king Clovis I seized power in the 5th century, ruling France with an iron grip. During this period ( the so-called Dark Ages), the first chateaux were built in the Loire Valley – medieval fortresses were used to protect citizens against marauding Vikings from Scandinavia. Indeed, by the 11th century, the Loire Valley looked more like a battleground than a wine region. Massive walls dotted the landscape, topped with battlements, fortified keeps, and moats. However, vines were also planted on both sides of the river during this turbulent epoch, albeit the Loire did not rise to prominence until the late Middle Ages.
During this period, kings, queens, dukes, and nobles established their feudal strongholds along the banks of the Loire. Many of these architectural masterpieces, including the medieval Chinon fortresses and the Chambord palace, are intact today. However, this ornate splendor also served a practical function: castles were used to fight the English armies during the Hundred Years War until 1453. Many fierce battles occurred in the region, and the Loire became a buffer zone between French and English forces. Yet after Charles VII regained his crown with the help of Joan of Arc, the Loire emerged as the center of French court life. Chateaux were built along the prettiest spots in the valley, and viticulture thrived in the towns of Anjou, Chinon, Touraine, and Sancerre.
Regrettably, the 1789 French Revolution had a catastrophic impact on wine producers in the valley. The state seized properties, and production was halted as the revolutionaries carried out bloody reprisals against their former aristocratic overlords. Nevertheless, the industry recovered in the 19th century, although the arrival of the phylloxera louse in the late 1860s spelled more disaster for Loire vignerons. This pest, accidentally imported from the US, killed vines in many of the region's key appellations. Ultimately, the only viable solution was to regraft European plants onto American rootstock; a massive replanting program occurred in the early 20th century. Recognized as a Unesco World Heritage site in 2000, the Loire remains one of France's most important vineyards, not least because Saumur is the largest sparkling wine appellation outside of Champagne! Diversity be thy name.
Nearby Charming Towns and Cities

Uncover Chinon's vibrant flavors and culinary gems with our expert guides. Plan an unforgettable trip now!

Read more
Further Reading: Discover More Related Blog Content
More information
If you would like us to customize an exclusive luxury tour, contact us and let us know your travel plans. We offer luxury food and wine tours for private groups of a mininium two guests. In addition, all of our private, chauffeured tours are available year-round upon request.
Cellar Tours
Welcome to Cellar Tours, the premier Luxury Travel Specialist since 2003. Our goal is to provide you with the ultimate food and wine vacation experience, with exclusive Mercedes chauffeured tours that showcase the best of local cuisine and wines.
Our team specializes in crafting bespoke, custom-designed vacations, events, and incentives tailored to your unique tastes and preferences. Travel is not just about seeing new places - it's about creating unforgettable memories and indulging in the finer things in life.
As members of Slow Food, OTAVA (Travel Agency Association in Spain), and the IACP (International Association of Culinary Professionals), we promote sustainable tourism and support local communities. We work closely with top-rated hotels, restaurants, and wineries to provide you with the highest level of service and attention to detail.
Whether you're planning a romantic getaway, a family vacation, or a corporate retreat, let Cellar Tours be your guide. With our passion for food and wine, extensive knowledge of local culture, and dedication to exceptional customer service, we're confident we can exceed your expectations.
Contact us today to start planning your dream vacation – we can't wait to hear from you!