Known as the Gastronomic Capital of the World, Lyon is the ultimate destination for the culinarily inclined traveler. The hilly city lies in the southeast of France, surrounded by the venerable vineyards of the Rhône Valley, Beaujolais, and Burgundy. Located at the junction of the Rhône and Saône Rivers, Lyon has always been a hub for agriculture and a gateway for trade with northern Europe. Lyon was granted UNESCO World Heritage status for the continued role the city has played in Europe's cultural, political, and economic development. Today, Lyon boasts over 4,300 restaurants, 21 of which garnered enviable Michelin stars. Let's explore what makes Lyonnaise cuisine so highly revered and the dishes to delight in while there.
Read more in our Guide to French Cuisine
You can explore this region of France with Cellar Tours on a private Luxury Food  & Wine Vacation, dine in the best local restaurants, and enjoy VIP tastings at top wineries.

Lyonnaise Cuisine
Lyon's location, coupled with a series of influential culinary masters, helped launch the city to gastronomic acclaim. Thanks to the city's location, Lyonnaise chefs have access to the freshest ingredients and diverse livestock. Bresse chicken and Charolais beef come from neighboring Burgundy, and pig farms abound amongst the Monts des Lyonnais to the west. At the same time, the Dombes region delivers frogs, snails, crayfish, and freshwater fish. Since the Renaissance, Lyon has been known as the larder of France with a strong culinary tradition in charcuterie and offal. At the time, the best cuts of meat were reserved for the bourgeoise and aristocrats. The masses were left with the offcuts, leaving chefs to transform these less desirable animal parts into Lyonnaise delicacies still popular today.
The Mères Lyonnaise, or the Mothers of Lyon, first developed such recipes in the 18th century. These local female chefs cooked for the bourgeoise families and set up their own restaurants. As a result, in the 1930s, Mères Brazier became the first female chef to be awarded three Michelin stars at her two restaurants. Later, the world-famous Paul Bocuse apprenticed with Mères Brazier after WWII. Bocuse built a culinary empire, which elevated Lyonnaise cuisine to further critical acclaim. Though Bocuse passed away in 2018, his restaurant is still thriving in Lyon.
Les Bouchons Lyonnais
Don't miss dining at one of the city's numerous cozy bistros with homey, rustic Lyonnaise cuisine proliferated by the Mères. Known as les bouchons Lyonnais, these restaurants offer the most authentic Lyonnaise dishes like cervelle de canut, la quenelle, la tablier de sapeur, and more. Skip the wine list and order a pot Lyonnaise, a carafe filled with 46 cl of local Beaujolais wine.
À La Lyonnaise
Notably, any French dish with 'à la Lyonnaise' attached to the name refers to the flavorful base behind some of the city's best recipes. The phrase means the dish was prepared with onions sautéed in butter. So, for example, the beloved sauce Lyonnaise is a reduction of sautéed onions deglazed with white wine and vinegar, then simmered in a basic demi-glace. This savory sauce is served with various meats and poured over potatoes.
L'Aperitif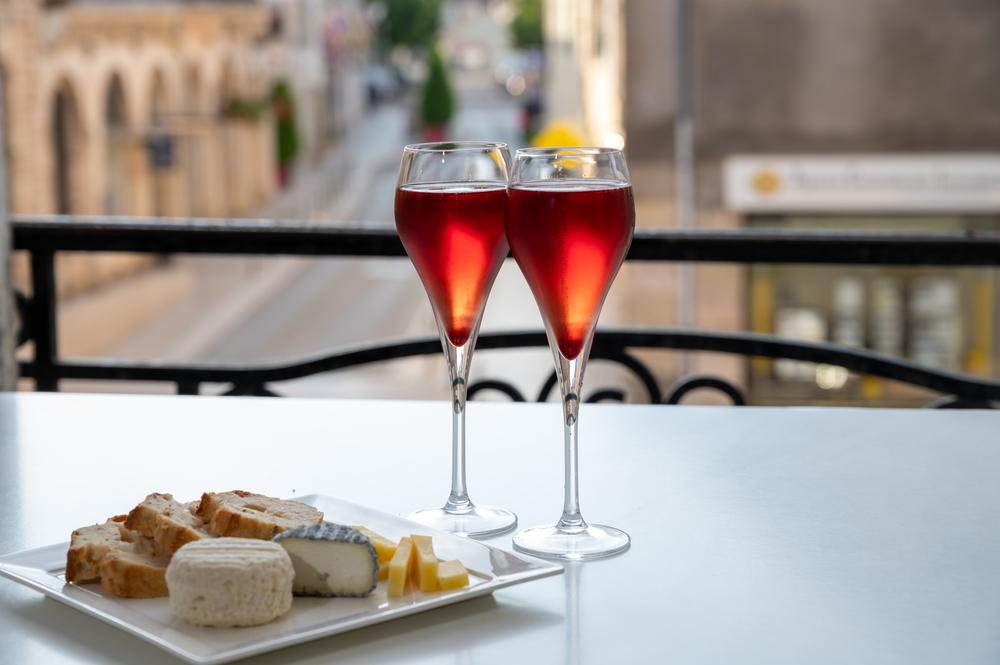 The Communard – A refreshing Beaujolais-based cocktail
In a city surrounded by such prominent wine regions, apéro can't be missed. Above all, fruit-forward and vibrant Beaujolais tend to be the wine of choice in Lyon. French journalist Léon Daudet famously said, "Lyon is a city watered by three large rivers: the Rhône, the Saône, and the Beaujolais."
Adapted from the Burgundian Kir, the Lyonnais serve an aperitif called The Communard made from Beaujolais and Crème de Cassis. Otherwise, expect to see Viognier, Marsanne, Roussanne, Syrah, or blends of Grenache, Syrah, and Mourvèdre on the wine list from various communes of the Rhône Valley.
There's bound to be something to nibble on for aperitif in the World's Gastronomic Capital. Les grattons are succulent bites of deep-fried pork backfat frequently served alongside a glass of wine.
Other likely contenders include:
Grougères au fromage – French cheese puffs
Rosette de Lyon – a cured pork sausage known for its bright red color
Jésus – another pork sausage wider in diameter than most
Entrées in Lyonnaise Cuisine

Saucisson de Lyon Brioché
Salade Lyonnaise
Even salads in Lyonnaise cuisine can be rich and filling. The classic salade Lyonnaise sees a green salad topped with lardons or grattons, croutons, a poached egg, and mustard dressing. In Lyon, the greens usually include frisée and dandelion leaves, which are prominent entrée on bouchon menus. Pair salad Lyonnaise with a fruity Chardonnay from the Mâcconais or a refreshing yet textured Crémant de Bourgogne.
Le Cervelas Lyonnais
Cervelas Lyonnais is a cooked sausage made with more finely minced pork meat than other sausages. The original recipe included brains, hence the name. Today, cervelas Lyonnais are made naturally flavored or enhanced with truffles or pistachios. When served as an entrée, a salad or plain potatoes accompany the sausage. There's no better wine pairing than a glass of Beaujolais with fresh red fruit aromas and subtle earthy flavors.
Sabodet
Sabodet is another sausage specialty of Lyonnaise cuisine for the more adventurous eaters. This sausage is made with the entire pork head – snout, ears, and all – seasoned with red wine, garlic, and nutmeg.
Saucisson de Lyon Brioché
Saucisson de Lyon Brioché is a sausage wrapped in brioche. Cervelas Lyonnais, or another type of Lyonnais sausage, are wrapped in a brioche dough made with less sugar and eggs than the version typical of breakfast pastries. While baking, the brioche soaks up all the juices released by the sausage, resulting in meat-flavored bread. Beaujolais is a popular pairing for sausage brioche. Try one of the Beaujolais Crus like Brouilly or Fleurie for a lighter, more aromatic style and a bit of contrast with this savory dish.
Gâteau de Foie de Volaille
Gâteau de foie de volaille is a chicken liver cake made with Bresse chicken livers, eggs, brioche, and shallots. The cake has a soufflé-like texture and is served with tomato sauce and olives. This classic Lyonnaise dish calls for an earthy Burgundian Pinot Noir with high acidity and notes of forest floor and mushrooms.
Other Entrées to Taste in Lyon:
Salada de foies de volaille – pan-fried chicken livers served over salad
Tripes à la Lyonnaise – blanched tripe pan-fried with onions and garlic, served with a potato purée
Le caviar de la Croix Rousse – a simple lentil salad with cream and cervelas sausage; aptly named to show the refined tastes of the middle class
Main Courses in Lyon 

La Quenelle, flavorful dumpling
La Quenelle
Quenelles are one of the most emblematic dishes of Lyonnaise cuisine; they are fluffy dumplings made with moistened breadcrumbs, veal fat, flour, cream, and pike fish. The Mères created the original recipe in Lyon during the 19th century. These days, instead of fish, ground meat, chicken, or vegetables may also be used. Pike quenelles are served in a flavorful Nantua sauce made with crayfish. A glass of white Burgundy from Meursault offers an ideal full-bodied pairing for velvety quenelles. Alternatively, try a white wine with bright, refreshing acidity like Chablis or Champagne.
Le Tablier de Sapeur
A typical dish served in les bouchons Lyonnaise, le tablier de sapeur, is made from beef tripe slowly cooked in court bouillon. The tripe is marinated in white wine, dredged in breadcrumbs, and deep-fried to a golden brown, crisp perfection. Potatoes and a sauce made from hard-boiled eggs, chives, and mustard typically accompany le tablier de sapeur. Savor a glass of Moulin-à-Vent or Morgon, the Beaujolais Crus known for greater fruit concentration and relatively higher tannins, with this dish.
Poulet au Vinaigre à la Lyonnaise
Poulet au vinaigre à la Lyonnaise is another classic dish found in les bouchons Lyonnaise. Chicken is cooked in a delectable vinegar sauce, chicken stock, onions, shallots, garlic, tarragon, tomatoes, cream, and white wine. Poulet au vinaigre highlights an irresistible balance between the vinegar and wine's depth of flavor and acidity. A Grenache Noir dominant red blend from Gigondas or Vacqueyras from the Southern Rhône Valley delivers the ideal complexity, red fruit flavors, and balanced acidity to match this dish.
Gras Double
An additional tripe preparation in Lyonnaise cuisine, gras double sees the tripe cooked twice – first blanched, then sautéed in lard and onions. Finally, the tripe is seasoned with vinegar, salt, and pepper before serving. Enjoy a rustic glass of Beaujolais or Syrah from the Northern Rhône alongside gras double.
Additional Main Courses in Lyonnaise Cuisine:
Andouillette – is a sausage made with pork intestines, onions, wine, and seasonings.
Poulet de Bresse aux morilles – Bresse chicken with morels and cream sauce.
Coq au vin – rooster or chicken cooked with vegetables and herbs in a Burgundian red wine sauce.
Side Dishes in Lyon
In Lyon, potato side dishes or other gratins often accompany the main course. For example, Gratin Dauphinois is a sliced potato gratin enriched with cheese, cream and flavored by rubbing the dish with garlic before cooking. In comparison, paillasson Lyonnais are potato hash pancakes flavored with thyme, parsley, garlic, salt, and pepper. Gratins made from leeks, cardoons, and crayfish are also prominent on Lyonnaise menus.
Cheeses From Lyon

Saint Marcellin cheese
Cervelle de Canut
Literally translating to silk weaver's brains, cervelle de canut is a fresh, creamy spread of white cheese and crème fraîche flavored with fresh herbs, vinegar, olive oil, shallots, salt, and pepper. In the 19th century, Lyon's silk weavers were too poor to afford expensive ingredients, so instead, they turned to the more affordable fromage blanc, resulting in a hit. Enjoy a glass of light, refreshing white Beaujolais or a crisp Chablis with cervelle de canut spread over a warm baguette. Read more about the cheeses from the nearby Burgundy region
Also, try these French cheeses in Lyon:
Saint-Marcellin – is a creamy, soft-ripened cow's milk cheese within the Brie family with fruity, nutty flavors.
Saint Félicien is a buttery, soft-ripened cow's milk cheese with 40% fat content, intense mushroom aroma, and fruity, tangy flavors.
Desserts in Lyon

Tarte à la praline
Tarte à la Praline
Tarte à la praline is a quintessential sweet specialty of Lyonnaise cuisine. The dessert features a shortcrust pastry filled with a mixture of ground almonds, eggs, and cream for a finely textured filling covered in red or pink sugar; Tarte à la praline has a captivating, brilliant rose color.
Coussin de Lyon
Chocolatier Voisin created these green-colored candies in the 1960s. They are shaped like cushions as homage to the cushions which candles and a gold écu coin were offered to the Virgin Mary in 1643 when a plague ravaged the city. Coussin de Lyon is made from almond paste and filled with a chocolate ganache lightly flavored with liqueur.
Vacherin
Finally, the vacherin is a uniquely Lyonnaise dessert. The vacherin's ice cream cake features a shell of meringue or marzipan filled with ice cream or sorbet. Whipped cream tops this dessert, and the vacherin is traditionally served with candied fruit.
---
About Nicole Dickerson
WSET certified international wine writer with a passion for rare varieties and cellar hand experience in both hemispheres. Join me in the vineyards and cellars of the wine world at palmandvine.com.