Perched along the Atlantic coast in northwestern France, Normandy boasts a storied history, stunning landscapes, and novel culinary traditions. Though World War II buffs flock here annually to visit the infamous landing sites of the allied invasion on D-Day, Normandy has a ton to offer for the gastronomically inclined traveler. Unlike Burgundy, Alsace, and other prominent French regions, Normandy is not renowned for wine production. Instead, the region's beverages of choice are the result of its leading agricultural product—apples. Normandy cultivates upwards of 800 varieties of apples, and the first orchards were planted here as early as the 8th century.
Read more in our Guide to French Cuisine
You can explore this region of France with Cellar Tours on a private Luxury Food Vacation, dine in the best local restaurants, and enjoy VIP gourmet experiences.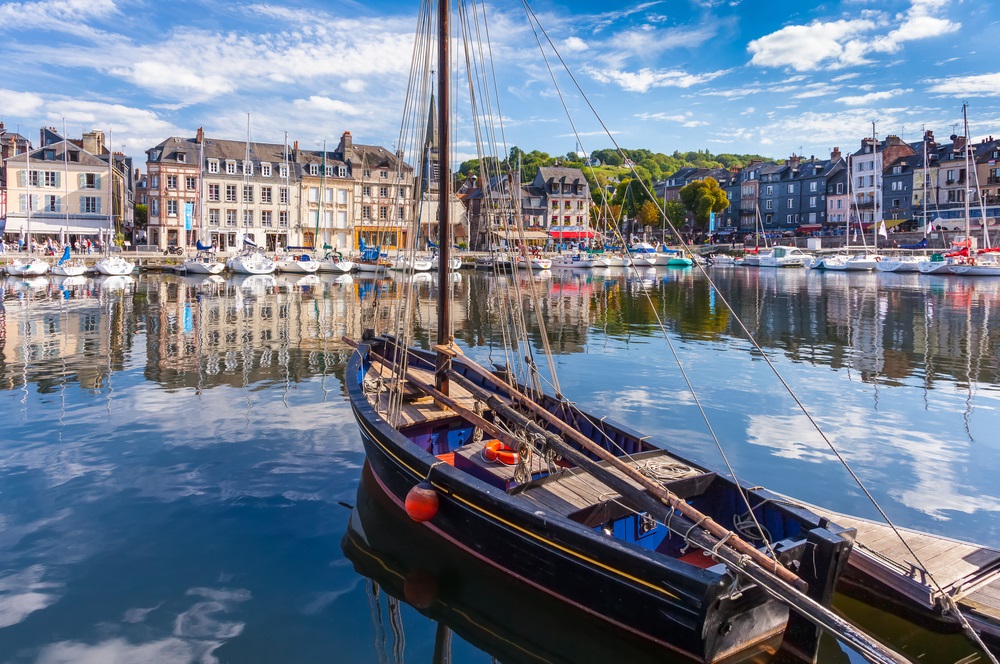 Normandy Cuisine Basics
In addition to being the culprit behind Normandy's leading drinks like Calvados, cider, and Pommeau, apples also make their way into many Normandy recipes. Beyond this noble fruit, cream and seafood are two other prominent ingredients of Normandy cuisine. Together with stunning beaches, the region's 620km of coastline provides a plethora of seafood to enjoy, including sole, mussels, oysters, scallops, and even lobster. Oysters, or huîtres in French, even have their own protected AOP designation in Normandy. Moreover, the region is the chief cultivator and exporter of mussels, scallops, and oysters in France.
As for the cream, it's essential in several classic Normandy recipes, such as sole à la Normande, moules à la Normande, and poulet à la Normande. When a French recipe includes à la Normande in the name, it generally means cream is featured in the recipe. Beyond a staple ingredient, cream helps produce famous Normandy cheeses like Camembert, Pont-l'Évêque, and Neufchâtel. Plus, cream and butter from Isigny have been recognized as an AOP since 1986. They are beloved for their smooth texture and subtle hazelnut flavors. This delectable, multi-purpose cream is possible thanks to the free grazing Norman cows influenced by the region's sea air and marshy soils. Norman desserts also frequently feature one of several delicious variations of cream and apples together.
Normandy is a beautiful part of France. With Cellar Tours, you can experience the treasure trove of gourmet experiences the region has to offer on a Luxury Gastronomic Tour of Normandy.
What to Drink for L'Aperitif in Normandy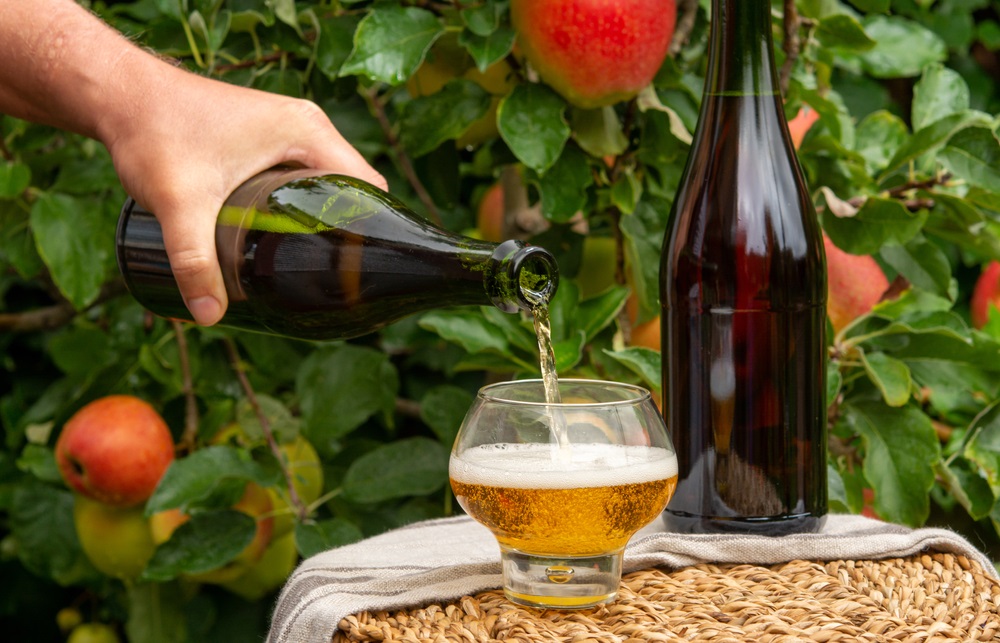 Refreshing Norman Cider
For l'aperitif in Normandy, reach for a local cider (cidre in French) as several options are available throughout the region. Made from local apples and perhaps pears, French cidre tastes like a sweet beer, depending on the designation. It comes in brut and doux styles; the latter is sweeter and has an alcohol content of 3-5% abv. The 40km Cider Route is fun to explore and a great way to discover local cideries in the Pays d'Auge subregion for tourists staying near Caen. Otherwise, look to these designations and styles for high-quality Normandy ciders:
Cidre Bouché—sealed with a cork and made in the traditional method like Champagne
Normandy is also famous for Calvados, a locally made apple brandy recognized as one of the world's best spirits. Calvados has been an integral part of the region's gastronomic culture for centuries. In France, it's typically enjoyed as a digestif at the end of a meal or savored in between courses to make room for more delectable Normandy cuisine. When served between courses, it's known as a trou Normand, literally a Norman hole. Learn more about the history and production of Calvados here.
Notably, Calvados is a key ingredient in Pommeau, a popular aperitif in Normandy. Pommeau is made from unfermented apple juice and Calvados aged together in oak barrels. The aging process lasts at least eighteen months, imparting honey and vanilla flavors into Pommeau.
L'Entrée in Normandy Cuisine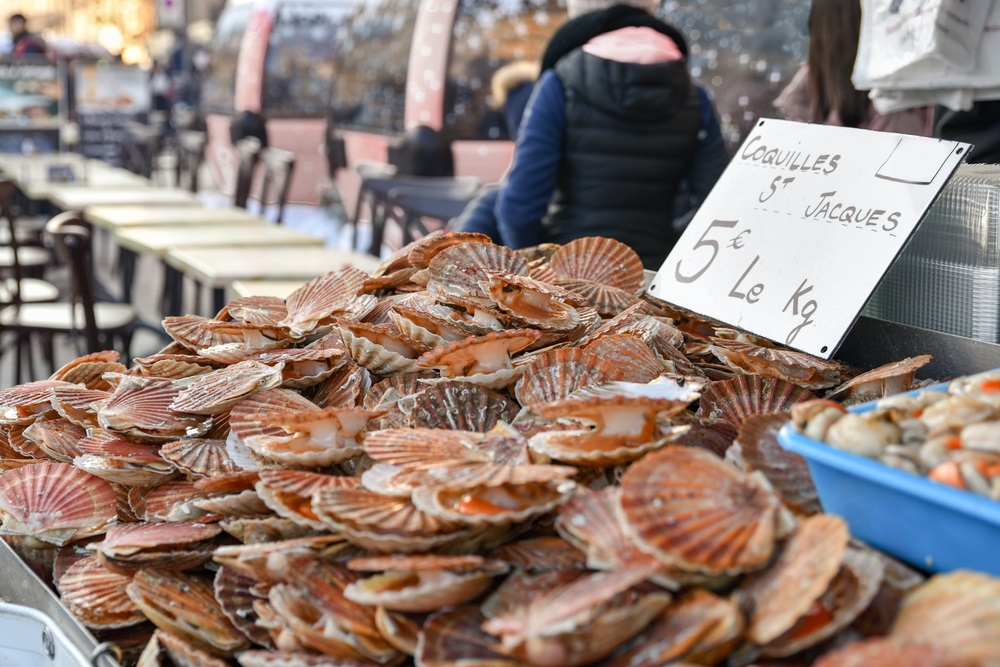 Coquilles Saint-Jacques, Scallops
Fruits de Mer
With seafood playing such a prominent role in Normandy food culture, fresh oysters and mussels make the ideal entrée to kick off a meal. Oysters thrive along this Atlantic coast because the region has some of the strongest tides in all of Europe. Astonishingly, around one in every three oysters consumed in France comes from Normandy. The department of Le Manche in the lower half of the region cultivates 25-30% of France's mussels. There's no better place to have an 'assiette de fruits de mer' or a fresh plate of seafood. If not for the l'entrée, then for the main course as a seafood platter or plateau.
When savoring fresh oysters from the Atlantic, Muscadet makes for the ultimate wine pairing. This white wine hails from the western Loire Valley near the Atlantic ocean and the city of Nantes and is made from the Melon Blanc grape; Muscadet bursts with saline, citrus, and delicate green fruit aromas. Its refreshing acidity and light body are an ideal match for oysters and fresh seafood.
Coquilles Saint-Jacques
Coquilles Saint-Jacques are King Scallops harvested in Normandy from October through May. The region even hosts a scallop festival in autumn to kick off the season. The coquilles Saint-Jacques are prepared in their stunning shells with cream and breadcrumbs, then baked. Chardonnay is the ideal wine pairing for these creamy baked scallops; a Meursault Perrières Premier Cru from Burgundy offers a vibrant richness with notes of honey, florals, and a refreshing minerality.
Andouille de Vire
A rustic gourmet product of Normandy cuisine, andouille de Vire is a flavorful sausage made from the large intestines of pork. The pig intestines are cut into thin strips to make the sausage, then salted and marinated in brine for a few days. Once dried, they're smoked over a beechwood fire for three weeks, then encased and boiled. Andouille de Vire is typically enjoyed cold, finely sliced, and served over bread. Alternatively, the sausage can be served warm over a salad with cooked apples.
Pair andouille de Vire with a Beaujolais cru like Morgon or Moulin-à-Vent. Made from Gamay, Beaujolais tends to be loaded with fresh red fruit flavors, making it an ideal match for savory sausage. Yet crus like Morgon and Moulin-à-Vent have greater concentration, slightly higher tannins, and better structure to match the bolder flavors of andouille de Vire.
For the Main Course in Normandy 
Joue de bœuf
Marmite Dieppoise
This classic Normandy dish originated in the coastal town of Dieppe, though it can be found in restaurants spread across the coast. Marmite Dieppoise combines the quintessential flavors of Normandy into a seafood stew featuring mussels, scallops, fish, and crustaceans. The stew is flavored with butter, cider, a mixture of herbs in a bouquet garni, and crème fraîche.
For an irresistible wine pairing, try Chablis Grand Cru, whose high acidity contrasts the creamy stew. While the ripe, concentrated citrus flavors of the wine complement the fresh seafood flavors in Marmite Dieppoise.
Various Preparations of Moules
Normandy cuisine delivers various mouthwatering recipes for moules or mussels. Moules à la Normande is a traditional preparation that sees the mussels served in a luxurious sauce of onions, garlic, parsley, cider, butter, and cream. The aromatics are cooked first, then cider and the mussels are added. Once the mussels open, they're removed. Next, cream is added to the sauce and allowed to reduce for a more concentrated consistency. Finally, the mussels are tossed in the sauce and served with fries or bread.
Since moules à la Normande are made with a cream sauce, both white wines with fresh flavors and high acidity or riper fruit flavors pair well with this dish. Try a richer, rounder aged Chenin Blanc from Anjou-Saumur or a dry sparkling Chenin Blanc from Vouvray.
Otherwise, try moules marinières steamed in a broth of white wine, garlic, onions, parsley, and other fresh herbs. The simple broth and fragrant aromatics allow the briny flavors of the mussels to shine. Match moules marinières with a vibrant Sauvignon Blanc from Sancerre. The wine's refreshing acidity and elegant flavors of green apple, wet stones, and herbaceous notes are the ideal complement to moules marinières.
Agneau de Pré Salé
Agneau de pré salé, or meadow-salted lamb, comes from the mist-laden Bay of Mont Saint-Michel and the Cotentin Peninsula. The lamb grazes on fields or marshes near the coast that flood with salty ocean water. This grazing practice results in naturally salty lamb, garnering the meadow-salted lamb a protected AOP status. Consequently, agneau de pré salé has white flesh and a unique, delicate flavor. Preparations of this special meat typically avoid strong spices and sauces to preserve the lamb's natural taste.
Therefore, agneau de pré sale requires a red wine pairing which also won't overpower its flavors. Pinot Noir from Nuits-Saint-Georges in Burgundy offers the perfect match with notes of red fruits and savory, earthy flavors to complement the lamb.
Tripes à la Mode de Caen
Tripes à la mode de Caen is an ancient tripe preparation from the city of Caen in Normandy. It's made with the four chambers of the cow's stomach, which are cut into strips or squares, then layered into a traditional clay pot called a tripière. Cider, a glass of Calvados, root vegetables, garlic, and peppercorns are also added to the tripière. Once the lid is placed on the clay pot, it's sealed with a paste made from flour and water, then set in the oven. The tripe simmers for up to fifteen hours until tender and is typically served with boiled potatoes.
Savor tripes à le mode, de Caen, with a Merlot forward Saint-Émillion from Bordeaux. This structured red wine has a soft mouthfeel with dark berry fruit and black plum flavors to suit the tender tripe.
Joue de Bœuf
Joue de bœuf is a succulent beef cheek recipe enjoyed in Normandy cuisine. The beef cheek reaches a melt-in-your-mouth consistency thanks to a lengthy braising process that traditionally could last up to two days. The cheeks of the Norman cow are cooked with cider, apples, carrots, onion, and an assortment of spices for flavor-packed comfort food in Normandy.
A tender beef dish like this calls for a rich red wine with plush tannins. Pair joue de bœuf with a Bordeaux blend from Saint-Estéphe, Pauillac, Saint-Julien, or Margaux. Cabernet Sauvignon dominates these red blends, which offer concentrated black fruit flavors and hints of cedar from oak aging.
Other Normandy Dishes to Try
The Best Normandy Cheeses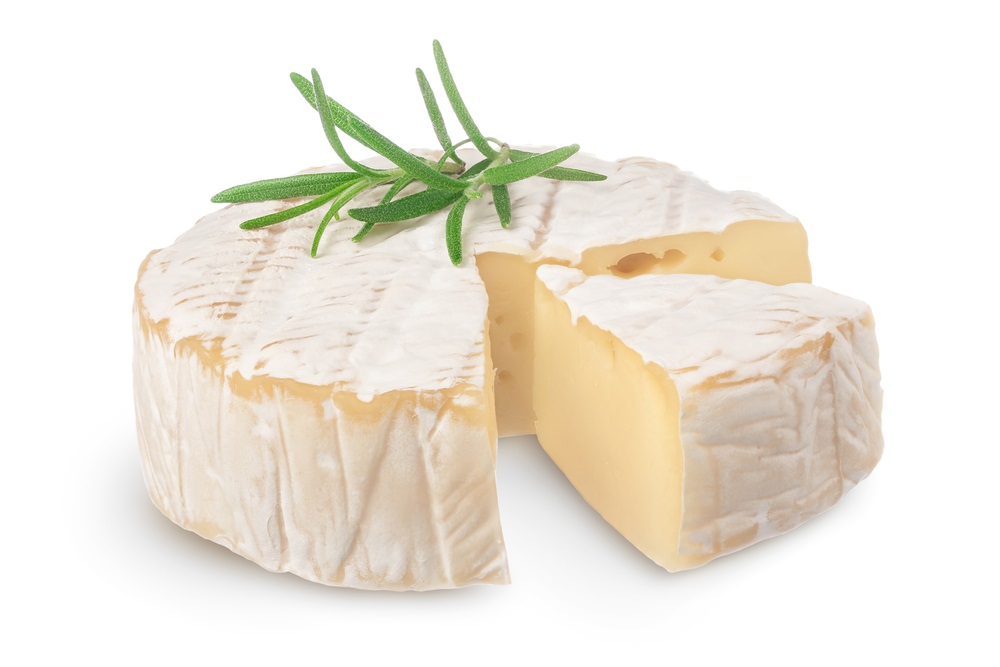 Camembert, soft cheese
As one might expect from a French region renowned for its cream, Normandy cuisine also features an abundance of cheeses. Most Normandy cheeses are made with cow's milk and are a delightful match for local cider. However, a complex Champagne with toasty, nutty flavors, bright acidity, and orchard fruit flavors is a tasty wine pairing for many of these cheeses.
Camembert
Is easily Normandy's most famous cheese. It's soft, lusciously creamy, and known for earthy, nutty, grassy, and even fruity flavors.
Neufchâtel has a trademark heart shape and bloomy white rind. This French cheese delivers delicate earthy, mushroom notes. Historically, the girls of Pays de Bray gave Neufchâtel to English soldiers during the Hundred Years' War.
Livarot
A pungent washed-rind cheese reminiscent of Epoisses in Burgundy. The flavor is much more sophisticated, rich, and nutty than the cheese's stinky aromas suggest.
Pont l'Évêque
Is a soft, square-shaped cheese from Pays d'Auge whose earthy, chalky, delicate flavors come from the damp fields where the cows graze.
Other notable cheeses
Additionally, Brillat Savarin and Saint André are two decadently creamy, triple-cream cheeses with tangy, sweet flavors and buttery textures worth seeking out. Plus, the famously buttery, spreadable Boursin cheese, now produced internationally, was created in Normandy. Learn more about the best of Normandy's cheeses here.
Top Desserts in Normandy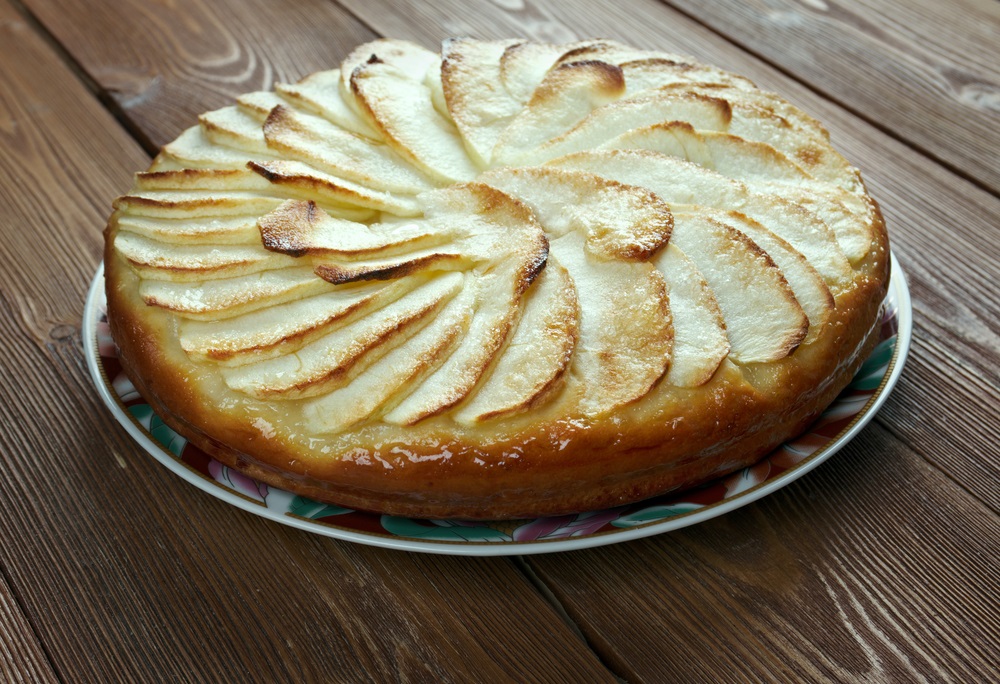 Tarte Normande, apple pie
Crêpes Mylene
Crêpes Mylene is a flambéed dessert from Normandy that's adored throughout France. The crêpes are made with flour, milk, eggs, and a pinch of salt. Once cooked in butter, the crêpes are filled with sliced pears, rolled, then coated in a sauce of orange juice, lemon juice, almonds, butter, sugar, and plum brandy. Finally, the crêpes are flambéed in plum brandy before serving.
Alternatively, try crêpes Normandy filled with apples that have been browned in butter, cinnamon, and sugar. Crêpes Normandy are typically topped with a luxurious whipped cream. A sweet, aromatic, vanilla-laden Sauternes makes a delicious pairing for either crêpes dessert.
Tarte Normande
Tarte Normande is made with shortcrust pastry (pâte brisée) is filled with a sweet, almond-flavored custard infused with Calvados. The custard is topped with beautifully arranged slices of apples and baked until golden brown. To serve, tarte Normande is accompanied with a dollop of tangy crème fraîche. Pair tarte Normand with Crémant de Loire. Dominated by Chenin Blanc, these sparkling wines feature flavors of apples, quince, and honeysuckle coupled with toasty hazelnut notes from lees aging.
Teurgole
Teurgole is an ancient Normandy recipe for French rice pudding, which is prepared by cooking rice in milk and sugar along with warm spices like nutmeg and cinnamon. Next, Teurgole is baked in traditional earthenware pots for a few hours, resulting in a dense consistency and caramelized crust. The Normans enjoy teurgole with a glass of sweet cider and a local brioche bread called fallue.
---
About Nicole Dickerson
WSET certified international wine writer with a passion for rare varieties and cellar hand experience in both hemispheres. Join me in the vineyards and cellars of the wine world at palmandvine.com.