Considering the sheer diversity of high-quality wines produced throughout the region, the Loire Valley should be at the top of every wine lover's bucket list. There is elegant Sauvignon Blanc in Sancerre, Pouilly-Fumé, and Touraine. While Savennières delivers age-worthy Chenin Blanc and Muscadet in Nantes offers refreshing Melon Blanc. Not to mention the sparkling wines of Vouvray and Saumur or Crémant de Loire  Plus, the many styles of Cabernet Franc in regions like Chinon, Bourgueil, and Saumur-Champigny. There are several variations of rosé and other varieties like Pinot Noir, Gamay, and more. A treasure trove of wines awaits you in the Loire Valley. Beyond wine, travelers can explore the region's breathtaking chateaux, shop at some of France's most vibrant markets, and savor delicious Loire Valley cuisine.
Read more in our Guide to French Cuisine
You can explore this region of France with Cellar Tours on a private Luxury Food & Wine Vacation, dine in the best local restaurants, and enjoy VIP tastings at top wineries.

What to Look Forward to from the Loire Valley
The Loire Valley is just an hour and a half train ride from Paris, making it the ideal destination for a day trip or weekend getaway while in France. However, there's so much to discover in the Garden of France that you'll likely want to stay longer. For history buffs and lovers of architecture, over 300 chateaux span the stretch of the Loire River, which was once a bustling center of trade. After the Middle Ages, kings, the royal court, and later nobility built Renaissance-era castles and whimsical chateaux. Château de Chambord is the largest in the Loire, earning UNESCO world heritage site status. Yet, there are countless other chateaux steeped in history to explore. Their expansive estates house grand gardens in captivating geometric designs like the kitchen garden at Chateau de Villandry. With Cellar Tours on a Loire Valley Food & Wine Tour, you will visit these incredible stately homes, enjoy private VIP tastings at some of the most prestigious wineries; Couly-Dutheil, Marc Bredif, Domaine Huet, and Henri Bourgeois, and taste the delicious flavors of the region
Other than botanical gardens, the Loire Valley's fertile plains helped this region earn its Garden of France nickname. Thanks to the array of fruits and vegetables available, you'll also peruse some of France's best markets here. Keep an eye out for Nantes lamb's lettuce (Mâche nantaise), Chinon peaches, green lentils from Berry, and asparagus throughout the region in spring. Apples and pears won't let you down either, as 20% of the country's production grows here, too.
Pork rillettes and rillons are two specialties in Loire Valley cuisine for meat lovers. They're so revered there's even a Touraine Brotherhood of Rillons and Rillets proudly watching over the culinary tradition. With plenty of forests throughout the region, game meat abounds during hunting season. Duck, quail, wild boar, and deer, along with red meat, are all enjoyed in the Loire. In addition, the river provides freshwater fish like pike-perch or bream. While closer to Nantes, you can enjoy seafood such as mussels, oysters, crab, seabass, cod, and more. The famous sauce beurre blanc hails from Nantes, where it transforms any fish into an exquisite dish. Today, the sauce is an irresistible emulsion prominent in French cuisine and taught in culinary schools worldwide.
The Geline de Touraine is a small black hen appreciated for its delicate, fresh flavor when it comes to poultry. For a sweeter specialty from Touraine, look for the poire tapée or flattened pears. These dried pears are flattened with a unique tool called a platissoire and highlight Loire Valley cuisine. The two come together in a traditional Touraine recipe for Geline de Touraine with honey and poire tapée. Additionally, there are gourmet mustards, red wine vinegar, and more waiting for you at Martin-Pouret in Orléans, the capital of French Vinegar.
L'Aperitif in Loire Valley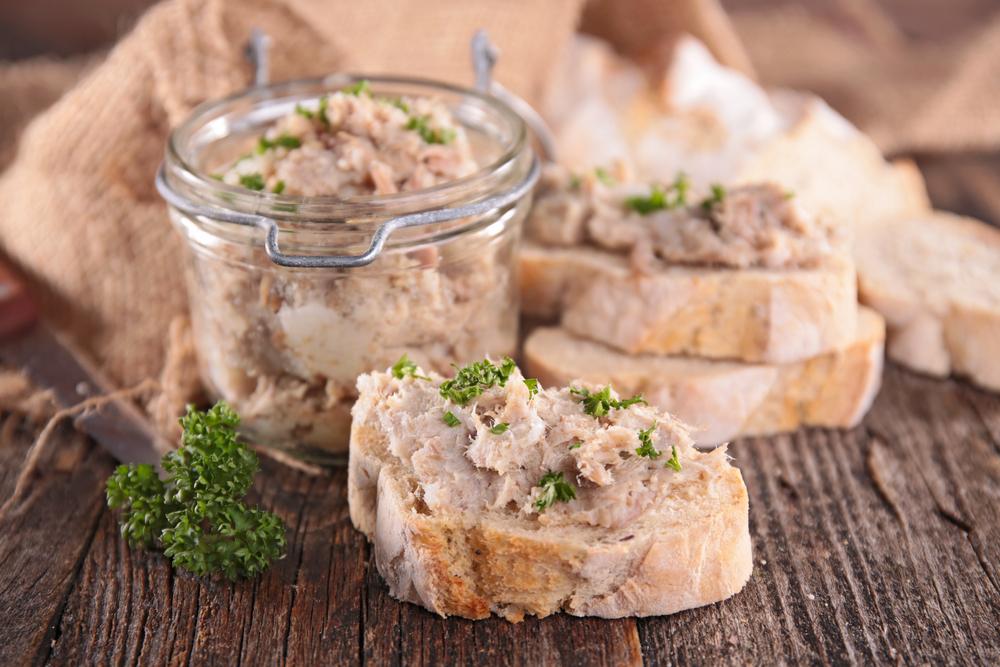 Rillettes de Tours, spreadable slowly cooked pork meat.
Whether you're in the mood for a bright rosé, a juicy or a full-bodied and brooding Cabernet Franc, or a refreshing glass of bubbles, Loire Valley wines have a style for every kind of wine lover. If oysters are on the menu, a glass of brisk, bone-dry Muscadet high acidity and mineral, citrus flavors is the perfect match.
Otherwise, the internationally esteemed Cointreau is made in Saint-Barthélemy-Anjou. The Cointreau brothers distilled sweet and bitter orange peels to produce this subtly sweet yet fresh liqueur. Since released in 1885, Cointreau has been a best-selling premium triple-sec utilized in countless cocktails.
Rillettes, Rillauds & Rillons
Rillettes de Tours is a spread of shredded pork meat that's been slowly cooked in pork fat. The result is a rough country spread full of roasted pork flavor. Traditionally, it was presented in a pot or a jar and served on sliced baguettes with cornichons. Furthermore, the rillettes du Mans is a rival of the Tours version. They're cooked in less fat and feature larger chunks of meat. Both were initially created to preserve the shelf-life of pork.
Loire Valley Cuisine also features rillauds. They are a pork confit in which pork belly soaks in an herbaceous brine before cooking in lard until caramelized. In contrast, rillons are larger cubes of pork meat. They're first tenderized while marinating in a brine, then slowly cooked in a covered pot until caramelized.
For rillettes, rillauds, and rillons, pour yourself a glass of red wine from Sancerre. Predominantly Pinot Noir, red Sancerre provides high acidity, fruity cherry flavors, and violet aromas to accompany these succulent pork delicacies.
Pâté de Chartres
This luxurious pâté originated in Chartres, home of the famed Gothic-style Cathedral Notre Dame. Pâté de Chartres is made with game meat of pheasant, duck, or partridge. A layer of rich foie gras runs through the middle of the pâté, housed in a shortcrust pastry shell. Pâté de Chartres is often served sliced alongside a green salad. Pair it with a Rosé de Loire whose freshness offers a great contrast to the rich pâté. Yet with at least 30% Cabernet Franc or Cabernet Sauvignon, these rosés have extra depth to complement the game meat flavors.
Fouaces and Fouées
Fouaces are brioche buns topped with nuts which you're bound to encounter at local bakeries in the Loire Valley. In comparison, fouées are woodfired bread disks made from a simple dough of flour, water, and yeast. They were originally used to check the oven temperature before baking bread. Today, fouées are best eaten warm out of the oven and filled with rillettes.
La Plat Principal in Loire Valley

Fresh bream in beurre blanc sauce
Fish au Sauce Beurre Blanc
Sandre (pike perch) and bréme (bream) from the Loire River are savored throughout the region. Sauce beurre blanc enlivens their delicate flavor. The emulsified butter-based sauce made with shallots and vinegar takes a lot of elbow grease to whip into its classic velvety, rich texture. A dry sparkling Chenin Blanc from Vouvray makes for the perfect wine pairing, as its delicate aromas of citrus, chamomile, and honeysuckle enhance the flavors of this dish.
Poulet en Barbouille
Hailing from Berry, poulet en Barbouille is a dish for gourmands when visiting the Loire Valley. The chicken is marinated in red wine for twelve hours to two days. It's then cooked in brandy and served in a sauce made from chicken blood, cream, egg yolk, and chopped liver. Enjoy poulet en Barbouille with a fruit-forward, easy-drinking Cabernet Franc from sandy soils in Chinon. The fresher style will revitalize your palette alongside this classic dish from Loire Valley cuisine.
Noisettes de Porc Aux Pruneaux
Noisettes de porc aux pruneaux are pork medallions in a white wine and cream sauce with prunes and hazelnuts. The prunes are soaked in wine a day earlier, then cooked with pepper, cinnamon, and crème fraîche. Once the sauce has reduced, the pork medallions are first seared in lard and then finished cooking in the sauce—the autumnal flavors of this dish pair deliciously with a fruity yet earthy Gamay from the Loire Valley.
Beuchelle Tourangelle
Beuchelle tourangelle from Tours is the ideal dish for offal lovers. Veal sweetbreads and kidneys are the key ingredients for this old, traditional recipe from Loire Valley cuisine. The sweetbreads are sliced thinly and cooked in butter. In contrast, the kidneys get flambéed in brandy and then cooked in a sauce of mushrooms, cream, and herbs. Then, beuchelle tourangelle is served in a vol-au-vent, a small hollow form made of puff pastry. Pair this dish with a dry, full-bodied Chenin Blanc from Savennières, which has the richness to match the dish and the acidity to contrast the cream sauce.
Pâté Berrichon
Pâté Berrichon, also known as Pâte de Paques or Easter Pie, is made from minced pork and veal meat seasoned with garlic, parsley, nutmeg, salt, and pepper. The seasoned meat is shaped into a rectangle, topped with sliced hard-boiled eggs, and encased in a short pastry crust. Enjoy a lightly chilled Cabernet Franc from Bourgueil, whose earthy notes, fresh fruit flavors, and herbaceous aromas will match the rustic flavors of pâté Berricon perfectly.
Cheeses of the Loire Valley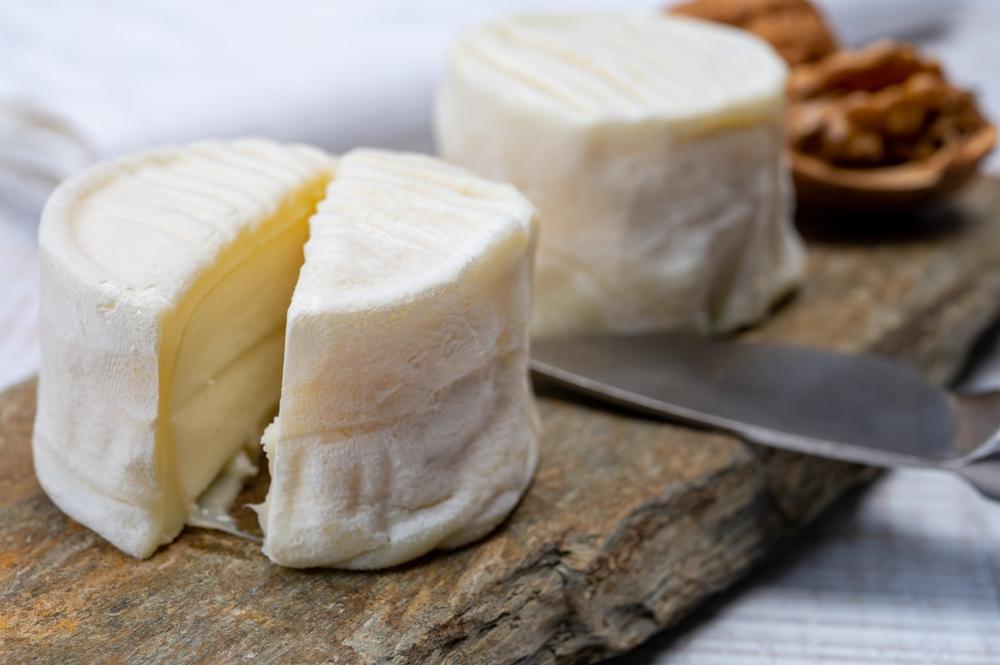 Crottin de Chavignol, goats cheese
As might be expected from an agricultural region, there are a ton of cheeses to explore in Loire Valley cuisine. For the fresher goat cheeses, reach for an aromatic Sauvignon Blanc from Sancerre, Pouilly-Fumé, and Menetou-Salon. Much of the goat cheese comes from around these regions, and similar grassy, mineral notes can be found in each. At the same time, the cow's milk cheeses are even tastier alongside a crisp Chenin Blanc, Crémant de Loire, or fruity Gamay.
Crottin de Chavignol
Crottin de Chavignol is small drum-shaped goat cheese that matures for up to three months. They have irresistible grassy and slightly nutty flavors, plus that delicious tang of goat cheese. As they age, they become drier and more complex with a crumbly texture. In Loire Valley cuisine, you'll find Crottin de Chavignol grilled and served warm with salad and bread.
Other Goat Cheeses:
Curé Nantais
Curé Nantais is the Loire Valley's most famous cow's milk cheese. Legend has it a priest named Curé was trying to escape persecution during the French Revolution in Vendee when he first made this cheese. The cheese is known for its smoky, spicy flavors and is often served alongside fish dishes or melted over pears and apples.
Other Cow's Milk Cheeses:
Cendré d'Olivet comes from the town of Olivet along the Loire River. The soft, creamy cheese is cured in wood ash, lending a black, ashy color to its rind.
Feuille de Dreux is a soft-ripened cheese wrapped in chestnut leaves for a distinctive flavor.
Desserts in Loire Valley Cuisine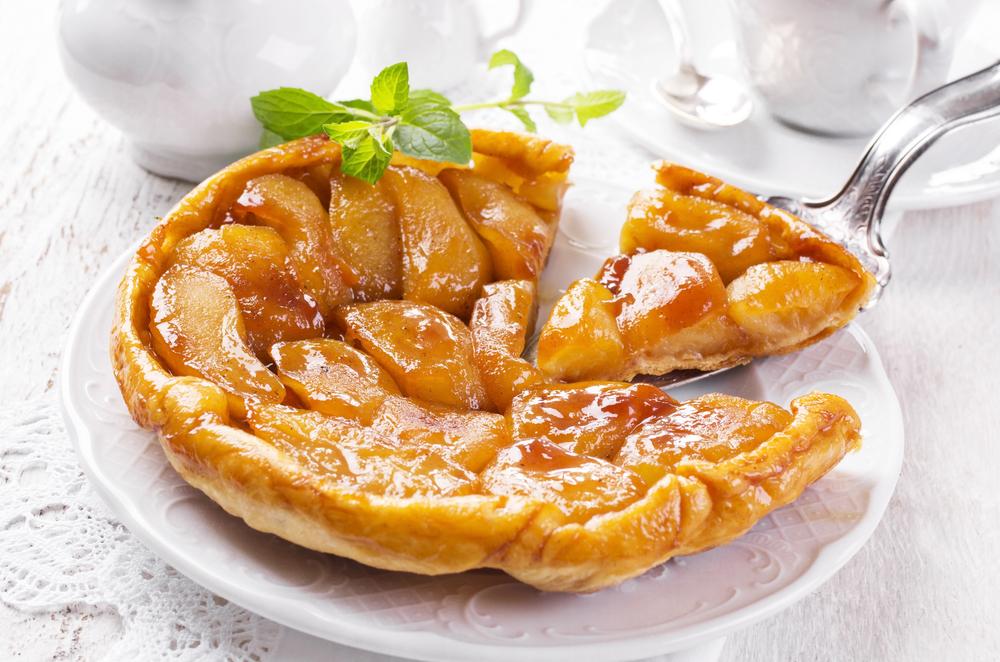 Tarte tatin, apple tart
There are several mouthwatering wine pairings for dessert to choose from in the Loire Valley. A sweet, fruity still or sparkling Vouvray with flavors of apples, quince, pear, and floral notes is an excellent choice for fruit-based sweets. While Coteaux du Layon makes some of France's most renowned sweet wines from noble rot grapes. Look to Quarts de Chaume or Bonnezeaux for the best sites.
Tarte Tatin
Created in 1880 by Stéphanie Tatin at Hotel Tatin, tarte tatin is an upside-down apple tart. It was invented to save a traditional apple tart gone wrong. The restaurant was slammed during hunting season, and the sautéing apples for the tart were left forgotten in the pan too long. So instead of tossing them, Tatin topped the mixture with a crust and baked it. Once cooked, she turned the tarte tatin upside down, so the caramelized apples were on top – et voila!
Nougat de Tours
Regulated by the Confrérie Gourmande du Nougat de Tours, this dessert is a cake and not just a nougat, as the name suggests. Nougat de Tours is made with a dough and macaroon pastry with a thin layer of apricot jam and candied fruits inside.
Pithiviers
Pithiviers is a classic pastry pie in Loire Valley cuisine, made in sweet or savory versions. For the sweeter take, a puff pastry shell is filled with a rich almond cream called frangipane. A spiral design traditionally embellishes the top of pithiviers. Fruit-like plums or cherries are also occasionally included.
---
About Nicole Dickerson
WSET certified international wine writer with a passion for rare varieties and cellar hand experience in both hemispheres. Join me in the vineyards and cellars of the wine world at palmandvine.com.