Champagne is one of France's most remarkable regions boasting an illustrious past in the world of wine and French history alike. Synonymous with luxury and celebratory occasions, Champagne is produced by over 5,000 domaines throughout the region. While the great Champagne Houses with their centuries of history between them provide a direct link to the past. Kilometers of underground chalk cellars carved into the Hill at Saint-Nicaise below the likes of Taittinger, Veuve Clicquot, Ruinart, and more give a true sense of Champagne's grandeur. Walking the same paths once wandered by the French monarchy surrounded by millions of bottles of Champagne is sure to leave an impression. Beyond experiencing the domaines and verdant vineyards of Champagne, historical sites abound throughout the region. Recognized as a UNESCO World Heritage site today, the Cathedral of Reims once hosted the coronations of French Kings and is a must-visit site in Champagne. Champagne's food specialties are just as distinguished as the region's history and internationally renowned sparkling wines when it comes to French cuisine.
Read more in our Guide to French Cuisine
You can explore this region of France with Cellar Tours on a private Luxury Food  & Wine Vacation, dine in the best local restaurants, and enjoy VIP tastings at the top Champagne houses.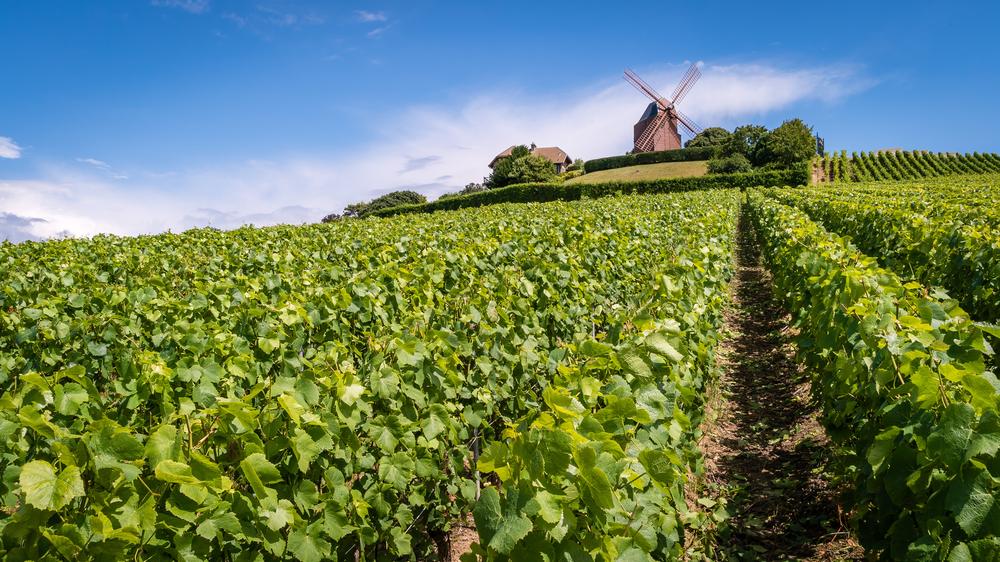 Champenoise Cuisine
A legendary wine like Champagne needs gourmet cuisine to match its splendor. Accordingly, the traditional dishes of Champagne have shaped the region into the cradle of French gastronomy.
Champagne-Ardenne cuisine is rich and varied. As a northern region with a cool climate, popular produce includes potatoes, cabbage, asparagus, rhubarb, shallots, wild mushrooms, and sugar beets. The latter contributes to the sugar used in the liqueur de tirage in Champagne production. Cabbage is one of the larger regional crops, as the Aube district is France's second-largest producer. It's often transformed into sauerkraut and served alongside pork or other meat dishes.
All sorts of meat are on the menu in Champagne, including lamb, pork, and red turkey from Ardennes. Plus, poultry, veal, beef, and wild game like rabbit, quail, pigeon, or wild boar from the wider Champagne-Ardenne region.
Additionally, Champagne produces several gourmet products to elevate any meal. Founded in 1797, Maison Charbonneaux-Brabant makes an assortment of mustards and vinegar. They export essentials of gourmet French cuisine to countries around the world. Their mustards are made from Champagne wine vinegar mixed with a blend of mustard seeds and spices.
Other must-try delicacies include Haute-Marne truffles, best enjoyed from September to March, and gourmet honey made throughout the region. Travel with Cellar Tours to this fabulous region of France, enjoy VIP tastings at the top Champagne houses, and savor its first-class cuisine on a private Champagne Food and Wine Tour
L'Aperitif in Champagne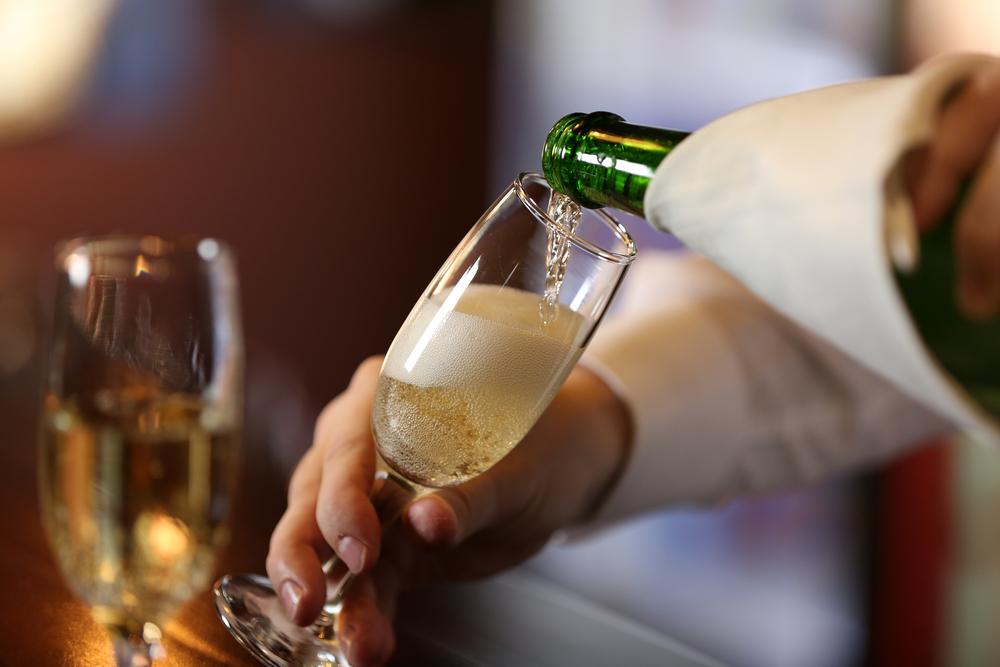 Is there any better Aperitif?
Champagne is the ideal aperitif to whet the appetite at the start of a French meal with fine bubbles and refreshing acidity. Whether savoring a glass from one of the prominent Champagne houses of Reims and Epernay or enjoying a grower Champagne from a family-owned domaine, there are several savory Champagne food pairings to accompany a glass of bubbly.
In Champagne-Ardenne cuisine, andouillette de Troyes are served grilled and sliced as an aperitif. The recipe for these French sausages dates to the Middle Ages. Andouillettes de Troyes are made from the large intestines and stomachs of pork that have been sliced into thin strips and seasoned with onions, herbs, salt, and pepper. They're stuffed into a pork casing and slowly cooked in court-bouillon stock for five hours, resulting in strong flavors and a tender texture. King Louis XIV and Napoleon especially enjoyed these flavorful sausages. Andouillettes de Troyes may also be served as an entrée.
Alternatively, look to le jambon de Reims, or Reims ham, for something tasty to nibble on alongside a Brut Champagne. Nutmeg, shallots, and parsley flavor the ham while it's cooked in stock. Reims ham is served in cubes for an aperitif or made into a terrine with jelly to be enjoyed as an entrée. There's also jambon sec des Ardennes, a cured ham seasoned with salt, juniper berries, and sugar.
Popular Entrées in Champagne-Ardenne

White pudding sausage dish, Boudin Blanc de Rethel
Boudin Blanc de Rethel
Also known as white pudding, boudin blanc de Rethel is a white sausage made from the best cuts of pork, pork fat, eggs, milk, and a special blend of seasonings. The ancient recipe has been made in the Rethel district of Ardennes since the 17th century. Demoizet is a leading producer of boudin blanc de Rethel, making around 5 tons of the sausage daily. Boudin blanc also comes flavored with various local ingredients like truffles, morels, leeks, and wild mushrooms. It's often grilled with mashed potatoes and a flavorful truffle sauce or a simple salad and sautéed chanterelles. Pair boudin blanc de Rethel with a Champagne made from predominantly Pinot Noir, as the wine's broader palate will be an excellent match for the flavorful sausages.
Pâté Champenois
Pâté Champenoise is made from a mixture of rabbit and pork meat. After marinating in Marc de Champagne, shallots, garlic, and onions for at least 12 hours, the thinly sliced meat is set into a puff pastry-lined pâté mold. Another piece of puff pastry is placed over the top to seal in the meat. The dough is brushed with an egg yolk and water mixture; then the pâté Champenoise bakes golden brown. A Blanc de Noirs is a delicious Champagne pairing for pâté Champenoise. Made entirely from Pinot Noir and/or Pinot Meunier, Blanc de Noirs is full-bodied and fruit-forward, making this Champagne an ideal pairing for meaty pâté.
Other 'En Croute' Entrées to Try:
Tourtelets de Rethel – brioche pies with a boudin blanc filling.
Ouyettes de Langres – pâté of goose and apples in a puff pastry shell.
Palette à la viande des Ardennes – savory pie filled with pork, veal, and lardons.
Salade de Pissenlits au Lard
Salade de pissenlits au lard is a salad of dandelion greens cooked in lard along with potatoes and aromatic herbs like parsley. The salad is served warm and seasoned with vinegar, though oil is never needed thanks to the lard. This seasonal dish is served in Ardennes from March to May while dandelions are in season. It's thought to cleanse the digestive system from any residual "darkness" remaining from winter. The green, grassy flavors of dandelions with the richness of lard call for a fresh fruity wine pairing, and Beajuolais' juicy red fruit, floral, and earthy flavors are the perfect match.
Le Plat Principal in Champagne Cuisine
Cacasse à Cul Nu
Also, from Ardennes, cacasse à cul nu is a traditional poor man's dish of the region. The dish's name literally translates to "bare bottom" or "bare ass" because it was historically made without meat. Cacasse à cul nu is a fricassee of potatoes cooked in roux along with garlic and onions. Traditionally cacasse à cul nu was cooked in a cast-iron casserole dish rubbed with a strip of bacon for added flavor. Today, cacasse à cul nu has been updated to include smoked sausage, bacon, pork, or chicken breast. Pair this traditional French dish with a glass of Meursault Les Charmes Premier Cru or another white Burgundy from Meursault. These wines are full-bodied with flavors of citrus, honey, and a buttery texture ideal for a savory potato-centric dish.
Potée Champenoise
Otherwise known as Champagne Joute or "La Joute," potée Champenoise is a wintery Champagne food specialty enjoyed throughout the region. This vegetable stew is made with seasonal carrots, turnips, cabbage, potatoes, and a bouquet garni of aromatic herbs. Smoked Ardennes ham, sausages, and chicken further flavor potée Champenoise. A glass of Champagne Rosé made by blending up to 20% red wine from Pinot Noir or Pinot Meunier is a great wine pairing for this dish. A small amount of red wine enhances the Champagne's body and brings more red fruit flavors to complement the earthy root vegetables in potée Champenoise.
Pieds de Porc à la Sainte-Menehould
Pieds de porc à la Sainte-Menehould is a gourmet specialty of the Marne. The dish was served to King Charles VII when he visited Sainte-Menehould in 1435. This delicacy features pig trotters, or pig feet, slowly simmered in a broth with carrots, onions, shallots, garlic, white wine, cloves, and herbs. The pig trotters are dredged in eggs and breadcrumbs, then seared in a pan. Pieds de Porc à la Sainte-Menehould are served with mustard and best enjoyed at the annual Foire aux Pieds de Cochon, a fair dedicated to this traditional dish of Champagne cuisine. Pair a local Blanc de Noirs Champagne from the Valle de la Marne with this dish. Pinot Meunier dominates Champagne here, bringing more pronounced fruit flavors and refreshing acidity for a wonderful contrast to the tender pig trotters.
Choucroute de Brienne
Sauerkraut cooked in Champagne is a specialty from Aube. Choucroute de Brienne sees the sauerkraut simmered in a casserole dish with Champagne and chicken stock for a few hours. Shortly before serving, boiled potatoes, browned sausages, ham, and bacon are added to the casserole dish. Celebrate this classic Champagne food specialty at the Fête de la Choucroute every year in September in Brienne-la-Château. A Blanc de Blanc Champagne made from 100% Chardonnay is a great match for Choucroute de Brienne. The high acidity of this Champagne matches the tangy sauerkraut. While the brioche, pastry notes, and the wine's layered texture from lees contact deliver enough body to be enjoyed with the assorted meats in the choucroute de Brienne.
French Cheese from Champagne-Ardenne

Brie de Meaux, soft white cheese
Brie de Meaux
Brie de Meaux is a soft cheese with a white bloomy rind made from raw cow's milk. It's been produced under a protected AOC since 1980, which covers multiple departments of the Champagne-Ardenne region, including the Marne, Aube, and Haute-Marne. Brie de Meaux ripens over eight weeks, transforming from a brittle consistency to a supple, creamy texture with flavors of hazelnut and butter. This cheese is a great Champagne food pairing for aged Champagnes dominated by Pinot Noir with a broader texture on the palate. Otherwise, a Blanc de Blancs Champagne creates an excitingly fresh and acid-driven contrast to the creamy cheese.
Chaource
Chaource is a soft cow's milk cheese from Champagne's Aube region, made using a signature slow-draining process that gives this French cheese a buttery texture. Chaource must age for a minimum of 14 days. And it can be eaten young with no rind or consumed after 2-3 months of maturation once a soft, bloomy white rind has formed. Known for mild fruity and mushroom-like flavors, Chaource is a delicious pairing for just about any style of Champagne or dry French white wine.
Other Cheeses to try in Champagne:
Sweet Treats in Champagne

Marc de Champagne enfused chocolate delights
Biscuits Roses de Reims
Biscuits roses de Reims are the perfect treat to savor with a glass of Demi-Sec Champagne. The pink biscuits were first created in Reims in the 1690s. Their elongated shape is ideal for dipping into a glass of Champagne. They were originally colored pink with carmine to hide the unsightly black seeds from the vanilla used for flavoring. Biscuits roses de Reims are made from eggs, vanilla, flour, and sugar. They're baked twice to achieve their trademark crunch. Established in 1756, Maison Fossier is widely recognized as the leading producer of these French sweets.
Bouchon au Marc de Champagne
Bouchon au Marc de Champagne are scrumptious dark chocolate Champagne-shaped corks filled with Marc de Champagne, a brandy made from Champagne grapes created in 1951 by artisan chocolatier Guy Jubin. These delicious treats are available in most local boulangeries.
---
About Nicole Dickerson
WSET certified international wine writer with a passion for rare varieties and cellar hand experience in both hemispheres. Join me in the vineyards and cellars of the wine world at palmandvine.com.