Périgord Cuisine
Home to some of France's most stunning landscapes, Périgord boasts a diverse countryside with a storied past. Also known as the Dordogne or the Dordogne Périgord, the region holds pieces of history from the Middle Ages, the Renaissance, and even legendary conflicts. For example, the bloody battles of the Hundred Years' War occurred in the Périgord Noir area, one of four sub-regions of Périgord. The others are the central Périgord Blanc, the northern Périgord Vert in the foothills of the Limousin Mountains, and Périgord Purple in the southwest surrounding the vineyards of Bergerac. Also known as the Sarladais, Périgord Noir is home to expansive pine forests along with much of the region's orchards, walnuts, and chestnut trees. At the same time, the Vézère Valley in Périgord is home to more than 140 prehistoric sites, of which 15 are classified as UNESCO World Heritage Sites. Beyond history and worthwhile sightseeing, Périgord cuisine also delivers an abundance of riches for the gastronomically inclined traveler.
Read more in our Guide to French Cuisine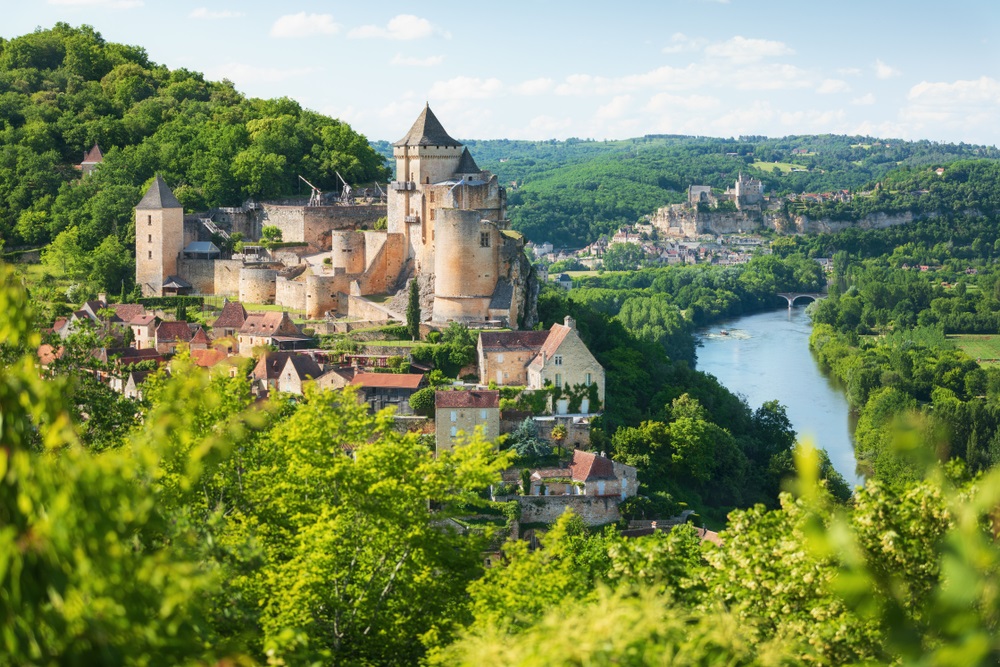 The Basics of Périgord Cuisine
Driven from the natural bounty of this stunning French region, food in Périgord was traditionally recognized as peasant cuisine. Rustic dishes relied on regional ingredients for simple, authentic, and flavorful meals. Périgord truffles, wild mushrooms, strawberries, walnuts, and chestnuts are prominently featured in Périgord cuisine.
Black Truffles
The Périgord black truffles are one of New Aquitaine's most world-renowned gourmet ingredients, the region in which Périgord lies. Traditionally, pigs were used in France to sniff out the truffles growing underground. Though dogs are more commonly used today. The growing season lasts from November to March, yet Périgord truffles are savored on dishes like salade truffe and 'omelette aux truffes' throughout the year. Visitors can shop for these expensive delicacies at the truffle markets in Périgord from December through March.
Périgord Strawberries
The region is known for its fragrant, juicy strawberries, which have garnered their own protected IGP status. This designation encompasses seven different varieties of strawberries, though the Gariguette and aromatic Mara des Bois are the most widely planted. More than 200 producers in the regional grower's association cultivate strawberries from April to June and a second crop from June to October. Look to dishes like magret de canard aux fraises de Périgord (duck breast with Périgord strawberries) or a soft Cabécou goat cheese salad with Périgord strawberries to savor this luscious regional fruit.
Walnuts
Walnuts have a lengthy and diverse history in Périgord cuisine, regional trade, and cultural traditions. During the Middle Ages, they served as a form of currency. Later, walnuts became a source of energy for lighting. They were also transformed into ink and made into soaps. Finally, the Espérance River in the Dordogne became a launching point for the walnut oil trade in the 17th century, as France exported walnut products to England and Germany. So naturally, walnuts became a crucial ingredient in Périgord cuisine. Walnut trees thrive in the region's clay-limestone soils, and today these delicious, nutritious nuts are produced under their own protected AOC designation.
Geese, Duck & Périgord Foie Gras
Geese and duck are the most widely savored types of meat in Périgord cuisine. Typically corn-fed, their succulent meat is enjoyed in dishes like magret de canard, duck breast from the Malard breed of duck. Aiguillettes are duck breast tenders often served grilled. Then, there is the Périgord salad and salade de gesiers featuring duck and duck gizzard, as well as confit de canard. Duck is the star of Périgord cuisine, and a luxurious Périgueux sauce often accompanies the decadent meat. The flavorful sauce is made from black truffles, shallot, Madeira or Cognac, and is sometimes enriched further with foie gras.
The premier specialty of Périgord, foie gras, is an epicurean delicacy often served as a first course in French cuisine. In Périgord, duck and geese are farmed primarily to make foie gras. They're force-fed in a practice called gavage to fatten their livers. Next, their fatty livers are sold whole (foie gras entier), made into a rich pâté (pâté de foie) or made into a reconstituted and emulsified bloc de foie gras. Périgord foie gras is made under a protected IGP status, and many farmers sell their products directly off their farms. Look to the Route du Foie Gras du Périgord to visit these regional farms and taste their delectable foie gras.
Other Elements of Périgord Cuisine
Beyond duck and goose, Périgord also breeds chicken and lamb with protected designations. The Poulet du Périgord is a slow-growing breed of chicken known for its tender meat and balanced fat distribution. At the same time, the Agneau du Périgord are lambs with a delicate flavor and high-quality, melt-in-your-mouth fat due to how they are fed.
Sturgeon farming and caviar production also take place in Périgord. Plus, regional cuisine is known for its jams and other preservation methods like confit, which were developed to prolong the shelf life of fresh ingredients. For example, the confit preservation method was developed by farmers to preserve the meat of ducks and geese after extracting their livers for foie gras production. The process sees meat cooked and preserved in goose fat.
L'Aperitif in Périgord
Wines from Bergerac are likely to be served for an aperitif in Périgord. The Bergerac region is nestled along the eastern border of Bordeaux and runs along the Dordogne River. Bergerac covers over 13,000 hectares of land, producing red, white, and rosé wines under 13 AOCs. Many dry white wines are made primarily from Sauvignon Blanc, Sémillon, and Muscadelle, the same varieties of nearby Bordeaux. In comparison, red wines feature grapes like Cabernet Sauvignon, Cabernet Franc, and Merlot.
Beyond wine, local distilleries produce authentic liqueurs from regional specialties, such as walnut wine and truffle or chestnut liqueur. Pastis, a popular aperitif savored throughout France, is also enjoyed in Périgord. The Distillerie du Périgord has been producing the Lapouge Pastis in Sarlat since 1860, made with a licorice and star anise infusion. One part pastis is mixed with five parts water and served on the rocks for a classic French aperitif.
Popular Entrées in Périgord

Pan-fried foie gras
Pan-Fried Foie Gras
For an authentic taste of Périgord cuisine, pan-fried foie gras is the ideal way to start a meal. The foie gras is cooked quickly, just for a minute on each side known as mi-cuit, or half-cooked. The result is a rich, buttery texture and a mild, delicate meat flavor with slight caramelization—Foie gras pairs deliciously with white and red wines. When pan-fried, Cabernet Sauvignon dominant red wines from the Médoc in Bordeaux or Bergerac offer a delicious match. The tannins and acidity of these French wines contrast the rich fats of the foie gras nicely. While these wines have enough concentrated flavors to complement the taste of foie gras.
Rillettes d'Oie
While rillettes of pork meat are popular in the Loire Valley, in Périgord, rillettes are made with goose meat. Rillettes d'oie are prepared in winter by simmering goose meat with water, fat, thyme, cloves, peppercorns, and salt slowly for around three hours. The goose meat is shredded and put into earthenware pots along with the fat, which helps preserve the meat—pair rillettes d'oie with a high acid, fresh white wine like Chablis or Sancerre. The aromatics and refreshing acidity of these wines will pop alongside the exquisite rillettes d'oie.
Périgord Salads
Salads in Périgord cuisine are not the average light salad fare. First, la salade de truffe is a truffle salad in which a lettuce of choice is topped with shaved Périgord truffles and dressed in walnut oil, wine vinegar, salt, and pepper. The truffles' savory, earthy, nutty flavors call for an aged Pinot Noir from Pernand-Vergelesses or further north from Nuits-Saint-Georges. Aged red Burgundy delivers vibrant acidity and tertiary forest floor or mushroom notes to complement these truffle flavors.
Next, the Périgord salad, also known as salade Périgourdine, features the best regional ingredients. The salad is made with sliced duck breast, foie gras, strawberries, walnuts, small new potatoes, and lettuce dressed in walnut oil, wine vinegar, sweet mustard, and honey. This flavorful Périgord salad is ideally enjoyed alongside a glass of Bergerac rosé. The wine's soft texture and amiable red fruit notes will sing alongside the duck, strawberry, and walnut flavors.
Additionally, the salade de gésiers are topped with duck gizzards instead of sliced duck breast and foie gras. Pair this salad with a Gamay from Beaujolais or Anjou, as the wine delivers freshness and red fruit flavors to balance the meaty flavors of the gizzards.
Main Courses in Périgord Cuisine

Duck Confit
Omelette aux Truffes
In Périgord cuisine, omelets feature regional porcini mushrooms, duck, and ham. Yet perhaps the most noteworthy version is 'omelette aux truffes' made with Périgord truffles. The secret to these flavorful omelets is sealing the eggs in an airtight container with the truffles a few days before preparing the dish. This infuses the eggs with even more truffle flavor. Aged white Burgundy from Chassagne-Montrachet or Meursault with tertiary mushroom notes and luxurious texture makes for an irresistible wine pairing for 'omelette aux truffes.'
Confit de Canard
Confit de canard is made with salt-curing duck leg placed in the refrigerator overnight. Next, the duck is simmered over low heat in its fat, along with aromatics like bay leaves and thyme. Once the meat starts to separate from the bone, the duck is placed in a container and covered in the fat. They're able to be preserved for a few weeks like this, thanks to the fat. When ready to serve, the duck legs are seared on both sides until the skin becomes crispy.
In Périgord cuisine, confit de canard is frequently served with local porcini mushrooms and sarladaise potatoes, which are potatoes also cooked in duck fat with garlic. For a white wine pairing for confit de canard, look to the rich blends of Marsanne and Roussanne in the Northern Rhône Valley. Their acidity and complex almond and hazelnut aromas match the duck flavors beautifully. For red wine, try Merlot dominant blends of Saint-Émilion or Pomerol, whose plush texture and flavors of plum, red berries, and cedar also deliver a delicious confit de canard pairing.
Tournedos de Magret
Tournedos de magret is a duck breast preparation that involves slicing the duck breast into strips. The meat is wrapped around a slice of foie gras to form the round tournedos shape. Then, the tournedos de magret are pan-fried and served with Périgueux sauce. Sautéed porcini mushrooms or roasted potatoes often accompany this full-flavored dish. Pair tournedos de magret with a red wine from Margaux or Pauillac in Bordeaux. These blends have a more significant proportion of Cabernet Sauvignon, resulting in concentrated blackcurrant fruit flavors with notes of cedar and oak. The ideal profile to match richly flavored meat dishes like tournedos de magret.
Périgord Cheeses

Trappe d'Echourgnac
Trappe d'Echourgnac is the oldest cheese in Périgord which was first created at the Abbaye Notre-Dame de Bonne Espérance in Dordogne. Monks from the Abbey of Port du Salut established a cheese factory when they came to live in Echourgnac to help the people of la Double. This cow's milk semi-soft cheese has a brown rind with rich, smoky flavors and a distinctive walnut aroma. Trappe d'Echourgnac is made in a 'nature' style and in a second style washed in walnut liqueur. Try this French cheese with a medium-sweet Sauternes, which has the body to match the cheese's richness. Plus, the botrytis, dried apricots, and sweet stone fruit flavors will contrast the savory characteristics of Trappe d'Echourgnac very well.
Cabécou de Périgord
Cabécou de Périgord is a famous goat cheese shaped like a small, flat, round disk. The cheese is typically consumed young and is known for its nutty aromas and flavors. Cabécou is frequently enjoyed for an aperitif with nuts and honey or cooked and served warm over a salad. Enjoy Cabécou de Périgord with a dry white Bergerac whose subtle fruit and floral notes are delicious with goat cheese.
Other Cheeses to Try in Périgord:
Chaumes– a semi-soft, washed-rind cow's milk cheese with intense aromas and a creamy texture.
Margotin– made from a mixture of goat's and cow's milk with a soft texture, occasionally enriched with pepper or herbs.
Desserts in Périgord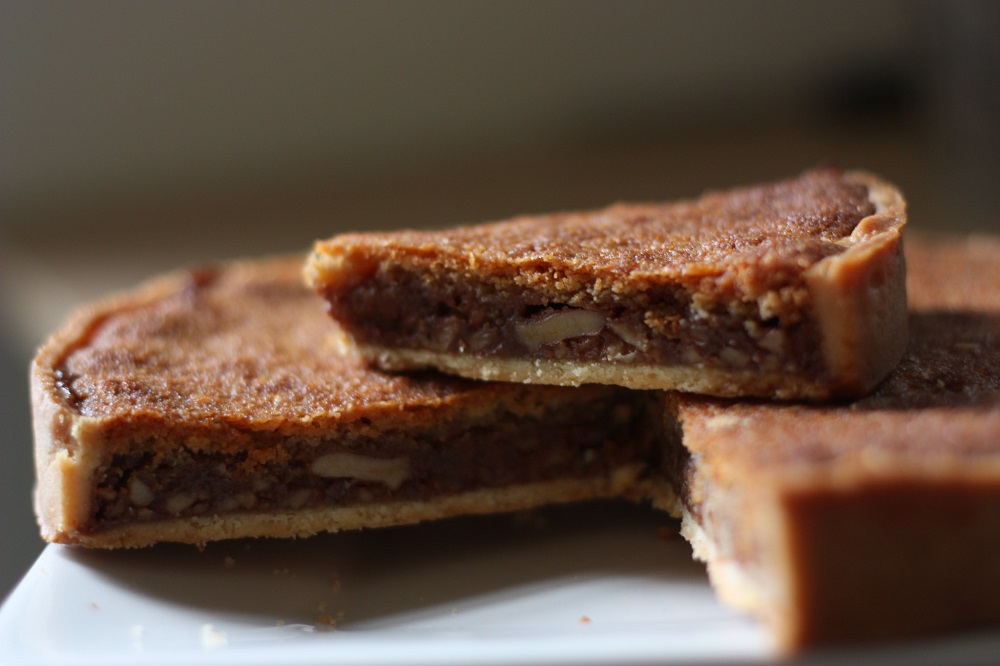 Tarte au Noix cake
For sweet dessert wine pairings in Périgord, look to the sweet wines of Monbazillac. Made from Sémillon and Sauvignon Blanc in a botrytized style, these wines offer creamy, nutty characteristics with flavors of apricot, honey, and figs.
Tarte au Noix & Gâteaux au Noix
The region's beloved walnut is featured in two popular desserts in Périgord. The 'tarte au noix' is a walnut tart made with a shortcrust pastry. The tart's scrumptious filling consists of chopped walnuts, double cream or créme fraîche, vanilla, sugar, and whipped egg whites. In contrast, the 'gâteaux au noix' is a fluffy cake made with butter, chopped nuts, vanilla extract, brown sugar, rum, and whipped egg whites.
Pompe aux Pomme du Périgord
Pompe aux pomme du Périgord is a delicious dessert made with handmade puff pastry and crisp apples from Périgord orchards. First, sheets of dough are layered with a mixture of thinly sliced apples, almond slivers, sugar, and butter. Then, the dessert is baked until the filling becomes caramelized and the pastry is golden brown.
---
About Nicole Dickerson
WSET certified international wine writer with a passion for rare varieties and cellar hand experience in both hemispheres. Join me in the vineyards and cellars of the wine world at palmandvine.com.