Spanish Brandy & Cognac
From straight-forward after dinner digestives to complex brandies of real class and distinction, there is plenty of choice for spirits lovers amongst Spain's selection of Coñacs or Brandy de Jerez. Spanish brandy is generally great value and deservedly very popular – there is a large range of styles and brands to suit every occasion and budget. Visitors to Andalucía in southern Spain can certainly testify to its popularity: enter any bar in Seville or Malaga, and you will undoubtedly see locals starting the day with a coffee and small glass of Brandy. Its fan club extends far beyond Spain's borders; over 80 million bottles are produced annually, of which about 20 million are exported to foreign markets.

History of Spanish Brandy
Spain has a 13-century-long history of producing distilled spirits (distillation), separating the alcohol from the water content to concentrate the alcohol). As early as the 8th century, the Arabs brought stills (alquitaras) to Andalucía or Al Andalus after their conquest of southern Spain. They wished to convert wine from the Jerez region into high-proof alcohol for medicinal and other purposes. Their legacy to the region endured, for after the Moors were driven out of Spain by the Spanish Christians, the Sherry makers in Andalucía fortified their wines with the spirit. A lucrative trade with the Netherlands developed, and Spain seems destined to be forever renowned as exporters of this prized grape spirit.
However, a chance occurrence that has entered into Sherry folklore apparently gave birth to the Spanish Brandy de Jerez industry (Jerez refers to Jerez de la Frontera, the epicenter of Sherry production in Spain). It is said that a tough Dutch customer refused to take his allocation of wine spirit – the year that this happened remains a mystery, but it is likely to have happened in the 18th century! His refusal directly contributed toward Spanish Brandy's creation, for the embarrassed producers poured the unwanted spirit into used Sherry barrels, where it was largely forgotten. Many years later, the barrels were rediscovered, and the shocked Sherry producers marveled at how velvety, smooth and aromatic the spirit had become.
In the early 19th century, eager French and English merchants arrived in Andalucía. They contributed greatly to creating a successful Spanish Brandy industry, laying down the production guidelines, aging, and opening up the first trade routes. Many firms were founded during this period, and the industry soon flourished.
Modern Times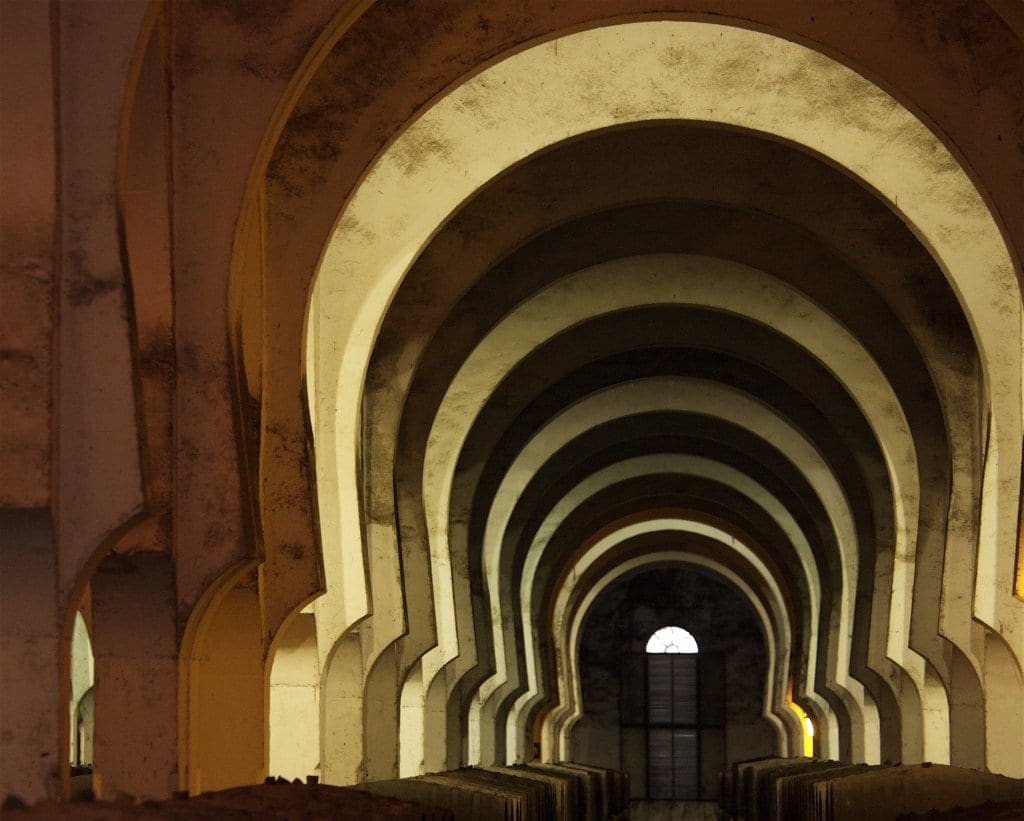 Cathedral of wine Jerez
Today, the vast majority of Brandy de Jerez does unsurprisingly emanate from the Jerez region, or "sherry triangle," which lies in Cadiz's province. Some "Brandy" is made in the Malaga and Cordoba provinces, but the finest examples are undoubtedly produced in the Sherry towns. The classic production process has barely changed over the centuries and is regulated by the Brandy de Jerez Consejo Regulador or Regulatory Council.
As Brandy de Jerez is a protected legal designation (D.O or appellation), its production methods must adhere to strict legal guidelines. These include: aging the spirit, called Holanda, in American oak barrels that have been used in the production of Sherry, aging the Holanda for a minimum period of six months, and ensuring that the aging takes place within the Sherry region. Finally, the result must have between 36-45 degrees of alcohol.
Unlike Cognac, a double distillation of the base wine is rarely employed, and the wines may come from outside Andalucía. The majority of the wines come from La Mancha, south of Madrid, where it is distilled in traditional copper pots. During its maturation process in Sherry casks, the spirit will transform from a coarse, harsh substance into a smooth, aromatic, and dark-colored brandy. Depending on the length of the barrel aging, it will be classified as follows:
Solera: A light, pale brandy that has been aged for a minimum period of six months;
Solera Reserva: A darker, fuller, and more aromatically complex brandy that has been aged for a minimum period of 12 months;
Solera Gran Reserva: The granddaddy of them all, a rich, highly complex, and dark brandy that has been aged for a minimum period of 36 months.
Of course, the above are just recommended guidelines, and top producers often mature their brandies for considerably longer times; some Gran Reservas can have up to 15 years or longer. The result is sublime: a concentrated, dark and aromatic brandy with breadth, depth, and every other possible dimension. Expect chocolate, caramel, coffee, and vanilla!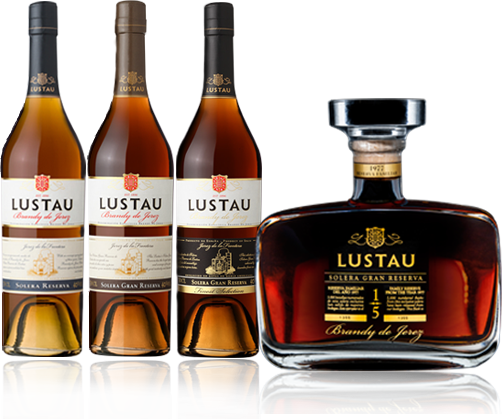 The following are some of our favorite Brandy de Jerez brands available:
Related Blog Posts: