Since the days of the Etruscans, a wine-growing center, the tumbling hillside village of Montepulciano is the epicenter for the production of the well-regarded Vino Nobile di Montepulciano. An enchanting Tuscan town included on our tours often dubbed a "miniature Florence" for its mix of beautiful churches, wonderful art and architecture, and lively café culture, Montepulciano has long been famed as the birthplace of wines enjoyed in centuries past by noblemen (hence the name as a 'vino Nobile). Popes, poets, proprietors, and politicians first made the region's wines famous, but its popularity has endured thanks to its spicy flavors and balanced acidity.
Perhaps the least well-known of Tuscany's "Big Three" DOCGs (including Chianti Classico and Brunello di Montalcino), Montepulciano is equally praised for its wines and delightful setting. Some 2,500 acres are planted with vines, most with the local Sangiovese strain Prugnolo, a reference to its prune-like shape, color, and aroma. (Don't confuse the wines made here with the grape varietal Montepulciano, which is ubiquitous throughout southern and central Italy, especially in the Abruzzi region.) Vino Nobile's Prugnolo-based wines are often blended with up to 40 percent Canaiolo, Malvasia, or Trebbiano to add structure and balance, although wines are also made with 100 percent Sangiovese.
Visiting
Cellar Tours organizes exclusive luxury Montepulciano Wine Tours, featuring top producers, privately chauffeured, dining in the best local restaurants, and staying in charming countryside hotels.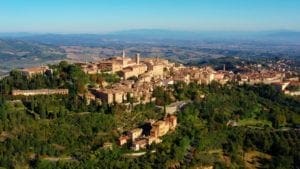 "Nobile Wines", from pictureque Tuscan vineyards
An unusual variety of blends and techniques find their way into Vino Nobile, making it difficult to define the style of the DOCG. Depending on who is offering the opinion, this is either a frustrating aspect of the region or an exciting joker card that permits winemakers to explore new territory uninhibited by tight appellation regulations. With ever-varying blends and aging times, wines from this area may be more or less spicy, resiny, herbal, fruity, or rich. Most, however, reveal the typical aroma and flavors of Sangiovese while toning down the tannins compared to the Brunellos made nearby and smoothing out the acidic notes of many Chianti Classicos.
The vineyards around Montepulciano, many of them planted in the sandy clay soil of gently sloping hills at around 600 feet above sea level, are sunny and well-drained, promoting a favorable maturation. Plantings stretch over the low, rolling hills typical of this area toward the large city of Siena, at the southern tip of the Valley of Chiana. The prized T-bone steaks ("bistecca alla Fiorentina") that come from cattle raised in the valley are an ideal accompaniment to quality Vino Nobile.
Also revered are the Rossi di Montepulciano wines, made with the grapes of younger vineyards near Montepulciano. While aged for less time and generally less expensive than Vino Nobile, these wines are often just as exciting as the noble wines, thanks to a punch of fruitful and appealing youthful aroma.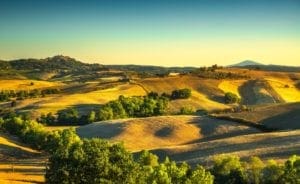 Recommended Wine Producers in Vino Nobile di Montepulciano Wine Region