When critics are tired of "the same old varieties and wine styles," they head to Sicily. The island is alive with the twin sounds of innovation and viticultural excitement as growers continue to fashion excellent wines from an enviable portfolio of indigenous grapes. Yet, one particular variety tends to get forgotten amongst all the hype over volcanic soils and autochthonous vines. It's known as Catarratto.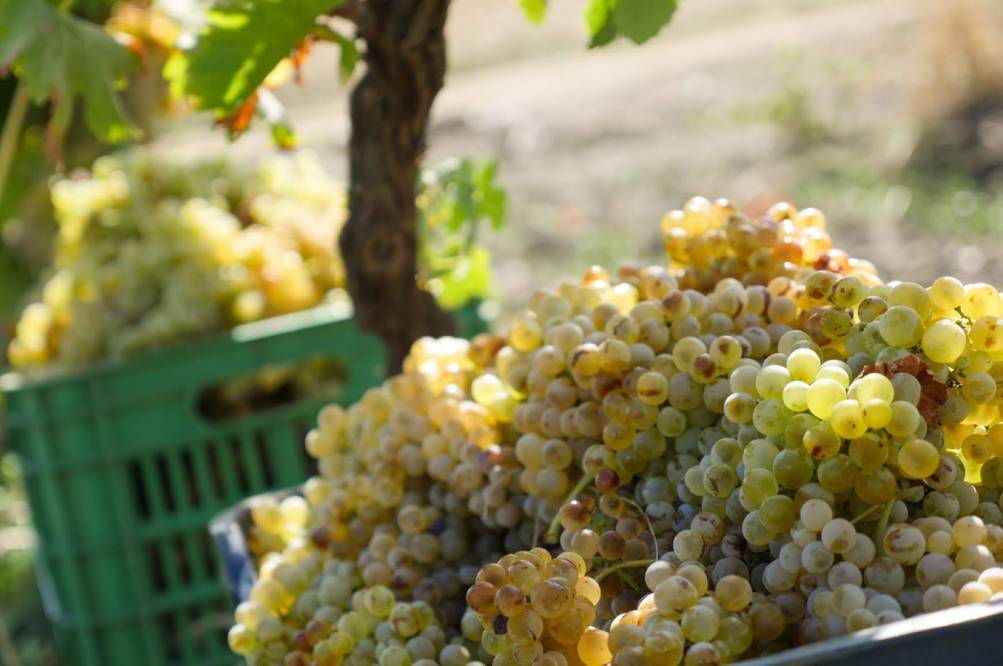 From a historical perspective, this apathy is perfectly understandable. Catarratto has long been associated with indifferent white wine in Sicily, exploited by cooperatives in the 20th century to produce large volumes of commercially acceptable dross. At best, it was an inoffensive – and characterless – part of the island's export industry. However, the Italians are never ones to rest on their laurels – contemporary expressions of Catarratto are fruit-forward and deliciously fresh. Unfortunately, there is little room for flavorless white plonk in a fiercely competitive global arena. Fortunately, the Sicilians have turned things around.
History and viticulture
Like most important wine regions, Sicily's history is fraught, complex and replete with highs and lows. Yet, over the centuries, it has transformed from a poor backwater into Italy's most vital and improved wine producer. Indeed, much wealth and economic prosperity have been generated by modern-day viticulture, in addition to the millions of tourists who visit this sun-kissed paradise every year.
Sicily is the Mediterranean's biggest and most historically fascinating island, with the remnants of several civilizations still visible in the town squares, alleyways, and monuments. From the Greek temple of Agrigento to the Roman mosaics at the Piazza Armerina, Sicily is full of wonders of the ancient world. For example, the Greeks introduced wine growing to the island; a practice continued by the Romans until the collapse of the Western Roman Empire. As a result, Sicily is rich in indigenous varieties like Catarratto and Carricante. Their ancestors (we presume) are the ancient grape varieties imported by the Greeks in the 8th century BC. After that, a succession of conquerors claimed dominion over the island, including the Vandals, Arabs, and Aragonese.
Meanwhile, the diverse soils and mesoclimates of Sicily were being put to good use. In particular, farmers found the volcanic terrain of Mt.Etna ideal for cultivating the vine, a precarious business as the volcano has erupted several times over the centuries. Moreover, the island's eastern capital, Catania, has been covered in lava flows on more than one occasion, killing thousands of people. And yet, growers always returned to the slopes of Mt.Etna, as it is a very advantageous place to grow crops. Indeed, so dry is the climate that the vines need little protection from fungal diseases – Sicily is leading the way in organic viticulture for this reason.
Moreover, the solidified magma terroir of Mt.Etna is one of the few places in the world to offer a natural resistance against phylloxera. This deadly louse arrived in western Europe in the late 19th century, after British horticulturists accidentally 'imported' the pest via some flora specimens from the US. Spreading to the vineyards of the southern Rhone, phylloxera laid waste to regions across France and Spain. However, phylloxera cannot survive on the igneous soils of Mt.Etna, so Sicily's farmers never suffered any losses. As a result, today, it remains one of the world's last bastions of pre-phylloxera vines.
By the late 1800s, Catarratto had become a vital part of Sicily's wine industry. Yet, until recently, viticulturists knew relatively little about the grape; genetic analysis in 2008 suggested that the variety is a close relative of Garganega, the signature white grape of Soave. It is speculated that Garganega is one of Catarratto's parents, although nothing has been proven to date. In addition, local winegrowers have long regarded Catarratto Bianco Comune and Catarratto Bianco Lucido as distinct grape varieties. However, the scientific community once again uncovered the truth in 2008, when DNA analysis proved they are identical. Many decades earlier, gallons of Catarratto were being exported to mainland Italy, made by cooperatives with little interest in wine quality. Thankfully, they're now outnumbered by passionate winemakers who craft site-specific, premium wines.
That said, success does not come without sacrifices in the vineyard. Although Catarratto's tendency to deliver massive yields is economically attractive for bulk shippers, it is fundamentally incompatible with quality wine production. So what is required is a relentless 'pushback' from the grower: pruning, leaf pulling, and green harvesting in the early summer. Only low-yielding vines will produce berries rich in acid and aromatic compounds. The alternative is to join the ignoble ranks of soulless, industrial winemaking.
Winemaking
Historically, Catarratto was treated as a Sicilian workhorse: large bunches were crushed, quickly pressed, and fermented in gigantic concrete and wooden vats before being bottled under rustic conditions. Often blended with Carricante, the wines had all the charm of damp cardboard. The key exception is the production of Marsala, Sicily's classic fortified wine style. For centuries, vineyards in the far west of the island have been used to make this delicious and unique fortified wine. As a result, Catarratto is treated with respect by houses like De Bartoli and Nino Baracco. Nonetheless, dry table wines made from Catarratto were rarely inspiring in the 20th century.
That all started to change in the late 1990s after an influx of new talent began fashioning excellent dry whites from the grape, equal in flavor and poise to Carricante and Inzolia. Cantine Barbera, one of Sicily's brightest stars, has produced exceptional mono-varietal styles from Catarratto. Advocating techniques that would horrify Riesling fanatics, the winemaker only uses hand-harvested grapes from old vines; the crushed berries are not pressed; instead, the juice is left in contact with the skins for over 15 days. After that, the wine is fermented in stainless steel tanks at low temperatures; the wine is then matured on its fine lees for 12 months in Slavonian oak barrels before transferring it to amphorae. The result is a deeply colored and exotic interpretation of Catarratto, with spicy aromas of blood orange, fennel, and burnt toast. It is far removed from the cliché of a pale, characterless white wine.
Of course, not all premium wine estates are avant-garde in their vinification techniques. Many producers favor cool fermentations in stainless steel or concrete; skin contact is generally avoided. This is because the critical mass wants to fashion a fresh, aromatic style of wine without any phenolic pickup. These organic compounds in grape skins can add complexity and color to certain wines. Yet excessive skin contact can also be disastrous, resulting in bitter and astringent white wine endowed with an unpleasant oily texture. For that reason, skin contact and orange wines are the exception in Sicily rather than the norm. The best examples are definitely worth a closer look, however.
A Sicilian revival story
It is heart-warming to witness the ongoing revolution in Sicilian viticulture and winemaking. The potential of the island's diverse terroir has been there for centuries, yet this precious resource was (largely) squandered in the 1900s as major producers sought volume at the expense of quality. But those days are no more. Each of Sicily's key wine zones are now in the premium business, exporting delicious and terroir-driven wines to Milan, London, and New York restaurants. The question is: can supply keep up with the insatiable demand for indigenous varieties and esoteric styles? The timing of Sicily's great revival has been most opportune. Wine lovers worldwide are moving beyond their comfort zones, exploring the obscure grapes of Europe. It makes sense: our multicultural cities now offer every type of cuisine imaginable; why would the oenophile not want to try Grillo or perhaps Albana from Emilia-Romagna?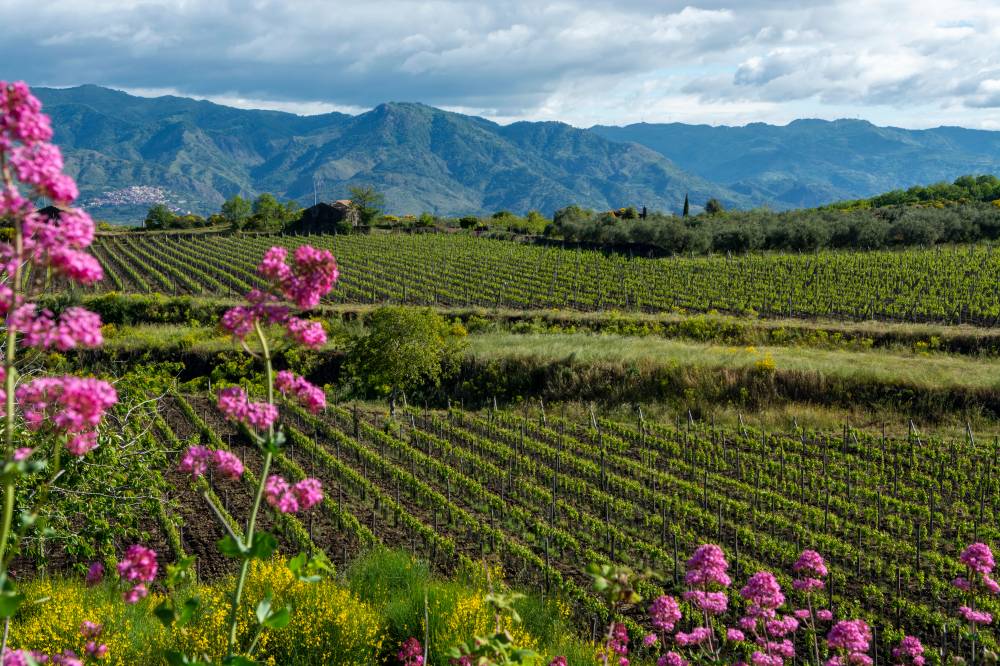 Vineyards on the slopes of Mt. Etna
These tectonic movements have transformed the fortunes of grapes like Catarratto, encouraging growers to try their hand at quality winemaking. One of the best sources of Catarratto wines – often blended with Carricante – is the majestic slopes of Mt.Etna. The former is native to the western section of Sicily, while Carricante is believed to be indigenous to the province of Catania. Every year, more and more investors brave the volcano's portentous rumblings to take advantage of the limitless potential of mineral-rich soils and varying elevations. As a result, the region is morphing into Sicily's version of the Cote d'Or, with parcellated vine holdings and endless studies into the distinct terroirs of the eastern, southern, and western slopes. But most importantly, the wines are exceptional: whites are fruit-forward and very expressive, with notes of stone fruit, garrigue, and aniseed. In many cases, the softer Catarratto is used to temper the fiery acidity of Carricante – always an advantage in hot climates.
However, Etna is one of many sources of high-quality Catarratto wines. A growing number of single-varietal expressions are being made under the auspices of the Terre Siciliane IGT (Indicazione Geografica Tipica) designation. Working under a framework that celebrates the value of experimentation, some very funky wines have emerged of late, including orange styles and wines aged underwater! The DOC Sicilia appellation is also committed to giving its members a free hand. Thus, a DOC Sicilia white wine must only contain 50% of one of the permitted varieties, including Catarratto. But the indigenous can be mixed with the imported: Chardonnay blends surprisingly well with Catarratto, albeit international grapes do not dominate the local scene – thankfully!
Nonetheless, these wines are a potent symbol of Italy's 21st-century renewal and invigoration. Glancing across the vineyards of Sicily today, it seems unlikely that the island will ever take a step back. Believe it: the quality revolution is here to stay. The only question is, what happens next?
Top producers of Catarratto wines:
Alessandro Viola
Iniceri
Longarico