Loved by gourmands as the birthplace of Prosciutto and Parmigiano Reggiano cheese, this ancient city in the northern Emilia-Romagna region has a rich culinary tradition. The cheese, ham, vinegar, and wines made in the area are among the world's most sought-after, making this a real mecca for food and wine lovers. The city itself is an elegant place known for its stately architecture and ancient university.
Founded by the Etruscans and transformed into a Roman colony in 183 BC, Parma's importance was derived mainly from its location along with one of the important Roman roads. Although it quickly gained a fair measure of prosperity, Parma's early years were far from peaceful, and the city was conquered and destroyed repeatedly. Parma built up its castles, inns, and hospitals in peaceful times as more and more travelers stopped by on the road that linked northern Europe with Rome. You can visit some of those ancient buildings both within Parma itself and in the surrounding countryside.
Giuseppe Verdi (composer of Nabucco, Rigoletto, Aida, and La Traviata) was born in the small village of Roncole near Parma. A music festival is celebrated in his honor every year. The small airport of Parma is named after him. Other famous artists born in Parma or known to have worked there include Benedetto Antelami, Correggio, Parmigianino, Bodoni, Salimbene, and Toscanini.
While one of the best things to do in Parma is to simply wander its tidy, romantic streets and snack at its cafés and trattorias, the city does contain several impressive buildings and monuments you'd be well-advised to seek out. Begin your visit with a stop at the Duomo. In contrast to so many of Italy's heavily decorated, ornate temples, this Romanesque creation soothes with its clean lines and rather plain beauty. Continue to the much-restored Palazzo Della Pilotta, once the private residence of ruling nobles and now the home to a half-dozen museums and cultural institutions, among them the highly esteemed National Gallery.
Gastronomy & Wine
Far and away, the most wonderful culinary feats ever to emerge from Parma are Prosciutto (the wonderfully flavorful cured ham) and Parmigiano Reggiano (the world-famous aged cheese). The long aging and drying processes associated with both are well-suited to the climate, which boasts the ideal air currents to cure. Other famous gems of Parma (lesser-known abroad) are the tantalizing Culatello di Zibello and the delicious Salame di Felino. Typical dishes in Parma include "Tortelli di Erbetta" (delicious little tortellini pasta stuffed with ricotta, Parmigiano, and Swiss Chard), "Stracotto" (a kind of slow-cooked beef stew served with polenta), "Bolliti" (boiled meats), and "Torta Fritta" (triangles of fried dough served warm with cold cuts like prosciutto and culatello). You will also find excellent balsamic vinegar near Modena, just a short drive away.
The vineyards of DOC Colli di Parma begin just beyond the city. This area primarily makes the red wine Barbera. But the region is best known for its easy-to-drink and straightforward sparkling Lambrusco. While not considered "serious wines," these sweet and sparkling red wines often complement the rich, savory dishes that make up the regional cuisine. Checkout our Emilia-Romagna food guide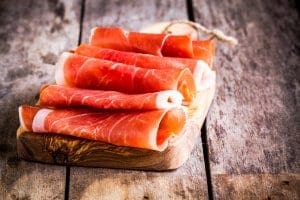 Highlights
Churches

Parma is at no loss for opulent, imposing churches. The grandest of the bunch is the Romanesque Duomo, whose Baptistery dates to 1196 (see below), but also worth seeking out are the 15th-century baroque Church of Saint John the Evangelist and the Renaissance Sanctuary of Santa Maria Della Steccata, begun in 1521.

Duomo

The Salmon-pink marble of the Duomo (Cathedral) stands out for its simple elegance. Built-in the 11th century in a sombre Romanesque style, the church is adorned with a Gothic-Romanesque bell tower and beautiful frescoes in the interior. Its Baptistery is hailed as one of the most significant Romanesque creations in all of northern Italy. The pinkish marble Baptistery was begun in 1196 under the hand of Benedetto Antelami. His delicate sculpture work here earned him lasting fame. Also interesting are the vibrant frescoes.

A slew of worthy museums fill the Palazzo della Pilotta, a 16th-century creation where you will now find the Palatine Library, the National Gallery, the Archaeological Museum, the Bodoni Museum, and the Farnese Theatre. Other palaces are scattered about the center of the city. The bright yellow Palazzo del Governatore (Governor's Palace) stands watch over a broad piazza, while the 16th-century Ducal Palace boasts lovely gardens.

It is a highly esteemed and beautiful opera house built in the 1800s when it was called the Teatro Ducale. Marie Louise, the Duchess of Parma, commissioned the opera house in 1821 on the spot of an ancient monastery. It took eight years to build, and the first show was Vincenzo Bellinis Zaira. This opera house is closely associated with Giuseppe Verdi (who lived close by) and, of course, the conductor Arturo Toscanini (Parma Native). Opera season here runs from December to April.

Museo Lombardi

A far-reaching collection including art and artifacts from centuries past is an exciting museum that includes curiosities owned by Napoleon.

Castles of Parma Province

Parma rivals Piacenza with its high concentration of castles. They are some of the best-preserved in Italy and indeed Europe. Particularly lovely castles include Torrechiara (a fairy tale 15th-century castle built by Pier Maria Rossi for the count and his lover Bianca Pellegrini da Arluno), Colorno (The "Reggia" is a beautiful ex-fortress cum refined palace, and is in Colorno next to prestigious ham producers), the gorgeous 14th century 'Rocca' of San Secondo and Fontanellato (an impressive medieval castle with a moat).

Ham Producers Some ham producers like Fattoria open to the general public for a fee, while small exclusive culatello producers open for private and unique tours.

Parmigiano Reggiano

Producers The Consorzio offers a group tour for the general public. Small, artisan cheese producers abound and some can open for specially organized private visits.