The attention and reverence directed towards Tinta Cão can sometimes baffle newcomers to Portugal's wine scene. The vine crops at very low yields, ensuring that economically-led growers cannot afford to get involved with the variety. It also lacks the depth of color of Tinta Roriz and Touriga Nacional – as a very late-ripening grape, producers risk harvesting during the autumn downpours (increasing the chance of rot). For these reasons, there are just 330 hectares in the whole of Portugal, accounting for less than one percent of the Douro's total vineyard area. So why, then, do acolytes keep the faith?
Read more about Portuguese Red Wine
You can explore the Portuguese Wine Regions with Cellar Tours on a private Luxury Food and Wine Vacation, dine in the best local restaurants, and enjoy VIP tastings in the top wineries.
Almost every winemaker in the Douro will tell you that despite the drawbacks, Tinta Cão is capable of transforming a lackluster port blend into a thing of supreme beauty. They will wax lyrical about the grape's sensual perfume and the acidity it brings to all great port. They will tell tales of long-aged dry reds, complex and profound, with the silkiest tannins imaginable. The port industry could survive without adding Tinta Cão; that is certain. But it would be all the poorer for it.

History and viticulture
Tinta Cão is one of the great indigenous varieties of Portugal. After all, one cannot solely judge based on the small number of vines cultivated today! Indeed, ancient records dating back to the 17th-century reference Tinta Cão; viticulturists are certain that the grape is not an import. In the late 1700s, the revered Lacerda Lobo (one of Portugal's first wine experts) made written observations that Tinta Cão belonged in the Douro Valley. Rebello da Fonseca, an ancestor of the famous Fonseca port shippers, also documented that "this is one of the varieties from the Douro which makes good wine." By the early 19th century, Tinta Cão was firmly established as an essential ingredient in all good ports, fortified with the addition of a fiery white spirit.
Sadly, the advent of phylloxera was disastrous for Tinta Cão, as many vines were not replaced during the regrafting program; the terrible hardships of the late 1800s forced growers to prioritize volume over quality. As a result, they needed varieties that would produce a reliably generous crop, year after year. Unfortunately, that was not a given with Tinta Cão.
The name's literal translation is very colorful: Tinta Cão means "red dog" in Portuguese. However, the origins of the nomenclature remain a mystery. Geneticists believe that the grape may be related to the white grape Viosinho and red variety Tinta Francisca, although nothing has been proven. The only real point of consensus is that Tinta Cão has been growing in Portugal for many hundreds of years.
If you visit the beautiful Douro Valley region, you'll soon spot Tinta Cão vineyards. The vines are noted for their yellowish foliage and, closer to the harvest, very small bunches containing perfectly formed berries. The variety needs specific conditions if the grower hopes to produce high-quality wine. It thrives on very poor soils, with a top layer of metamorphic rock to help warm the vine canopy. For that reason, most of the best Tinta Cão is cultivated on granite or schist soils, with a south-west facing aspect. It is a late-ripening grape variety – the berries tend to reach maturity one full month after Castelão has been harvested, for example. To reach satisfactory levels of phenolic ripeness, the yield must be kept very low, and the vines should be exposed to ample sunlight, benefiting from a long and warm growing season. Tinta Cão is fairly robust and can survive for a decent time without moisture, although drought stress can be a problem in very torrid years. Neither is it very susceptible to coulure or bunch rot during bad weather. If the terroir is first-rate, Tinta Cão will do the rest.
Winemaking
Tinta Cão presents winemakers with a dilemma. Is it preferable to produce the classic style, defined by crisp acidity and firm (occasionally astringent) tannins? Unfortunately, this wine cannot shine unless food is on the table. But Tinta Cao can blossom after a few years in bottle, developing a beguiling nose of acacia, eucalyptus, sour cherry, and plum. This attractive floral quality is rarely seen in some of the heavier styles made in Portugal today. Whether used to produce table wines or blended into port, Tinta Cão brings a welcome dose of finesse and elegance to the party. It could be described as Portugal's answer to Pinot Noir, albeit that grape is far harder to grow.
Yet some growers advocate extracting the maximum color and flavor from the grape's thick skins, preceding maturation in new French barrique. Depending on your point of view, this could be viewed as a bastardization of Tinta Cão or modernization. Nevertheless, the emerging generation of winemakers, influenced by sommeliers seeking lighter/fresher styles, tend to favor a gentle fermentation and maceration, often using whole bunches in the stainless steel vat. However, many historic wineries in the Douro still prefer the time-honored system of foot treading, using crushed and destemmed fruit in the tank. As a result, even though Tinta Cão is a late ripener, it seldom produces wines with fierce alcohol and deep color ( the skin pigments contain moderate levels of anthocyanins). The variety is also prone to oxidation, so carefully handling the juice and wine at all stages is advised.
If used carefully, oak aging can flatter Tinta Cão, enhancing the structure and mouthfeel. But overoaked examples are a terrible waste of wine, subjugating the grape's most precious asset: floral elegance. Between 12 to 16 months in older barrels usually gives the best results. Winemakers increasingly refrain from filtration and cold-stabilization, as they argue it strips some of the potency out of Tinta Cão.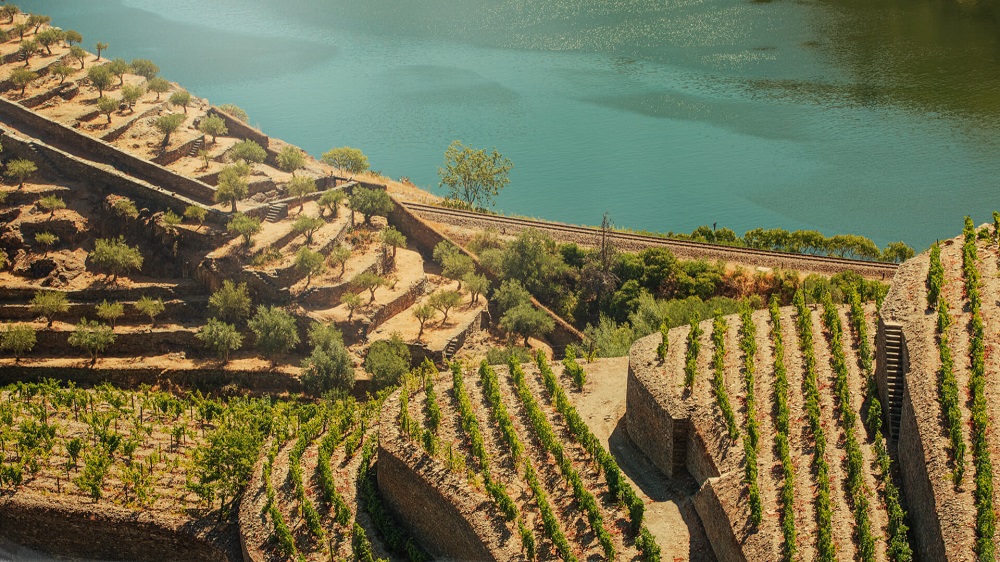 Tinta Cão vineyards in Quinta da Boavista
The comeback kid
Forty-five years ago, Tinta Cão was in danger of becoming extinct in Europe. Struggling Portuguese winegrowers were understandably reluctant to champion a grape that delivered such paltry yields, particularly when high-cropping alternatives like Tinta Roriz are relatively easy to grow. As a result, the acreage declined in the late 20th century, hitting rock bottom just before the Millennium. It looked as if this grape would be consigned to the history books for a time.
Fortunately, two things have saved Tinta Cão from annihilation. First, in recent years, there has been a surge of interest in good quality Portuguese table wines. Even the country's fortified wine capital now boasts a dual identity, with certain winemakers sidelining port to make dry styles. Although it remains a niche product, single-varietal Tinta Cão is starting to appear on restaurant wine lists in Lisbon, Oporto, and even cities like London and New York. Sommeliers are definitely on board, seduced by the grape's wonderful perfume and unsurpassed finesse.
Secondly, there is a growing demand for fresh red wines that offer flavor intensity, minus the alcoholic baggage. Tinta Cão's ripe acidity, balanced abv, and bright, crunchy fruit profile make it an ideal partner to food; the grape is custom-built to appeal to Millennial audiences who reject overblown red wines. The challenge is to spread the gospel in international markets, where general awareness is currently low.
Tinta Cão's heartland remains the Douro Valley, with a small number of plantings in the Dão region. It is a versatile part of Douro's wine industry, playing a role in both port and table wine blends, while single-varietal dry expressions are becoming more widespread. There is no excuse for making lackluster Tinta Cão in this part of the world, as the terroir is ideally suited to the grape.
More importantly, winegrowers are not resting on their laurels. Site selection is a constant theme in the Douro, particularly in the context of global warming. In the Torto tributary, producers seek out north-facing climats (vineyard sites) planted at higher elevations. The mild climate of this sub-zone makes it a good table wine country; phenolic ripeness is attained gradually, maintaining vibrant acidity levels and balanced alcohol. The Cima-Corgo sub-region, characterized by its steep schist terraces, is also regarded as one of the best terroirs for the variety.
It's a simple rule of thumb: if you harvest berries from leading sites in the Douro, you can make unbelievably delicious reds from Tinta Cão. Indeed, a recent table wine tasting confirmed this grape's awesome potential. The best examples were bright and fragrant, with red cherry, thyme, white flowers, and lavender aromas. There was a gorgeous smoky underlay to the mid-palate, which offered both concentration and class. The tannins were ripe yet firm, and the acid line was textbook. It reinforced why winemakers like Dirk Niepoort have fought long and hard to stop Tinta Cão from sliding into obscurity. If they get their way, vine plantings and recognition will increase over the next decade. So, for diversity and vinous excitement, let's all cheer them to succeed.
Top producers of Tinta Cão wines: