At first glance, little has changed in the magnificent Douro, a wine region bathed in history and grandeur. The Douro river winds its twisty path towards central Spain as it did centuries before, over 900km of majestic landscape that, even in the 21st century, appears wild and rugged, with hard, rocky slate and granite soils suitable for growing vines and olive trees, but little else. Indeed, the Douro valley is one of Portugal's most celebrated UNESCO World Heritage sites, and with good reason. For there can be few wine regions more scenic and more alluring than the home of Port. It truly is a unique and timeless place to make wine.
However, appearances are, in this case, very deceptive – the unprecedented level of investment and innovation in Douro winemaking has been one of the most dramatic transformations to occur in the wine industry in recent times. Interest in providing high-class tourism has also exploded over the last decade – lavish hotels, tasting rooms, multilingual staff, new wine styles, and Michelin culinary art now await visitors.
Brief History
But before we delve into the modern and cutting edge, a brief history of the region is probably required. The tale of Port is well told, yet we forget that vines had been cultivated for centuries in the Douro before the British arrived. Growers worked with over 80 indigenous varieties, producing red and white table wine blends, although the most important remain Touriga Nacional, Tinta Roriz, Touriga Francesa, Tinta Barroca, and Tinta Cão for reds and Rabigato, Gouveio, Vioshinho and Malvasia Fina for whites. The terroir, heavily influenced by the strong continental climate and mountain ranges, produced rustic red wines that were very different from the mainstay of British consumption in the 18th century – claret. Fortified wine did not exist until the seventeenth century when distillation was commercialized (first by the Dutch).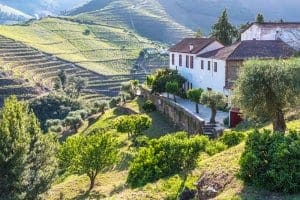 Port Wine
Port, which is regarded as the definitive example of fortified wine, took its present form around 1775. However, its roots go far deeper – when the Nine Years' War between Britain and France made it almost impossible for the British to get hold of Bordeaux, wine shippers visited northern Portugal in the early 18th century in search of a viable alternative. The Methuen treaty of 1703, which granted Portugal preferential taxes on wine exports in exchange for lower duty on English textiles, helped consolidate the burgeoning interest and soon barrel after barrel was sent to the UK. Yet the wine was often spoiled by the time it reached its destination, and the shippers needed a way of stabilizing and fortifying the wine for the journey home. Gradually, the practice of adding spirit to the wine during fermentation became commonplace and so Port was born. British investment in the region soon followed and in the 1750s, the Douro Valley become the first formally demarcated wine region in the world.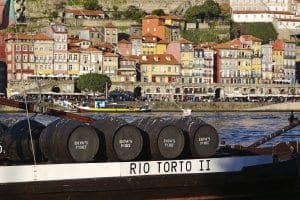 Modern Times
Fast forward to today, and the winemaking landscape has changed out of all recognition. Of course, tradition and heritage still prevail, but it has been joined by a certain pragmatism, a keen awareness that Port's traditional customer base is aging and dwindling. Millennials need an extra incentive to discover Port. Though there is a concerted effort to protect and expand the market for this iconic wine style, Douro producers have added a second and third-string to their bow over the past couple of decades: high-quality table wines and new styles of Port.
Today there are approximately 38,000 hectares of vines planted in the region, although only 26,000 hectares are authorized for Port production. The wider region is split into three sub-zones: the Baixo Corgo (Lower Corgo), Cima Corgo (Upper Corgo), and the Douro Superior (Upper Douro), an enormous region that runs from Pinhão to Barca d'Alva. The Baixa Corgo is the smallest of the three but has the greatest concentration of vineyards. The Cima Corgo is the heartland of Port production and is home to many of the best-known Port brands and Quintas, including Taylor's and Grahams.
Fundamental to the Douro's winemaking culture is the beneficio system, which was created to balance the production of Port against vintage conditions, volumes sold in the market, and stock levels maintained by the Port houses. Every year, winegrowers are issued with their beneficio, stipulating how much of their crop can be used to make Port. Unfortunately, the rest of their grape production was historically sold off in bulk or made into cheap plonk for local consumption – hardly encouraging to make premium table wines.
Yet, in the 1950s, there were whispers about the potential for making high-quality unfortified wines in the region. The first pioneer was Fernando Nicolau de Almeida of Ferreira, who made Barca Velha – beloved of Jose Mourinho – in 1952. Then nothing much happened for decades until Douro table wines were given their own classification (DOC) in 1979. Fernando's son João subsequently introduced Duas Quintas, but by and large, Douro premium table wines were few and far between. Only at the start of the early 1990s did interest in producing fine red wines take off – the Bergquists, owners of Quinta de la Rosa, started making their wine in 1991. That year, legendary figure Dirk Niepoort made the first vintage of Redoma, which remains one of Portugal's finest red wines today.
Suddenly, an explosion of interest in making high-class table wines took hold, affecting both established Port houses and grower families who had decided to go it alone. As a result, a quality table wine industry in the Douro was born – today, approximately 40% of what is produced in the Douro is sold as unfortified wines rather than Port. Quinta do Vallado's field blend is a fitting poster child for this firmament – stainless steel, temperature-controlled fermentation, and judicious handling of the tannins produce something altogether more refined and elegant than the red wines of old. It's joined by Quinta do Castro's Douro red and the consistently excellent Quinta do Noval Cedo do Noval, which remains one of our favorite Douro wines.
The big names, too, have been getting in on the act – The Symington family released Altano in 2006 and subsequently entered into a partnership with Bruno Prats of Bordeaux to make Chryseia. A wine that can compete with the very best of Bordeaux. But ultimately, the realization that producers must use the best grapes to make the best wine and not squirrel it away solely for Port production has been a crucial factor in this revolution. Lavadores de Feitoria, led by the highly experienced winemaker Paulo Ruão, is just one example of the great renaissance that has swept through the Douro recently – the estate focuses solely on table wine production. This occurrence would have been unthinkable decades ago.
Yet this is just the beginning. It is not enough to try and tempt Millennials with powerful, expressive red (and white) wines – leading Port producers have realized that the category itself must adapt to thrive. For example, Taylor's, that most historical and traditional of houses, released a Chip Dry White Port several years ago, emphasizing its mixability with different styles of tonic water. Graham's White Port has proved to be another big hit, certainly in lieu of the seemingly unstoppable gin boom. "In recent times, one of our biggest ambitions has been to appeal to a younger audience," says Paul Symington.
"We have pioneered many key initiatives which have helped us do this. For example: presenting our Aged Tawny Ports in clear glass bottles; Tawnies are the most versatile in the Port category – there is no need for decanting, will keep for up to a month at least after opening, informal yet very smart, and these suit the way we lead our lives in a much more informal manner."
And he is not alone: the past five years have seen many brands trumpeting their 'cool credentials,' heavily exploiting these factors as marketing tools. For example, the Fladgate Partnership pioneered introducing a Croft rose Port to the market – a host of copycat brands followed, including Offley Pink Port, Porto Cruz Pink, and others. They are beautifully soft and fruity wines – served chilled, they offer the ideal foil for various seafood dishes. Or, of course, the obligatory summer aperitif.
More recently, Symington Family Estates announced plans to spend up to €5 million on a new winemaking facility at Quinta do Ataíde in the Douro to underpin the quality of its table wine production. But, again, this is proof that this is not a region resting on its laurels.
Wine Tourism
The region's tourist infrastructure has also changed out of all recognition in recent times. 10 years ago, one was greeted by a selection of beautiful yet dusty and fusty wine estates, where visitors were not welcomed with open arms unless they promised to buy a year's supply. Yet today Cockburn's, to cite just one example, is now home to a shiny new visitor center to match its slick counterpart (and restaurant) at fellow Symington house Graham's. In 2010, the group had five people working in tourism; today it has over 50, spanning Russian, Polish and Japanese speakers.
Calem also opened a new €3 million, 3,000 sq m visitor center in 2017, to which the Sogevinus-owned lodge has aspirations of welcoming 300,000 guests a year. If that sounds ambitious, The Fladgate Partnership is embarking on a €100 million project to turn an area 10 times the size into a wine museum, with restaurants and events spaces, and a predicted annual footfall of over 500,000, rising to 1 million.
Moreover, there's now a surfeit of great restaurants competing for your attention, most with spellbinding views. DOC is one such gem, a magnificent den of gastronomy where the kitchen and landscape compete keenly for your time. Or there's the once modest Quinta do Vallado, which now boasts a stylish boutique hotel, restaurant and visitor center. It has greatly benefited from the proactive approach of the dynamic Douro Boys, a collaboration between five leading winemakers determined to put the Douro on the world map, and refine its offering both in the fortified and table sphere.
The combined effect of all this is to position the Douro at the very top of Europe's list of wine capitals. No longer the preserve of wine obsessives, the Douro appeals to all in search of beautiful scenery, superlative gastronomy and, of course, exquisite fortified and table wines. And so it would not be cavalier to suggest that this dynamic, spellbinding and alluring wine region has a very bright future ahead.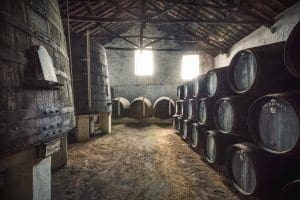 Recommended Wine Producers in Douro Valley