Best Things to See & Do in Porto
Porto is one of Europe's most vibrant and fascinating cities. While very much "on the radar" for food and wine lovers and culture vultures, Porto is thankfully not saturated with mass tourism, and it remains an absolute gem and a pleasure to visit. The problem? So much to see and do!! This fascinating 2,000-year-old city with Celtic, Roman, Moorish, and English influences features a kaleidoscope of architectural styles, monuments, and wonders. The mighty Douro River separates the legendary Port wine lodges of Vila Nova de Gaia and the historic center of Porto- a protected UNESCO world heritage site. The attractions are many and varied, so we have narrowed down our Cellar Tours list of the best experiences and the best things to see, eat and do- our insider guide to visiting Porto!

THINGS TO DO IN PORTO
Private Food Tours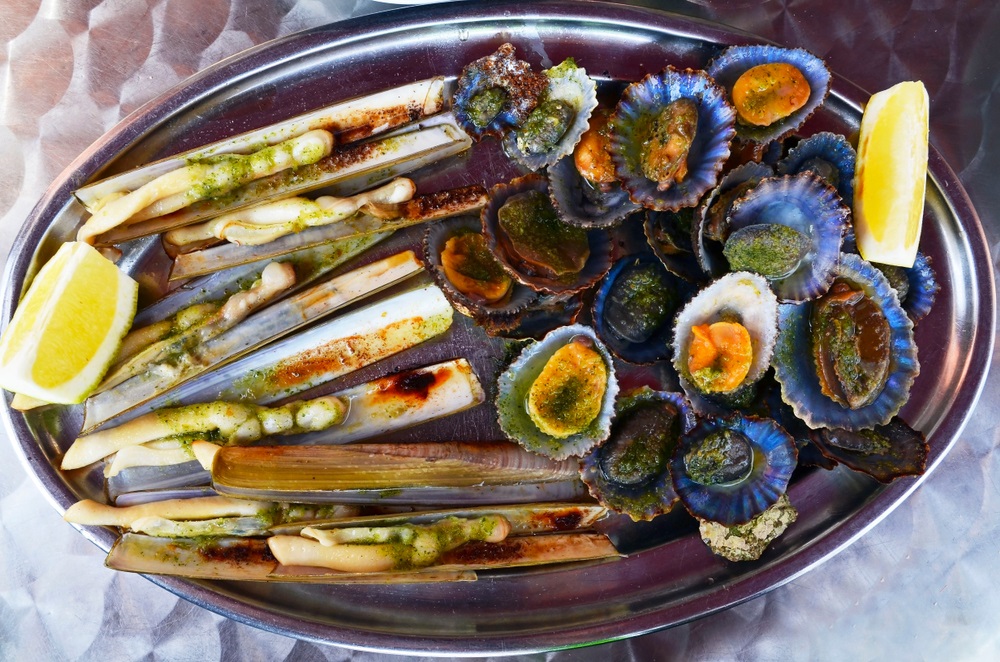 The Portuguese passionately live to eat. Porto offers a treasure trove of artisan food producers and unique vendors, colorful markets, historic pastry shops, art deco cafes, and charming riverside wine bars. Embark on a gastronomic journey with a local specialized guide who will take you on a private walking tour, discovering where the locals go and what they love to eat and drink. Highlights include an olive oil tasting, Queijo da Serra da Estrela (stunning sheep's cheese referred to as the "King of Portuguese cheese), the iconic and utterly indulgent "Francesinha" sandwich, razor clams, Tarte de Amêndoa (exquisite, local almond tart) and of course plenty of delicious wines along the way.
For more information on a Private Food Tour in Porto
00OOO00
Private Cooking Classes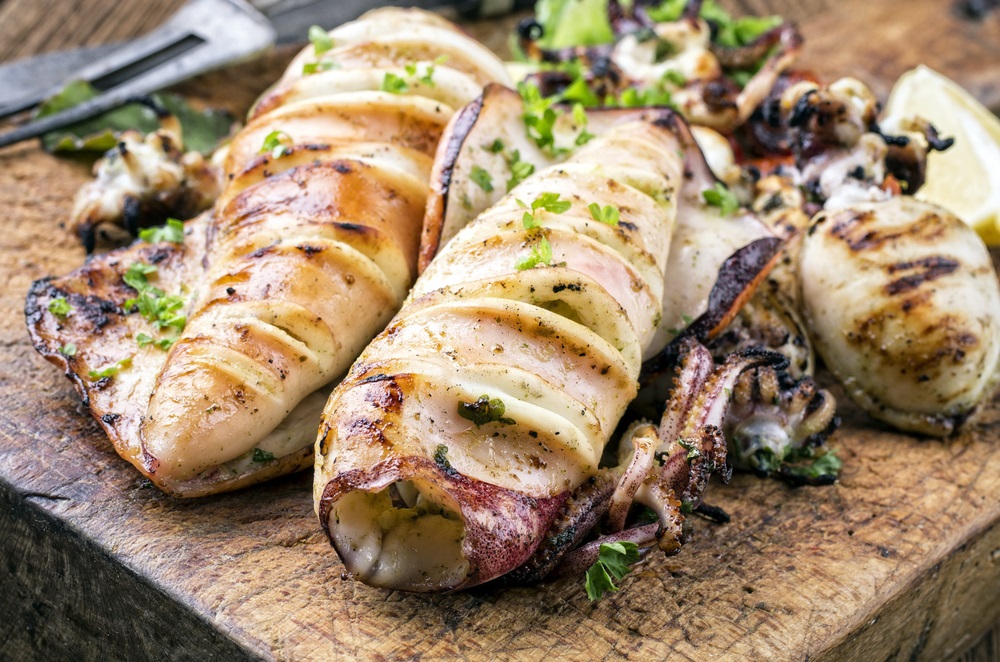 Another "must" for food lovers in Porto is booking a private cooking class experience in a chef's home. Learn how the Portuguese choose ingredients, what they shop for, what they cook, and how they eat in cultural terms. With your chef, you will hit a food market and a few gourmet shops together to stock up on the food and wine you will be enjoying in the lunch or dinner following the class. Then head to the chef's cozy apartment for a convivial, hands-on cooking class, sipping wine as you work and then sitting down together to chat and laugh as you feast. Get settled in with a Port and Tonic cocktail with a twist, and then try your hand at dishes like grilled garlic and Piri-Piri prawns, Gaspacho from the Alentejo, and Portuguese custard tarts. This is an intimate and relaxed experience and very memorable!
For more information on a Private Cooking Class in Porto
00OOO00
WoW (World of Wine)
Just below the beautiful Yeatman Hotel grounds in Vila Nova de Gaia, in historic, converted port wine cellars, the massive WoW World of Wine is a hugely ambitious new project (launched in July 2020). Taking over five years to develop at the cost of over $115 million and spread out over 420,000 square feet, this is a paradise for wine lovers. The goal of the project, led by the Fladgate Partnership (who also own the Fonseca and Taylor's wineries, the Yeatman Hotel in Porto, and the Vintage House in the Douro Valley), is for Porto to become a prime cultural destination and to attract the next generation of wine lovers. You could easily spend a few days taking in their various museums & experiences, trying their nine restaurants (including fine-dining "1828", a premium fish restaurant, and even a dedicated "dessert café"), and attending sessions at the wine school. Highlights include the "Wine Experience for wine enthusiasts and wine experts and alike. This is an "everything you wanted to know" introduction to wine production, "Planet Cork" (interactive exhibition about the world of cork), and the Chocolate Experience (taking you through 5,000 years of chocolate history).
00OOO00
Wine Tasting in Port Lodges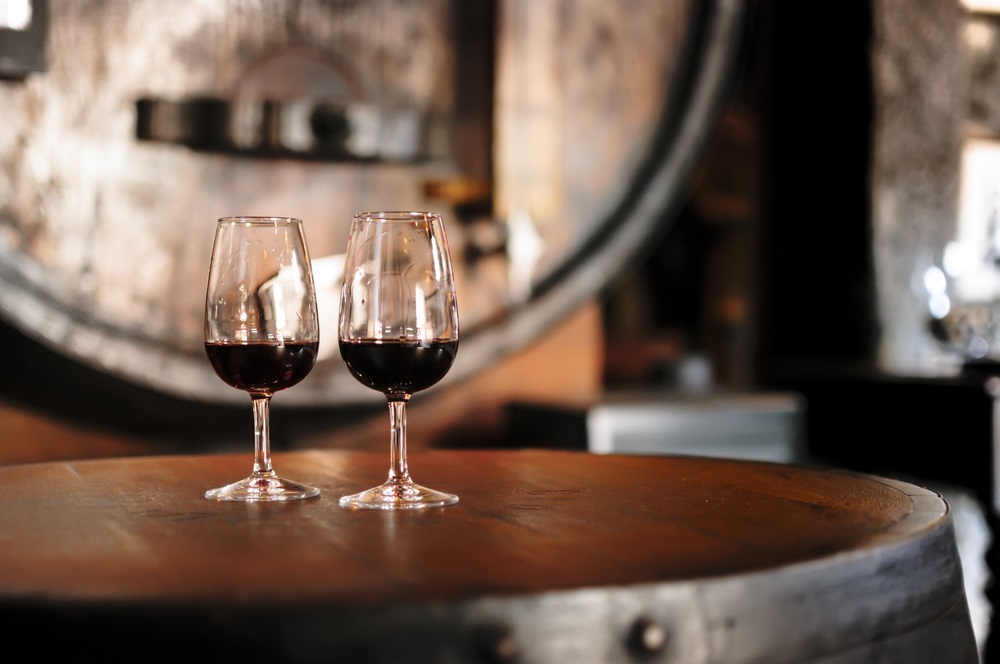 Porto's supremely atmospheric port wine lodges soaked in history and mystery are incredibly unique. They are not to be missed, located in the Vila Nova de Gaia neighborhood on the Douro River's south side. These port lodges were mostly built in the 1800s (some are even older) as shipping warehouses on the river to age, store wine from the wineries upriver in the Douro Valley. Many of these shipping warehouses (wine lodges) were owned by foreigners (English, Irish, Scottish, German, etc.), who created brands for their respective markets. The majority of the port brands we see on the market today, like Churchill's, Offley, Croft, Sandeman, Kopke, etc., are a testament to this.
Our personal favorite port wine lodges for the quality of the private visits and super premium tastings would have to include: Taylor's (with wonderful 300 year old cellars, a multitude of private tasting spaces both inside and outside, beautiful grounds complete with gardens, peacocks, and classic restaurant with drop dead gorgeous views over the river and Porto); Graham's (exceptional wines and cellar, they also offer the best high dining experience at Vinum, with its spectacular terrace); Cockburn's (the largest and most impressive lodge, with an onsite working cooperage and cozy tasting room where you will be blown away by their vintage ports!); Burmester (founded in 1750 this is an elegant house who also make dry whites and reds from the Douro so the tastings can include non port wines); Fonseca (this exceptional and much loved winery have just opened their lodge after extensive renovation works); and Vasques de Carvalho (for a total contrast, this pretty, smaller scale lodge is primarily known for its high end luxury Tawny ports bottled in unique, stylish squat bottles).
For more information about Port Lodge Wine Tastings
00OOO00
River Cruises
Porto is best admired from the Douro River itself, and few activities are more romantic than sipping wine from your luxury yacht at sunset while gliding past this beautiful city! You can cruise down the Douro river in style in one of the impressive fleet of super-luxe fully serviced boats (10 meters, 12 meters, 14 meters, and 26 meters) with skipper, assistant, and fabulous food and wine options onboard. Cellar Tours offers private cruises from 2 hours in Porto to full-day tours and even week-long tours into deep Douro Valley.
For more information about a Private Douro River Cruise
00OOO00
Day Excursions from Porto to Wine Country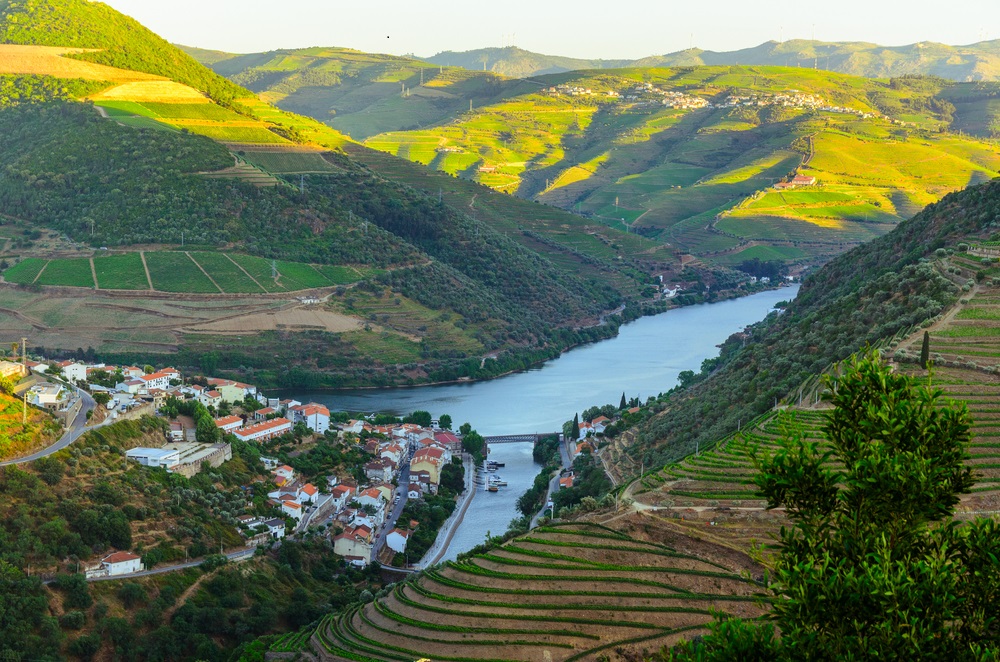 Douro Valley is the ultimate destination for red wine lovers and a viable day excursion from Porto, roughly an hour and a half extremely picturesque drive each way. This is where you can see the actual vineyards, which are mesmerizingly terraced down steep cliffs falling into the Douro River. Visit top cellars like Quinta da Pacheca, Quinta do Crasto, Quinta do Noval, Quinta Nova, Bomfim, and more on one of our private luxury Mercedes chauffeured wine tours to the Douro.
For more information on a Douro Valley Wine Tour
00OOO00
Vinho Verde is a delightful destination for white wine lovers and only a short drive north of Porto. Our favorite cellars include Quinta da Avaleda for its fairy tale gardens and premium wine experiences, and Soalheiro is arguably the best estate in the entire appellation. Based in Melgaço, they specialize in the Alvarinho grape variety. On private tours there, you can admire the panoramic views of the Monção and Melgaço Valley before sitting down to a Master class of Alvarinho (8 wines, all with totally different Alvarinho styles).
For more information on a Vinho Verde Wine Tour
00OOO00
Bairrada and Dão are two excellent and truly up and coming wine regions south of Porto. Taboadella is Dão's most breathlessly awaited and recently opened winery (July 2020) by the powerful cork and wine family Amorim and is a game-changer for the region. We also love Julia Kemper in Dão. In Bairrada, there are several excellent wine experiences, including legendary Luis Pato, historic Solar de São Domingos, and organic Quinta das Bageiras.
For more information on a Bairrada or Dão Wine Tour
00OOO00
Festivals and events
---
Art & Architecture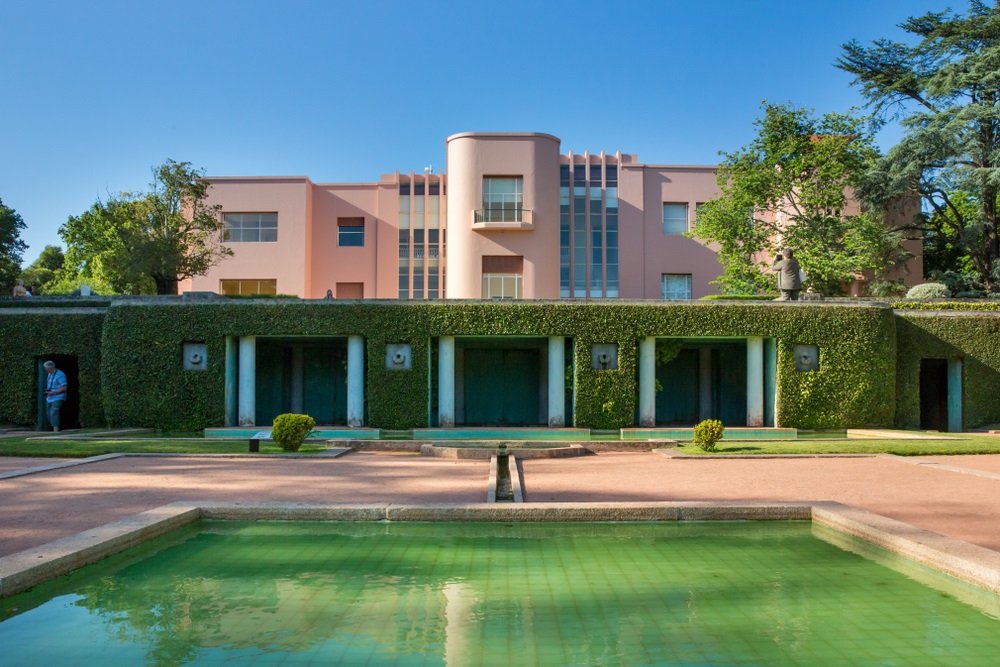 Serralves Villa
Porto is home to some of the most groundbreaking and famous contemporary architecture in the country. World-renowned architects like Álvaro Siza, Souto de Moura, and Carlos Castanheira have left a tremendous imprint on the city. Without a doubt, our favorite and unmissable architectural gem is the sublime Serralves Foundation. Designed by Álvaro Siza, this stunning location features a 1920's Art Deco villa (flamingo pink, no less); elegant, manicured gardens; a "Treetop canopy walkway" (by Carlos Castanheira) and an extensive contemporary art collection (over 4300 permanent and temporary art pieces and installations).
website: www.serralves.pt
00OOO00
Casa da Música
Casa da Música is another cultural institution in Porto, a frankly bizarre and yet very quirky concert hall designed by Dutch architect Rem Koolhaas. This ultra-modern space also features a beautiful, traditional Portuguese blue and white azulejo tiled VIP hall.
website: www.casadamusica.com
00OOO00
São Bento train station
Speaking of traditional tiles, the São Bento train station is home to a series of extraordinary azulejo tile panels dating back to the early 19th century. Featuring scenes out of Portugal's history, from Henry the Navigator to the conquest of Ceuta in North Africa, this train station must be on your list of visits to Porto!
website: https://www.atlasobscura.com/places/sao-bento-station
---
Beaches & Coast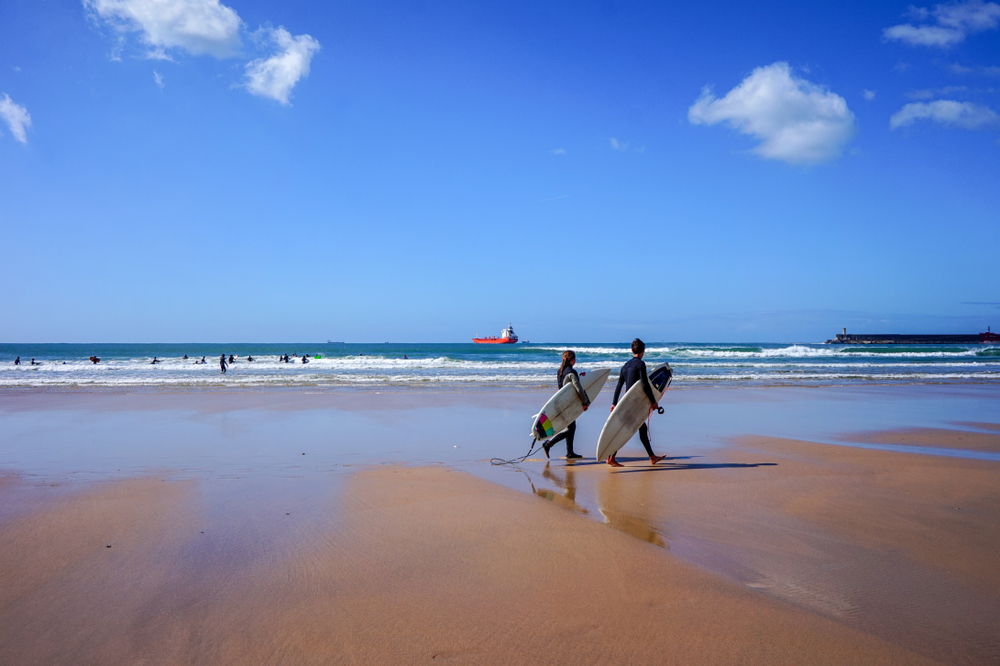 Matosinhos
Matosinhos is a fishing port with a surfer beach just 20 minutes from central Porto, where you can combine a morning's swim or surf (the waters are bracing here) combined with an excellent grilled fish lunch. The best spots for ultra-fresh seafood are Meia Nau (amazing and stylish with great nautical décor) and O Gaveto (classically decorated with an "old school" vibe, excellent).
00OOO00
Leça
In Leça, further north, the famous "Piscinas de Marés" (extraordinary saltwater swimming pools built into the rocks right over the ocean) is a "must." Created by Alvaro Siza in the 1960s, one of the most talented Portuguese architects, these pools are perfect for when you want to swim, but the sea is wild.
Vila Nova de Gaia
It is home to some of Porto's best beaches, including Madalena, Francelos, and Miramar, quite reminiscent of Brittany.
---
Football
For football fans, it's fun to visit the Portuguese Primeira Liga FC Porto's Stadium. They have a museum, and you can book a tour of Dragão Stadium.
website: www.fcporto.pt
---
Best shops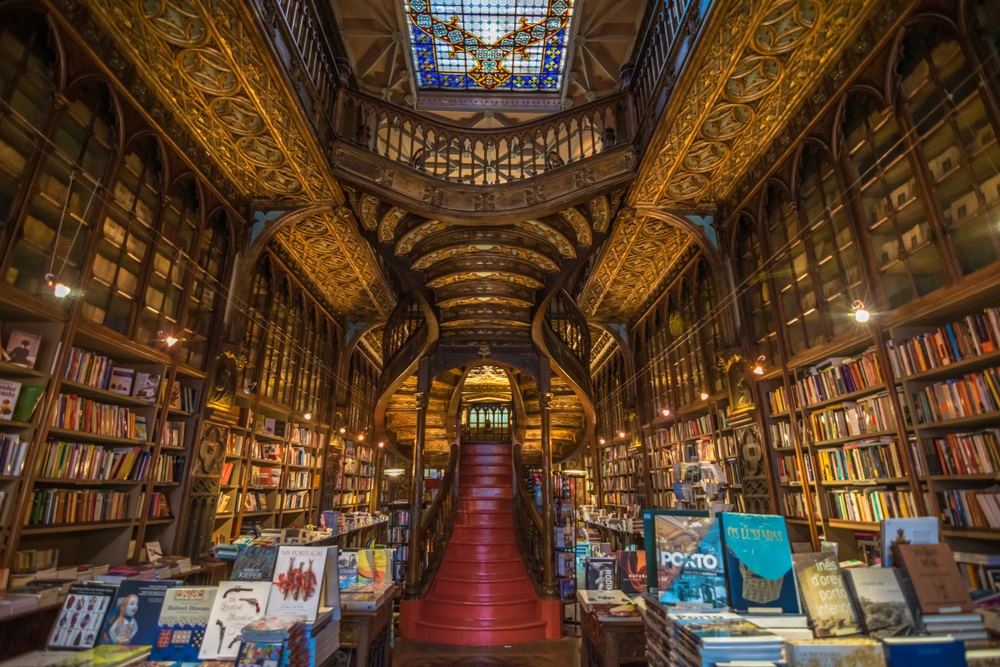 Lello Bookshop
Said to be one of the inspirations for the Harry Potter series (J.K. Rowling lived in Porto in the early 1990s), we have been in love with this magical bookshop since we first visited over 20 years ago. Dating back to 1906, the crimson, circular staircase, stained glass ceiling, and intricately carved timber paneling will take your breath away. While not a secret anymore, this Neo-Gothic gem has to be seen to be believed. It is a national treasure. They sell books in English, too.
website: www.livrarialello.pt
00OOO00
A Vida Portuguesa
The perfect Portuguese lifestyle shop just a hop, skip, and a jump from Lello Bookshop. They have beautiful "Made in Portugal" high-quality gourmet goodies, textiles, artisan toiletries, clothes, and so much more. Apart from the Porto location, they have shops in Lisbon and also sell their gorgeous wares online. This can be your one-stop-shop for gifts in every price category (from fancy chocolates to luxury blankets from Alentejo) as well as your souvenirs, which are genuinely excellent, authentic, and carefully selected.
website: www.avidaportuguesa.com
00OOO00
WHERE TO STAY IN PORTO
Neighborhoods
The colorful, riverside, super buzzing Ribeira quarter is the classic Porto postcard full of charming architecture, laneways, and secret corners. Foz is where many well-heeled locals live, right on the sea and "close enough, far enough" to downtown Porto. Foz is excellent for a more extended, relaxed, quiet, and upmarket stay. The bohemian and trendy Cedofeita neighborhood is considered by locals to be the most "up and coming" district and is home to students, artists, and a vibrant nightlife scene. And of course, for wine lovers (also our personal favorite), Vila Nova de Gaia is the place to stay as you are steps from the wonderful Port wine lodges (many of which are right on the river with lovely terraces and great views).
00OOO00
5* Hotels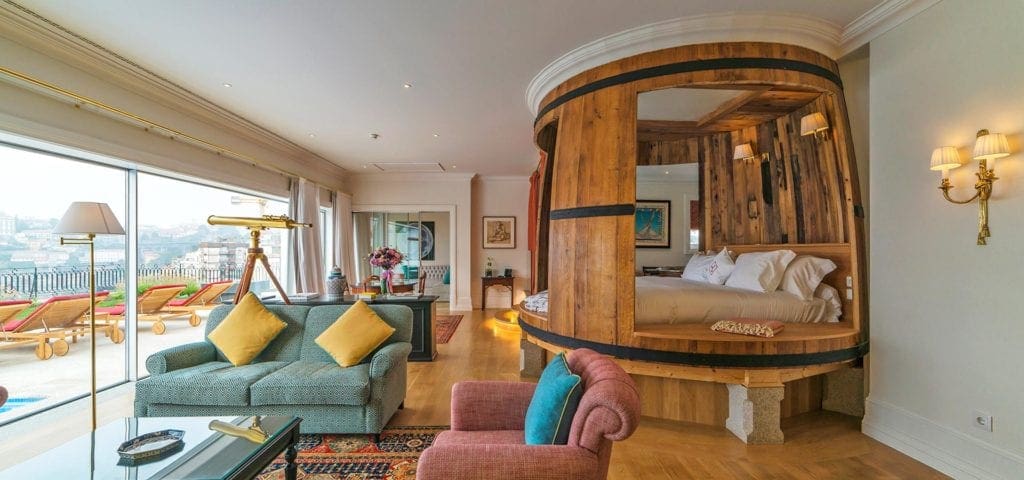 The Yeatman
This is always our top choice, with a glamorous location right in Vila Nova de Gaia (above Taylor's wine lodge). Onsite you have a gastronomic, Michelin starred restaurant, a delightful casual eatery ("Orangerie"), and they also offer private dining options. They have a Caudalie Vinothérapie Spa with wine-based treatments. Apart from their range of elegant room categories, they have one particular suite that is always a favorite- their Presidential Suite, whose king-sized bed is inside an actual wine barrel!
website: www.the-yeatman-hotel.com
00OOO00
Maison Albar Le Monumental Palace
Is a recently opened luxury jewel. Located in historic, central Porto just next to Torre de los Clérigos, Praça da Liberdade, and the Dom Luís I bridge, this hotel is super chic! The service is possibly the best in the city, the atmosphere is luxe Parisian and even if you don't stay here, do come for a cocktail and try their excellent Japanese restaurant, very charming.
website: maison-albar-hotels-le-monumental-palace.com
00OOO00
Porto Bay Flores
Porto Bay Flores is another favorite five star, located very close to the marvelous Palácio da Bolsa right on beautiful Rua das Flores. This is a large hotel, surprisingly with an intimate feel thanks to the 16th-century palace architecture of graceful arches, tile-work, the light, and airy color scheme (off white beige, greys, chrome, mint green), tropical plants, and the incredibly tasteful and sophisticated decoration and furniture. Highlights include their indoor pool, Mandalay spa, and stellar restaurant.
website: www.portobay.com
00OOO00
Vila Foz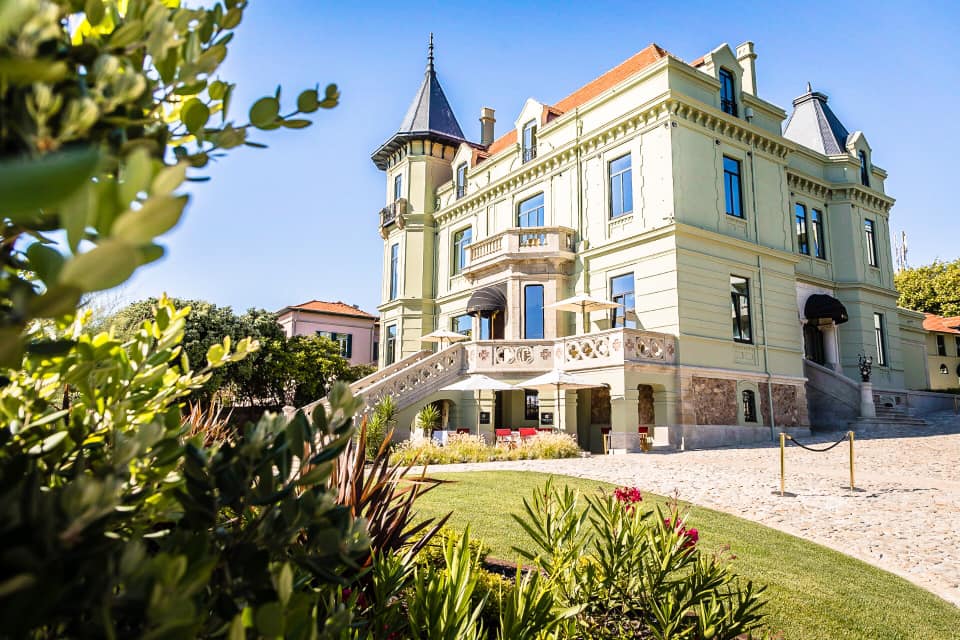 Vila Foz is your luxury beach retreat in Porto! This enchanting hotel is located in a gorgeous art deco villa facing the Atlantic Ocean, and the whole vibe is very 1920's Agatha Christie. The décor is sublime, designed by the mythical interior decorator Nini de Andrade Silva. Being right on the water, Flor de Lis's elegant restaurant has a fish focus and is delightful. If you want to visit Porto for a more extended stay and want to be a 15-minute taxi to the main attractions but fall asleep to the sound of the waves crashing in a quiet neighborhood, this is your hotel!
website: www.vilafozhotel.pt
00OOO00
4* Hotels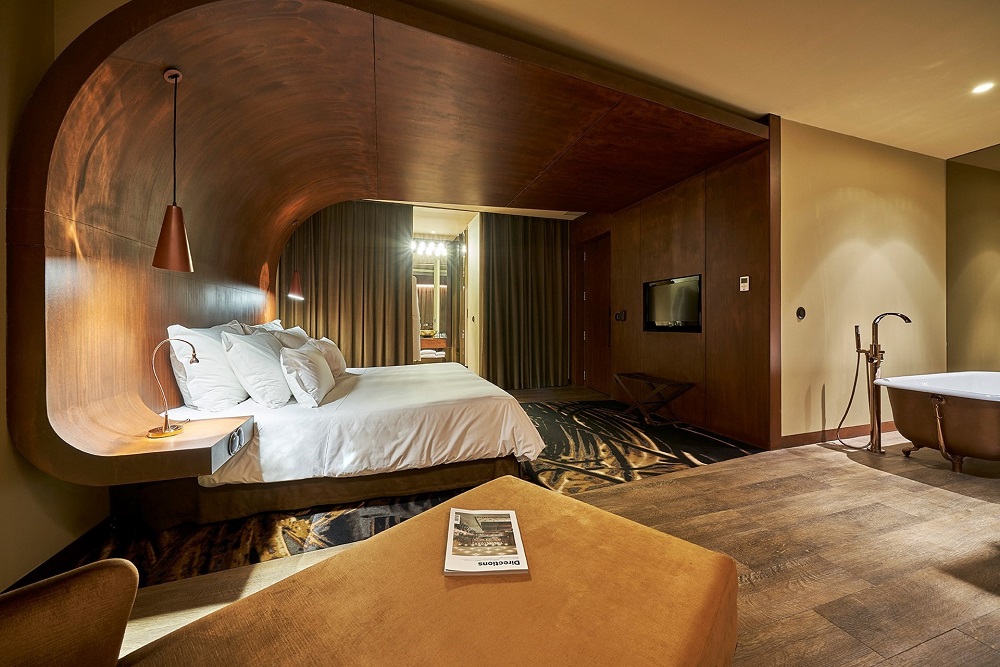 Porto Bay Teatro
Is an excellent four-star option, and as the name suggests, it is housed in a former theatre, the former Baquet Theatre, which initially opened in 1859. This beautiful hotel's mood is romantic and theatrical with dimmed lighting, gold and bronze tones, claw foot bathtubs, and decadent, stage-worthy curtains. The Plateia cocktail bar feels like the perfect theatre lounge!
website: www.portobay.com
00OOO00
NH Collection Porto Batalha
Is a contemporary four-star hotel located in a wine red, 18th-century palace right in the historic center's heart, facing Batalha square. This is an excellent value option for guests wanting to be right downtown and have a range of facilities. Onsite you have an indoor heated swimming pool, gym, spa, and gastro bar. The rooms are on the larger side for Porto and have amenities like espresso machines, "sleep better" mattresses, and rain showers.
website: www.nh-hotels.com
00OOO00
Self Catering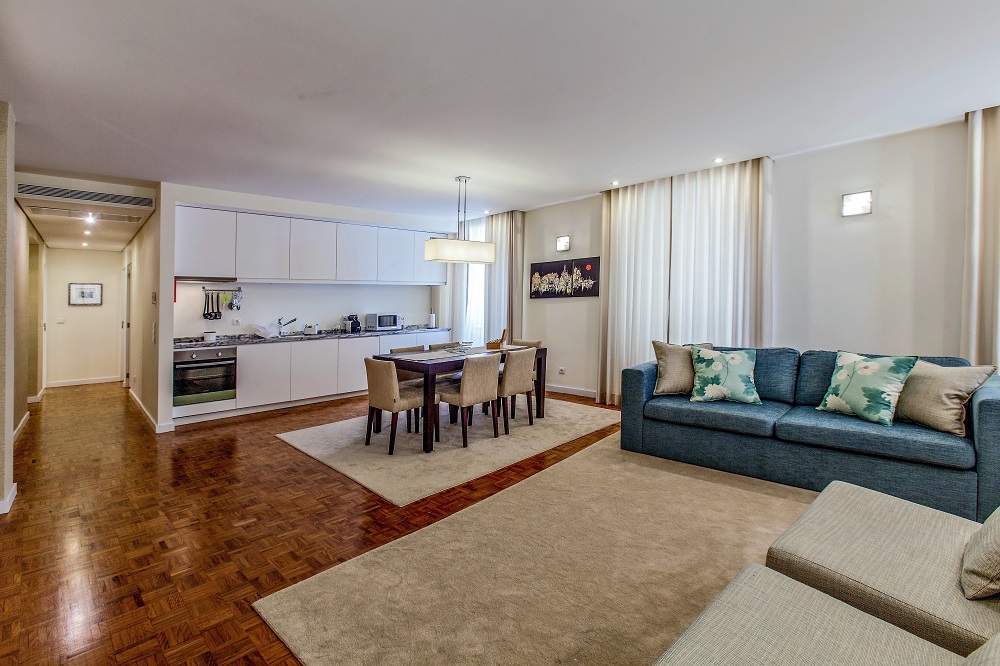 Casas do Porto
For stays of longer than a night or 2, booking an apartment with more living space and kitchen facilities is always a fantastic option, particularly if traveling as a family. Our TOP recommendation for luxury apartments in Porto is Casas do Porto, located in the iconic Ribeira quarter. This historic building features six different apartment types, all fully renovated and thoughtfully decorated, with great views all around. You can choose a deluxe apartment, a romantic apartment, or even a vintage house (our fave, a luxurious, 100-square meter duplex apartment). All of the apartments have carefully fitted out kitchens and comfortable living rooms, perfect for spending a relaxed, candlelit evening with wine and Portuguese "patiscos" after a busy day. Highly recommended! Don't miss our fave wine bar in Porto just across the street-  Prova, Wine, Food & Pleasure
website: www.casasdoportoapartments.com
00OOO00
WHERE TO DINE IN PORTO
Porto has some excellent Michelin starred dining options, and in terms of cooking standards, creativity, atmosphere, and service, we would very highly recommend:
You are spoiled for choice if you are looking for traditional Portuguese cuisine. Our personal favorites would have to be Taberna dos Mercadores and TapaBento – both serve great, authentic food, made with much love, with superb service.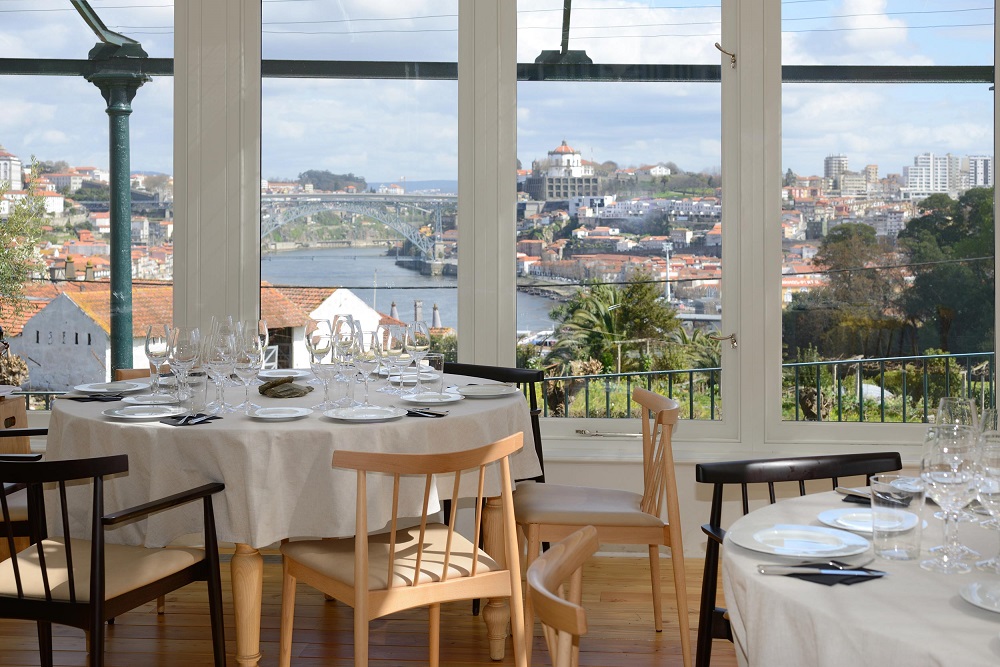 For stunning river views on one side and wine barrels on the other, Vinum at Graham's wine lodge is a top choice for wine lovers looking for a romantic setting.
Another cozy, romantic spot for dinner is at ODE Porto Wine House, with its warm stone interior and country house feel.
If you consider yourself a "foodie," then don't miss Euskalduna Studio, where supremely talented chef Vasco Coelho Santos will take you on a fun, gastronomic journey. Sit at the counter and enjoy the show.
For steak lovers, the comically named Muu is an obligatory stop. They also happen to have a top-notch wine list.
Sushi lovers, you are well served in Porto, with several great Japanese dining options. The best in town is Ikeda, without a doubt. Simply amazing.
Vegans and vegetarians are not left out either. Essência is an elegant, "grown-up" option for vegetable lovers looking for a classy lunch or dinner (and not the much seen and often brightly lit, informal vegetarian "cafe")
And finally, it is hard to go wrong with fresh, casual fish in Porto, as this is a city that LIVES for seafood. Matosinhos (as mentioned above under "beaches and coast") is an excellent spot for fish lovers. One of the best in Porto center would have to be the bright and airy Ostras e Coisas, particularly lovely at lunchtime.
Romantic things to do in Porto
Have a wine picnic in Porto's beautiful park, the Parque da Cidade do Porto, in the Foz neighborhood. This magical, leafy park near the Atlantic ocean is the largest city park in the country and offers over 10 km of cycling and walking paths and 83 hectares of green space. There are more than 70 types of trees, a lake full of ducks and swans, and countless idyllic corners to set up a romantic picnic. Bring your own blanket and picnic basket, or book a professional and elegant picnic complete with proper wine glasses, fine wines, and gourmet Portuguese cuisine. For more information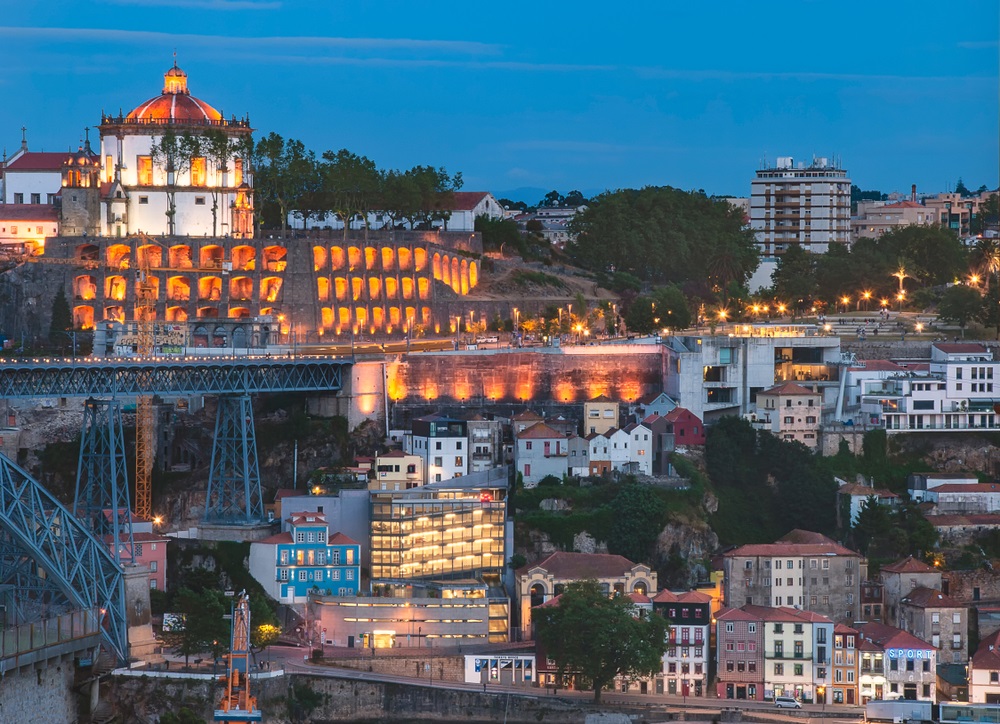 Watch the sunset from the best viewpoint in Porto- the Miradouro da Serra do Pilar. Located in Vila Nova de Gaia, facing Porto across the water, this lookout point is the absolute best location to take in panoramic views and the glittering lights over the river at nightfall.
Soak up the views and dreamy atmosphere while sipping wine on one of our favorite relaxing and trendy Porto roof bars and lounges such as:
When to visit (best time of year) / weather
Porto offers so much culturally and gastronomically that it makes a fascinating and fun destination 12 months a year. Weather-wise, the best time of year, without a doubt, would be May to September as these are the sunniest and driest months, with temperatures reaching an average of mid-seventies (F). If you plan to combine a visit to Porto with the wine country in nearby Douro Valley, Vinho Verde, and/or Dão, then the best months to visit would be September and October as the grape harvest occurs during this period and the vineyards are at their most picture-perfect. Located right on the Atlantic Ocean, Porto's climate is temperate oceanic, with a high level of humidity thanks to the Atlantic and the Douro River, which keeps the temperatures cooler in summer and milder in winter. The wettest and coldest months are November to March, with an average of 13 rainy days in January.
How to get to Porto City center from Airport
Porto's Metro is clean, safe, and efficient. It runs from the Francisco de Sá Carneiro Airport (OPO) to the city center every 20-30 minutes (The Purple Line E) depending on the day of the week and times of the day and takes about half an hour to get downtown.
Uber is reliable and fast in Portoas are taxis, and it is an approximate 20 to 30-minute journey to central Porto, depending on the time of day and precise address.
Private Mercedes transfers with English speaking drivers can be organized through Amiroad, Portugal's best private driver service. Your chauffeur will meet you right in the arrivals hall in this case and assist with your luggage.
With this insider's guide to Porto, you will have the time of your life and take in all of the BEST places and experiences!
Related Post Posts: