If anyone wants an example of how a wine-producing nation can completely reinvent itself, they should look to Spain. Once renowned for Rioja, Sherry, and indeed, little else, Spain now boasts a plethora of fashionable regions and modern wineries, sustained by continuing investment from both local entrepreneurs and global visionaries. Moreover, massive investment in regions such as Galicia has spearheaded a revolution in how oenologists approach white wines; Spain is no longer merely the country of study, robust reds.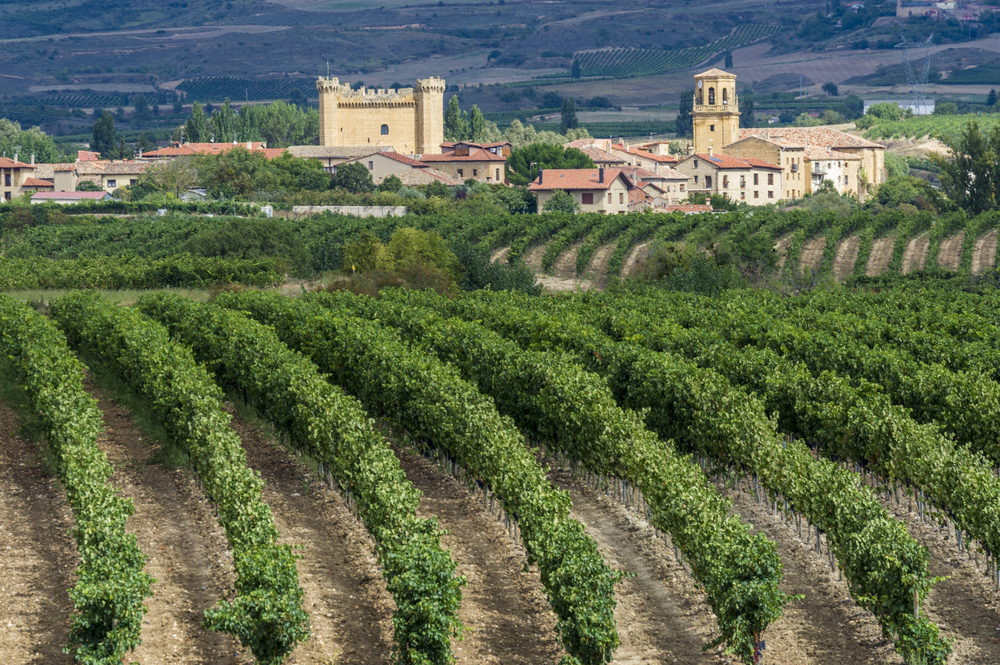 Indeed, thirty-five years ago, Spain had little clout and little reputation in the white wine world. However, the past 15 years have seen an explosion of interest in Spain's now varied and exciting white wine styles, with restaurants globally relishing the opportunity to list racy Albarino from Galicia and aromatic, fresh Verdejo from Rueda. Hand in hand with this viticultural shakeup has come to a major renaissance in Spanish attitudes to wine tourism. Today, modern tasting rooms and luxury accommodation typically underpins any visit to a leading Spanish region. In contrast, top Spanish chefs continue to win awards – the legendary El Celler de Can Roca in Girona, Catalonia, has been awarded the lofty title of "Best Restaurant in the World" twice by Restaurant Magazine.
Cellar Tours would be happy to arrange a visit to any of the properties listed; all visits need to be booked in advance and have an associated cost. As luxury wine estates, the properties specialize in only welcoming exclusive small groups, guaranteeing our clients a very bespoke and memorable visit.
This all adds up to an unparalleled experience for lovers of fine food and drink, as Spanish wineries are now more than qualified to receive even the most discerning visitors. The only problem is knowing where to start – in that spirit, Cellar Tours has done all the hard work for you and selected only the very best properties to visit in 2018.
1. Finca Valpiedra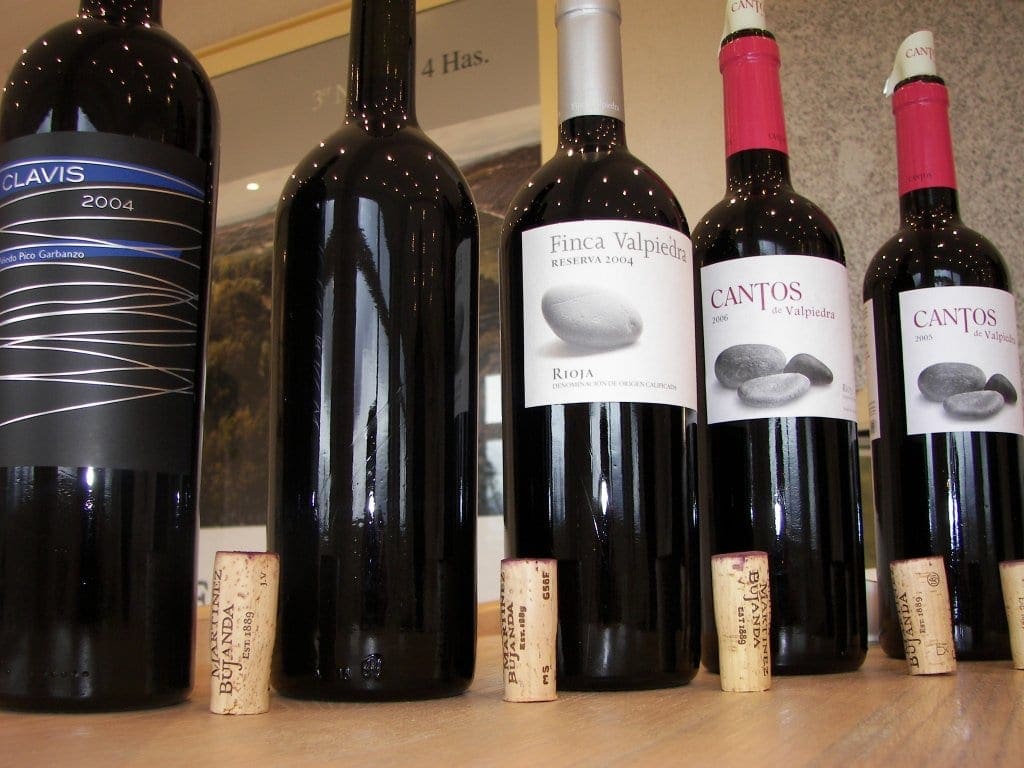 Website: www.familiamartinezbujanda.com
Address: Término el Montecillo S/N, 26360, Fuenmayor, La Rioja –  directions
Visiting Times
Monday to Saturdays: 09.30 to 18 h. June and July only from 09.30 to 15.00 h.
Bank holidays and Christmas time consult website.
Closed August.
Lauren Rosillo, the winemaker at the justly celebrated Finca Valpiedra estate in Rioja, is today recognized as one of Spain's finest minds, as she continues to craft refined, elegant examples of modern Rioja from an exceptional terroir at the heart of the region. So it's hardly surprising that Finca Valpiedra is now a proud member of Spain's Grandes Pagos de Espana group, a private association that boasts a membership of 27 wineries, united in their mission to promote Spain's terroir-driven, single- estate wines.
Yet this modern winery, complete with tasting rooms with views to die for, is owned by one of the regions' oldest winemaking families – Martinez Bujanda. Originally established in 1889 by patriarch Joaquin Martinez-Bujanda, Finca Valpiedra was subsequently opened in 1999 by his great-grandchildren, Carlos and Pilar. They are very much the region's modern face; with their awesome energy, passion, and drive, they continue to bring international acclaim to Spain's most historic vineyard.
Visit Finca Valpiedra Winery on a Wine Tour of La Rioja
---
2. Roda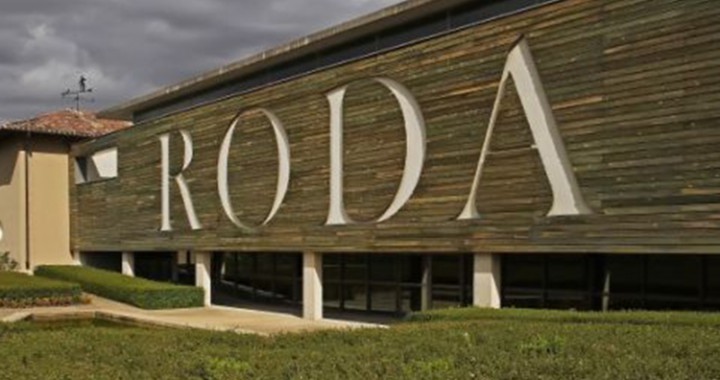 Website: roda.es
Address: Av. Vizcaya, 5, 26200 Haro, La Rioja – directions

Visiting Times
Monday to Saturday: 10:00 and 12:00 – 2-hour duration, booking in advance essential
The darling of both Rioja connoisseurs and Spain's well-heeled elite, Roda, is possibly one of the best examples of modern Rioja available today. Founded in 1986 by pioneering Mallorcan Mario Rotllant, Roda is a beautiful winery situated near the railway station quarter in Haro. Their ethos has been the same from the outset: to produce only the very best reds from low yielding Tempranillo vineyards, at prices that are far from unreasonable. To that end, Roda commands a loyal following both at home and abroad. However, nothing can come close to visiting this venerable estate and sampling their excellent wines in the presence of the estate's charming staff—a true symbol of the modern and very welcoming face of Rioja.
Visit Roda Winery on a La Rioja Wine Tour
---
3. La Rioja Alta

Website: www.riojalta.com
Address: Avda. de Vizcaya, 8, 26200 Haro, La Rioja – directions
Visiting Times
Monday to Fridays: 10:00 am (English), duration 2 hours
Saturday: guided tour (Spanish) 10:45am, 11:30am & 12:15am, duration 1.5 hours
Sunday (Mar-Dec): guided tour (Spanish) 12:00 – see website for more details
This bodega set the quality standards in Rioja, offering an incredibly consistent range of red and white wines that are among the best one can find in this venerable region. The winery was founded in 1890 when five vineyard-owning families formed the company. Today it is still under family control, upholding the best Riojan winemaking traditions, including aging the Reserva and Gran Reserva wines for considerable periods of time before release. However, La Rioja Alta is no anachronism and has kept up with modern practices while maintaining their absolute dedication to quality, which is probably why their Gran Reserva 904 remains one of Rioja's most exceptional traditional wines; a complex, velvety delight that is sheer heaven to taste.
An essential part of any visiting oenophiles itinerary on a La Rioja Wine Tour, La Rioja Alta, is not to be missed!
---
4. Pesquera

Website: www.grupopesquera.com
Address: Calle Real, 2, 47315 Pesquera De Duero (Valladolid) – directions
Visiting Times
Monday to Friday: 09:00h – 14:00h and 15:00h – 18:30h, duration 1.5 hours Spanish/English/Dutch
Saturday: see website for details
Sunday: closed
Founded in 1972 by Alejandro Fernández and wife Esperanza, today, this iconic estate requires little introduction to seasoned Spanish wine lovers. Indeed, Pesquera caused a massive stir following its inaugural release in 1975, when Robert Parker duly rated it on par with top Bordeaux, and the price soared. Today, it remains one of the most sought-after Spanish wines, with the top cuvee Janus restricted to limited allocations.
Yet at the time of its inception in 1972, Ribera Del Duero was hardly known to wine lovers – the region was only awarded DO status as recently as 1982 and continues to be one of Spain's most innovative and exciting regions. All the Pesquera wines hit the mark. However, it is the icon wine Janus that astounds with its incredible depth, complexity, and concentration of flavor. A fitting poster-child for the potential and quality inherent to this fascinating part of Spain's viticultural landscape.
Visit Pesquera Winery on a Wine Tour of Ribera Del Duero
---
5. Finca Villacreces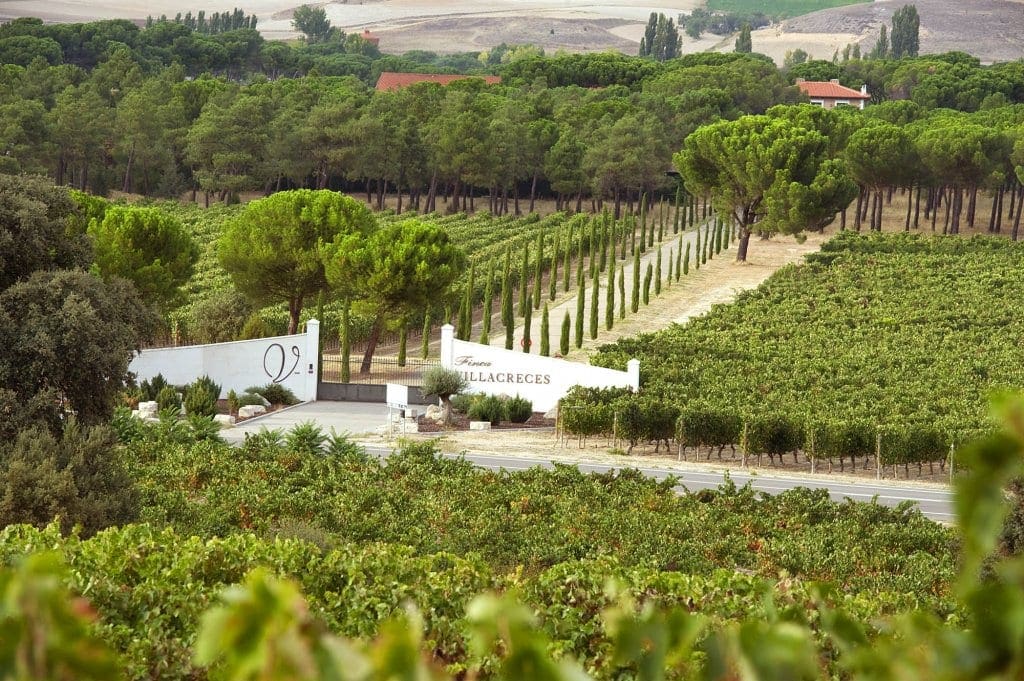 Website: www.villacreces.com
Address: Ctra. Valladolid-Soria, Km. 322, 47350 Quintanilla de Onésimo, Valladolid – directions
Visiting Times
Monday to Friday: 12.00 and 16.00, Spanish/English
Saturdays and Sundays: 11.00 and 13.00, Spanish/English
Just as Pesquera started a revolution in Ribera Del Duero's winemaking, Finca Villacreces has led the way in continuing their impressive groundwork by producing a small selection of outstanding reds. Purchased in 2003 by Bodegas Izadi, Lalo Anton, Villacreces now cultivates over 60 hectares of organically farmed vineyards at the heart of the Ribera zone. Today, it is one of Spain's most friendly and welcoming properties – boasting a stunning location, tasting room, and shop; it almost feels like you're visiting old friends with the staff hosting so convivially.
Finca Villacreces is featured on a Wine Tour of Ribera Del Duero
---
6. Agusti Torello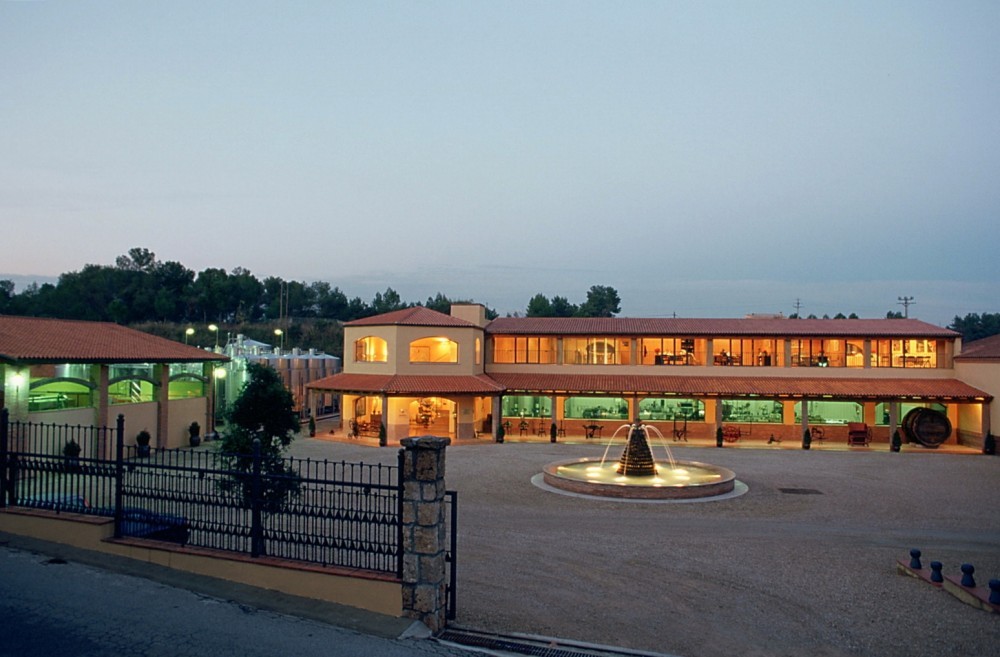 Website: agustitorellomata.com
Address: La Serra, s/n., 08770 Sant Sadurní d'Anoia, Barcelona – directions
Visiting Times
Reserva Visit: appointment only, duration 1 hour, 10 Euros
Gran Reserva Visit: appointment only, 1.5 hours, 15 Euros
Premium Visit: appointment only, 2 hours, 50 Euros
Agusti Torello continues to be one of the most respected and widely known Cava producers in Spain today. It is an impeccably run and superbly equipped boutique sparkling wine house, established in 1950 by Agusti Torello Mata from a family of tailors and musicians. Their mantra is to produce only the very best Cavas; made in a vibrant and powerful style; their wines are better suited to the dinner table than the role of aperitif. However, the real talking point is their prestige cuvee Kripta, which comes in a replica Roman amphora bottle and is perhaps Spain's most iconic sparkling wine. It invokes Krug with its power, the intensity of flavor and concentration – proof indeed, that Cava is not a poor man's Champagne!
Taste the very best Cavas on a Penedes Wine Tour
---
7. Pares Balta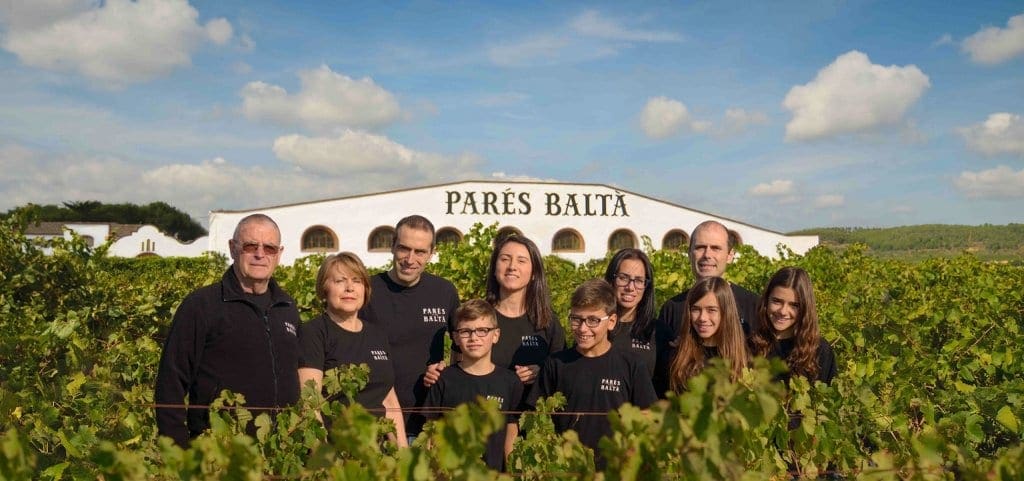 Website: paresbalta.com
Address: Masia Can Balta S/N, (08796) Pacs del Penedès (Barcelona) – directions
Visiting Times
Monday to Sunday: 9:30 to 18:30h, Spanish/English/Catalan
One of our favorite wineries, Pares Balta, is run by a very charming family and boasts two female winemakers – Marta Casas and Maria Jimenez – something of a rarity in Spain, even today. The property has been making wine since the late 18th century and is a delight to visit, not least because of the infectious enthusiasm of its very welcoming owners. In addition to Cava, they produce a range of excellent still wines. However, we're particularly taken with the Cava Blanca Cuisine, an extraordinarily generous and opulent Cava that deserves to be savored over a long dinner, which will undoubtedly be on the cards at Spain's most convivial wine estate.
Visit Pares Balta on a Penedes Wine Tour
---
8. Nadal
Website: nadal.com
Address: Finca Nadal de la Boadella, s/n, 08733 El Pla del Penedès, Barcelona – directions
Visiting Times
Monday to Thursday: 10:30h, 11:30h, and 12:30h, duration of 1.5 hours
Another iconic name in Cava production, Nadal, boasts a long history dating back to the 16th century when the current owner's ancestors were making still wine at the heart of the Sant Sadurni D'Anoia region. However, its true history begins in 1941, when Ramon Nadal Giro replanted his ancient family vineyards after the ravages of phylloxera and the Spanish Civil War, initiating Cava production soon after. Today little has changed, as a tasting of rare old vintages will demonstrate; Nadal's Cavas remain rich, creamy, and profound, with real depth and generosity that reaches its apogee in the Gran Reserva.
Warmly welcoming visitors, as they have always done, Nadal offers an incomparable way of acquainting yourself with a sparkling wine legend.
---
9. Costers del Siurana
Website: obac.es
Address: Clos de l'Obac, Camí Manyetes, 43737 Gratallops (Priorat) – directions
Visiting Times
Carles Pastrana, owner of the famous Costers del Siurana estate located in the small Catalunya village of Gratallops, is quite clearly one of the movement's Godfathers to bring Priorat's remarkable terroir to the world stage. For while his contemporaries Alvaro Palacios, René Barbier, and Daphne Glorian arrived in Priorat in the late 1980s, Pastrana was already doing important work in the 1970s credited as perhaps the singularly most important pioneer in the region. His world-renowned brand, Clos de l'Obac, is legendary for its power and concentration, produced in the most idyllic of boutique wineries in the charming wine village of Gratallops. The perfect place, then, to get acquainted with these remarkable wines.
Costers del Siurana is a must-visit on any Wine Tour of Priorat.
---
10. Fernando de Castilla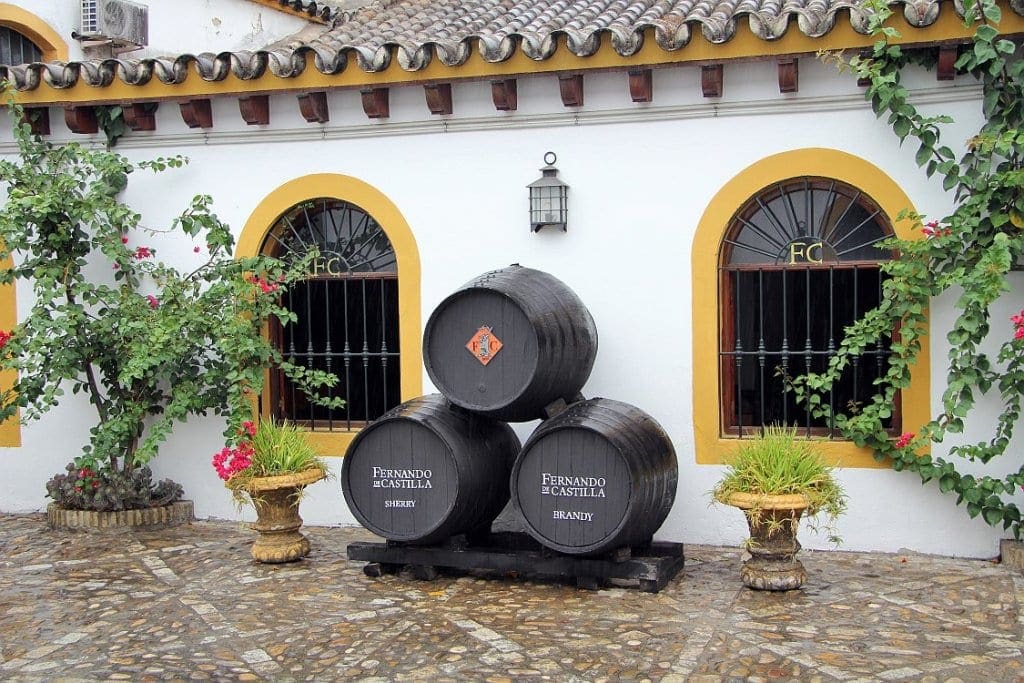 Website: fernandodecastilla.es
Address: Calle Jardinillo, 7, 11404 Jerez de la Frontera, Cádiz – directions
Visiting Times
Welcome to Sherry production at its finest! Situated in Jerez de la Frontera's heart, Bodegas Rey Fernando de Castilla is named after the Spanish monarch King Fernando III of Castille. Initially renowned for their brandy, today, Fernando de Castilla is justly celebrated for its delicious range of fortified wines, which rose to new heights after Jan Patterson, a Norwegian with a major passion for Sherry, bought the property in 1999. His investment, energy, and enthusiasm have paid massive dividends, adding yet another string to the bow of this charming part of Andalucia – a veritable tourist paradise. Indeed, boasting fancy shops, old mansions, beautiful churches, and numerous fiestas, Jerez de La Frontera would be a pleasure to visit, even if Sherry wasn't on the cards.
Enjoy a private VIP tasting and visit our Andalucia Wine Tour.
---
Related Blog Posts: