Where to stay in La Rioja
La Rioja is, without a doubt, Spain's most evocative and beautiful wine region, sprinkled with medieval villages, world-class wine estates, and some of the best restaurants in the country. This region is an absolute must for wine lovers visiting Spain, and we are delighted to share our selection of highly recommended places to stay in the wine country here. Enjoy the read!
Palacio Samaniego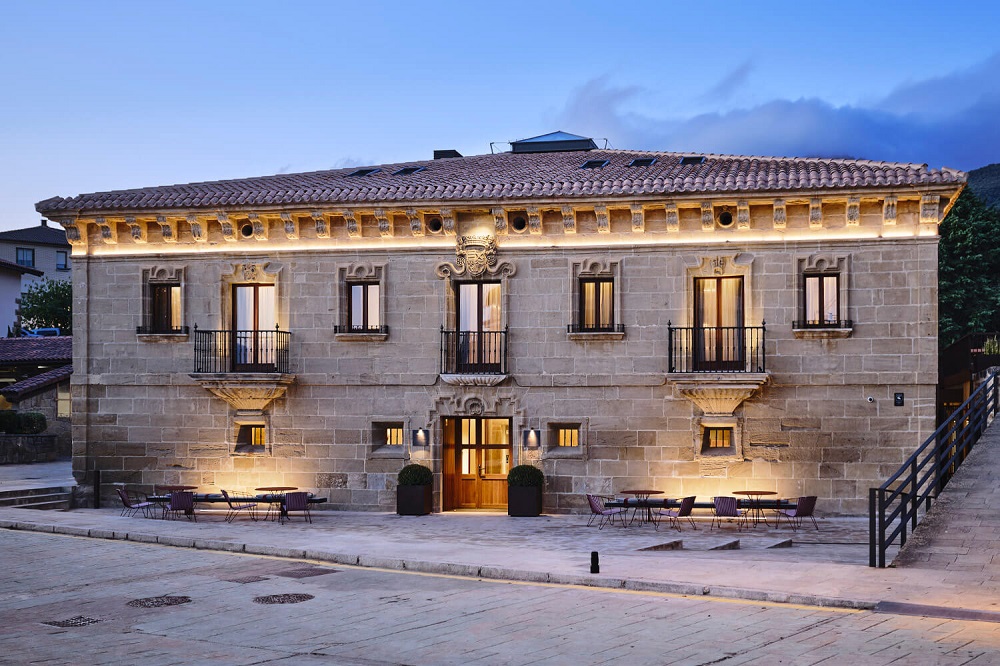 Possibly our favorite wine hotel in Spain at the moment, this small and utterly cozy mansion in medieval Samaniego (in Rioja Alavesa) feels like your wealthy friend's house that you have been lucky to be invited to stay in. Owned by Baroness Rothschild of Bordeaux fame (The Rothschilds and Ribera del Duero fine wine estate Vega Sicilia have a joint venture called Macán near Samaniego hamlet), the vibe is more of a private house than a hotel. Indeed there are only nine rooms, all beautifully decorated with contemporary art and local handicrafts like Ezcaray blankets. The rooms are all named after Spanish and French grapes -Tempranillo, Syrah, Malvasia, Verdejo, Viura, Bobal, Garnacha (our fave), Merlot, and Chardonnay. There is a fabulous boutique restaurant onsite, Tierra y Vino, with inspired and confident cooking based on local recipes, a zero-mile ethos, and executed with a creative flourish. The hamlet of Samaniego is a dream, with golden stone mansions and several high-end wine estates right in or just outside the village- Remirez de Ganuza, Amaren, Ostatu, and Baigorri.
website: palaciodesamaniego.com
address: Constitucion Kalea 12, Samaniego,01307, Alava, Spain
telephone: +34 945 660 000
---
Santa Maria Briones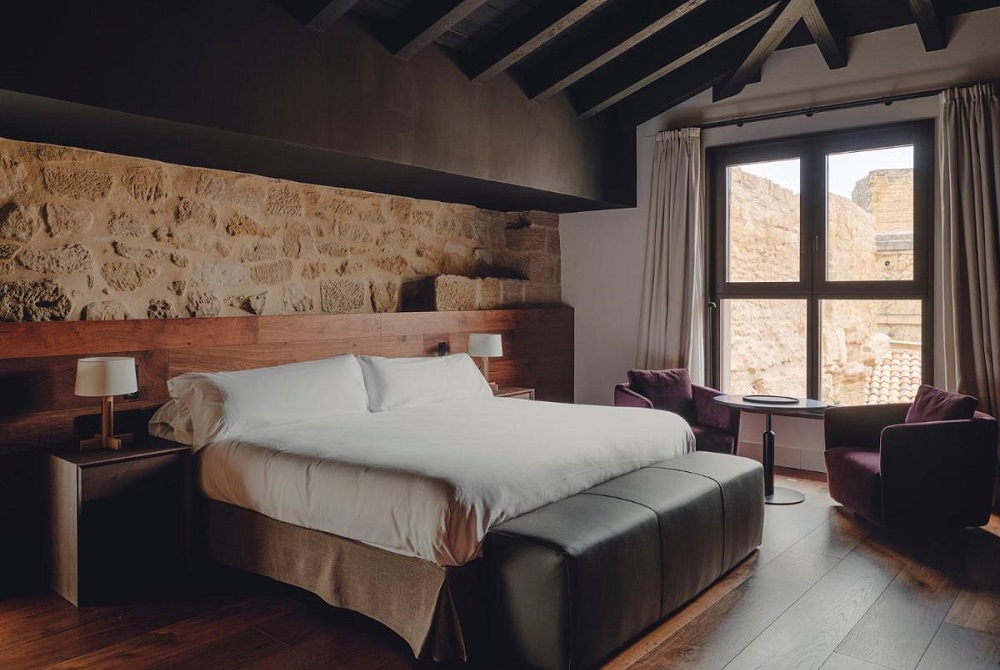 Just recently opened, this stylish hotel in the medieval village of Briones (in Rioja Alta) fuses New York contemporary design in a 16th-century manor house with a soothing color scheme of white and beige linens, brown leather, velvet armchairs, original wooden beams, romantic lighting, hardwood tables, and exposed stone walls. The 16 rooms are all quite relaxing and comfortable with brand new beds, many with views of the vineyards and countryside, the Ebro river, and the medieval houses of the village. The bathrooms are large, bright, and chic, with toiletries by L' Occitane. Amenities include:
An onsite gastronomic restaurant (called Allegar) with an excellent wine cellar.
A 13th-century walled courtyard for evening drinks.
A small gym.
Delightful reading lounge.
Note: This is an adults-only hotel. Briones is a lovely village with a magnificent Gothic church (amazing Baroque organ here!), an enormous and fascinating wine museum (called Dinastia Vivanco), and an annual medieval festival.
website: santamariabriones.com
address: Concepción 37, Briones, 26330 ,La Rioja, Spain
telephone: + 34 941 991 599
---
Los Parajes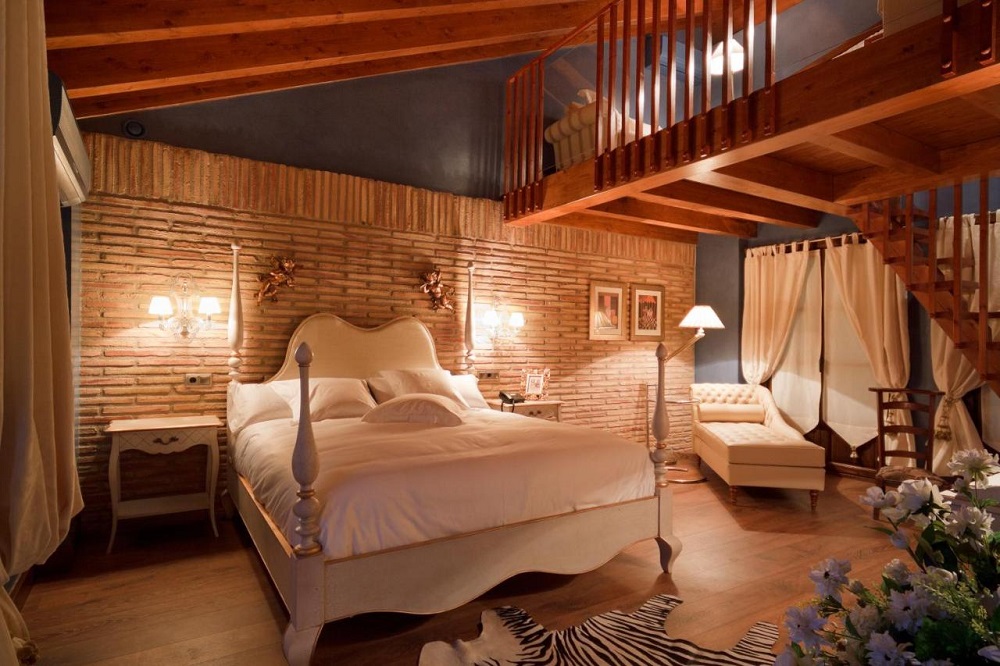 In the heart of Rioja's most gorgeous walled village, Laguardia (in Rioja Alavesa), Los Parajes is always a fun and highly convenient place to stay when wine touring in the region as you have a large selection of wine bars, restaurants, and shops right in the hamlet. We love the restaurant here, the incredible underground wine bar, and the little pampering spa area. The 18 rooms are decorated in a country-chic style with an eccentric mix of antiques, jacuzzis, chandeliers, mosaics, and ancient timber beams. Our favorite room is the two-level, atrium-style suite with a four-poster bed, pretty brick walls, hydromassage jacuzzi for two, and a delightful little terrace balcony- perfect for enjoying a glass of wine at sunset after a day of visiting wineries in the area. Laguardia has historic cellars right in the village, like Casa Primicia and Carlos Sampedro, and world-class estates only a few minutes drive away, like cult winery Artadi, beautiful Torre de Oña, and popular Campillo.
website: www.hospederiadelosparajes.com
address: Calle Mayor 46-48, Laguardia (Álava), 01300 , La Rioja, Spain
telephone: + 34 945 621 130
---
Teatrisso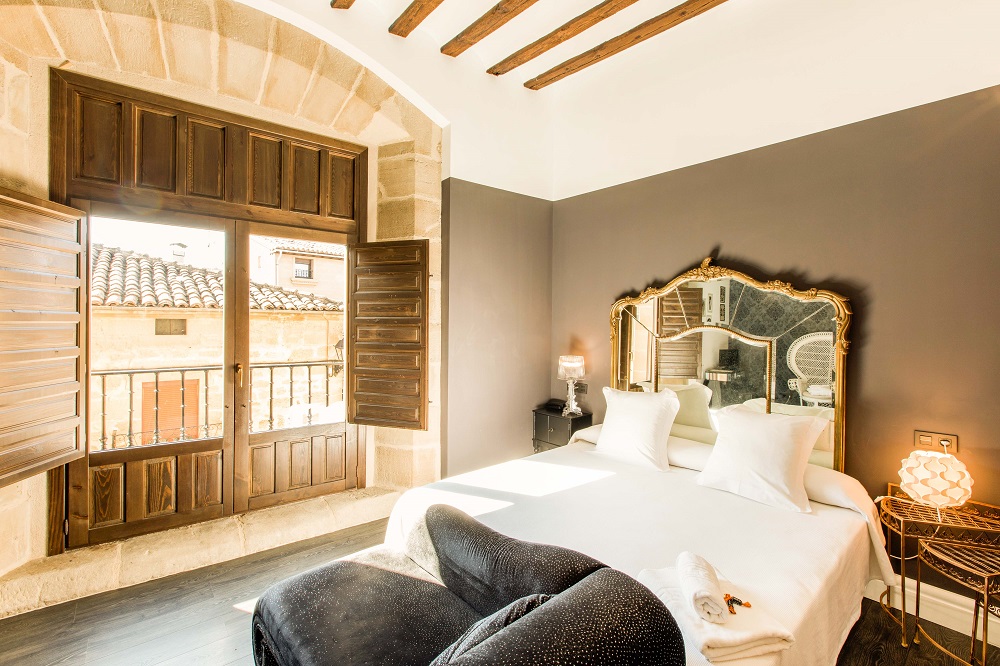 This delicious, renovated 17th-century palace in the historic hamlet of Cuzcurrita (in Rioja Alta) is the passion project of Laura and Jose, an utterly charming young couple from Logroño. In the 1920s, the palace housed a theatre, cinema, and dance hall, which inspired the new name Teatrisso and the movie-themed rooms. The village of Cuzcurrita is home to a very small castle (next to a wine estate), medieval streets lined with noble mansions with their coat of arms, and wine bars. Their 12 unique bedrooms are all cinema and theatrically themed, with a hip blend of movie posters, singular pieces of unique furniture (both contemporary and historical), and lovely views from nearly all the rooms. Each bathroom is different, some with extra large showers with wheelchair access. Some romantic rooms have bathtubs right next to the bed 🙂 Other amenities onsite include their bucolic little patio garden, their Belle Epoque room for relaxing and reading, and their 16th-century wine cellar, where they organize tastings and tours of the palace. In the village, we love the Asador Aker restaurant for dinner, a short walk from the hotel, and fantastic for roast meats and the extra-long wine list. This hotel has truly fantastic energy, thanks to the wonderful hosts.
website: teatrisso.com
address: Calle Segundo cantón, 15, Cuzcurrita del Río Tirón, 26214 , La Rioja, Spain
telephone: +34 697 922 45
---
Marques de Riscal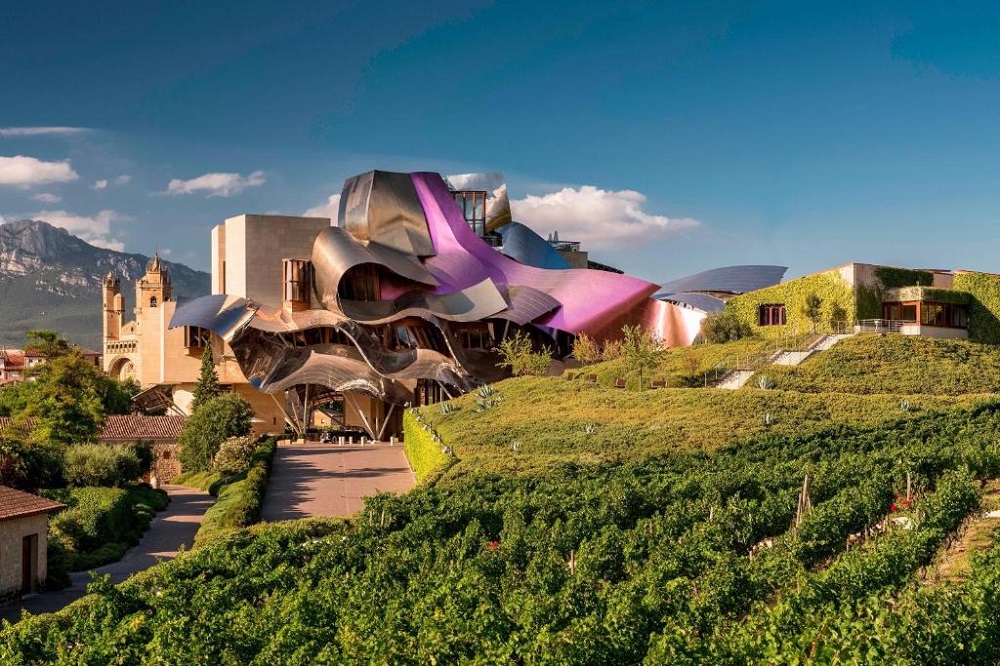 Designed by the genius Canadian/American architect Frank Gehry on the grounds of the centennial Marques de Riscal winery, this hotel has become an icon in Rioja Alavesa, an iconic architectural gem in Spain. It's nearly as famous as the Gehry-designed Guggenheim museum in Bilbao, located about an hour and a half north. The undulating ribbons of hot pink, silver, and gold titanium and steel are said to have been inspired by the Marques de Riscal wine bottles- pink for the wine, gold for the metal mesh on the bottles, and silver for the capsule that covers the neck of the bottles. At sunset, the hotel seems to glow with metallic reflections, which is quite extraordinary. The wine resort is the most luxurious option in Rioja, housing the 5-star hotel, a destination wine spa, a high-end gastronomic restaurant overseen by Michelin star chef Francis Paniego (Echaurren), and 61 rooms, 10 of which are suites. Our favorite rooms are the spa wing suites with massive terraces, absolutely perfect for enjoying a bottle of wine with local Cameros cheese in the evening while enjoying views of the medieval hamlet of El Ciego and its wonderful church.
website: www.marriott.com
address: Calle Torrea, 1, Elciego, 01340, Spain
telephone:  +34 945 180880
---
Casa Robla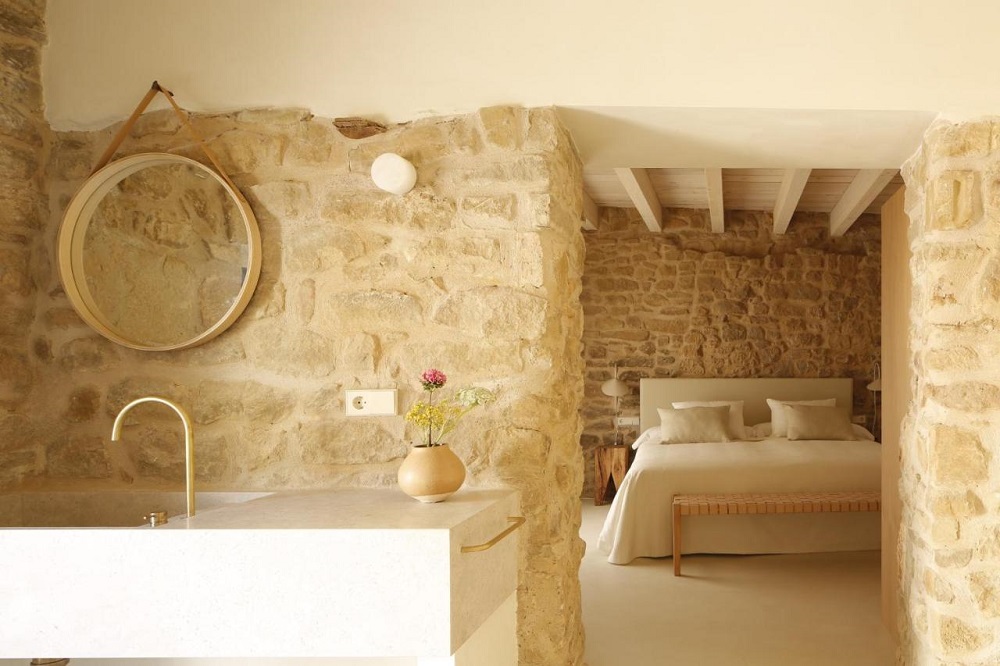 This bewitching "casa rural" has only recently opened after a heroic restoration by its young owners, Edu and Cristina, in the tiny village of Elvillar in Rioja Alavesa. Elvillar is known for its 16th-century Gothic church (huge for the tiny aldea where it is located) and for its amazing Dolmen (called "Dolmen de la Chabola de La Hechicera"), which is the best preserved megalithic Dolmen in Northern Spain. The Dolmen is set outside the hamlet, facing the backdrop of the village, church, Sierra Cantabria mountains, and a sea of vineyards, and it is truly breathtaking. Casa Robla was completely abandoned before the current owners transformed it back to its 18th-century glory. While not a luxury hotel, it is the most luxurious B&B we have had the pleasure to visit in Rioja. We love that it is in an authentic village that feels entirely off the beaten track but is only a 9-minute drive to Laguardia and even closer to Lanciego, where the stellar Mendieta Osaba wines are made. The eight beautiful bedrooms are full of light. They feature golden stone walls, ingeniously repurposed tile headboards (the tiles were previously part of the flooring), huge comfy beds with plush white linens, and showers big enough to host a party. Apart from the bedrooms, there are many atmospheric common areas such as the original space where the historic wine press was used to produce wine centuries ago; the carved "calado" (underground wine cellar) where they now host tastings (owner Cristina is also the owner of the nearby Bodegas Blanco Pérez de Azpillaga winery), and a professional chef's kitchen. Casa Robla would be the perfect place for friends or family to organize an unforgettable private stay. Still, it is also perfectly recommended to couples visiting the Rioja Alavesa wine country. What a gem.
website: casarobla.com
address: Hornos 11, Elvillar,  Álava, 01309, Spain
telephone: +34 945 625 119