Madrid is a young capital city for Europe. The seat of government was only moved to Madrid in 1561 under Phillip II, from Toledo, and until that point, it had only been a provincial center. The Moors fortified the city, and then the Christians took it back under Alfonso VI in 1083. From that point on, the city was influenced by the Bourbons, the Hapsburg's and the Italians. From the time it became the capital of a united Spain, the city grew rapidly, and plenty of churches, palaces, and royal monasteries were built. Today, Madrid is a lovely, sophisticated city with an aristocratic air and a delightful city to visit for any length of time. We feature Madrid in most of our wine and culinary tours.
The first impression one has of Madrid is its understated elegance. There are wide tree-lined boulevards, a multitude of beautiful parks, ostentatious fountains and marble statues, but then you find utterly charming, unpretentious cafes on nearly every corner. There are places of splendid beauty, like the Plaza de Oriente, which contains the Royal Palace and the Opera House; the fabulously relaxing Retiro gardens. The art nouveau inspired neighborhood of Alonso Martinez, the Tapas Quarter of La Latina and the cosmopolitan Gran Via boulevard (built in the early 1900s and inspired by New York's Broadway.
Nightlife is legendary in Madrid, and the city is home to a multitude of wine bars and Tapas Bars, charming vaulted restaurants, elegant top-end dining, and bar after bar after bar. The discos stay open until dawn and around 6 AM, partygoers in the historic downtown area, congregate around the "Chocolaterias" to have their cups of pure hot chocolate and "Churros" before going home.
Shopping is great in Madrid, with a variety of neighborhoods and styles of "Compras" to choose from. The Puerta del Sol is the shopping nucleus of the city, with tourist-trap shops selling kitsch castanets, key chain bulls, and Flamenco dolls, but you can find some wonderful authentic shops amidst the tat. You'll find random shops selling cigars, or old books, wines and artisan cheeses, and some shops only selling gentlemen's hats. Young trendy shoppers should head to the Chueca-Tribunal area for hip, alternative shops. Fuencarral Street, in particular, is a beacon for "Fashionistas." For chic shopping, head to Serrano and Velasquez streets, and the "Golden Mile" street of Jose Ortega y Gasset. Here you will find swish Italian shops, top Spanish boutiques, fabulous wine shops (Lavinia is a wine lover's paradise) and posh delis
The following list of highlights includes our favorite spots in Madrid, for those who love fine wines, diverse cuisine, art, and architecture.
Gastronomy & Wine
The culinary traditions native to Madrid are designed for scorching summers and bitterly cold winters. Cocido is a typical winter dish and is basically a slow-cooked stew made with garbanzos, chorizo sausages, black pudding, potatoes, and carrots. By no means an elegant fare, on a cold winter's night in Madrid, it goes down a treat. While typically from the south of Spain, Gazpacho can be found in nearly every Madrid restaurant in summer. It's a cold tomato and pepper soup, heavy on garlic and Olive Oil, and the perfect remedy for a stiflingly hot afternoon.
The cuisine you find in Madrid's Tapas Bars represents nationwide Spanish cuisine, including Basque, Catalan, Andalusian, Galician, Mallorcan, and Castillian, to begin with. Typical Tapas include Pimientos Rellenos de Bacalao (Roast red peppers stuffed with cod and bechamel sauce), Gambas a la Plancha (Grilled, unpeeled prawns), Jamon Serrano or Jamon de Bellota (the latter being the superior of the two and the best Spanish Ham you can ever hope to taste in your life, made with acorn-fed pigs), Patatas Bravas (common all over Spain, they are potatoes fried in olive oil and doused with a spicy sauce made of peppers, Paprika, and chili) and Albondigas (meatballs made with veal and onions, served with a piquant sauce).
Wine is, surprisingly, made right in Madrid's city limits. The main wine villages are Navalcarnero, which hosts such wineries as Bodegas Francisco Casas and Bodegas Ricardo Benito and Villarejo de Salvanes, whose Vinos Jeromin winery makes the "Puerta del Sol" wine (made of 100% Cabernet Sauvignon, even more surprising). On the wine lists of your average Madrid restaurant, you'll find top red wines from Ribera Del Duero, La Rioja, and ordinary table wines from La Mancha and Valdepenas; and classy whites from Galicia (Rias Baixas) and Rueda.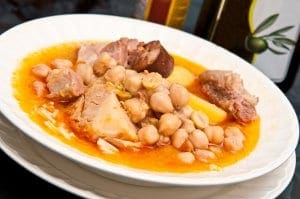 Highlights
Built-in the late 1700s under Charles III (Carlos Tercero), The wonderful Prado Museum houses one of the world's most significant art collections, including Velazquez, Goya, Bosch, Tiziano, Rubens, Brueghel, Fra Angelico, El Greco, Zurbaran, Botticelli and Caravaggio. It is ridiculously good value to enter (15 euros), and you can spend the day without even seeing one-tenth of the tremendous collection. Famous paintings include "Las Meninas" and "The Triumph of Bacchus" by Velazquez, "The Clothed and Nude Maja," "The Third of May, 1808" and "The Wine Harvest" by Goya, and "The Garden of Delights" and "The Adoration of the Magi" by Hieronymous Bosch.

Most famous for its Picasso and Salvador Dali collection, the Reina Sofia also has the added urban myth of being haunted. The building which houses Madrid's (and one of Spain's) best collections of 20th-century art, was built in the late 1700s as well and used to be a hospital. It's said that those who visit the museums in the evenings, see mysterious shadows dancing around the central cloister and hear voices down the halls. The museum has a superb collection of modern artists such as Pablo Picasso (whose most famous painting ever, "Guernica" can be seen here), Salvador Dali, Joan Miro, Eduardo Chillida, and Juan Gris.

The Puerta del Sol

17th-century square, which is the tourist hub of Madrid. Called "the Gateway of the Sun," this square is said to be located in the exact center of Spain. The square is Madrid's most popular meeting place. "El oso," the bronze bear statue, climbing up Madrid's symbol- the strawberry tree is a prime meeting point. There are plenty of delightful monuments in La Puerta del Sol, including the building that used to be Madrid's post office back in the 1760s, the clock tower, the large Tio Pepe Sherry sign, and a statue of Charles III right in the middle. This is where the New Year's Eve festivities are centered around.

La Cava Baja- 17th century "Tapas Alley" and "Tapa Hopping"

La Cava Baja is one of the most charming, historic streets in Madrid, and it also happens to be gastronomic heaven. Tapas (small portions of traditional or creative dishes) are served standing up or sitting down at the side-by-side, tiny, cozy, tiled restaurants on the Cava Baja. Some of the Tapas bars have sublime wine lists, the best one probably being "Tempranillo," which has a 15-foot ceiling, stacked to the top with wine bottles and a list featuring hundreds of vintage Spanish wines at ridiculous prices. The way to have Tapas in the Cava Baja is either by booking a table in the back of one of the brick-vaulted dining rooms or by "Tapa Hopping" (going to various locales having dishes and glasses of wine in each). Excellent Tapas Bars include Casa Lucio, Tempranillo, Casa Victor, La Cava de Yllan, and La Chata.

The palace was built on the site of the old "Alcazar" of the Hapsburg Rulers, which was destroyed by a fire in 1734. The royal residence took 26 years to be rebuilt, enough time for two Bourbon monarchs to come and go! It's a splendid building covering almost 400,000 square feet, surrounded by manicured gardens. The rooms contain frescoes painted by Masters, walls covered with red velvet and lined with silver, tapestries from the Royal Factory of Tapestries, bronze "rococo" sculptures, in addition to dazzling collections of Chinese ceramics and Roman busts. The Royal Palace is located in the most beautiful square in Madrid, the Plaza de Oriente. Facing the palace, across the plaza, is the Royal Opera House.

Malasaña Quarter

This charming Madrid neighborhood is not frequented by the majority of the tourists who visit Madrid, and what a pity. The streets are lined with 3 stories, colorful buildings with wrought iron art nouveau balconies, covered in flowers. There are quaint cafes, small welcoming restaurants, original shops and pretty squares like the Plaza Dos de Mayo (The 2nd of May square, which was where an uprising against the French took place in 1808). A fantastic café, Pepe Botella (named after Napoleon's brother, who had the reputation of being quite the boozer) is located right on the square and is full of old photographs, strange bottles, etc.