It has been described as Spain's answer to New Zealand Sauvignon Blanc, which is not damning with faint praise! Once an unknown quantity in the arid plains of Castilla y León, Verdejo has been put on the international map. The acreage has been steadily increasing for years, reflecting the insatiable global demand for saline and crisp, dry whites. As a result, Verdejo has become a symbol of Spain's modern-day confidence and renewal – the nation has totally transformed its viticultural image.
In the mid-to-late 20th century, the engine for (still) Spanish wine exports was red Rioja and little else. The small volume of white styles sent abroad often oxidized caricatures, lacking fruit and freshness. Simply put, discerning wine lovers did not include Spain in their pantheon of great white wine producers. However, a rash of investment and innovation has revitalized the country's ailing white wine scene, transforming the fortunes of regions such as Rueda and Rías Baixas. Today, grapes like Verdejo are a hot commodity in the restaurants of Madrid, London, and San Francisco. The days of a red wine monopoly are over.

Read more about Spanish White Wine
History and viticulture
The barren landscape of Castilla y León is rich in history and viticultural excitement. Situated to the northwest of Madrid, the region played an important role in the endless clashes between the catholic monarchs (Isabella of Castile and Ferdinand of Aragon) and the Muslim forces of the Caliphate finally ejected from Spain in the 15th century. It is generally believed that Verdejo is indigenous to this part of northern Spain, although certain viticulturists argue that it was imported from North Africa, taken by the Mozarabs. They established a base in La Algaida in Cadiz, although the group subsequently settled in the Douro after the battle of Toledo in 1085. This is certainly a plausible theory; the grape is mentioned in ancient texts, where it is said to have been cultivated by Cistercian monks following the reconquest and used to make liqueur-style wines.
This unique expression of Verdejo survived until the 20th century. Known as 'Dorado de Rueda,' winemakers would mix the fermented juice with flavored spirits before aging the Dorado in old barrels. What emerged was a complex and oxidative representation of Verdejo, liable to offend the palates of contemporary oenophiles accustomed to clean and fresh whites. Nevertheless, Dorado de Rueda was held in great esteem for centuries – it was even served at the Spanish court.
However, until the late 1990s, Verdejo had no presence or clout in international markets. Tastes were evolving; consumers desired white wines that would emulate the pungent aromatics and racy acidity of Kiwi Sauvignon Blanc. Spain was in danger of being left behind until Rioja pioneer Marques de Riscal decided to upend the Verdejo recipe. Investing heavily in the Rueda region in Castilla y León, they introduced temperature-controlled fermentation and stainless steel tanks to these historic vineyards. Suddenly, Verdejo was in vogue, much appreciated for its fresh fruit profile and affordable price tag. Observing Riscal's success, a rash of copycat wineries have sprung up across the zone, lured by the temptation of relatively easy money. Today, Verdejo is one of Spain's fastest-growing white grape varieties, with over 16,500 hectares under vine. One of the more recent investors is the González-Byass group, who purchased some old vineyards in Rueda several years ago.
More will undoubtedly follow. One of Verdejo's most likable qualities is its relatively 'easy-going' white variety that doesn't cause too many headaches in the vineyard. Both bud burst and ripening occur in the mid point of the season, yielding medium-sized berries that offer an attractive balance between ripeness and acidity. Moreover, Verdejo is not prone to overcropping unless planted on very fertile soils. The ideal terroir is loose alluvial soils (clay-limestone also suits Verdejo), with stony fragments on the topsoil to aid ripening and drainage. But most importantly, Verdejo is a very robust grape, able to withstand long periods of drought. In the arid climate of Castilla y León, that isn't so much a virtue as an essential characteristic.
However, it isn't all plain sailing in the Duero. Early bud burst can run the risk of spring frost attacks in hot years, potentially devastating the crop before the berries have even had a chance to form. The vines are also quite susceptible to fungal diseases, albeit this is not a major issue in very dry climates. Irrigation may be necessary in the most drought-ravaged seasons, increasing the risk of oversized berries and dilution. Yet, most winegrowers will sing Verdejo's praises, often described as a very malleable and versatile white grape. Spain's leading producers are increasingly exploiting this versatility, eager to add depth and class to the 'fresh and fruity' cliché.
Winemaking
There is only one relevant question: what does the winemaker desire? Unfortunately, it is all too easy to produce textbook Verdejo in 2022, particularly with the help of modern equipment and viticultural techniques. As a result, the critical mass of Verdejo wines are light-bodied and very fresh, with citrus aromas and mouth-watering acidity on the palate – utterly delightful in summer. But certain growers reject this paradigm, concerned that Verdejo is in danger of becoming a standardized and homogenized white wine category.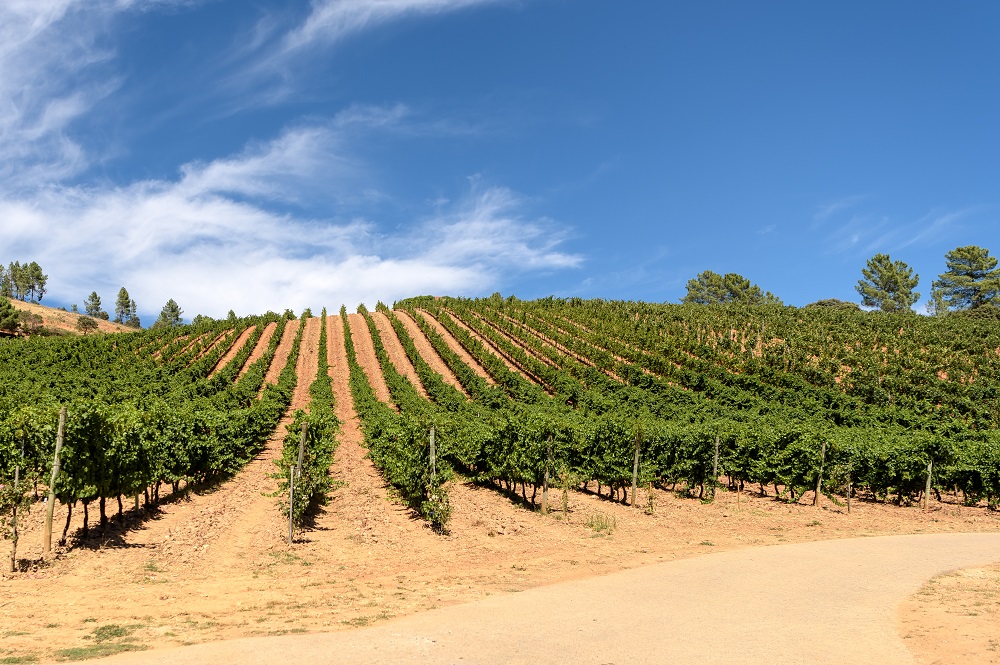 Verdejo vineyards in Rueda
Nevertheless, most quality-focused estates use hand-harvested grapes, picked at that optimum ripeness/acidity ratio. The grapes are then destemmed and pressed directly, although skin contact is becoming more fashionable amongst younger winemakers, keen to stress a point of difference. Equally, whole-bunch pressing in Rueda is becoming normalized, as many producers wish to avoid any phenolic pick-up. After pressing, the must is chilled after being drained into settling vats.
Traditionally, Rueda was fermented at high temperatures and matured in wood, creating an oxidative and textured style of wine, which often lacked fruit. However, many producers now insist upon fermenting their wines in stainless steel tanks, allowing them to regulate yeast activity via temperature control. Long fermentations conducted at low temperatures is a surefire way of producing a fruit-driven expression of Verdejo – this is what the market generally demands. After the process has finished, the wine will often undergo malolactic fermentation to soften astringent acidic flavors; malolactic converts malic to lactic acid. Yet, in very hot years, producers may omit this stage of the winemaking to preserve acidity and freshness. Commercial labels will then be filtered and subject to a fining regime before being bottled. As a result, they may arrive in retail stores less than ten months after the harvest.
Of course, not all Verdejo is given this 'Speedy Gonzales' treatment. A growing number of premium brands are aged on their fine lees in tank before bottling, adding depth and texture to the wine. In addition, fermentation and maturation in new oak is slowly gaining a foothold in Rueda, potentially adding depth and structure to the finished article. But caution is advised: new barrique can easily overpower Verdejo's fruity exuberance. Older barrels give more moderate flavors and have less impact on the fruit – an option preferred by the terroir-conscious firmament.
In the 1900s, Verdejo was routinely blended with sherry grape Palomino to produce a fortified dessert wine style. This has gone out of fashion; however, Verdejo remains a willing partner to other varieties. For example, it can blend very well with Sauvignon Blanc and/or Viura, yielding a mineral and saline dry white. Yet too much Sauvignon can spoil things, creating an amorphous expression with no individuality.
Rueda today
Rueda's transformation is nothing less than a modern miracle. Located to the southeast of the city of Zamora, these vineyards were once doomed to a tragic decline. Yet there are now over 68 wineries in the DO (appellation), with approximately 1,500 growers cultivating Verdejo, Viura, and other white grapes. The timing of Rueda's rise to fame was very opportune; consumers were starting to tire of New World Sauvignon in the early 2000s, while sommeliers and supermarket buyers were on the hunt for high-quality and affordable alternatives. Verdejo fitted the bill perfectly.
The secret to its phenomenal success is twofold: Verdejo is not difficult to grow; it retains good acidity even in hot vintages. As a result, Spain now has impeccable credentials as a source of premium white wines. So the question is: what is the next step?
Many producers are keen to promote the style's diversity via terroir stratification or winemaking. Indeed, growing conditions in Rueda are not homogenous or uniform. There are three distinct soil types: clay alluvium, sandy and gravelly soils. According to insiders, sandy terroir dominates in the middle and lower areas of the old Duero terraces. At the same time, the clay-loam soils make up most of the central vineyard area north of Medina del Campo. As a result, leading growers are increasingly marketing low-production cuvées based on very old vines, imbuing Verdejo with rarely seen levels of concentration and depth.
So in broad strokes, two expressions of Verdejo are being made today. One emphasizes fruit and freshness, boasting citrus, melon, and cut grass aromas. The palate will be relatively light and unoaked, offering flavors of tropical fruit, lime, and apricot on the mid-palate. Such wines reach an apogee when paired with shellfish, although many wine lovers enjoy Verdejo as a refreshing aperitif.
However, Rueda's Consejo Regulador (regulatory council) recently unveiled a new classification for the region's wines: Gran Vino de Rueda. This fledgling designation will shine the spotlight on the area's finest vineyards and wine estates, intent on crafting a more profound and structured expression of the grape. According to the regulations, all wines labeled as 'Gran Vino de Rueda' must be based on vineyards over 30 years old, with a maximum permitted yield of 6,500kg/ha. Barrel-fermentation and maturation are widely employed, lending the cuvées weight, concentration and richness. These wines have a honeyed brilliance – a depth that may shock seasoned aficionados of the young and fruity archetype. Don't believe the hype: Verdejo is as multi-faceted and complex as any French white grape. Its full potential has yet to be realized.
Top producers of Verdejo wines: