Profile of Domaine Couly-Dutheil
There are few names more respected in the Loire than that of Couly-Dutheil. Their wines have earned them great respect and are to be found in leading restaurants across France, and further afield too! The estate's great journey began in 1921 when Baptiste Dutheil made Chinon his home and married his cousin, Marie Couly. He started out as a wine merchant and in 1925 purchased his first piece of vineyard land, the Clos de l'Echo. He replanted the vineyards and nurtured the soil to produce wines of great potential, laying the foundations for many years of excellence to come.
In 1928, a distant relative Rene Couly came to Chinon and married the daughter of Baptiste and Marie, Madeleine. Rene subsequently became the driving force in Couly-Dutheil, increasing the vineyard holdings and raising the quality of the wines. The estate's reputation was truly forged, however, by their children Pierre and Jacques, and their sons Bertrand and Arnaud. Pierre and Bertrand have now founded their own domaine while Couly remains in the capable hands of the father-and-son team, Jacques and Arnaud.
There are many reasons to visit this estate, not least the grand château, parts of which date back to the 10th century; it resembles an imposing Medieval Fortress. As we would expect from such a dedicated team, all the wines are uniformly superb but the vineyard Clos de l'Echo deserves a special mention. This ancient land has a unique terroir (visited by Joan of Arc several times) that grows the Cabernet Franc varietal to perfection. It is a wine of immense concentration and power, none who taste are left indifferent. Sample a glass of Clos de L'Echo and you will be converted for life, one of the worlds most unique and spellbinding wines!
Wines produced
Rosé René Couly

100% Cabernet Franc. Fermented in stainless steel and bottled 6 months after the harvest

Les Chanteaux

100% Chenin Blanc. Fermented in stainless steel and left on its lees for 5 months to add richness

Les Gravières

100% Cabernet Franc. Fermented in stainless steel

Coulée Automnale

100% Cabernet Franc. Fermented in stainless steel

Diligence

100% Cabernet Franc. Fermented in stainless steel. Bottled 12 months after bottling

Domaine René Couly

100% Cabernet Franc. Fermented in stainless steel. Matured for 12 months in New Oak barrels

Baronnie Madeleine

100% Cabernet Franc. Fermented in stainless steel. Bottled 6 months after harvest

Le Clos de l'Echo

100% Cabernet Franc. Fermented in stainless steel. Produced from old vines, some 75 years old. Wine aged for 12 months in stainless steel

Le Clos de l'Olive

100% Cabernet Franc. Fermented in stainless steel. Produced from old vines, some 100 years old. Matured for 24 months in New Oak barrels

Crescendo 100%

Cabernet Franc. Fermented in stainless steel. Matured for 24 months in New Oak barrels
Winery details
12 Rue Diderot
37500 Chinon
France
Tel +33 (0) 02 47 97 20 20
Fax +33 (0) 02 47 97 20 25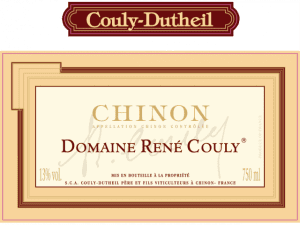 Appellation

Chinon

Founded

1921

Area under vine

130 Hectares

Age of vines

30 years+

Oak barrel origin

French
Winemaker

Jacques Couly

Owner

René Couly

Production

100 000 cases per annum

Grape varietals

Chenin Blanc, Cabernet Franc