Stitched from vine-covered rolling hills, medieval abbeys, and gorgeous wine villages, the Val d'Orcia is one of Tuscany's most beautiful road trips. Pilgrims on this journey always make time to explore Pienza, a town dominated by its magnificent Duomo. Pienza was once a sleepy hamlet until Pope Pius II began turning his home village in 1459 into the ideal Renaissance town. The results are no less spectacular today – the papal palace, town hall, and buildings that flank Piazza Pio II went up in just three years and haven't been remodeled since. For that would be sacrilege.
History
Pienza is not mentioned until the 9th century AD. However, this region of Italy has been occupied by various tribes and civilizations since ancient times. The Etruscans brought a highly civilized world to ancient Tuscany in the 9th century BC – wine, women, and song were obligatory. Indeed, Etruscan feasts were so decadent they even scandalized the orgy-happy Romans. Their neighbors grew increasingly jealous of Etruria's prosperity, and war soon broke out. In 265 BC, Etruria fell to Rome, although its citizens continued to resist Roman rule fiercely. They conspired with the Carthaginian ruler Hannibal against Rome during the Punic Wars.
In 88BC, the Romans wisely decided to let the citizens of Tuscany determine their fates. The province of Tuscia was established, granting Etruscan citizenship and giving them a free hand to run the province as they saw fit. Julius Caesar was a great admirer of the magical landscape of Tuscany – in 59BC, he established a soldier-retiree resort called Florentina.
After the Western Roman Empire collapsed in 476, Tuscany was ruled by the Lombards from northern Italy for over two centuries. They managed to turn the tiny duchy of Spoleto into a booming trade empire. However, in 773, Charlemagne, the first recognized emperor to rule from Western Europe since the fall of the Western Roman Empire, crossed into Italy on his mission to unite most of western and central Europe. Tuscany, Emilia, Venice, and Corsica fell under his control, confirmed by Pope Hadrian 1.
In the 9th century, history records the first mention of Pienza, albeit the settlement was known as Corsignano. It enjoyed a tranquil existence until parts of the village became the property of the Piccolomini family in 1300. However, its moment arrived in the 15th century following the birth of Aeneas Silvius Piccolomini in 1405, who would later become Pope Pius II. The Renaissance humanist was committed to completely transforming the settlement into a thriving beacon of Renaissance architecture and refinement; he had the entire village rebuilt and renamed it Pienza, which means the "city of Pius." He also wanted Pienza to become the wellness resort for the citizens of Rome, yet the consequences of his great project were far more significant than local tourism. Pienza came to represent the first example of humanist urban planning in Europe, creating a metropolitan area that primarily benefited its citizens, rather than solely the ruling elite. This bold new approach was adopted in other Italian towns and cities and eventually spread to other European centers. To realize his vision, Pius II is thought to have hired the Florentine architect Bernardo Gambarelli and Leon Battista Alberti. Construction of Pienza's spectacular Duomo reportedly began in 1459 – Pope Pius II consecrated the Duomo in 1462.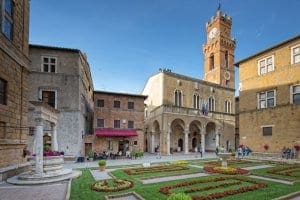 Middle Ages
But while Pienza prospered, political and social upheaval would continue to define Tuscany's history for many centuries after Pius II completed his great works. In 1478, a set of overlapping wars broke out among the papacy, Siena, Florence, Venice, Milan, and Naples as individual families jostled for power. As ever, ordinary Tuscans paid the price. Then, in 1494 the ruling family, the Medicis, were expelled by Charles VIII of France. However, they were reinstated in 1530 by the emperor's and pope's combined cannon power. The 17th century saw at least 300,000 people across central and southern Tuscany wiped out by an outbreak of the plague. Life was many things in Tuscany during this period, but it was never quiet.
In the 18th century, the sweeping political change would see the end of an era – the Habsburg Maria Theresa ended the Medici's dynastic rule over the region by installing her husband as the grand duke of Tuscany. The enlightenment leader Leopold I continued his mother Maria Theresa's reforms, making Tuscany the first sovereign state to outlaw the death penalty. Unfortunately, in the late 18th century, Tuscany became a battleground between Napoleon Bonaparte, the Habsburgs, and their Russian allies. In 1805, after waging successful campaigns across Europe, Napoleon established himself as king of Italy. However, Napoleon lost his grip in 1814 and was exiled to Elba, while Ferdinando III became the Grand Duke of Tuscany.
In 1861, two decades of insurrections and massive social unrest culminated in a unified Italy, led by a new Italian government with a parliament and king. Florence was made Italy's capital in 1865, although power was transferred to Rome in 1871 after French troops withdrew from the city.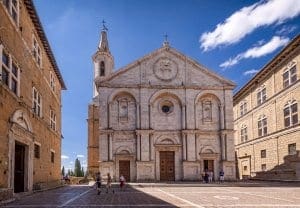 Modern Times
The 20th century was the most turbulent and dramatic yet for the citizens of Tuscany. Italy entered WWI in 1915, fighting a familiar foe: the Austro-Hungarian Empire. Following the hard-won victory of the allies, Benito Mussolini formed the Fascist Party in 1921, gaining widespread support in Tuscany. After winning a parliamentary majority in 1924, the Fascist Italian Empire joined Germany in declaring war on Great Britain and France in 1940. However, Italy surrendered in 1943, yet Mussolini refused to comply. Subsequently, the Italian resistance joined the Allies against Mussolini and the Nazis; Tuscany was liberated, but the cost to the region was severe. Many parts of Florence and other cities were decimated; too many Tuscans died during this terrible conflict.
Yet Pienza, as with the rest of Tuscany, recovered from the horrors of the 20th century, emerging as the vibrant, dynamic town we see today. In 1996 Unesco added Pienza to its World Heritage list, citing the revolutionary vision of urban space. It is a vision that continues to enchant visitors from all over the globe, who can scarcely believe that a small rural town could be so charming, so mystical and so precious. It is everything you'd expect, and much more, from a Tuscan rural idyll.
Gastronomy & Wine
Deeply attached to their patch of land, people in this predominantly rural neck of the woods hold their gastronomy and wine in the highest regard. For Tuscans, eating and drinking is a fine art to rival their idyllic surroundings. Thanks to an ancient cuisine sourced in the family farmsteads from seasonal fruits of the land and sea, visitors to the Tuscany region always eat exceedingly well. Dining in Tuscany covers the whole gamut, from street food to chic farm tables, from Michelin extravaganzas to gourmet pizzas. Spicy green olives, extra-virgin olive oils, smoky porcini mushrooms, and bags of beans are culinary trademarks across the Tuscan board, but what ends up on your palate is highly seasonal dependent. "As it should be," Tuscans will chorus!
For example, winter vacationers benefit from the truffle season (December-February), which peaks with San Miniato's white truffle market. The spring markets in Tuscany burst with baby violet artichokes, asparagus, fresh garlic, and – towards the season's end – cherries, figs, and zucchini flowers begging to be stuffed. Summer brings forth strawberries and peppers and the start of San Gimignano's saffron harvest. Great seafood, chestnuts, figs, and pine-nuts are available in abundance. But, for us, nothing beats the culinary treasures of autumn. Olives and grapes are harvested, forest 'fruits' like chestnuts and porcini mushrooms are gathered, and game is hunted. Moreover, Mid-October opens the white truffle season near Pisa.
And yet, and yet. This is just the beginning. Regional specialties are just as important as seasonal, region-wide treats. Cheese aficionados always make a beeline for Pienza, where some of Italy's finest pecorino is crafted, and the Val di Chiana, where sheep cheese is wrapped in fern fronds to become ravaggiolo. The same gorgeous rolling green valley is also where the world-famous Chianina beef comes from, making it the perfect place to sample bistecca alla Fiorentina, perhaps after a delectable course of pici ( a type of local hand-rolled pasta).
You may have also heard of Chianti, Italy's powerhouse wine region situated between Florence and Siena. The wines are splendid, but the Val d'Orcia yields just as many viticultural treasures. Let's start with Montepulciano – Prugnolo Gentile (a clone of Sangiovese) forms the backbone of the exceptional Vino Nobile di Montepulciano. Its intense but delicate aromas invoke sour cherry and garrigue, making it the perfect companion to red meat and hard cheese. The Val d'Orcia is also home to Italy's most venerable Super Tuscans, including Tenuta di Trinoro. Located near Sarteano, at the entrance to the Val d'Orcia, di Trinoro makes an excellent range of wines from 25 hectares, including the flagship, Bordeaux-style cuvée and three, single-vineyard Cabernet Francs; Le Cupole, a younger and more approachable wine from the estate vineyards and the all-Merlot Palazzi. There is also a tiny amount of Semillon made in select years. A magical example of what the Tuscan terroir can do, these spectacular wines are well worth seeking out.