Built upon the foundations of an Etruscan village and overlooking Tuscany's lush Elsa Valley, San Gimignano is a wonderfully romantic hill town and a highlight of our private wine tour through the region. The village earned the unlikely nickname of the "medieval Manhattan" for its striking skyline, which outlines thirteen medieval watchtowers dotted throughout the town center and lined along the stone defense wall. These towers, most of them built by wealthy families as a sign of their power, are one of the most impressive aspects of this beautiful Tuscan town.
San Gimignano is ideal for strolling with its small, historic nucleus and virtually traffic-free streets (cars are restricted here). The two main boulevards, Via San Matteo and Via San Giovanni, criss-cross the town, linking charming squares like the Piazza Della Cisterna, Piazza Duomo, Piazza Pecori, and Piazza Delle Erbe. Art Galleries, wine shops, and lovely restaurants line the perfectly manicured streets of San Gimignano.
San Gimignano is located between Florence and Siena, not far from the Chianti Classico wine region. Its central location makes it an easy place to visit or an ideal home base for exploring the Tuscany wine regions. Vernaccia vineyards enclose the town, and there are a few fantastic wineries just a few minutes from the historic center.
History
In the middle ages, San Gimignano was a crossroads along the "Via Francigena," a route for pilgrims and traders heading to Rome. Its fortuitous location brought wealth and prosperity, leading to a building frenzy that left the town with ornate churches, monasteries, palaces, and piazzas, most of them still around today. By 1199, the town enjoyed its heyday and declared itself dependent on the bishops who held sway here. There were soon bitter divisions among the people. Still, the town managed to flourish until the Black Plague struck in 1348, slaying a massive percentage of the population and forcing San Gimignano to subordinate itself to Florence. While the fertile fields here ensured the town's survival, it was relegated to a behind-the-scenes role until modern times, when tourism and the wine industry brought it back from oblivion.
Gastronomy & Wine
The area is best known for its delicious local dry, white wine, Vernaccia di San Gimignano. From the 13th century until today, Vernaccia di San Gimignano has been praised (it was even mentioned in Dante's Inferno). The wine-producing region was elevated to DOCG in 1993 (the highest possible Italian quality control). Refreshingly crisp with a bitter finish, the wine is made from the native Vernaccia grape, which is grown in the sandstone-based soils near town. Area growers are also finding success with red wines based on Sangiovese.
Gourmet shops all over town sell local specialties like wild boar sausage, a flavorful delicacy perfect for eating atop crusty bread drizzled with Olive Oil. Also popular is cinghale or wild boar. Boar eat mostly berries (sometimes grapes, if they're allowed to sneak into the vineyards), and their meat is tender with a delicious earthy quality if prepared well.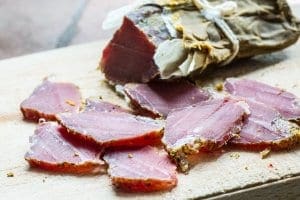 Highlights
The "People's Palace" is home to the town's art gallery, the Pinacoteca, and is the base of its tallest tower, the Torre Grossa, built-in 1311 and standing 54 meters high. You can climb to the top for views across the Centro Storico and surrounding countryside.

Duomo

San Gimignano's Romanesque Collegiate Church is a beautiful medieval construction consecrated in 1148. Inside, notable works of art include valuable Sienese school frescoes, like "The Last Judgement" by Taddeo di Bartolo, and paintings from the Florentine school, like "Stories of St. Fina" by Ghirlandaio.

An assortment of religious artifacts from area churches and monasteries

Etruscan, Roman and medieval artifacts found in San Gimignano and nearby are on display at this small but interesting museum.

The Church of St. Agostino

This medieval church is home to a range of exciting paintings, frescoes, and tablets from the 14th century.

Medieval Wash Houses

Take the Porta Delle Fonti outside the town walls and toward the wash houses where people once drew water and washed clothes. This fascinating structure dated to the 14th century and was built atop a 9th century well.

Museum of Medieval Criminology

A gory museum on medieval torture instruments, this place will make your blood run cold.

our the nearby wine regions visiting top producers, privately chauffeured, dining in the best local restaurants, and staying in charming countryside hotels.