Every wine lover, critic, sommelier, and buyer has an opinion on Tuscany. Each of them will have a set idea of what this corner of Italy offers – the majority coalesce around an archetype best represented by Chianti Classico and Brunello di Montalcino. That is to say, exquisite red wines based on the Sangiovese grape. Indeed, these globally-recognized regions are as integral to Tuscany's identity as the villas, olive groves, hilltop villages, and cypress trees. For many consumers, Tuscany is ALL about red wine.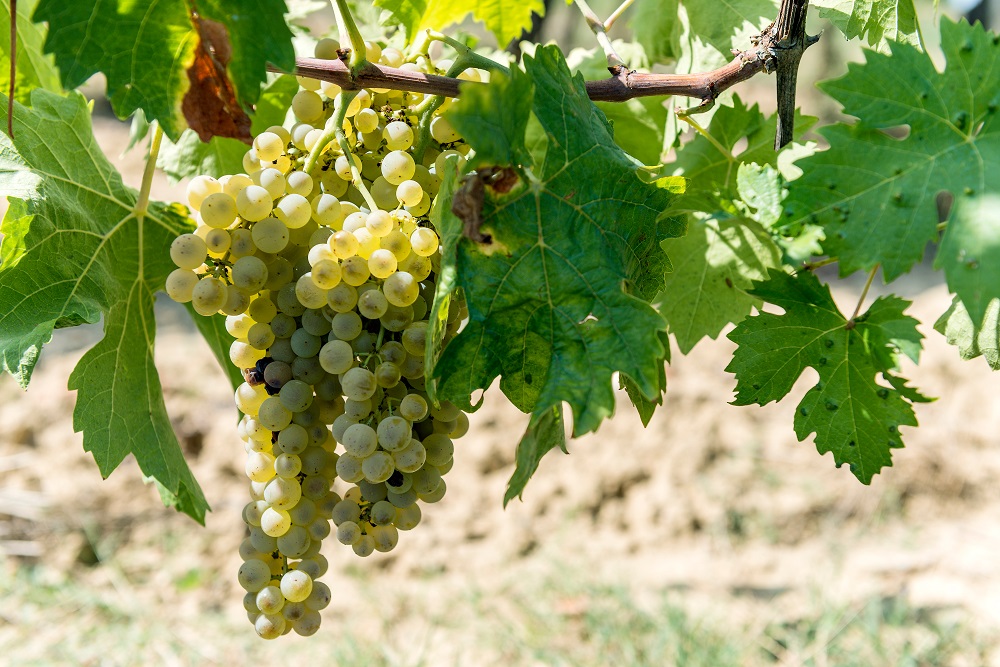 Yet even this very tourist-centric region can hold a few secrets. You may have heard of San Gimignano: a beautiful medieval town famous for its thirteen towers. Full of excellent restaurants, boutique shops, and wine bars, the town is also home to many fine works of art. But, it is also responsible for Tuscany's finest white: Vernaccia di San Gimignano. To date, no other white wine appellation has attained DOCG status in the hills of Tuscany. That makes it both unique and worthy of a closer look.
History and viticulture
Leave it to the Italians to make things complicated. Vernaccia, a name that invokes little recognition outside of Italy, is a catch-all term for a group of grape varieties that are entirely unrelated! Meanwhile, the name's etymology is rather unflattering – it derives from the Italian word Vernaculo, which translates as 'common' or 'indigenous.' Thus it is genetically distinct from Vernaccia di Oristano, which grows on the island of Sardinia. For our purposes, we're exclusively focusing on the strain of Vernaccia cultivated in the hills surrounding San Gimignano.
It would be hard to imagine a more privileged location. Situated northwest of Siena, the vineyards of San Gimignano are very bit the bucolic Tuscan cliché; the phrase 'get away from it all' was practically invented in central Italy. Vernaccia has been cultivated in the region for centuries, yet viticulturists cannot agree on the variety's origins. Some believe the ancient Greeks introduced it in the 8th century BC after establishing a series of colonies in southern Italy. Other historians, however, argue that the Romans introduced Vernaccia following their subjugation of the peninsula in the 2nd century BC. We know that the Etruscans started cultivating vines in the 9th century BC, long before the Romans set their sights on conquering Tuscany. However, the Etruscans did not make life easy for their overlords; a temporary alliance with the Carthaginians saw the Roman army devastated at Lago Trasimeno in neighboring Tuscany. As a result, the Romans devolved considerable autonomy to the Etruscans, creating the province of Tuscia (Tuscany) in 88 BC. For several centuries, the region enjoyed relative peace and stability.
However, the fall of the Western Empire in 476 AD brought chaos to the citizens of Tuscia. The Ostrogoths, Byzantines, and Lombards all had designs on the rich fertile terrain of central Italy – they were finally ejected by the first Holy Roman Emperor Charlemagne, who was crowned in 800 AD by Pope Leo III. Nevertheless, medieval Tuscany remained violent and chaotic, with frequent clashes between the Catholic popes and the emperors they appointed. By the 1200s, the people were demanding change. Fortunately, some sense of order was restored following the establishment of comuni (town councils) and the widespread improvements to local infrastructure and provisions for the poorest in society. During this century, Vernaccia was first mentioned in the writings of Dante Alighieri, renowned for his seminal work La Vita Nuova. However, it was in the author's Divine Comedy that Vernaccia di San Gimignano received its inaugural standing ovation, recorded in 1276. Pope Martin IV, the last French pope to be based in Rome, was reportedly a massive fan of the grape; it is said that his favorite gastronomic specialty was eels braised in a thick soup of Vernaccia. Rival families built the 13 towers that symbolize San Gimignano's skyline in the 12th and 13th centuries; the town's position on the pilgrim route to Rome brought it great renown and prosperity. It was a glorious age.
Sadly, the good times did not last. The plague of 1348 killed many of Tuscany's inhabitants, while famine, economic strife, and political infighting defined civic life in the 16th and 17th centuries. Things came to a head when Habsburg Maria Theresa of Austria appointed her husband as the Grand Duke of Tuscany, ending centuries of Medici dynastic rule. This arrangement endured until Napoleon Bonaparte declared himself King of Italy in 1805. However, Napoleon subsequently lost Tuscany to Grand Duke Ferdinando III, after which time he fled to the island of Elba. Finally, after centuries of foreign influence, invasions and infighting, Tuscany became part of a united Italian state in the 19th century.
By the early 1900s, Vernaccia had fallen out of fashion. The area under vine declined considerably until Vernaccia became lost in field blends (wines made from different varieties planted together in the same plot). It was only thanks to the efforts of Carlo Fregola, regent of the Chair of Agriculture of Colle di Val d'Elsa, that Vernaccia's fortunes were revived. After negotiations with local growers, Fregola convinced them to take vine cuttings and propagate the variety throughout the territory of San Gimignano. After several decades, the authorities took heed of this viticultural renaissance, awarding the region DOC status in 1966, and it was subsequently promoted to a DOCG designation in 1993.
Today, there are approximately 720 hectares planted to Vernaccia in San Gimignano. Over 60 producers continue to grow and vinify the grape, a variety that does not cause too many headaches in the vineyard. Vernaccia ripens mid-way through the growing season, yielding medium-sized berries packed with aroma compounds and fresh acidity. It is, however, somewhat vulnerable to fungal diseases such as powdery and downy mildew. That said, rainfall in central Italy is generally very sporadic during the summer months, often remaining dry into late September.
Winemaking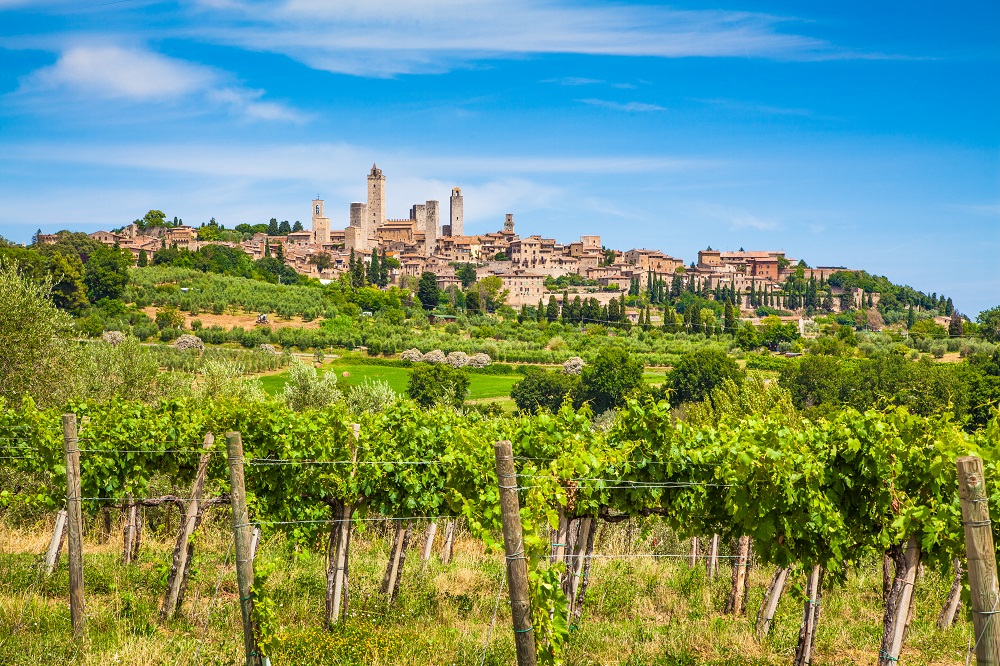 Vineyards of San Gimignano
As a major tourist destination, it must be very tempting for the winegrowers of San Gimignano to churn out indifferent dross, made quickly and with little thought. After all, many visitors would still buy into the name, regardless of the quality lurking inside the bottle. But, this tight-knit community of growers does not worship at the altar of cynicism. The vast majority of white wines produced in the appellation are very well made: Vernaccia di San Gimignano is renowned for its intense floral bouquet, which leads to a fresh palate of minerals, citrus, and grapefruit. The finish is usually very saline, with a distinct bitter note that chimes with seafood and game ragu.
It is also often said that Vernaccia di San Gimignano is highly sensitive to over-oaking. And while a touch of maturation in wood can enhance the wine's structure and textural quality, most producers err on the side of caution. Indeed, stainless steel tanks and modern presses are now familiar sights in the cellars of San Gimignano – a far cry from the rustic techniques employed in the mid-1900s. As a rule, winegrowers tend to work with hand-harvested grapes, chilled on arrival to preserve freshness. Then, the berries are gently pressed before the juice is transferred to a holding tank. Using sulfur to prevent spoilage is par for the course, as is chilling the must before fermentation.
In most cases, vinification inevitably takes place in stainless steel. We know what you're thinking: what a spectacular lack of imagination! However, the preference shown toward this vessel isn't simply laziness. Time and time again, stainless steel has proven itself to be an utterly reliable way of producing fresh and aromatic white wines. This is largely because it allows the winemaker to precisely control the temperature at all times – cool vinifications greatly help to protect primary fruit aromas and flavors. Unfortunately, after it has concluded, the wine may undergo malolactic fermentation before it is sterile filtered and bottled.
Yet it is not uncommon to see an oak barrel, or two, in the wineries of San Gimignano. According to the DOCG regulations, Riserva styles must be aged for at least 11 months before bottling, either in stainless steel or wood. New barrique is rarely a good idea, although maturation in used barrels can add a touch of depth and complexity to the finest wines. Nevertheless, growers use it with discretion.
Vernaccia in the 21st century
Vernaccia di San Gimignano has a fan club that stretches back to the Middle Ages. Kings, princes, cardinals, and authors – including Geoffrey Chaucer and Dante Alighieri – have all enjoyed a glass of Vernaccia over the years. And yet, it is one of Italy's more obscure white wine appellations. Compared to the global fame now attached to Vermentino and Cortese di Gavi, Vernaccia is a bit player. But, this is only to your benefit, as it has ensured both a plentiful supply and a lack of price inflation. The vineyards are found northwest of Siena, flanking the beautiful town of San Gimignano itself. Vines can be seen in all directions if you climb the highest tower in San Gimignano, situated in the Val d'Elsa. As throughout Tuscany, elevation, aspect, and above all, ideas vary considerably here. Ancient traditions are increasingly overlaid with innovation and creativity as winegrowers experiment with skin-contact wines, in addition to fermentation in amphorae and concrete eggs.
The region is also blessed with a very favorable terroir and climate. It shares the production zone with the Chianti Colli Senesi appellation, with very warm summers, mild winters, and a decent volume of rainfall in the spring. The best sites typically enjoy a south-facing aspect, planted at an altitude of 400 meters above sea level. The soils are a mixture of sandstone and yellow clay – both loose and free-draining. This allows the vine roots to penetrate deep in search of vital reserves during the dry summer months. And so exceptional terroir has joined forces with superior winemaking to bring you a truly remarkable white. Vernaccia di San Gimignano once considered the preserve of unsuspecting tourists, now deserves our respect. The best examples are delicious, extremely food friendly, and even long-lived!
Top producers of Vernaccia di San Gimignano: