North of Venice is the beautiful Prosecco wine country, and where the spectacular Villa Sandi Winery is located. Villa Sandi is a winery known as much for its top wines as for its deep cultural connection to the Veneto region. The estate's heart is the palatial villa itself, a 17th-century columned neoclassical structure surrounded by a lush green landscape and decorated with antique furniture, plush rugs, and elegant chandeliers, and classic pieces of Italian sculpture and art. Below this opulent villa run several kilometers of underground tunnels; during World War I, they were used by the Italian army, although now they are the resting place for a million bottles of aging wine. Cellar Tours luxury Prosecco Winery Tour includes a visit to this amazing Villa, which now serves as the company headquarters and a VIP tasting of the winery's top wines.
Villa Sandi's importance in Veneto winemaking and culture has long been recognized, but now it's earning fame for other kinds of innovations as well. One of the current owners, Giancarlo Moretti Polegato, has been making waves recently for inventing a new kind of wine bottle. The innovative Claxa, dubbed "the cooler bottle," uses a patented insulating system to keep wines at an ideal temperature.
The estate lies at the heart of the Veneto in Marca Trevigiana and is owned by the Moretti Polegato family, now in its third generation of winemaking here. The Trevisan hills surrounding Villa Sandi are home to both the Villa Sandi Estate in Prosecco di Valdobbiadene, where 10 hectares of vines are cultivated, and estates Crocetta del Montello, where 40 hectares are cultivated. In the former, red wine grape varieties, including Cabernet Sauvignon, Cabernet Franc, and Merlot, are grown. The grapes used to make the exclusive reserve wines Marinali, Córpore, and Opere Trevigiane come from this area. In the latter, grapes used in the prestigious crus, like Cuvée, are grown in strategically laid-out vineyards that take full advantage of the breeze and sunlight of the gently undulating landscape here. This is also the source of the grapes used in Villa Sandi's floral Prosecco wines, both still and sparkling.
Wines produced
Villa Sandi

The main brand offering still, sparkling and semi-sparkling wines and a range of different spirits.

Opere

A complete line of Classic Method Spumante (Sparkling wine). Each bottle refines in Villa Sandi underground cellars, for 36 months up to 72 months for the most prestigious of Opere Spumante: Riserva Amalia Moretti.

Casa Gheller

A traditional range of wines characterized by the typical string closure.

Agroargento

A new brand celebrating the wines of Sicily.
Winery details
Via Erizzo 112
Crocetta del Montello (TV)
Italy
Tel +39 0423 665033
Fax +39 0423 665009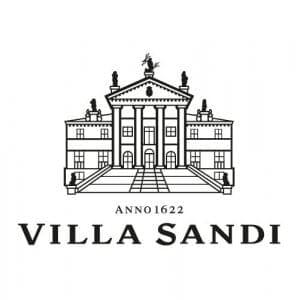 Appellation

Prosecco

Founded

1975

Area under vine

65 hectares

Age of vines

Prosecco Vines - from 7 to 45 years old, other vines - from 10 to 30 years old.

Oak barrel origin

On average the winery uses 400 new French oak barriques (Capacity: 225 liters) each year. They're then used twice depending on the wine and on the desired ageing period.
Winemaker

Mr Valerio Fuson

Owner

Moretti Polegato Family

Grape varietals

Prosecco in Valdobbiadene Estate; Merlot, Cabernet Sauvignon, Cabernet Franc, Pinot Grigio, Pinot Bianco and Chardonnay in Crocetta del Montello Estate Cartizze, Raboso Piave, Cabernet Franc