The highly praised wines of Salcheto, a young yet already prestigious winery near the Tuscan hilltop town of Montepulciano, are leading the way when it comes to high-quality Vino Nobile wines. Although Salcheto presented its first wine less than 20 years ago, the winery (now owned by the international Lavinia wine company) receives a steady stream of wine accolades and high ratings for its softly aromatic, well-balanced reds.
The vineyards sit at the cool and breezy average altitude of 450 meters, the highest altitude of any vineyard in the area. Salcheto's 15-hectare main vineyard faces south, south-east, enjoying the benefit of all-day sunshine. A second vineyard, dubbed Poggio Piglia, is just 13km away and has 8 hectares of vineyards. A third vineyard was added in 2005 and covers 7 hectares near Poggio Piglia. In general, the soils are tuff-clay and well-suited to Sangiovese Prugnolo Gentile, which makes up the lion's share of production since it's used both in Vinos Nobile and in other wines. The results are the four smooth wines made here: Vino Nobile di Montepulciano DOCG, Salco Evoluzione Vino Nobile di Montepulciano DOCG, Rosso di Montepulciano DOC, and the Chianti regions  Colli Senesi DOCG. Excellent vintages include 1993, 1995, and 1997.
The winery has become a staunch defender of the local Sangiovese clone, Prugnolo Gentile, and both Vinos Nobile made here are 100 percent Prugnolo Gentile even while regulations allow other varieties to represent up to 20 percent of a blend. This steadfastness has allowed Salcheto to sidestep much of the criticism that some Montepulciano wines lack definable character because of the variety of blends used. Certainly, no one has accused Salcheto's flagship wine, Salco Evoluzione, of lacking character. This exclusive production, which numbers only a few thousand bottles, is a complex creation made with a unique local clone of Prugnolo Gentile discovered in 1992 and matures particularly well on the vine.
The estate was once run by Tuscan sharecroppers, whose farmhouse still overlooks the countryside and now serves as the winery's center and base of operations. The winery was founded in 1984, although the first wine was not released until six years later. In 2003, Lavinia invested in the estate, retaining former owner Michele Manelli as general manager as part of a company-wide effort to ensure a measure of continuity in the winery's style and personality. Growth is slow but steady, with a few hectares of vineyards being planted each year and a new cellar already in the planning stages. Enjoy a VIP tasting and tour of this excellent winery on a Tuscany Food & Wine Tour organized by Cellar Tours.
Wines produced
Rosso di Montepulciano DOC

Blend of Sangiovese, Canaiolo and Merlot; 6 months in stainless steel; 12.5-13% alcohol.

Chianti Colli Senesi DOCG

Blend of Sangiovese, Canaiolo and Mammolo; a third of the production matures in American oak barriques, the rest ages in steel tanks for 4 months; 12.5-13% alcohol.

Vino Nobile di Montepulciano DOCG

100% Sangiovese Prugnolo Gentile; 13-14% alcohol; 24 months in oak barrels.

Salco Evoluzione Vino Nobile di Montepulciano DOCG

100% Sangiovese Prugnolo Gentile 100%; 13-14% alcohol; 27 months in oak barrels.
Winery details
Via di Villa Bianca 15
53045 Montepulciano (Siena)
Italy
Tel +39 057 879 9031
Fax +39 0578 724308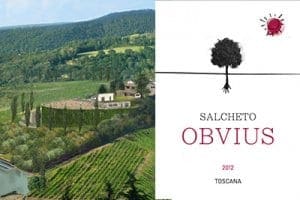 Appellation

(DOC) Rosso di Montepulciano / (DOCG) Chianti Colli Senesi and Vino Nobile di Montepulciano

Founded

1984

Area under vine

33 hectares

Age of vines

4-26 years old

Oak barrel origin

French, Slovenian and American oak is used
Grape varietals

Prugnolo Gentile (Sangiovese), Canaiolo, Merlot, Mammolo