Sauternes and the Douro Valley have more in common than first appear. Despite the differences in terroir and climate, these two iconic regions are committed to broadening their appeal. Indeed, both Sauternes and the Douro Valley have diversified their offerings of late, producing a greater volume of dry styles. The catalyst for this paradigm shift was the declining interest in sweet/fortified wines and the rising demand for saline whites.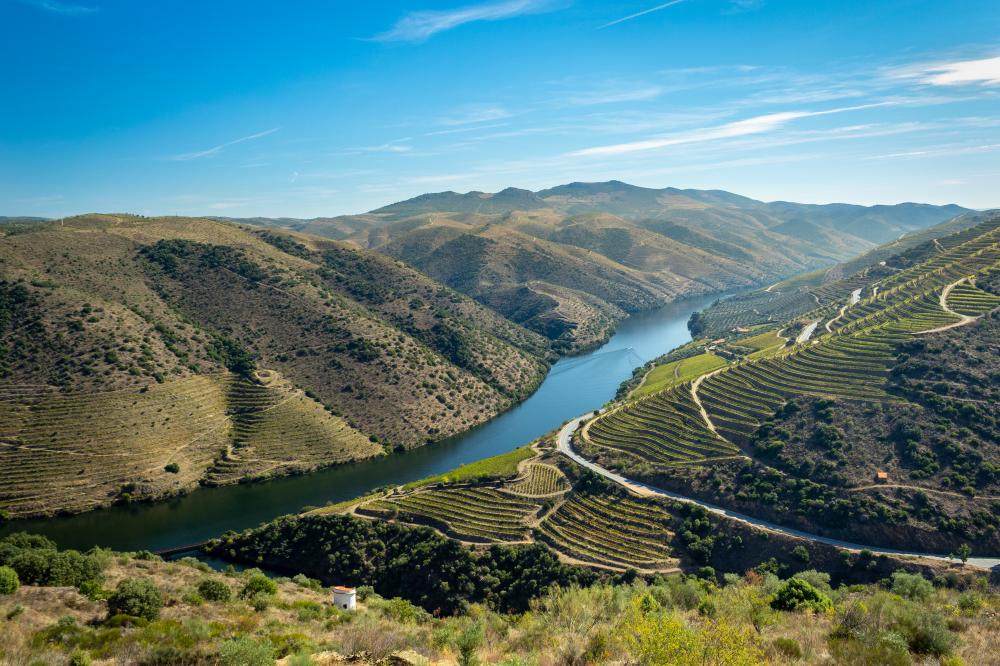 Read more about Portuguese Red Wine
You can explore the Portuguese Wine Regions with Cellar Tours on a private Luxury Food and Wine Vacation, dine in the best local restaurants, and enjoy VIP tastings in the top wineries.
That does not mean that either vineyard is abandoning its birthright, however. On the contrary, the quality of classical Sauternes has never been as exciting, while port remains a vital part of the Douro's past, present, and future. Red grapes like Tinta Barroca have long been used to make rich and long-lived fortified wines in the Douro, blended with other varieties for greater complexity. Packed full of sugar and flavor, Tinta Barroca is appreciated for its ability to contribute alcohol and weight to various port styles, from tawny to colheita. The only question is: can Tinta Barroca replicate this success as a component of dry red blends, or is the grape best left to port?
History and viticulture
For centuries, winegrowers cultivated indigenous Portuguese grapes like Tinta Barroca in the Douro Valley, producing rustic red wines. Little did they suspect that an interplay of politics and commerce would transform the region's wine industry, turning it into a global icon in the 18th century.
In the late 1600s, Louis XIV initiated the Nine Years' War between France and a coalition of nations, including Great Britain. As a result, exports of claret (red Bordeaux) dried up, denying the British their favorite dinner tipple. However, merchants saw an opportunity to promote alternative styles; shippers traveled to several regions in the early 1700s, including the Douro Valley. Benefiting from the favorable terms of the Methuen treaty of 1703 (tariffs on Portuguese goods were significantly lowered), merchants established a thriving business importing barrels of Douro red.
Unfortunately, a great deal of wine was spoiled during the long voyage from the Douro to London. The shippers, however, came upon a solution: a small percentage of spirit was added to the wine(after fermentation) to stabilize and protect it. Over the decades, this insurance policy evolved into a distinct wine style, using grape spirit to arrest the fermentation and leave some residual sugar in the wine. Fortified wine became the toast of northern Europe. This fact encouraged the first British investors to set up premises in Oporto, such as the Taylor and Symington families. In the 1750s, the Douro Valley was bestowed the honor of being officially demarcated as a protected wine origin. Port was born.
Tinta Barroca has played an important role in this evolving story. Growers have long regarded it as an essential part of the port recipe (the third most planted grape in the Douro), loved for its natural vigor and generous yields. Yet it was not until the 1970s that the authorities created a list of 'recommended' grape varieties for port production. These were: Touriga Nacional, Tinta Roriz, Touriga Franca, Tinta Barroca and Tinta Cão. Some producers consider a sixth, Tinta Amarela, to be equally important. But in terms of producing a reliable crop, Tinta Barroca is arguably the region's flag-bearer.
However, high yields are not the grape's only defining characteristic. Genetic analysis indicates that Tinta Barroca's ancestors are Touriga Nacional and Mourisco Tinto, although the grape has more in common with the latter. It is an early-ripening variety, with bud-burst in March. Water-retentive clay subsoils tend to suit Tinta Barroca best, as the vine needs a good supply of moisture. In addition, it is susceptible to several grapevine diseases, including downy and powdery mildew. In wet vintages, grey rot can also be a problem.
Conversely, the berries can quickly desiccate if exposed to excessive sunlight and heat. Therefore, many vineyards are planted on high-altitude sites in the upper reaches of the Douro Valley, with a north-facing aspect. Getting the balance right between ripeness and acidity can often be a considerable challenge with this grape.
For these reasons, Tinta Barroca remains a divisive subject in the Douro. Although many growers continue to champion the grape, winemakers will often sideline Tinta Barroca for other varieties, particularly when making dry styles. They may have a point; excessive yields and inflated berries are not generally associated with premium quality. Indeed, if green harvesting and rigorous pruning are not practiced, the resulting wine will be soft and blowzy, with low acidity/high alcohol. On the other hand, if quality is the desired outcome, then a great deal of hard work is required throughout the season. Otherwise, overcropped Tinta Barroca is best placed to bolster the alcohol of young port wines.
Winemaking
The debate continues to rage: can Tinta Barroca make high-quality dry wine without any help? Today, the grape is only occasionally encountered as a mono-varietal style in Portugal. However, there is a niche movement in South Africa to prove that Tinta Barroca does not need a supporting act. The best of these wines, especially the labels made in Swartland, can be outstanding. But in the Douro Valley, Tinta Barroca is used first and foremost as blending material.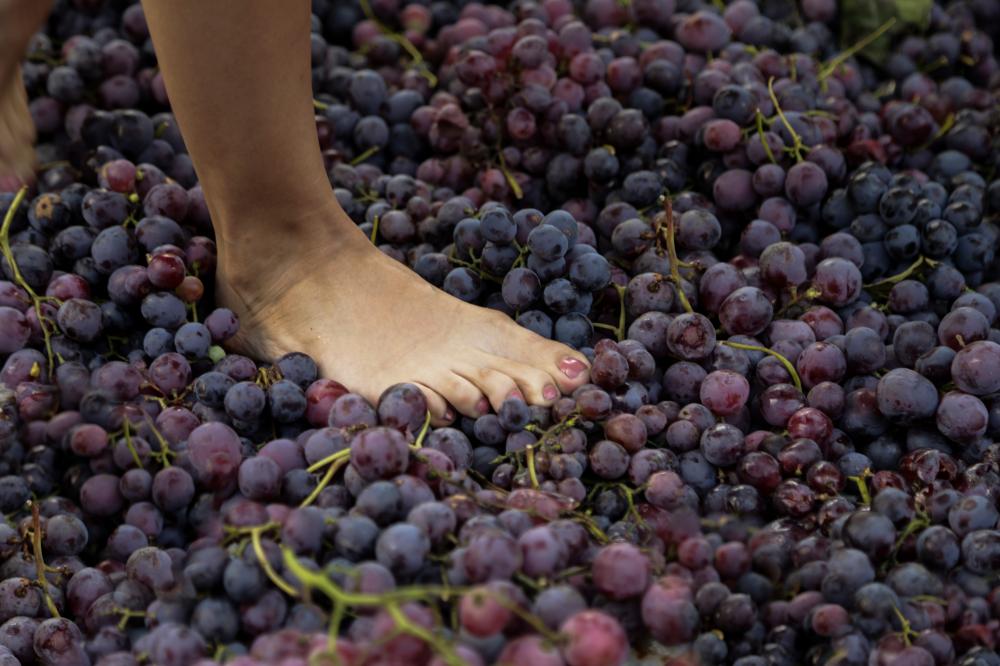 Treading of the grapes in a Lagar
Its role in port is legendary. After the harvest, hand-picked grapes are transferred to the winery – the smaller houses are called Quintas, where foot-stamping is still employed. Grapes are put in Lagares (granite containers) and trodden by teams of workers, releasing juice from the grapes and extracting color and tannin in the process. However, the bigger wineries will use modern equipment called Ducellier autovinifiers to make their wines, in addition to concrete and stainless steel tanks. Traditionally, winemakers were fixated on extracting as much flavor and structure as possible in a short amount of time before fortification. Yet attitudes have changed in recent times, with the next generation preferring a more gentle fermentation method, such as pump-overs and punch down.
The next stage is arguably the most crucial. When the yeast has fermented about one-third of the sugar into alcohol, it is time to add the grape spirit. The amount of spirit added will depend on several factors, not least the starting sugar content of the must and what degree of alcohol is required. As a general rule of thumb, when the must has about nine degrees of alcohol, it is pressed and fortified to approximately 18 degrees. From this point, the wine can be 'sculpted' into any manner of port styles, depending on the vintage and desires of the house. These include tawny, LBV (late bottled vintage), colheita, and vintage ports.
The grapes will probably be fermented in stainless steel at lower temperatures if a dry wine is desired. The best examples balance alcohol and freshness, which requires a gentle extraction and a reasonably early harvest date. Tinta Barroca can tolerate – and benefit from – maturation in French oak, although 100% new barrique can overwhelm the style.
Tinta Barroca's future in the Douro Valley
A fantastic revolution has been taking place in the Douro Valley of late, with table wines finally being given the respect they deserve. Quality and choice have soared from Niepoort's Redoma to Quinta Vale D.Maria's red blend. Yet many of the most expensive labels are based on Touriga Nacional and/or Aragones and Touriga Franca. Moreover, both mono-varietal and blended styles that prioritize Tinta Barroca are hardly in abundance. Whether that will ever change is open to discussion.
Nonetheless, some winemakers are optimistic that old vine Tinta Barroca, mirroring the situation in South Africa, will eventually win over the naysayers. Oenologists like Mateus Nicolau de Almeida have proven that, in the right hands, it can produce excellent red wine; Almeida's Muxagat Tinta Barroca label is a contender for the Douro's finest dry expression of the grape. The nose is open and fragrant, with aromas of crushed red berries, rose petals, and plum. Softly structured, Muxagat exemplifies all that is wonderful about Tinta Barroca; velvety tannins merged with a spicy, concentrated palate. Rarely unapproachable in its youth, Tinta Barroca is a wine for an impatient and fast-moving world. Only time will tell whether Almeida can inspire others to follow his example.
One thing is certain: there is no shortage of exceptional terroir and raw materials to exploit. Many of the ancient Douro terraces dating back to the 1600s are still used to grow vineyards – they are located above Regua, which was the heartland of the original port zone. This sub-region, known as Cima Corgo, has the highest concentration of Tinta Barroca bush vines; low-yielding old vines are essential in producing premium dry styles cultivated on well-drained schist and granite soils. Moreover, although the climate is overall conducive to hot and dry summers, aspect and elevation can vary dramatically. The cooler climate of the Torto tributary is increasingly being utilized by winegrowers, harnessing slower maturation rates and higher acidity levels. As with many viticultural zones, altitude has become king in the Douro Valley.
Historically, Douro table wines were made as an afterthought – they've since become a vital part of the region's prosperity. This wine-growing nation generally embraces progress, so there is no reason why Tinta Barroca cannot play a bigger role in this exciting revolution. It has much to offer the world of wine, being approachable, silky smooth, and delightfully concentrated. So if you take a chance on this port grape, we promise you won't regret it.
Top producers of Tinta Barroca dry wines: