Profile of Quinta da Bacalhoa
The Bacalhôa palace at Quinta da Bacalhôa is only one of the numerous estates that now make up Bacalhôa Vinhos de Portugal, S.A., one of Portugal's largest and most innovative wine companies. However, it was here where the Bacalhôa story started and remains the most fascinating to visit. Situated in the Península de Setúbal wine region, just 20 miles south of Lisbon, this region is famous for its Moscatel de Setúbal dessert wine. Apart from these delicious sweeties, which continue to be produced at Bacalhôa today, investment and innovation have led to the production of some magnificent dry wines that have gained national and international recognition. Bacalhôa from a winemaking perspective dates back to 1922 when under the name of João Pires and Filhos, they started by selling their grapes to other producers. It wasn't until the 1970s that the estate started to produce its own wines. Then, over 20 years later, in 1998, Comendador José Berardo became a major shareholder, further contributing to the improvements and renovations needed to optimize the wine vinification and restore the beautiful Palace. 1979 was the first harvest of the new vine plantations, which included varieties similar to that of a Bordeaux blend (Cabernet Sauvignon, Merlot, Petit Verdot) and which quickly became one of Portugal's most- sought-after wines.
The Palace itself dates back to the 15th century, formerly belonging to the Portuguese Royal family and having passed through several hands since, it now belongs to the Berardo Foundation, led by Comendador José Berardo. Each owner has added to the charm in one form or another. Today, it is proudly one of the best-preserved pieces of Renaissance architecture in the country with an outstanding Portuguese tile collection. Interestingly some of the most significant restorations were carried out under the ownership of Orlena Scoville, a North American who purchased the estate in 1936. Her grandson was responsible for transforming Bacalhôa into one of the largest producers of wine in Portugal.
Today Bacalhôa Vinhos de Portugal, S.A. produces over 20 million liters of wine across various wine regions (Dão, Douro, Bairrada, Óbidos, Alentejo and the Península de Setúbal). On a visit to this alluring estate, you will be able to sample some of their fine wines from other regions as well if you wish. No trip to Lisbon is complete without visiting this wonderful estate; it makes for a lovely day out; after spending the morning at the Quinta, you can explore the striking Arrábida National Park, local beaches, and the nearby town of Sesimbra.
Wines produced
QUINTA DA BACALHÔA TINTO

Cabernet Sauvignon, Merlot aged for 13 months in French Allier oak barrels, followed by a minimum of 6 months in the bottle. Red fruits, rounded tannins and an incredibly long. Highly recommended with the local Azeitão cheese.

PALÁCIO DA BACALHÔA

Cabernet Sauvignon, Merlot, Petit Verdot. Aged for 18 months in new French oak Allier and a minimum of 19 months in bottle. Rich, concentrated red fruits, with hints of coffee and vanilla. Complex and elegant.

BERARDO RESERVA FAMILIAR TINTO

70% Cabernet Sauvignon, 30% Syrah. 14 months ageing in French oak barrels, followed by at least 12 months in the bottle. Complex, rich red fruits and hints of toffee. Fabulous balance of tannins, acidity, and fruit. Excellent length. Will certainly benefit from time in the cellar.

CATARINA WHITE

Blend of Portuguese White (Arinto, Fernão Pires, Maria Gomes) with a significant touch of Chardonnay. The Chardonnay is fermented for 5 months in new French oak barrels. Tropical fruits with a touch of wood. Refreshing, long and complex. A fabulous white, especially price vs. quality.

QUINTA DA BACALHÔA BRANCO

50 % Sémillon, 25% Alvarinho, 25% Sauvignon Blanc. Initial fermentation in stainless steel tanks, 16% of the Sémillon was aged in new French oak with bâatonnage. Crips and refreshing, with gooseberry and apricot notes. Long and elegant.

BACALHÔA MOSCATEL DE SETÚBAL SUPERIOR

100% Moscatel de Setúbal. A short fermentation is interrupted by wine spirit addition. The wine then spends the winter months in stainless steel for a post-fermentation maceration with skin contact (5-6 months). Aged for 10 years in small wooden casks. This heavenly elixir has rich aromas and flavors of dried fruits and orange blossom. Incredibly balanced with a great acidity complementing the sweetness.
Winery details
Estrada Nacional 10
2925-901 Vila Nogueira de Azeitão
Portugal
Tel +351 212 198 060
Fax +351 212 198 066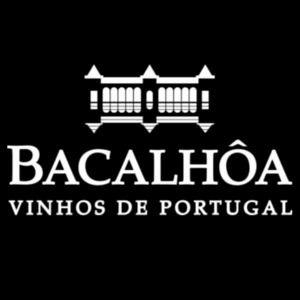 Appellation

Península de Setúbal

Founded

1922

Area under vine

1,200 ha

Age of vines

40 years

Oak barrel origin

French
Winemaker

Vasco Penha Garcia, Filipa Tomaz da Costa, Francisco Antunes

Owner

Comendador José Berardo

Grape varietals

Cabernet sauvignon, Syrah, Merlot, Touriga Nacional, Aragonez, Moscatel de Setúbal