Tucked away just beneath the gorgeous hilltop village of Briones in Rioja Alta, the Miguel Merino estate is making some of the most elegant wines of the Rioja Wine Region. The setting is lovely, with a tiny experimental vineyard facing the "chateaux" under the backdrop of the 16th-century Cathedral of Nuestra Señora de la Asunción, a stunning church with an exquisite gold leaf retablo, ancient monk's hymn's books, and an 18th-century Italian organ. Patchwork vineyards blanket the valley around Briones, and the amazing Dinastia Vivanco wine museum is located just below.
Founded in 1994, Miguel Merino sprang on the world wine scene with a truly memorable and highly awarded first vintage (94) that surprised those in the know by outshining better-known wineries and surpassing even Merino's own lofty expectations. A small and elite company with a microscopic annual production compared to the big Rioja players, Miguel Merino is focused on quality, not quantity.
Since the winery's foundation, it has worked hard to maintain its excellent quality level and has attracted attention in Spain and abroad (where some 80 percent of its wines are sold) for silky yet bold wines. The man behind the winery, Miguel Merino himself, is known as an ambitious winemaker whose vision and determination that has been the deciding factor in his bodega's success. Miguel is one of the most interesting and passionate wine personalities in Spain, and for our lucky clients, he will personally give you a tour of his boutique bodega.
Blending classic Rioja style with a modern edge, Miguel Merino offers a small but impeccably presented range of Tempranillo-based wines marked by their deep color, smooth tannins, spicy undertones, and rich fruit aromas. While recognizably Riojan, the wines have the character and structure not often found in traditional wines. Miguel's 11 hectares of vineyards are all located in and around beautiful Briones, and some are home to vines 75 years old or older. The entire harvest is done by hand, and every bunch of grapes is carefully hand-inspected. Wines are aged for two years or more in casks made by the prestigious Cooper Murúa, and only Reserva and Gran Reserva wines are produced.
Wines produced
Miguel Merino Gran Reserva

96% Tempranillo, 4% Graciano; 13% alcohol; aged for 15 months in new French oak, and 10 months in American oak.

Miguel Merino Gran Reserva

95% Tempranillo, 5% Graciano; 13.2% alcohol; aged for 28 months in French and American oak.

Miguel Merino Unnum

100% Tempranillo; 13.6% alcohol; aged for 19 months in French and American oak.

Miguel Merino Vitola

96% Tempranillo, 4% Graciano; 13.6% alcohol; aged 26 months in French and American oak.
Winery details
Ctra. de Logroño 16
26330 Briones
La Rioja, Spain
Tel +34 941 322 263
Fax +34 941 322 294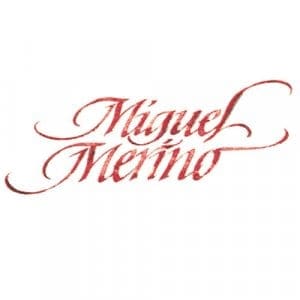 Appellation

La Rioja

Founded

1994

Area under vine

11 hectares

Age of vines

40 years old, on average

Oak barrel origin

300 barrels of American, French and Hungarian oak
Winemaker

Miguel Merino

Owner

Miguel Merino

Grape varietals

Tempranillo, Mazuelo and Graciano