Catalunya, as any self-respecting citizen will tell you, "is not Spain." Indeed, Catalans have long felt a disconnect from mainstream Castilian culture, boasting their own language, customs, and distinct identity. Any visitor to the region's glorious capital, Barcelona, can feel it in the air. From politics to gastronomy, Catalunya dances to its own tune.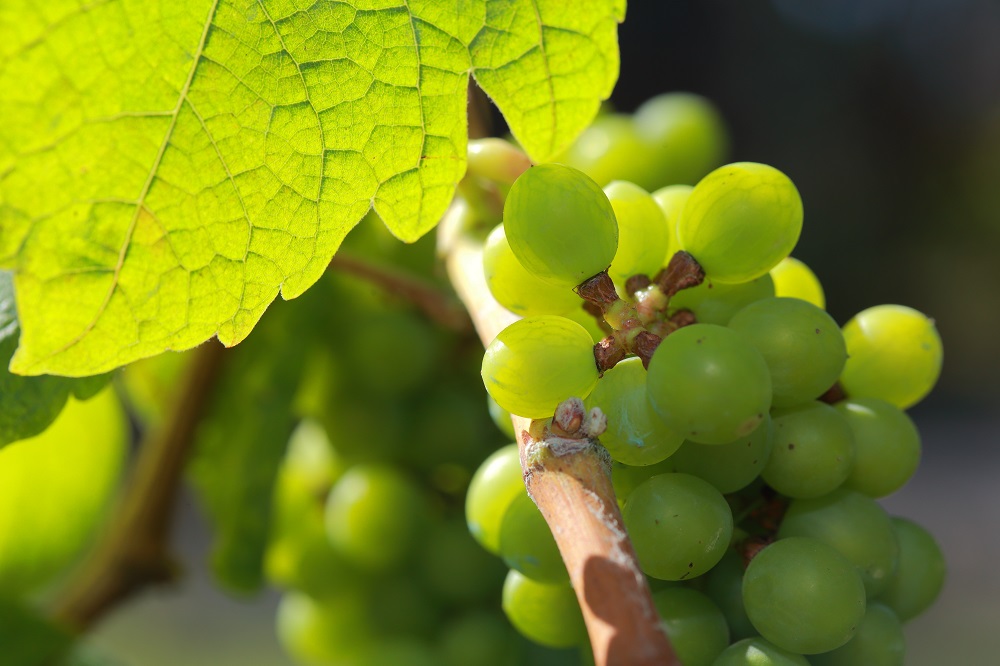 So, its viticultural traditions are quite different from the rest of Spain. For example, Catalunya is the birthplace of Cava, the nation's iconic sparkling wine style. It is usually a blend of three grape varieties, including the little-known gem that is Parellada. Almost exclusively planted in north-eastern Spain, Parellada is one of Catalunya's most important wine-growing emblems. It is a fundamental part of the Cava recipe, contributing fruit, aroma, and freshness to the final product. The sparkling wine industry could survive without this light-skinned grape, ubiquitous to the hills of Penedès. But it would be all the poorer for it: there are enough sparkling brands in the world that emulate the Champagne formula. So, if you want an authentic taste of Catalunya, you should seek out Parellada.
Read more about Spanish White Wine
History and viticulture
Parellada is something of a paradox. It is a grape with little renown outside of Spain, yet it played a key role in creating a globally-recognized brand. Indigenous to Catalunya, Parellada was chosen in the 19th century as one of three white varieties destined for a higher calling. As Spain took its first steps toward unveiling a rival to Champagne, it needed to establish a distinct identity and set of viticultural parameters that would become commonly associated with Cava. Using local indigenous grapes in the blend was a key part of that process.
However, the development of Cava was far from straightforward. Antoni Gali Comas, a Catalan pioneer, made the first traditional method (secondary fermentation in bottle) sparkling wine. They decided to enter his prize creation in a Madrid competition in the mid-19th century. Yet there is no written record of Comas taking the idea further, leaving it to scientist Luis Justo I Villanueva to expand upon his initial experiment. Brilliantly talented and driven, Villanueva was a laboratory director at the Agricultural Institute of San Isidre in Catalunya. After years of research, Villanueva taught Spain's first commercial houses everything there is to know about the traditional method. His three most promising students entered their inaugural bottles into a local competition, winning several prizes. One of those students, Augusti Vilaret, went on to found a sparkling wine house: Caves Mont-Ferrant. It is still producing excellent fizz today.
Time-traveling oenophiles would, however, be surprised at the character and profile of Catalunya's earliest sparkling wines. Based on the classic Champagne grapes, they bore little resemblance to the bottles being made in Penedès in 2022. It was not until the latter part of the 19th century that Josep Raventos I Fatjo established the recipe for combining Macabeo (Viura), Parellada, and Xarel-lo. Historians are not exactly sure why Raventos chose this particular trio, but the region's sparkling houses soon adopted the viticultural paradigm.
During this period, the phylloxera louse devastated vineyards across France, including those of the Champagne region. The louse's deadly saliva killed thousands of vines, creating an unprecedented crisis in French viticulture. Yet, according to Xavier Gramona, phylloxera provided Spain's fledgling industry with a quality boost. "My ancestors received plenty of visitors from Champagne in the early 1900s – producers who needed grapes to replenish their lost crops. They chose Xarel-lo, as it appeared to resist oxidation well during the journey back to Champagne," explains Xavier Gramona. After World War II, the French returned to Penedès, seeking bottles to replenish their cellars. They paid handsome sums for the oldest bottles in the Gramona cellars, much to the astonishment of Xavier's ancestors. "Until this point, everyone assumed that Cava was not for long-aging and should be drunk young," he says. "However, observing the Champenois enjoying these aged bottles made us realize that long-maturation on the lees was the future of premium grade Cava."
By the 1980s, Cava had become the second-largest traditional method appellation in the world. It is still thriving today, albeit several major producers have decided to market their wines under a separate designation; there are now several appellations in Spain, including Penedès Classic, Corpinnat, and Conca del Riu Anoia. What unites producers who fly under different banners is a focus on quality and a belief that indigenous grapes, with a few notable exceptions, should triumph over international varieties like Chardonnay.
Parellada remains an important part of the sparkling wine industry in Spain, despite the fragmentation of regional marketing and ideology. There are approximately 10,000 hectares under vine, largely cultivated in Penedès. Growers have long appreciated Parellada's ability to deliver a uniform crop yield, while the vines are not very susceptible to fungal diseases or pest attacks.
However, not everyone is a fan of this grape. Sparkling wine expert Tom Stevenson once observed, "You would have to grow Parellada on the top of Montserrat to get sufficient acidity." It's certainly true that the late-ripening Parellada tends to yield the best results when planted on high elevation sites; it also prefers calcareous soils and a rigorous pruning regime to ensure that it does not veer into flabby over-ripeness. But most troublingly, Parellada is prone to developing coulure and millerandage, while rot can be a real issue in wet vintages. As with many varieties, judicious site selection is the secret to growing Parellada successfully.
Winemaking
Although there is a tiny volume of still wine made from Parellada, it is overwhelmingly used to enhance the perfume and mouthfeel of sparkling cuvèes. Predominately made in Catalunya, the various local designations all adhere to the traditional method, subjecting their wines to a secondary fermentation in bottle. However, beyond that, attitudes to winemaking and viticulture can vary dramatically, with inevitable gradations in quality and style.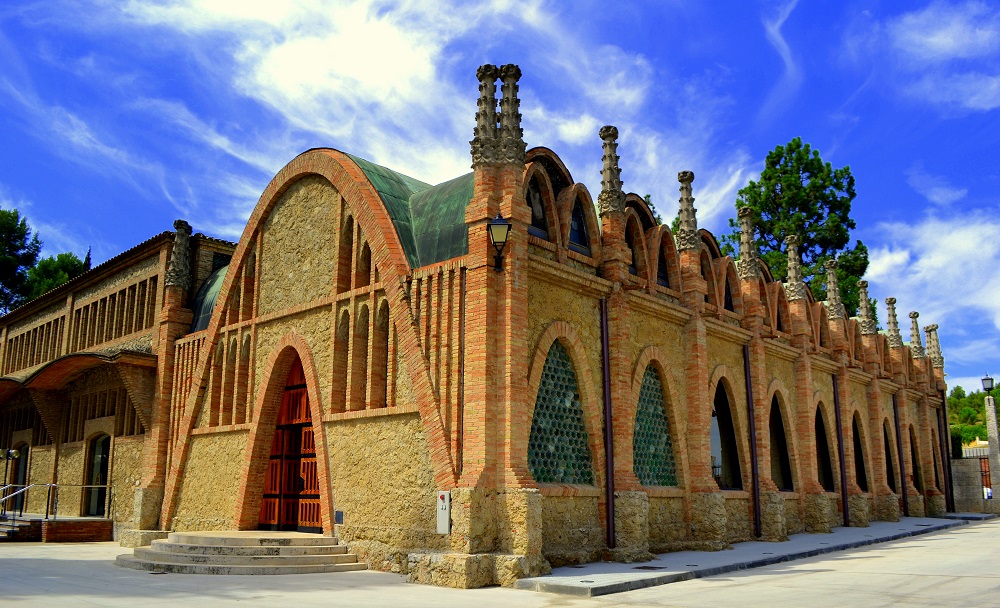 Codorniu modernista style winery
But let's start with a point of consensus. All quality-focused houses in Penedès agree that the finest sparkling wine depends on attaining pure must. Typically, whole bunches are pressed very gently to release crystal-clear juice – this is often chilled to preserve freshness and force impurities to fall to the bottom of the vat. Once clarified, the wines are moved into fermentation vessels, including stainless steel, oak vats, concrete, amphorae, and barrique. Every winemaker has their reasons for choosing one vessel over another – many growers advocate the benefits of temperature-controlled fermentation in steel. However, oak barrels are said to yield more structured, complex, and rich base wines. It very much depends on what the house wishes to achieve.
After further clarification, the winemaker will select the blend for his particular cuvèe. Not all Cava and Corpinnat labels will contain Parellada, although many houses like the aromatics and softness that it contributes. Other producers, however, are less than enthusiastic. Here we find parallels with Champagne's less famous grape Pinot Meunier: certain winegrowers believe both varieties are unsuitable for producing long-aged cuvèes. But that is very much a matter of opinion.
When the blend has been finalized, it will be transferred to bottle for the secondary fermentation. A mixture of wine, sugar and selected yeast culture is added to the freshly bottled wine to stimulate a secondary fermentation and the release of CO2.
After that, much is left to the discretion of the individual producer. All premium-grade sparkling wines are aged on the lees before disgorgement (the process of removing dead yeast); however, the period of maturation varies significantly. For example, entry-level Cava need only be aged for nine months, while the best Gramona labels can be matured for a decade before release. Meanwhile, the process called remuage is another great divider. Remuage or riddling involves laying the bottles at an angle in wood racks to allow the dead yeast cells to accumulate in the bottleneck. Next, skilled professionals are employed to gently turn the bottle necks, encouraging the sediment to drop down to the bottom. Unfortunately, this can take several months. As a result, certain producers favor using a gyropalette to speed up the operation greatly. The bottles are stacked upside down on palettes and mechanically rotated, causing the sediment to drop down into the neck. Incredibly, it can complete the riddling procedure in as little as a week. But certain growers remain convinced that hand-riddling produces better wine.
The future of Spanish bubbly
The best houses in Catalunya spare no effort, time, or expense in making their sparkling wines. Organic, biodynamic, and sustainable viticulture is becoming de rigueur for leading brands, while innovation in the cellar is producing some of the finest bubbly in Europe. At their best, well-chosen blends of Macabeo, Xarel-lo and Parellada offer complexity, powerful structure, and a great deal of finesse. They are a far cry from the 'cheap and cheerful' stereotype that has dogged Cava for far too long.
And yet, the future of Cava, and Spanish sparkling wine, is uncertain. Part of the problem is convincing aficionados to pay top dollar for 'Spanish Champagne' – local wines still lack the cachet and brand power of France's premier sparkler. Another is the fragmentation, exemplified by a decision taken by numerous growers to market their wines outside of the Cava framework. In January 2019, Gramona and eight other houses announced their succession from the Cava DO (appellation), creating a new designation called Corpinnat. The group continues to welcome new members into the fold: Huguet-Can Feixes, Júlia Bernet, Mas Candí, and Celler Pardas are all signed up to the mantra of supreme quality first.
"Spanish wine is reaching a maturity; producers are rebelling against the 'cheap image' of our wines, reinforced by the big brands," said Xavier Gramona in 2019. "This is our moment. We make fabulous wines in Spain; we just needed to market ourselves more convincingly and redefine our destiny. This has been a long time coming."
Gramona's rallying cry serves as an inspiration for artisan brands across Catalunya. He is not ignorant of the challenges listed above; rather, he believes that, with perseverance, wine lovers will come to regard top Spanish fizz as the equal of Champagne. Pipe dream or realistic goal? Only time will tell, but there are undoubtedly many advantages that can be exploited to realize this bold vision.
For a start, the sparkling vineyards of Penedès (only a relatively small volume of premium fizz is made outside of Catalunya) are stunningly beautiful. The production heartland is Sant Sadurni d'Anoia, a 40-minute drive from Barcelona. Its majestic scenery attracts ever-greater numbers of visitors from the regional capital, who return home with tales of excellent bottles of fizz that don't cost the earth. Moreover, the Cava regulatory council has introduced a series of important reforms, including superior designations (Cava de Guarda, Cava de Guarda Superior, and Paraje Calificado), heightened terroir zoning, and segmentation. The overriding aim is to enhance the category's global image and to tempt producers like Gramona back into an overarching framework.
But perhaps Catalunya's greatest asset is the ease with which sugar-free cuvèes are being made today. In the Mediterranean climate of Sant Sadurni d'Anoia, achieving phenolic ripeness is rarely a problem. Therefore the role of dosage is greatly reduced, as many of the top Cava and Corpinnat wines do not require any sugar at the time of disgorgement. In an increasingly health-conscious age, the prospect of marketing high-quality bubbly sans sucre has enormous potential. Spain should grab every advantage at its disposal in a fiercely competitive arena. This is surely a USP worth shouting about!
Top producers of Parellada sparkling wines: