This is undoubtedly the beating heart of the great Rioja region. La Rioja Alta, one of the three Rioja sub-regions, lies entirely within the municipality of La Rioja, extending south of the River Ebro from the Conchas de Haro in the west to just beyond Logrono in the east. There is also a small northern area around Abalos. Today there are over 26,000 hectares under vine and over 230 wineries producing everything from traditional, long-aged reds to sparkling wines, barrel-fermented whites, and luxurious, single-vineyard icon wines. It's a cliché, to be sure, but Rioja Alta truly is a land of diversity.
Of course, that stylistic diversity is only possible because of the region's varied and complex terroir. Due to the region's microclimate, coupled with the mixture of calcareous clay, alluvial silt, and ferruginous clay, oenologists have subdivided the area from west to east into the zones of Cuzcurrita, Haro, San Asensio, and Cenicero Fuenmayor. In broad strokes, calcareous soils produce the most long-lived and potent Riojas, with good color and structure. In contrast, ferruginous clay, which is found on sloping land throughout Rioja, is hard and has a reddish-brown color – it is renowned for producer lighter reds with medium body. Finally, Rioja Alta's alluvial soils are a mixture of fine mud, silt, and sand deposited by rivers during the last ice age. The results are typically medium-bodied reds and whites, although excessive vigor in loamy soil can be a problem.
Visiting
Cellar Tours organizes exclusive luxury Rioja Wine Tours, featuring top producers, privately chauffeured, dining in the best local restaurants, and staying in charming countryside hotels.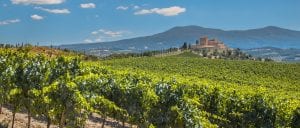 Orientation
However, it isn't easy to tie a bodega's signature style to its vineyards. Traditionally, most wineries blended grapes from across vineyards in two or even three of the sub-regions. This variation in grapes and, indeed, sub-zones, vinification, etc., is one reason why many connoisseurs find the area and its wines so appealing. Nevertheless, regional differences within Rioja Alta are clearly discernible when tasting single-vineyard wines from across the zone.
The more hilly and wetter western area produces wines that are typically more acidic and lower in alcohol than those from Cenicero. There is a transition in climate from humid to semi-arid and more calcareous soils suiting the Tempranillo grape. Rioja Alta has an Atlantic climate, whereas its neighbor Rioja Alavesa is a mixture of Atlantic and Mediterranean.
Today, it is difficult to pinpoint an exact Rioja Alta style – in fact, such a task is impossible. Regulations introduced in 2017 were designed to highlight the growing importance of single-vineyard wines made in Rioja Alta, incomplete antitheses to the classical Rioja mold. Old vines in carefully selected plots produce wines of impeccable concentration and length, aged for shorter periods in French barriques rather than the traditional large American oak barrels. They are blockbusters – packed full of dark, brooding fruit and lavishly seasoned in new oak. They have a massive following, both in Spain and abroad.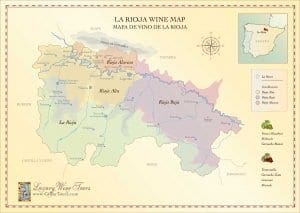 Top Bodegas
Yet many bodegas, including La Rioja Alta and Tondonia, continue to make red Rioja in the time-honored fashion, aging their wines for considerable periods of time in large American oak barrels. This gives the wines that distinct flavor of vanilla and tobacco, not to mention an exquisite, velvety texture. Wineries in Rioja Alta traditionally used a higher percentage of Mazuelo, Graciano, and Garnacha grapes in their red wines along with the signature Tempranillo, and their wines tended to have a fresher bouquet and be a little more acidic and longer-lasting than Rioja Alavesa reds. But these distinctions are becoming less important as the new generation rips up the rule book and increasingly focuses on single-site reds produced entirely out of Tempranillo. Ultimately, though, the quality of wines produced in Rioja Alta has never been higher. Today, there is so much stylistic variation that even the fussiest of critics are bound to find something they like in this majestic and venerable sub-region.