Is Mourvèdre a noble red grape variety or a dirty little secret? To some growers, this recherché varietal is an essential part of the viticultural landscape in the southern Rhone, adding structure and 'fire' to the quintessential GSM (Grenache, Syrah, and Mourvèdre) blends that have made its reputation. Others loathe Mourvèdre and will happily list its drawbacks; temperamental, difficult to grow, and prone to reduction. In cooler vintages, the winemaker can face an abundance of astringent tannin and unappealing vegetal notes in the fermenter. Matters are not helped because, in France at least, the grape rarely appears on labels. Instead, mourvèdre is generally used as a supporting act, except in Provence's Bandol region, where small amounts of Grenache and/or Cinsault play that role.
Read more about French Red Wine
You can explore the Rhône Wine Region with Cellar Tours on a private Luxury Food and Wine Vacation, dine in the best local restaurants, and enjoy VIP tastings in the top wineries.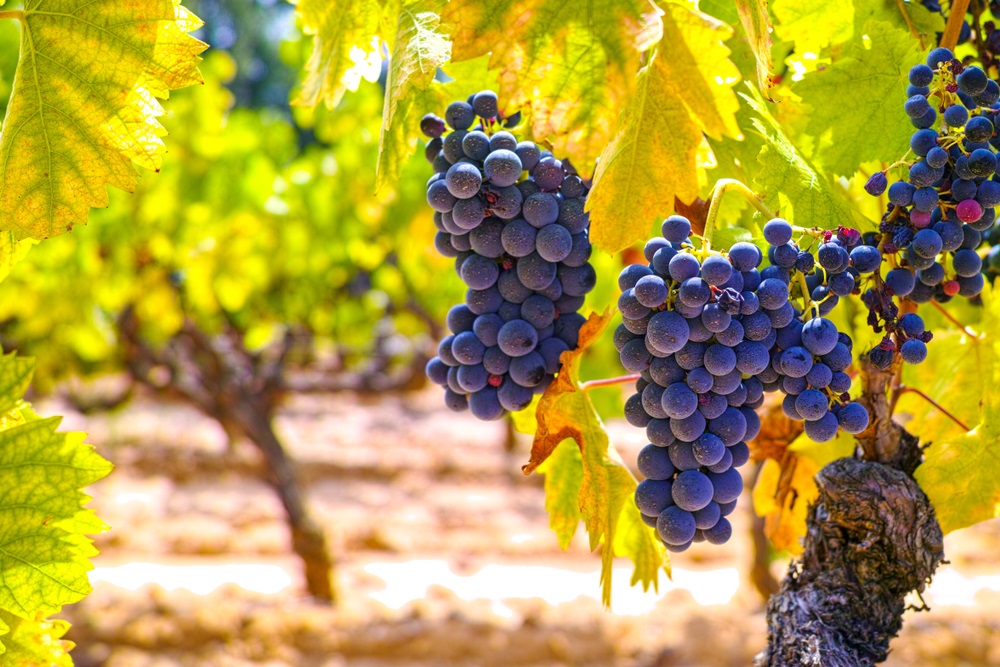 But there is no doubt that a talented grower can coax great things out of Mourvèdre if the terroir is first-rate. Single-varietal Mourvèdre can be utterly delicious, rich, potent, and full of weight and concentration. Moreover, although the movement to revitalize Grenache's image has not enveloped its common blending partner, the area under vine has increased significantly in recent years, both in France and the New World. Finally, as the climate hots up, Mourvèdre's robust nature and heat tolerance are becoming prized commodities. They may yet force a revaluation of this unfairly maligned variety.
History and viticulture
Like Grenache, it is commonly believed that Mourvèdre originated in the Iberian Peninsula. The ancient Phoenicians visited the shores of eastern Spain in 500 BC, long before the Romans established their western empire. Merchants and traders likely imported several different types of Vitis vinifera, including Mourvèdre. Although the grape's genetic origins remain unknown, several facts support this theory; there is a city in north-eastern Spain called Mataro, a local synonym for the grape. In addition, Mourvèdre is probably derived from the name Murviedro, a province in the Valencia region that has since been renamed as Sagunt. It is also widely referred to as Monastrell in Spain, although French growers seldom employ this term.
However, the border region of Roussillon is an exception. The citizens of this spectacular province have long shared allegiances (and language) with neighboring Catalunya. They also share viticultural history: Mourvèdre became firmly established in Roussillon during the 1500s and was also adopted by winegrowers in Provence and the southern Rhone. Much admired for its ability to thrive in hot conditions, Mourvèdre was unfortunately used as a workhorse, bulking up the alcohol and structure of blends rather than being appreciated for its complex flavor profile. Nevertheless, it became an essential part of the burgeoning wine industries of Languedoc-Roussillon and southern Rhone until the phylloxera louse destroyed many of Europe's vineyards in the 19th century. When the land was replanted in the early 1900s, Mourvèdre showed a stubborn resistance to being grafted onto American rootstock. As a result, it was sidelined for other, more 'easy going' varieties. However, the grape enjoyed a renaissance in the 1980s due to its ability to tolerate heat.
Yet almost every grower (including champions of Mourvèdre) will let out a long sigh when asked if the grape is difficult to cultivate. Their brief answer is yes; Mourvèdre was put on this earth to challenge the patience of a saint. If the conditions are not exact, then Mourvèdre will falter. For example, the grape needs a warm/hot climate, as it buds and ripens late in the season. However, unlike Grenache, Mourvèdre needs a good supply of moisture during the growing season, or its metabolism will shut down, stopping flavor and sugar development in the berries. Shallow clay soils on warm sites are ideal, as clay retains good water levels. A certain amount of wind is also beneficial, as Mourvèdre is prone to fungal grapevine diseases such as powdery and downy mildew; good air circulation can help stop spores from developing.
Unfortunately, the challenges do not end there. Although Mourvèdre cannot survive without adequate moisture, a surplus of rain can quickly escalate into a massively over-shaded vine canopy, preventing the grapes from receiving their all-important sunlight. The net result is wines with a high Ph, lack of structure, and soapy, dilute flavors. Careful and vigilant pruning is essential to prevent this. In addition, the grower must make an informed and vital judgment about when to pick. Mouvedre's medium-sized berries are blessed with thick skins packed with phenolic and flavor compounds. But it takes a long time to reach optimal maturity, and then the window of opportunity is perilously short. If left on the vine for too long, Mourvèdre swells to unwieldy levels of alcohol, with concomitant low acidity and over-ripe structure.
Far too many alcoholic and jammy wines are made each year because the winegrower misjudges the harvest date. Yet, astringent 'mouthwash' tannins can all too easily emerge if you pick too early. As a saving grace, Mouvedre's is quite resistant to rot, even during the occasional autumn downpours.
Winemaking
Having Mourvèdre in your winery is either a wonderful opportunity or a headache best avoided, depending on your point of view. It certainly requires great skill to avoid extracting too much color and harsh tannin from the grape's thick skins. In addition, the style is prone to developing reductive characteristics, a wine fault that leads to unpleasant aromas of rotten egg and sulfur. Therefore a certain level of exposure to oxygen is best advised. For that reason, pump over is the preferred fermentation method. This exposes the juice to adequate (but not excessive) levels of nitrogen and oxygen in the atmosphere before it comes into contact with the cap. Racking is also frequently practiced (transferring the wine from one vessel to another) to control exposure to air. The cause of the reduction, hydrogen sulfides, can be combated with this method.
But with careful handling, a very complex and age-worthy red wine can be coaxed out of Mourvèdre. If the grapes are sufficiently ripe, then winemakers in Provence favor including stalks in the fermenter to enhance the wine's overall structure. Others prefer to use a crusher/desteemer to avoid picking up too many phenolics. The fermentation will typically be done at fairly warm temperatures over a relatively long period; both concrete and stainless steel work well. The top cuvèes of Bandol are often aged in wood before release, although too much new oak does not necessarily flatter Mourvèdre. Older and larger vessels are usually the preferred choice.
Outside of Bandol (blended red styles are also made in the appellation), it is a rare privilege to taste a 100% Mourvèdre wine produced in France. While such wines are typical in eastern Spain, growers in the Languedoc-Roussillon and Rhone believe that Mourvèdre is a blending grape, adding body, alcohol, and spicy/gamey characteristics.
Nevertheless, there is much to admire in the grape. Full-bodied and packed full of flavor, a good Mourvèdre grabs your attention and refuses to let go. Aromas of blackberries, plum, and gamey notes typically emerge from the glass, supporting a concentrated and deep mid-palate. Good examples are underpinned by firm and ripe tannins, allowing the wine to age into graceful maturity. With ten years of bottle aging, Bandol becomes positively silky, with beguiling aromas of leather, violets, and tobacco leaf. Many Provencal rosè also contains Mourvèdre, typically blended with Grenache and Cinsault.
Mourvèdre's heartland: Bandol
The heady, garrigue-scented red wines of Bandol in Provence owe much to the potency of the Mouvedre grape. While certain growers are reluctant to market a 100% Mourvèdre cuvèe (unless the vintage is of exceptional quality), the grape typically dominates any red blend made in the appellation. There are approximately 1550 hectares under vine, situated inland from the beautiful town of Bandol on pine-covered terraces. The terroir is varied and of exceptional quality; red clay soils retain enough moisture in hot vintages, a vital element in producing balanced Mourvèdre wines. There are also bands of limestone and stony soils, the latter found in the northeast of the zone. The climate is decidedly Mediterranean – the finest sites tend to be south-facing vineyards planted at higher altitudes. Such terroir can yield simultaneously opulent and refined wines with a voluptuous mouthfeel and ripe tannins in good years. These garrigue and strawberry-scented beauties are magnificent, with grilled meat on a warm evening. And yet, Bandol remains a closely guarded secret, only really enjoyed by connoisseurs of the category. But this is only to your benefit, as greater hype would translate into higher prices.
Mourvèdre stages a comeback.
Growers are reassessing their attitude to this difficult variety across the Languedoc-Roussillon, Provence, and the southern Rhone. While many recognize the immense challenges that cultivating Mourvèdre entails, it is becoming more popular than Syrah in certain sub-zones and appellations. Châteauneuf-du-Pape is a case in point; with global warming increasing its pernicious hold over the appellation's vineyards, Syrah is now viewed as a liability in hot years. This noble grape can lack freshness and acidity under such conditions, which explains the renewed affection for the robust, late-ripening Mourvèdre. When added to the Grenache-dominant blends of the region, Mourvèdre contributes valuable weight and structure to the wines. Indeed, the area under vine is likely to increase over the next decade further.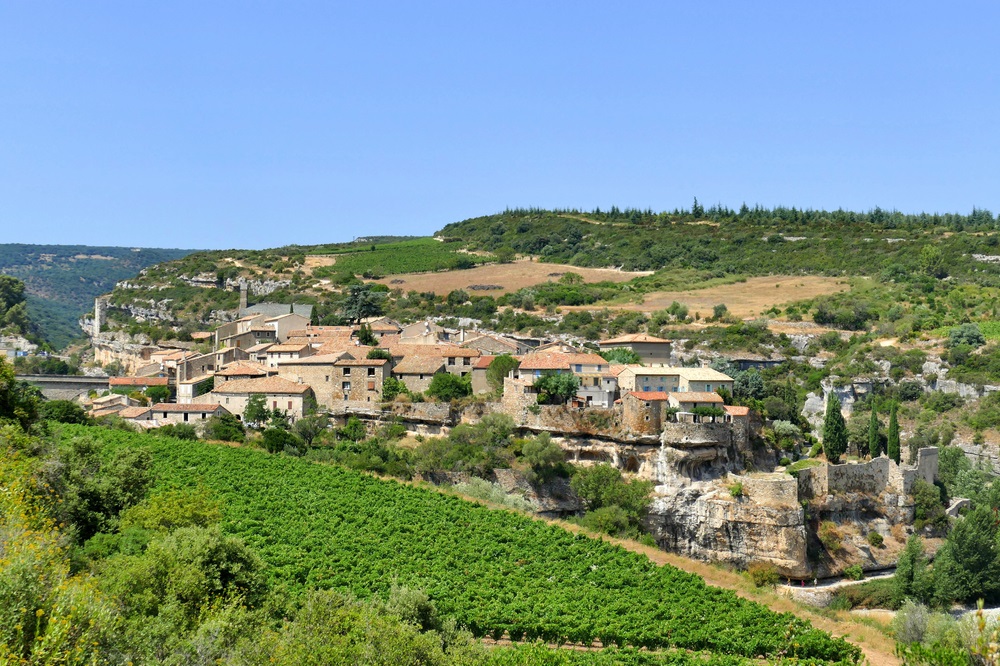 Vineyards on hills of Minervois
It's the same story in parts of the Languedoc-Roussillon. Like Provence and the southern Rhone, a great deal of Mourvèdre is either used to make delicious rosè or blended into the signature GSM wines that remain much-loved for their ripe concentration. Mourvèdre is found in the wines of numerous appellations situated in the western Mediterranean, not least Cotes du Rhone, Ventoux, Minervois, Fitou, La Clape and Cotes du Roussillon. In addition, it seems to have a particular affinity with the herb-covered hills of Minervois, producing structured and luscious wines that smell of red berries and thyme. With such marvelous examples being made in this part of the world, you would think that more winegrowers would release a 100% Mourvèdre label.
One of the Languedoc's most famous – and expensive – red wines, Gérard Bertrand's Clos d'Ora, relies heavily on the power and potency of the grape. It is based on a 9-hectare plot, enclosed by dry stone walls in the La Livinière sub-zone. Made according to biodynamic principles, the wine is magnificent: powerful, complex, and utterly moreish. But could it achieve such heights without Mourvèdre in the vat? It is hard to imagine that it could.
However, few are tempted to allow Mourvèdre to go it alone entirely. La Peira in the Terrasses du Larzac zone is one brave pioneer, first bottling a mono-varietal label after the 2007 vintage. In addition, the wines of Chateau Puech-Haut and Chateau de la Négly often contain at least 70% Mourvèdre. Sadly, they remain outliers in a culture resolutely committed to exploiting the virtues of this grape in blends. We can only hope that more growers will take the plunge and follow La Peira's example. A world with more Mourvèdre is a happy one indeed.
Top producers of Mourvèdre wines: