The Rebirth of Caíño Blanco
August 9, 2022
Estimated reading time: 8 minutes
Winegrowers are a sentimental bunch – they often lead with their heart, throwing caution to the wind. Take Caíño Blanco, for instance. This obscure white grape was on the verge of extinction in the 20th century, unloved – and undesired – by most producers in Galicia. With varieties like Albariño and Godello starting to make waves in international markets, there was no sound commercial reason for keeping Caíño Blanco around. Moreover, the grape was quite difficult and costly to grow – the prudent choice would have been to allow it to die.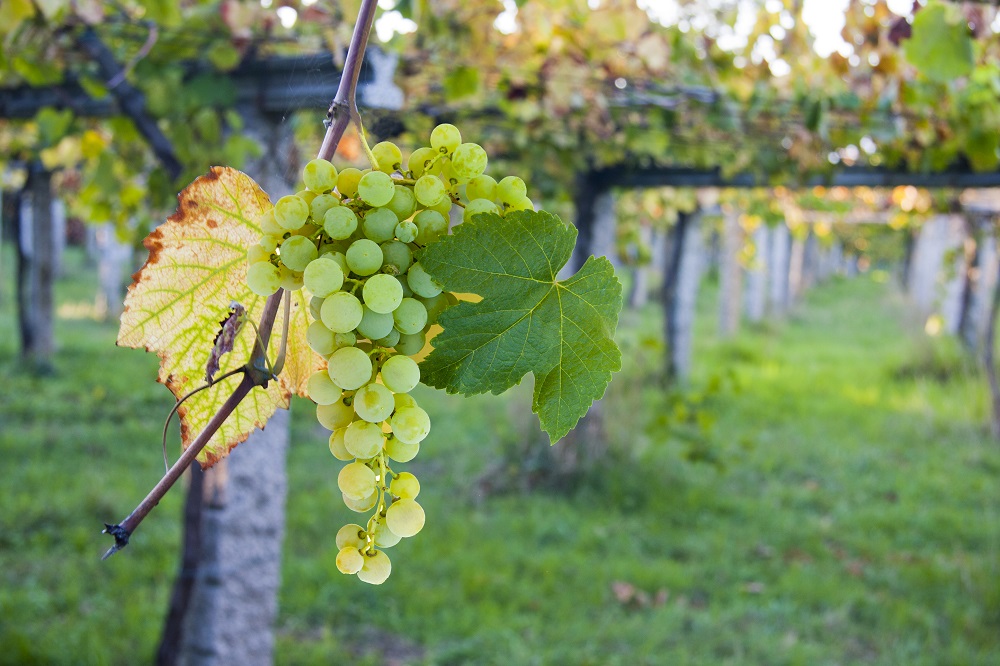 Guide to Spanish White Wine: Read more
Yet prudence and logic could not dissuade a group of winemakers from taking action in the 1990s; they decided to plant more Caíño Blanco and reinstall the variety as a (niche) part of the Galician landscape. Men like Luis Rodriguez saw a future beyond simply cultivating recognized styles with global renown, and thanks to their efforts, Galicia has welcomed Caíño back into the fold. It's time to rediscover it.
History and viticulture
Caíño Blanco is an extremely rare and interesting white grape variety. Believed to be indigenous to the Iberian Peninsula, it is currently found in Spain and northern Portugal. However, it is impossible to say whether Caíño Blanco migrated into Portugal from Galicia – or vice versa. The first written document to mention the grape dates back to 1722; several centuries later, the Portuguese agronomist Cincinnato da Costa described Caíño Blanco as "an aromatic variety with small bunches and small round berries."
Its genetic origins have been the subject of extensive research and debate. Recent analysis suggests that Caíño Blanco may be the offspring of Albariño and Azal Tinto – the latter is another esoteric variety native to Portugal. But the Swiss scientist José Vouillamoz has challenged this claim. He observes that the Caíño family of varieties encompasses many genetic mutations and are likely to have their ancestry in a now-extinct grape. Further DNA analysis will hopefully shed light on this mystery in the future.
Although there is relatively little Caíño Blanco planted today, we cannot be sure how widespread the grape was in the centuries preceding the advent of phylloxera. In the early 1800s, Galicia was renowned as a source of sweet wines exported to European markets such as England and the Netherlands. This booming trade saw the acreage in northwest Spain increase significantly in the 18th century – Caíño Blanco may have played an important role in this burgeoning industry. Unfortunately, the phylloxera louse destroyed a great deal of vineyards in Europe during the late 1800s, spreading from France (it originated from the US) into Spain. Eventually, winegrowers hit upon a solution: grafting European vines onto immune American rootstock prevented the louse from destroying the roots. However, several varieties became an unintended casualty of this re-grafting program, as they did not respond enthusiastically to American rootstock. As a result, they were abandoned or grubbed up in favor of alternatives. Treixadura was one such white grape to be sidelined in the 20th century – Caíño Blanco probably endured a similar fate.
By the late 1900s, Caíño Blanco was on the verge of extinction. The odd site was dotted across the Galician landscape, but few growers could be bothered to identify them – much less produce wine from the grape. It took the enthusiasm and single-minded devotion of men like Luis Rodriguez to turn it all around. Rodriguez started to seek out isolated parcels of Caíño Blanco, using massal selection cuttings to plant new vineyards and increase the area under vine. Meanwhile, he founded a boutique winery in the region of Ribeiro in 1988. It continues to make terroir-driven and beautiful wines, often based on blends of Galicia's rarest varieties: Treixadura, Brancellao, and Caíño Blanco. His passion has inspired other producers to help put Caíño Blanco back into local viticulture.
Nonetheless, the grape is a long way from becoming ubiquitous. According to the Spanish Ministry of Agriculture, there are under 70 hectares cultivated in Galicia today. That figure is unlikely to increase soon, largely because Caíño Blanco is not easy to grow. It is a mid to late-ripening variety that, in the right hands, contributes lemony fruit, body, and acidity to the blends of northern Spain. It prefers soils with good moisture and a south-facing aspect, ideally planted on a slope. Caíño Blanco will deliver a good yield (but not excessive) of ripe grapes with relatively high levels of potential alcohol and acid if all goes to plan. The problem is that things rarely go to plan.
In no particular order, Caíño Blanco is prone to the fungal disease Peronospora, in addition to downy and powdery mildew. In the inclement climate of Galicia, such maladies are a constant menace, affecting the potential yield and vine health. Botrytis can also be an issue during wet harvests, which are by no means uncommon. Coulure (lack of fruit set) is another headache caused by rain during the flowering period in June. It is also susceptible to attacks from pests, not least the European grapevine moth. Therefore, delivering a healthy crop of Caíño Blanco grapes is no mean feat. But the rewards can more than justify the outlay.
Winemaking
Staunch aficionados of Caíño Blanco will tell you that, despite the well-known difficulties, it can produce stupendously aromatic wine. Unfortunately, for the moment, it only very occasionally appears as a standalone varietal, albeit more examples are starting to leave cellar doors. But that does not detract from the grape's wonderful qualities or ability to enliven Galicia's sometimes 'cookie cutter' Albariño wines.
In the winery, approaches to handling Caíño Blanco tend to be relatively uniform in Portugal and northern Spain. Good quality berries are rich in sugar, aromatic compounds, and acidity – all attributes the winemaker will seek to protect. Sulfur dioxide is used to safeguard against oxidation and spoilage, while temperatures are usually tightly controlled at all stages of fermentation. Winemaker Rafael Fraga, for example, prefers to extract very pure must via a gentle pressing in a pneumatic machine. The bunches are destemmed, pressed, and the juice is moved into a holding vessel, which is kept at a low temperature. Mirroring the standard formula for making Albarino, Rafael Fraga ferments his wines in stainless steel tanks at 17C. A prolonged fermentation at low temperatures is the most effective way of preserving fruit and freshness in aromatic varieties like Caíño Blanco.
In some instances, wines fermented in stainless steel will be clarified, subject to filtration, and then added to a blend. They will then be bottled about 8-10 months after the harvest. Youth is their biggest selling point: bright, fresh white wines with bountiful acidity, citrus fruit, and real verve. They are not overly structured, complex, or 'deep,' but they hit the spot when sipped in the Plaza de Cervantes in Santiago de Compostela.
However, a growing number of winemakers in Galicia are producing more structured and multifaceted whites, advocating the benefits of maturation on the fine lees and, in some instances, French barrique. For example, Rafael Fraga believes that aging his Caíño Blanco on the lees (dead yeast cells) for 12 months enhances the texture and mouthfeel. After tasting the wine, we cannot disagree!
Rising from the ashes
Galicia has risen like a phoenix from the ashes in the 21st century, having transitioned into a wine-growing region with impressive global cachet. The story is remarkable: until relatively recently, this damp green corner of Spain was mired in apathy and neglect. Years of economic stagnation had left Galicia extremely poor and therefore ignored by the rest of the country. Those who could flee emigrated – the remaining farming population held onto their plots of land, producing generally indifferent wines from the Palomino grape. It was only in the late 1980s that farmers started to rip out Palomino and replant varieties like Albarino. Suddenly, Galicia was recognized as Spain's leading aromatic and racy white wine source. Yet, due to the region's physical isolation, it was not until the end of the 1990s that these wines found an appreciative audience in northern Europe and beyond. Today, there is scarcely a wine list in New York and San Francisco that does not boast a selection of Galician wine.
However, Galicia's viticultural revolution has not simply been driven by the pursuit of wealth. For sure, many producers are marketing styles, such as Godello, that have an established reputation abroad – they would be foolish not to. But a concurrent revolution is happening across northern Spain: a movement to 'rescue' formerly maligned grapes and champion the unknown. With international plantings of Albariño increasing every year – California and New Zealand now make good examples – the Galicians are not resting on their laurels. Instead, they understand that terroir-driven winemakers must always remain ahead of the curve. Exploring once-forgotten varieties is part of that journey.
Indeed, the investors behind the Viña Almirante brand and men like Luis Rodriguez have done much to promote Caíño Blanco as an important part of Galicia's heritage. Having recently tasted the Viña Almirante Caíño Blanco, we can confirm that it is outstanding.
The fruit is sourced from Val do Salnés, the most famous of Rias Baixas' sub-zones. It is the coolest and dampest terroir in Rias Baixas, being both northerly and very close to the Atlantic – although summers are quite dry. These conditions yield slow-ripening and highly aromatic berries packed full of flavor. This was evident after our first sniff of Almirante's Caíño Blanco: the bouquet was redolent of lime cordial, melon, grapefruit, and guava, with lively acidity and freshness on the mid-palate. Best of all was the juxtaposition between tropical fruit and minerality – a wine that excites and refreshes simultaneously. Richly concentrated, it boasted exceptional poise and length. For a moment, we even questioned whether describing Godello as the top varietal of northwest Spain was fair. In volume terms, there is no comparison; plantings of that wonderful grape exceed 1000 hectares. Yet our last Caíño Blanco sip left us wishing more producers would follow Viña Almirante's lead. So if you want to get under the skin of Galicia, start exploring the road less traveled. A bottle of Caíño Blanco comes with immense bragging rights, the knowledge that, in all probability, you're one of the few people to try it.
Guide to the Galicia Wine Regions: Read more
Top producers of Caíño Blanco wines (blends and mono-varietal):
More information
If you would like us to customize an exclusive luxury tour, contact us and let us know your travel plans. We offer luxury food and wine tours for private groups of a mininium two guests. In addition, all of our private, chauffeured tours are available year-round upon request.
Cellar Tours
Welcome to Cellar Tours, the premier Luxury Travel Specialist since 2003. Our goal is to provide you with the ultimate food and wine vacation experience, with exclusive Mercedes chauffeured tours that showcase the best of local cuisine and wines.
Our team specializes in crafting bespoke, custom-designed vacations, events, and incentives tailored to your unique tastes and preferences. Travel is not just about seeing new places - it's about creating unforgettable memories and indulging in the finer things in life.
As members of Slow Food, OTAVA (Travel Agency Association in Spain), and the IACP (International Association of Culinary Professionals), we promote sustainable tourism and support local communities. We work closely with top-rated hotels, restaurants, and wineries to provide you with the highest level of service and attention to detail.
Whether you're planning a romantic getaway, a family vacation, or a corporate retreat, let Cellar Tours be your guide. With our passion for food and wine, extensive knowledge of local culture, and dedication to exceptional customer service, we're confident we can exceed your expectations.
Contact us today to start planning your dream vacation – we can't wait to hear from you!