The enigmatic Bourboulenc has yet to reveal its secrets; its geographical origins are the subject of a fierce debate, while its genetic ancestry remains a mystery. Moreover, we cannot be sure how and when Bourboulenc was introduced to the South of France and is now cultivated by a small number of growers across the wider region. But this is all part of the attraction: sommeliers need obscure curiosities like Bourboulenc to excite younger palates and open minds. Moreover, it offers a nice counterpoint to the gallons of ubiquitous Sauvignon Blanc, Pinot Grigio, and Merlot sold worldwide.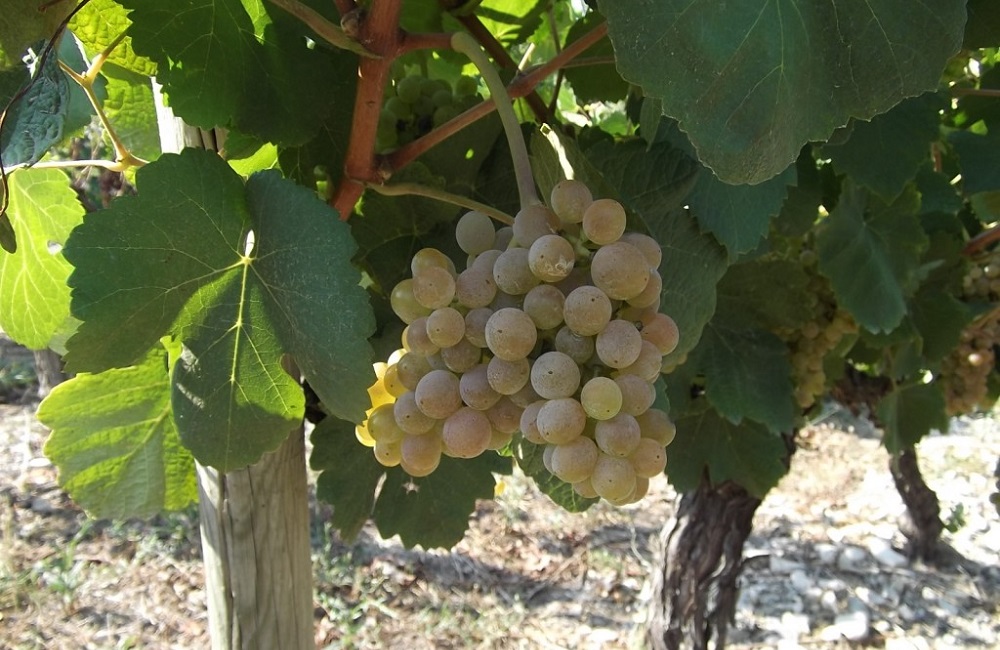 In the right hands, Bourboulenc is capable of producing fragrant and delicious white wine. Yet it has historically been used as blending material, only very occasionally appearing as a mono-varietal style. However, this is slowly starting to change as growers in the Languedoc-Roussillon, Provence and southern Rhône seek robust varieties that can tolerate rising temperatures and prolonged drought. So after years of apathy, they've decided to give Bourboulenc a fighting chance to shine. The results in bottle can be spectacular.
Read more about French White Wine
History and viticulture
This is where the arguments begin. Bourboulenc is an ancient grape variety cultivated in the French Mediterranean for centuries. But beyond that, we, unfortunately, know very little about its provenance. Certain viticulturists have suggested that Greek traders brought the grape to the South of France at some point in the past; there is an ancient Greek variety called 'Asprokondoura' that shares the genetic profile of Bourboulenc. Nevertheless, its parentage is currently not known.
However, other wine historians are now arguing that the grape was indigenous to the southern Rhône Valley; historical records dating back to the 16th century mention the grape as part of the local viticultural tradition. That is certainly plausible: Bourboulenc has been used in the bends of Châteauneuf-du-Pape for centuries, adding structure and acid to the exotic – and underappreciated – white wines of this diverse appellation.
The vineyards of the southern Rhône expanded considerably over the next two hundred years. By the late 1700s, the river-facing department of Gard was transporting many barrels of wine (both colors) to the markets of northern Europe, in addition to the more northern parts of France, where Rhône wines were used to bolster the color and alcohol of anemic dross. Sadly, the advent of the phylloxera louse in the 19th century devastated vineyards across the South of France. The only solution was to re-graft vines onto resistant American rootstock. Unfortunately, many of the area's less prolific varieties became unintended victims of this re-grafting program, as they were not replaced in the early 1900s. The priorities at the time were ease of adaption and the ability to deliver a consistently high yield.
Yet there were some positive developments in the first half of the 20th century. In 1919, Pierre Le Roy de Boiseaumarié married into a wealthy family that owned Chateau Fortia in Châteauneuf-du-Pape. As he was affectionately known, Baron Le Roy was a celebrated ex-fighter pilot and visionary in the truest sense of the word. He helped to create the first delimited Appellation d'Origine Contrôlée in Châteauneuf-du-Pape, launched in 1933. It lays down many principles that govern the nationwide AOC system today: rules controlling the yield, type of varieties cultivated, viticultural methods, minimum alcohol, and geographical boundaries. Moreover, Le Roy helped to create the Institute National des Appellations d'Origine (INAO) in collaboration with Joseph Capus in 1935. This continues to function as the regulatory body for French wine law.
For many decades, exports of red Châteauneuf-du-Pape completely dwarfed sales of Châteauneuf-du-Pape blanc. Indeed, the total acreage of Bourboulenc declined by about 50% in the 1970s as vines were grubbed up in favor of red varieties. However, the style has enjoyed a modest revival of late; the area under vine has increased in recent years, mirroring the situation in the Languedoc. As a result, winegrowers are rediscovering their love for this ancient and unique grape.
It is, thankfully, not particularly difficult to grow. Bourboulenc buds and ripens late in the season – so much the better in the hot and dry climate of the Mediterranean! It prefers calcareous terroir and requires a generous amount of sunlight and warmth to achieve good phenolic ripeness, making it an obvious candidate for the South of France. Resistant to drought and bunch rot, Bourboulenc offers that very attractive combination of ripe berries and high acidity, maintaining freshness even during very warm vintages. The harvest date is crucial: if the grower picks too early, they will be left with insipid and characterless wines.
The only other issue concerns yield. Unless its natural vigor is stringently controlled, Bourboulenc is liable to produce an overly generous crop of dilute berries. They will be housed in tightly-packed clusters, which can sometimes present problems in the winery. What appears to be a perfectly ripe bunch of grapes can contain immature berries with acidic and neutral flavors. The art of patience and prolonged hang times is essential with Bourboulenc.
Winemaking
Although Bourboulenc is hardly ubiquitous in the vineyards south of Valence, it is nonetheless found in several regions and appellations, including Lirac, Tavel, Luberon, Cotes du Rhone, La Cape, and Vacqueyras. As a result, approaches and attitudes to fermentation and maturation can vary wildly, from ultra-protective winemaking to limited skin contact and prolonged barrel aging.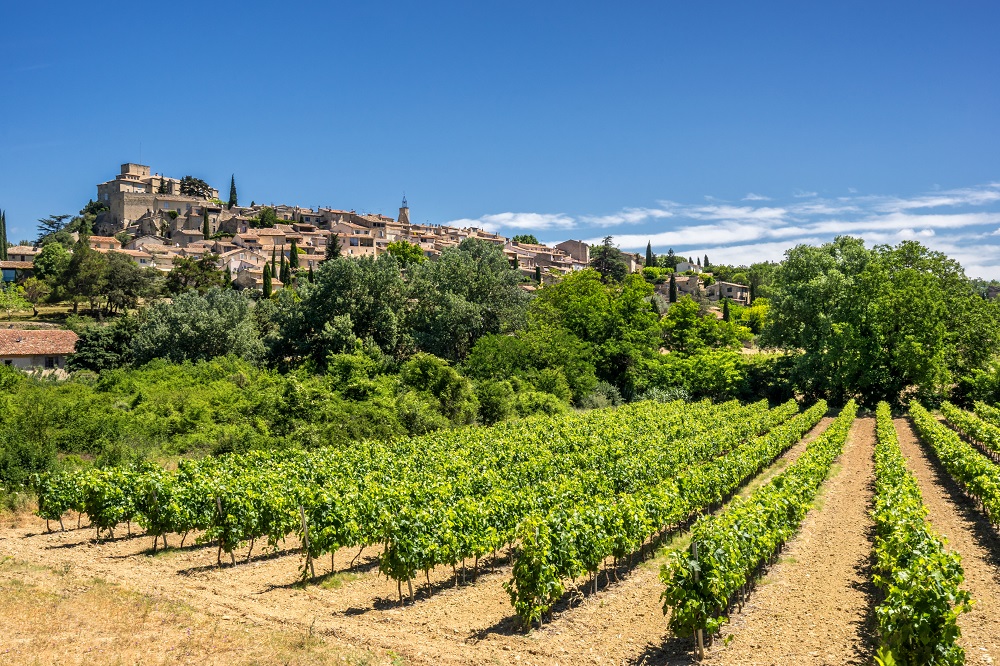 Vineyards near the village of Ansouis in the Luberon
However, Bourboulenc is notoriously prone to oxidation if the must is not carefully handled. Mindful of this reality, Maison Chapoutier prefers to inoculate their grapes with sulfur dioxide when they enter the press. This is done as soon as possible after the harvest – bunches are gently pressed, and the juice is drained out of the tank, which is subject to cold-settling. Fermentation is subsequently carried out at low temperatures in stainless steel tanks.
Chapoutier then observed a 'best of both worlds' approach to maturation. A certain percentage of the wine is aged in large French oak barrels (600 liters) for about ten months to add structure and weight. Meanwhile, certain lots are matured in tank on their fine lees, bringing welcome richness and depth to the final wine. According to the iconic house: "Early bottling is carried out to ensure the freshness of the wine is preserved." Preserving the delicate perfume and freshness of the grape is the overriding priority for Chapoutier.
Of course, some growers favor a more traditional winemaking style with Bourboulenc. Châteauneuf-du-Pape's Eric Texier, for example, advocates using whole bunches in the press and fermentation in used oak casks with natural yeast strains. After aging his wine for their fine lees in barrel for up to 20 months, it is blended with Clairette and bottled. The resulting wine may lack the upfront aromatic appeal of Chapoutier's effort, but there is a depth and complexity that cannot easily be replicated in stainless steel. Ultimately, consumers are lucky to have both styles to choose from. Never let it be said that French vignerons are conformists!
Bourboulenc's future in the Mediterranean
As growers across the South of France attempt to grapple with another torrid and drought-ravaged vintage, the appeal of varieties like Bourboulenc is clear. Robust and hardy, moisture stress is only really an issue in extreme weather conditions. Yet that is only part of the reason for the renewed interest in cultivating Bourboulenc. A new generation of winemakers, fixated on seeking tangible points of difference are discovering that the grape can make very beautiful – and unique – white wines.
There are several destinations in the South of France where Bourboulenc is enjoying a revival. One of the most promising is the appellation of La Clape in the Languedoc. Flanked by the Golfe de Lion, the vineyards are planted on a limestone massif south of the city of Narbonne. Several of the zone's leading lights now make a 100% varietal wine, including Chateau Rouquette, Christophe Barbier, and Chateau d'Angles. These are special whites that deserve thorough analysis.
The first quality that pronounces itself is a distinctive bouquet; Bourboulenc can be memorably iodine-scented, with notes of fennel, thyme, citrus, and white flowers. If the wine has been aged in wood, the palate will be deep and generous – a combination of stone fruit and minerals with a noticeably smoky finish. Winegrowers from the area have long argued that there is a powerful synergy between Bourboulenc and the limestone soils of this exceptionally arid and windy terrain. A recent tasting of several bottles suggests that they are right! In addition to mono-varietal styles, Bourboulenc is also used to make a greater volume of blends, often incorporating Clairette, Grenache Blanc, Marsanne, and/or Roussanne.
Meanwhile, the quality of white Châteauneuf-du-Pape is increasing with every vintage. Winemakers are embracing Bourboulenc in a way that would have been unthinkable in the mid-20th century, using the grape to add acidity and vibrancy after a spate of extremely hot and dry seasons. The most impressive of these magical blends, such as Eric Texier's Clairette/Bourboulenc cuvée, is outstanding. Working closely with organic farmer Jean Riché, Texier is a devout follower of minimal-intervention winemaking, eschewing the addition of sulfur, fining, and filtration. Using low-yielding vineyards grown on the trademark galets (stone) soils interspersed with clay-limestone, the wines are matured in small barrels on their fine less for up to 20 months. What emerges in bottle is as complex as any white Burgundy: powerfully structured, the wine reeks of garrigue, white pepper, stone fruit, and vanilla. It is classy and complete – a wine built to age. And while not every Bourboulenc cuvée from the South of France reaches such dizzy heights, there are enough wines that do. On this basis alone, it seems safe to conclude that the variety has an exciting future ahead.
Top producers of Bourboulenc wines (blends and single-varietal):
Christophe Barbier and Chateau d'Angeles
Domaine de Simonnet
Domaine de Rapatel Blanc