The term 'Bordeaux blend' has become synonymous with the region's iconic – and widely exported – recipe for making powerfully structured red wine. Every oenophile can recite the formula in a heartbeat: mix varying proportions of Cabernet Sauvignon, Cabernet Franc, and Merlot to make something far greater than the sum of its parts. But there is a fourth, unsung red grape that occasionally crops up in the Bordeaux blend, although you've probably never heard of it. That variety is the dark and mysterious Petit Verdot.
In Bordeaux, the grape has long been regarded with mixed feelings. A select group of chateaux owners greatly admire the weight, color, and tannin that Petit Verdot can contribute to blends, including several classified estates in Margaux. However, others argue that Petit Verdot is more trouble than its worth: difficult to grow, temperamental, and almost impossible to ripen in cooler vintages. Indeed, unripe Petit Verdot is not blessed with silky smooth tannins – quite the opposite. Yet this complex variety is enjoying a renaissance in the Medoc, as global warming encourages winemakers to reassess their former apathy.
Read more about French Red Wine
You can explore the Bordeaux Wine Region with Cellar Tours on a private Luxury Food and Wine Vacation, dine in the best local restaurants, and enjoy VIP tastings in the top Chateaux.

History and viticulture
It is deeply ironic that Petit Verdot, a grape with a longer history in the Medoc than Cabernet Sauvignon, is hardly recognized by consumers today. Although its exact origins are unknown, wine historians have uncovered evidence that Petit Verdot was planted on the shores of the Gironde as early as the 1600s. Interestingly, genetic analysis has shown that Petit Verdot's direct offspring is the Tressot grape, a mutation that occurred after Petit Verdot was crossed with Duras. Sadly, Tressot is all but extinct, while the Duras grape is limited to regions like Gaillac, situated north of Toulouse in the Tarn.
Limited to the Left Bank, Petit Verdot fell out of favor in the 20th century. After the large-scale replanting program that occurred in the wake of phylloxera, estate owners replaced the grape with varieties that were easier to ripen – particularly Merlot. Unfortunately, a series of challenging years, where entire crops of Petit Verdot were lost, only encouraged the massive backlash against this late-ripening grape. However, a growing number of winemakers have decided to give Petit Verdot another chance. The catalyst was simply the magnificent warm weather vintages of the 21st century: 2005, 2009, 2010, and 2015.
Nevertheless, many growers in the Medoc (Petit Verdot is not permitted in the Right Bank) treat the 'fourth Bordeaux variety' with caution. To put it mildly, achieving satisfactory (never mind good) levels of phenolic ripeness in Bordeaux's maritime climate is no easy task. Discounting the run of very warm vintages, Petit Verdot can struggle to ripen in the Medoc unless the terroir is first-rate. It is a very late-ripening variety, packed full of color, tannin, and extract – the antithesis of Pinot Noir. From that perspective, Petit Verdot is far more suited to the terroirs of Languedoc-Roussillon and Provence. But that has not deterred certain Bordeaux chateaux, whose owners persist in championing the grape. Before turning to Petit Verdot, they often complete the Cabernet Sauvignon harvest first. However, according to winemakers, the alcohol surges, and the wine becomes both jammy and blowzy if you wait too long to pick. With Petit Verdot, timing is always key.
In addition, the variety has shown a great susceptibility to coulure and rot in wet vintages. Petit Verdot is also known for its delicate stems that can easily snap if the wind picks up. Clonal selection is also vital, and massal cuttings generally produce superior results. But above all else, controlling the final yield is essential if the chateau seeks high quality. It is routinely said that if the yield exceeds 40 hectoliters per liter, Petit Verdot should go nowhere near the Grand Vin.
Winemaking
There are winemakers in the Medoc who will never welcome Petit Verdot into their cellar, regarding it as an unnecessary element in Bordeaux's viticultural landscape. However, those who do value the grape can be richly rewarded if it is handled with care and attention. Petit Verdot has much to offer; it blends extremely well with Cabernet Sauvignon, adding color, depth, spicy aromatics, and structure to the final product.
The secret, so say the experts, is tannin management. If Petit Verdot is over-extracted, its powerful structure will overwhelm the blend, leaving an unpleasant 'watermark' on the cuvées, characterized by harsh, dry tannin. Therefore, the stems are typically removed, and the grapes are often subject to a cold soak before fermentation begins. Winemakers argue that this technique (the must is chilled to a very low temperature, thereby slowly extracting color and tannin) helps extract softer, more elegant tannins. The wine is then fermented – stainless steel or concrete is usually preferred. Although approaches will inevitably vary, many chateaux favor the pump over method to prevent reduction and, again, to avoid over-extraction. Pump over involves taking juice from the bottom of the tank and spraying it over the solid matter floating on top. Micro-oxygenation ( inserting controlled amounts of oxygen into the fermenting must) is also in vogue in Bordeaux.
After a reasonably long fermentation and maceration, typically at high temperatures, it is time to mature the wines in oak. Petit Verdot can handle a surprising amount of new barrique – it dramatically enhances the mouthfeel and structure of the wine. In addition, it is arguably more tolerant of (relatively) lavish amounts of French oak than Cabernet Franc.
What emerges is potentially the yin to Cabernet Sauvignon's yang. Too much Petit Verdot in the blend can spoil the style; just the right amount adds a welcome dash of spice and potency to Left Bank wines. Medium-bodied and packed full of life-sustaining acidity and tannin, Medoc-grown Petit Verdot is a grape for the long haul. Sadly, Bordeaux only occasionally encounters mono-varietal examples, although their popularity is rising, albeit off a small base.
One of Petit Verdot's biggest strengths is its ability to seduce non-believers. The aromas can be particularly arresting: fresh and floral, with notes of plum, black cherry, violets, and Chinese five-spice. The palate will showcase a firm (if ripe) structure, although badly made wines will allow the tannins to subjugate the fruit. A mosaic of very complex tertiary flavors will start to appear with age, most notably sage, tobacco, and lavender. Rich and enticingly aromatic, good Petit Verdot has won over many a skeptic in its time.
Petit Verdot's rebirth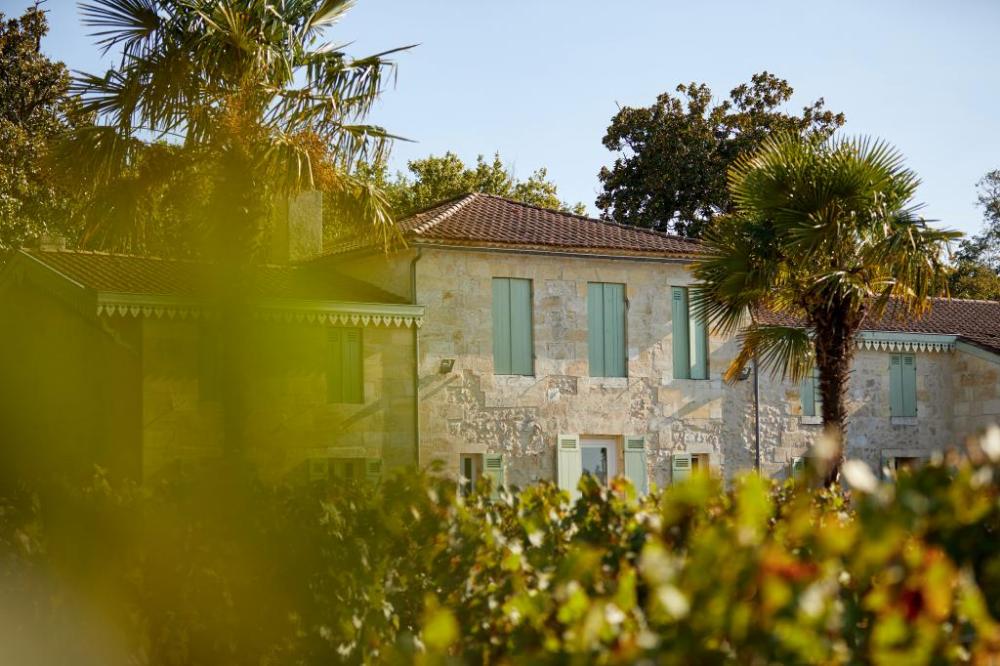 To understand the enormous potential of Petit Verdot, you have to visit a property called Chateau Belle-Vue. Situated in the Haut-Medoc appellation, Bordeaux aficionados hardly recognized the estate until the 21st century. It came into being after the chateau was separated from another property called Gironville in 1996. At first glance, it is a fairly unremarkable part of the Medoc landscape until the owners let you taste their 100% Petit Verdot wine. Produced from very special parcels of old vines, it is a truly remarkable testament to the delights of raw, 'unadulterated' Petit Verdot. A recent vintage was exceptional – open and expressive, the oak and fruit were balanced in perfect harmony, with gorgeous aromas of damson, white pepper, vanilla, and sage.
Meanwhile, the palate showcased bold but ripe tannins, with a certain opulence that offered a pleasing counterpart to the acidity and firm backbone. A Bordeaux wine had it all: length, depth, and elegance. If only there were more like it!
But while Belle-Vue has yet to inspire a dramatic revolution, climate change is having an impact on local attitudes towards Petit Verdot. Chateau Pédesclaux, a Cru Classe estate based in Pauillac, has started to incorporate a small percentage into its blends after the winemaker was blown away by the quality at Bellu-Vue. Moreover, a series of exceptional recent vintages helped to demonstrate how useful ripe Petit Verdot can be. Many Margaux chateaux, including Palmer, are also using a small amount of Petit Verdot in their wines. Even Chateau Lafite, the most illustrious of First Growths, has been known to add between 1-5% of Petit Verdot into the Grand Vin. Cultural prejudice, of course, still exists and may never be totally eradicated. But compared to 20 years ago, Petit Verdot's future in the Medoc is looking more promising.
Some remarkable – and good value – wines are also being made in the Languedoc-Roussillon. The incredible variety of soils, elevations, and micro-climates is a golden opportunity for ambitious winegrowers, some of whom have found their ideal terroir to craft pungent and floral Petit Verdot wines. The top examples tend to be very concentrated and fruit-forward, with silkier tannins, higher alcohol, and lower acidity than is typical in Bordeaux. Due to the Mediterranean climate, it could be said that Petit Verdot is more suited to the region, as it will usually ripen in most vintages. But equally, power and alcohol do not always make a wine great or 'better.'
Petit Verdot is the ultimate terroir wine; it runs the gamut from middle-weight floral wines to exotically spiced behemoths. Moreover, although the volumes exported are dwarfed by varieties like Syrah and Cabernet Sauvignon, there are now enough styles to please everyone. Discovering the diversity of Petit Verdot is one of life's great pleasures. You can drink superlative red wine at wonderfully affordable prices with just a small leap of faith.
Leading Petit Verdot wines (blends and mono-varietal):