We owe Chenin Blanc an apology. For decades, this versatile white grape of the Loire Valley has scarcely been given the international recognition – and respect – it deserves. Lost in the hype over Burgundy's (admittedly magnificent) Chardonnay wines, Chenin Blanc was relegated to the status of an also-ran. Indeed, collectors would often struggle to name the grape's famous proponents and winemakers, with the possible exception of Nicholas Joly.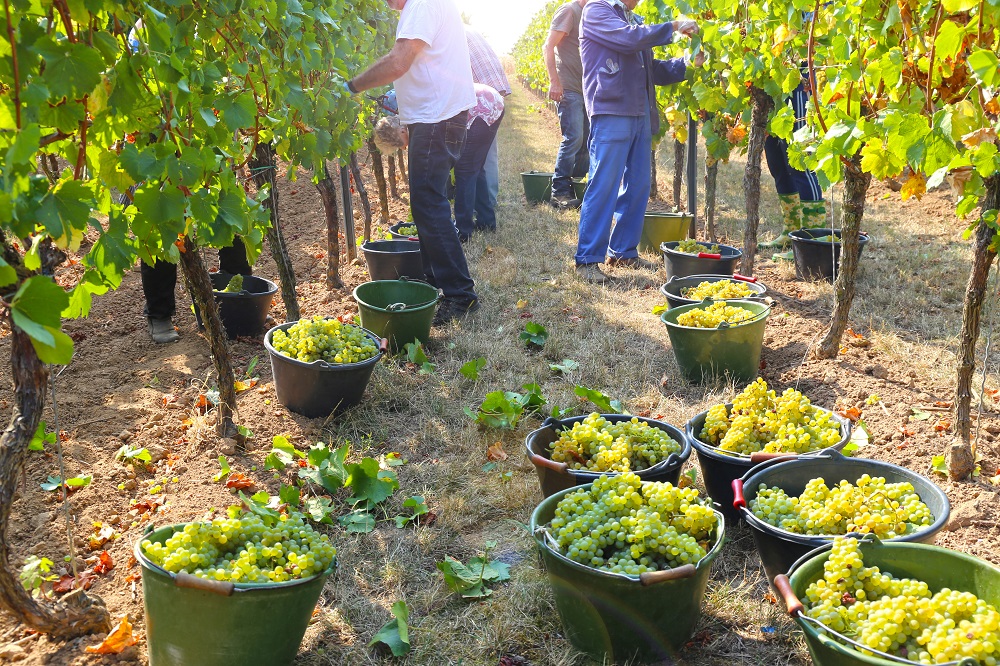 Thankfully, this woeful state of affairs is starting to change. A 21st-century revolution in Loire Valley winemaking, spearheaded by pioneers like Jean-Pierre Robinot, has caught the attention of some very influential people. Minimal intervention is the current aim of the game: restricting (or abolishing) the use of man-made inputs such as pesticides and sulfur to ensure complete and transparent expression of terroir. This philosophy has paid dividends: top sommeliers are on board, and Loire Valley Chenin Blanc wines are now conquering the best restaurants. The next step, of course, is to titillate the world's collectors and consumers. Based on the quality of wines being made today, this should just be a matter of time.
Read more about French White Wine
History and viticulture
The noble Chenin Blanc, long adored by the Loire Valley establishment, is one of France's greatest viticultural treasures. Its history is long and complex: wine historians believe that it has been grown in central-western France for many centuries, as there are written documents dating back to the 800s that mention the variety. One of the leading experts on the subject was botanist Pierre Galet, who sadly died in 2019. Galet dedicated his life to studying and classifying grape vines before the advent of genetic analysis and DNA sequencing. He believed Chenin Blanc was indigenous to the Anjou region of the middle Loire, appearing at some point in the 9th century.
Furthermore, Galet believed it was installed in the vineyards of Touraine by the 15th century, spreading to other regions in the expansive Loire. It is perhaps the valley's most famous export, having been sent to the colonies of South Africa by the Dutch East India Company. Today, it is regarded as one of the Cape's finest wine styles.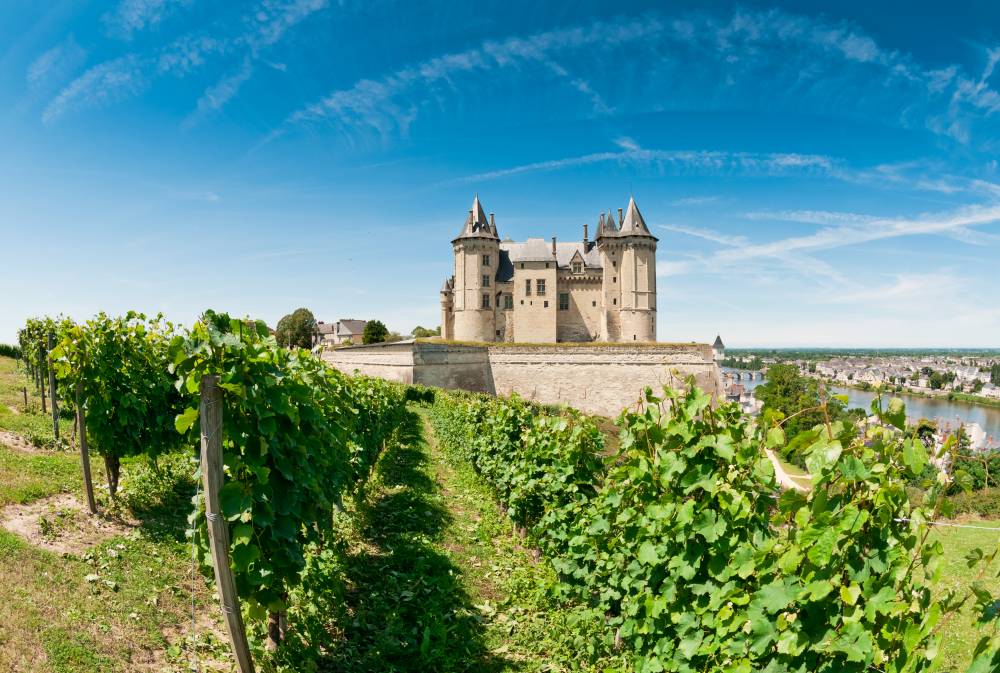 Chateau de Saumur, Loire Valley, France
By the 18th century, the Loire had become firmly established as a leading exporter of red and white fine wines. Anjou, Saumur, Muscadet, and Vouvray were the toast of Paris, appearing on bistro wine lists as a matter of course. Like the wines of Chablis and Bordeaux, drinking Loire Valley Chenin and Sauvignon Blanc was considered de rigueur by the upper classes. However, things worsened in the late 1800s, when Phylloxera laid waste to the vineyards of France. This pest was inadvertently imported from the US and soon began attacking vine roots in regions across the Loire, killing the plant. The only viable solution was to graft European vines onto American rootstock, which had developed a resistance to the louse's poisonous bite. Unfortunately, many grape varieties were greatly reduced in number after this massive replanting scheme, although Chenin Blanc remained an important part of the region's viticultural landscape.
Nevertheless, Chenin Blanc could hardly have been described as fashionable in the latter part of the 20th century. With consumers drunk on the infectious excitement surrounding Kiwi Sauvignon Blanc and other aromatic styles, Chenin seldom got a look in. Some growers ripped out their Chenin Blanc vines and replaced them with a commodity that, while somewhat ubiquitous, was relatively easy to sell.
Chenin Blanc desperately needed its version of Champagne's Jacques Selosse: an iconoclastic grower who could shake things up and make the variety trendy again. Nicholas Joly, the owner of the legendary Coulée-de-Serrant estate, was such a man. Farming according to biodynamic principles since 1985, Joly has done wonders for the grape, promoting its virtues to critics, sommeliers, and buyers. But most importantly, his success has inspired others to greatness; producers such as Jean-Pierre Robinot and Cédric Bourez owe Joly a great debt of gratitude.
The grape's exact genetic origins are the subject of an ongoing debate. In 1999, DNA analysis uncovered a strong genetic link to Savagnin, a grape of the Jura region in eastern France. Viticulturists believe that, in all probability, it is a parent-offspring relationship – Chenin is also thought to be the 'sibling' of Sauvignon Blanc.
In the vineyard, Chenin Blanc occupies that mid-point between 'nightmare variety' and a doddle to cultivate. It buds early and yet ripens late, requiring vigilance against the risk of spring frost attacks in March and even April. Like its close relative, Sauvignon Blanc, Chenin can deliver generous yields unless the vines are meticulously pruned throughout the season. Chenin Blanc wines made from overcropped berries are distinctly ordinary, with little structure or weight. Fungal diseases and grey rot can also cause headaches during inclement weather – by no means a rare occurrence at harvest time!
More positively, Chenin Blanc can precisely reflect the soil and climate, producing a range of styles depending on the local terroir. Sandy terrain, for example, usually produces relatively soft and rapidly maturing whites; however, calcareous soils yield considerable potency and depth wines. As a result, Loire Chenin, especially from older vineyards, can be one of the world's greatest whites. Yet, as is often the case, terroir is only half the battle.
Winemaking
If the winemaker is endowed with enough skill and experience, Chenin Blanc can turn its hand to almost anything. It can make nervy and light-bodied whites or powerfully structured wines that last decades. Botrytized Chenins, such as the great dessert wines of Vouvray, can be as majestic as Sauternes – traditional method Saumur is delicious and readily affordable. Therefore, it is impossible to provide a succinct description of how Chenin Blanc is vinified in the Loire Valley. Approaches and philosophies can vary enormously.
However, all great Chenin Blanc wines are based on hand-harvested fruit, increasingly cultivated according to organic/biodynamic principles. Mirroring the culture in Sauternes, top estates tend to harvest their grapes over an elongated period, making several passes through the vineyard to pick berries to achieve optimum ripeness. On arrival at the winery, these bunches will often be chilled to preserve fruit and freshness before the pressing stage can begin. Historically, the first stage of controlled vinification was to crush the grapes and release the pulp and juice, making the berries easier to press. Yet whole-bunch pressing is currently in vogue across France, as it is said to yield very pure must free of phenolic compounds. A great deal of excellent dry Chenin is made this way before being fermented in French barrique with natural yeasts.
Typically, the wine will be aged for up to 12 months before filtration and bottling. Like Chardonnay, the premier white grape of the Loire has a strong affinity with oak maturation, although 100% new wood is rarely used. Nevertheless, the additional structure, texture, and mouthfeel are highly prized commodities among the hipster growers of Anjou and Savennières.
Yet there are important stakeholders, including Nicholas Joly, who eschew this approach to handling Chenin Blanc. In the 20th century, the standard paradigm was exceedingly simple: crushed berries were pressed and typically fermented in concrete or old oak with minimum temperature control; no new oak, no artifice, no modern technology. This mantra is at the heart of the winemaking philosophy at Coulée-de-Serrant. Joly refrains from cold-settling, preferring to ferment his wines with solid matter in the vat, using 500-liter wooden vats (foudre) with natural yeasts. No temperature control is employed, and the wines are never matured in more than 5% new wood. The result is a wine that matures slowly and gracefully over a long period. Nicholas Joly does not covet instant gratification; it shows in the wines.
The best of both worlds
Tradition and modernity are comfortable bedfellows in the Loire Valley today. The middle Loire remains a timeless landscape, a land of renaissance chateaux, beautiful towns, and exquisite wines. Despite a fall in global demand, winegrowers continue to fashion delectable sweet wines from Chenin Blanc – their most striking quality is the mind-blowing longevity. Indeed, certain cuvées from domaines such as Huet and Marc Bredif can live for over a century, rivaling the top vintages of Chateau d'Yquem in power and complexity. Underappreciated and underpriced, these are among France's greatest whites. Meanwhile, Saumur and Vouvray's fruity sparkling wines remain brilliantly refreshing and widely available.
Nevertheless, the vanguard of the revolution has been driven, understandably, by producers who market dry Chenin styles. In many ways, they view themselves as the obvious successors to Nicholas Joly, producing minimal-intervention wines that speak of their origins. Le Clos Galerne is a perfect example, founded by Cedric and his wife, Myrtille Bourez. After training at Chateau d'Esclans in Provence, Cedric decided to chase his dream of making exceptional terroir-driven wines in the Loire. Establishing a small domaine in 2018, the family cultivate 11 hectares on a mixture of sandstone and schist overlooking the town of Savennières. Each parcel is vinified separately to produce a white wine of unparalleled elegance and profundity. Their closest rival is surely the dynamic and passionate Jean-Pierre Robinot, who left a career in gastronomy – he ran a fantastic bistro in Paris – for wine growing. Expensive and justly revered, Robinot's tiny production labels sell out quickly upon release.
But don't misunderstand us: premium Chenin Blanc is not all about limited-volume cuvées and high prices. Warmer summers, better viticulture, and significant investment has raised quality standards across the board, particularly in the regions of Anjou and Saumur. Dry (sec) Anjou Blanc is now truly fine, ranging from relatively light wines to bottles as dense and rich in structure as Grand Cru Burgundy. Some of the most concentrated wines are made from the metamorphic terroir of Anjou, while the tuffeau of Saumur (white porous limestone) tends to yield softer whites of considerable finesse. Hand-harvesting, organic viticultural methods, and the sensitive use of oak have transformed the local scene beyond recognition.
Of course, all wine regions need flag bearers and icons to sell abroad. For us, there can only be one choice: Coulée-de-Serrant has few equals in the Loire despite the onward march of progress. Last year, we were lucky to sample a few vintages, including the feted 2012. It was magnificent: harmonious and complex, with exceptional concentration and length. Bright and luminous, its deep golden hue gave way to a powerful nose of mirabelles, citrus, wood smoke, and honeysuckle. The palate was rich and creamy, with fresh acidity cutting through beeswax, quince, and caramel flavors. Twenty years ago, such brilliance was appreciated by a tiny minority of wine geeks and anoraks. But thanks to a well-coordinated movement led by Joly and others, indifference turns into delight.
Top producers of Chenin Blanc wines: