The Rhône-Alpes region of France provides an exceptional destination for a variety of travelers. During winter, skiers, snowboarders, and snow lovers flock to the east of the region dominated by the Alps. The Savoie department encompasses this Alpine zone and was formerly part of the historical Duchy of Savoy. Travelers searching for the arts, museums, and festivals can explore Lyon, Grenoble, and Annecy. Known as the Capital of World Gastronomy, Lyon is a must-visit for anyone with an appetite. At the same time, some of the most sought-after French wines come from the Rhône Valley. For those headed to explore the sunny coasts of Provence or the Grand Cru vineyards of Burgundy, the Rhône-Alpes region is nestled between the two offering a convenient opportunity for exploration. The region was renamed as Auvergne-Rhône-Alpes in 2016 when it united with Auvergne. You can explore this diverse region with Cellar Tours on a private Rhône Food & Wine Tour, tastings the best Rhone wines, paired with these and many more local dishes. So let's dive into the best Rhône-Alpes food, so you know what to order when you get there.

Rhône-Alpes Cuisine
The regional Rhône-Alpes cuisine largely revolves around cheese with dishes like fondue Savoyarde, Rhône-Alpes raclette, tartiflette, and more. Famous French cheeses such as Reblochon, Tomme de Savoie, Saint-Marcellin, and Emmental de Savoie all hail from this region. Auvergne-Rhône-Alpes produces upwards of 200 million liters of milk annually, with over 62,500 farms making regional dairy products. This abundance of cheese is thanks to the pastoral traditions of the Alpine Savoie region.
Beyond cheese, Savoie also created a unique French pasta called crozets de Savoie. Made from wheat or buckwheat, salt, eggs, and water, crozets are a small, flat square-shaped pasta. They're a key ingredient in croziflette, a gratin-like dish made with crozets de Savoie, ham, and Reblochon.
Additionally, there are a handful of specialty Rhône-Alpes food products worth seeking out. First, Grenoble is famous for walnuts, which garnered France's first AOC for nuts. They're featured in tarts, cakes, jams, creams, oils, and salads throughout the region. The Grenoble walnut has grown in the Rhône-Alpes for thousands of years and is a crossing of three varieties—Franquette, Mayette, and Parisienne.
Chestnuts from Ardèche also have their own protected AOC designation. In addition to being ground into flour for cakes and bread, they're the sweet marrons glacés delicacy star. In contrast, the southernmost part of the region is truffle territory. In Drôme, every Saturday from November to March, gourmands can peruse the truffle market in Riverenches.
L'Aperitif in Auvergne-Rhône-Alpes
The Rhône Valley delivers a medley of diverse wines for l'aperitif in Auvergne-Rhône-Alpes. From robust Syrah in Cornas to aromatic Viognier in Condrieu or the Grenache dominant blends of Châteauneuf-du-Pape, there is a wine for every palate.
Vermouth de Chambéry
In addition to internationally renowned wines, the region is also known for Vermouth de Chambéry, a classic aperitif. Dolin has been producing vermouth in Chambéry since 1821 and is the sole remaining independent producer. They infuse a simple base wine with over 30 native Alpine plants to make red, white, and dry styles of vermouth and go well black olives from the Nayons AOP.
Chartreuse is also produced in Rhône-Alpes. However, it's typically savored as a digestif rather than an aperitif. One of the most historic French liqueurs, Chartreuse, is still widely popular today. Legend has it the original recipe for this health elixir was discovered in an ancient manuscript of the Grande Chartreuse monastery. Carthusian monks decoded the recipe in 1764 and used it to develop the first Green Chartreuse in 1840. The secret formula incorporates around 130 botanicals and herbs.
What to Order for L'Entrée

Vichyssoise Soup – purée of potatoes, leeks, onions, cream, and stock
Puy AOP lentils
Salads of local produce are ideal for a lighter entrée to start the meal. For example, Puy AOP lentils have been cultivated in the Rhône-Alpes since the 11th century. They are often served as salads with Jamon d'Auvergne IGP and ideally paired with a fruity, medium-bodied Côtes du Rhône red.
Tartine Savoyarde
For something more substantial, try the tartine Savoyarde a Rhône-Alpes classic, which is made from a mixture of crème fraîche and mustard spread over sliced bread—then, topped with onions, lardons, tomato slices, and Reblochon cheese. Tartine Savoyarde is baked until the cheese melts over the toast and is typically served alongside a salad. Enjoy a glass of Tavel rosé with tartine Savoyarde. It's a full-bodied rosé made with Grenache and Cinsault, offering both fruity freshness and subtle spices to complement the dish.
Vichyssoise Soup
Though there's much debate about whether the dish origins, vichyssoise soup makes for another delicious French entrée, some say the soup was created in the city of Vichy by French chef Jules Gouffe in 1859. Other food historians believe a French chef at the New York Ritz Carlton called Louis Diat developed the soup inspired by a recipe from his childhood in Vichy. In either case, the thick creamy soup is a purée of potatoes, leeks, onions, cream, and chicken stock. Traditionally, vichyssoise is served cold and garnished with chives. A contrasting crisp, off-dry Alsatian Riesling will delight the palate alongside a luxurious soup-like vichyssoise.
Le Plat Principal in the Rhône-Alpes

Tartiflette, a delicious potato gratin dish
Tartiflette
Popular in the Alps, tartiflette is a heartwarming potato gratin dish from the Savoie region. Potatoes, lardons fumés (smoked bacon), Reblochon cheese, white wine, onions, and crème fraiche are baked together. Tartiflette is ready once the potatoes have softened and the cheese has melted and turned golden brown. Supposedly, tartiflette was created by Reblochon cheesemakers to increase the popularity of their product. Their plan worked as the recipe became a hit in the culinary world, spreading into home kitchens and beyond France. Pair tartiflette with Brouilly, the southernmost of the ten Beaujolais crus. The best examples are vibrant, lively, and packed with juicy red fruit, plum, and subtle mineral flavors. All of which is a refreshing contrast to the richness of tartiflette.
Fondue Savoyarde
While in the mountainous region of Savoy, there's no better dish to warm up with than fondue Savoyarde. Fondue originated in neighboring Switzerland, though it's easy to see why the delicious specialty spread to Savoie. The rich, hearty fondue is made by melting several cheeses together, including Gruyére, Emmental, Comté, and Beaufort. Then, long forks are used to dip pieces of bread into the cheese. Savoie tradition says if your bread falls into the fondue, you have to kiss the person next to you or buy a round of drinks for your group. Enjoy a white Hermitage made with Marsanne and Roussanne with fondue Savoyarde. These white wines have a denser texture with the aromas of candied fruits, almonds, and honey to complement the decadent fondue.
Rhône-Alpes Raclette
Raclette is another cheesy specialty from the Rhône-Alpes region. This culinary tradition also started amongst the Swiss and spread to Savoie. Raclette is a semi-firm cow's milk cheese whose name comes from the French word racler, meaning to scrape. The dish is prepared by heating a half-wheel of raclette cheese, then scraping the melted surface of the cheese over pickles, potatoes, and charcuterie. A dry or off-dry Alsatian Pinot Gris is a delicious match for raclette. The wine's flavors of citrus, almond, honey, and cloves will beautifully complement the cheese's creaminess.
Cuisses de Grenouilles
For those curious to try frog legs, the classic dish in French cuisine is quite a popular Rhône-Alpes food. Known as cuisses de grenouilles, the frog legs are prepared with a flour dredge, then fried in butter with garlic and parsley. They're served golden brown and crisp with a spritz of fresh lemon juice. Pair cuisses de grenouilles with a Chardonnay from Mâcon in Burgundy. Mâconnais delivers Chardonnay with balanced acidity and concentrated flavors of acacia, honeysuckle, and citrus fruits to ideally support the flavors and textures of this French dish.
Diots au Vin Blanc
Diots are a traditional Savoie sausage made with pork, salt, pepper, and nutmeg. You'll find fresh and smoked versions, plus the sausages can be boiled, grilled, or braised. Diots au vin blanc sees the Rhône-Alpes specialty boiled with white wine, garlic, and onions. Once cooked, the sausages are served alongside polenta, lentils, or potatoes accompanied with Dijon mustard. The juicy red fruit and spice flavors of Grenache make it an excellent match for pork dishes. So, pair diots with a red wine from Gigondas or Vacueyras, as they are Grenache dominant yet tend to be less robust than the reds of Châteauneuf-du-Pape.
Other Rhône-Alpes Foods to Order for the Main Course:
Ravioles de Royans, also known as ravioles de Dauphiné, are ravioli filled with a cheese and herb mixture typically prepared as a gratin.
Truffade is a thick potato and cheese pancake.
Gratin Dauphinois is a rich and creamy potato gratin.
Popular Cheeses in Auvergne-Rhône-Alpes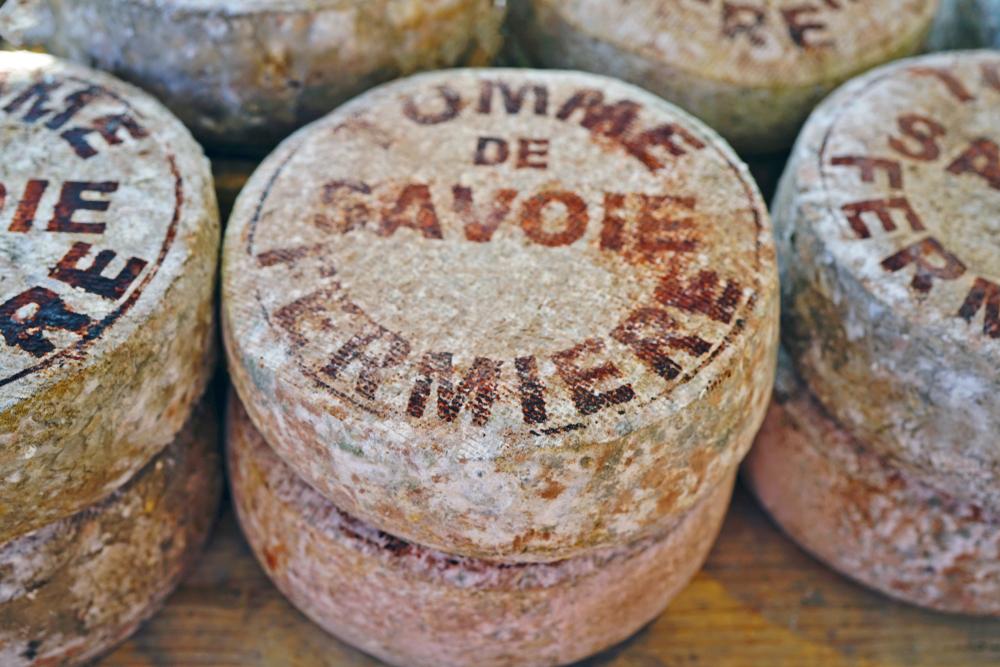 Tomme de Savoie, a cow's milk cheese
Reblochon
Reblochon was first created amidst the mountain pastures of Haute Savoie in the 13th century. Farmers who rented the pastures for grazing had to pay a tax based on the quantity of milk their cows produced. To pay less tax, they wouldn't milk their cows entirely initially. Once the landowner was paid and left, they'd return to finish milking their cows. This second milking was higher in fat and used to make Reblochon cheese, which was named for the French word for remilk. Reblochon became one of the first regional products to obtain a protected AOC status in 1958. An ideal cheese for melting over dishes like tartiflette, Reblochon's nutty, fruity taste makes it an excellent match for various wines, from floral and fruit-forward Fleurie to Pinot Noir from the Côtes de Nuits.
Tomme de Savoie
Tomme de Savoie is a cow's milk cheese made in Savoie and Haute Savoie. Local peasants first created the cheese to make their summer milk supply last through winter. Tomme de Savoie has a grey rind with a semi-soft texture and is adored for its nutty, grassy flavors with hints of mushroom and citrus rind. In addition, it has a lower fat content, as it's made from the skimmed milk left over after cream is drained to produce butter. Savor Tomme de Savoie with white wines from Saint-Joseph or Crozes-Hermitage in the Northern Rhône. Made with Marsanne and Roussanne, their richness and aromatics will ideally complement this French cheese.
Other Must-Try Cheeses:
Desserts in Auvergne-Rhône-Alpes

Marron Glacé, candy chestnuts
Montélimar Nougat
This irresistible almond nougat hails from Montélimar in the southern part of the region, where the first nougat factory was built in 1777. The traditional recipe requires specific percentages of peeled almonds, lavender honey, and pistachios to be included. Montélimar nougat is made by mixing honey, water, and sugar to create a syrup, which is then folded into whipped egg whites. Crushed almonds and pistachios are added to the nougat mixture in large copper pots, then spread over marble slabs to cool and form the nougat candy.
Marron Glacé
Popular around Christmas and throughout the holiday season, marron glacé are candied chestnuts with a soft texture and slightly sweet flavor. The first recipe was developed in Lyon during the 16th century. Marron glacé is quite time-consuming to prepare, making them an expensive but worthwhile treat. The process requires high-quality chestnuts soaked in a sugary syrup and then slowly dried in a low-temperature oven.
Gateau de Savoie
Gateau de Savoie, or Savoy cake, is a light, delicate cake made with flour, cornflour, eggs, sugar, lemon zest, and vanilla. The cake obtains its trademark airy texture through the addition of whipped egg whites. Gateau de Savoie was first created in the 14th century by the Count Amédée of Savoy's chef and was presented to Charles IV of Luxembourg as he was passing through the region. The original mold for the cake was inspired by the mountains and valleys of the Rhône-Alpes and topped with the Duchy of Savoy crown.
Digestif
Chartreuse is also produced in Rhône-Alpes and is of the most historic French liqueurs, Chartreuse is still widely popular today. Legend has it the original recipe for this health elixir was discovered in an ancient manuscript of the Grande Chartreuse monastery. Carthusian monks decoded the recipe in 1764 and used it to develop the first Green Chartreuse in 1840. The secret formula incorporates around 130 botanicals and herbs.
---
About Nicole Dickerson
WSET certified international wine writer with a passion for rare varieties and cellar hand experience in both hemispheres. Join me in the vineyards and cellars of the wine world at palmandvine.com.