If Californian Chardonnay represents one end of the white variety spectrum – structured, opulent, and very ripe – Melon de Bourgogne is the polar opposite. Saline, fragrant, and inevitably drunk young, Melon de Bourgogne is part of a noble family of light-bodied, aromatic varieties. Its closest relatives are Riesling, Sylvaner, and Aligoté, styles that offer racy acidity, piercing minerality, and moderate alcohol. They are usually made without oak influence and bottled very early in life. Some would describe these grapes as 'straightforward' or 'one-note,' yet they have delivered pleasure to countless gastronomes since time immemorial.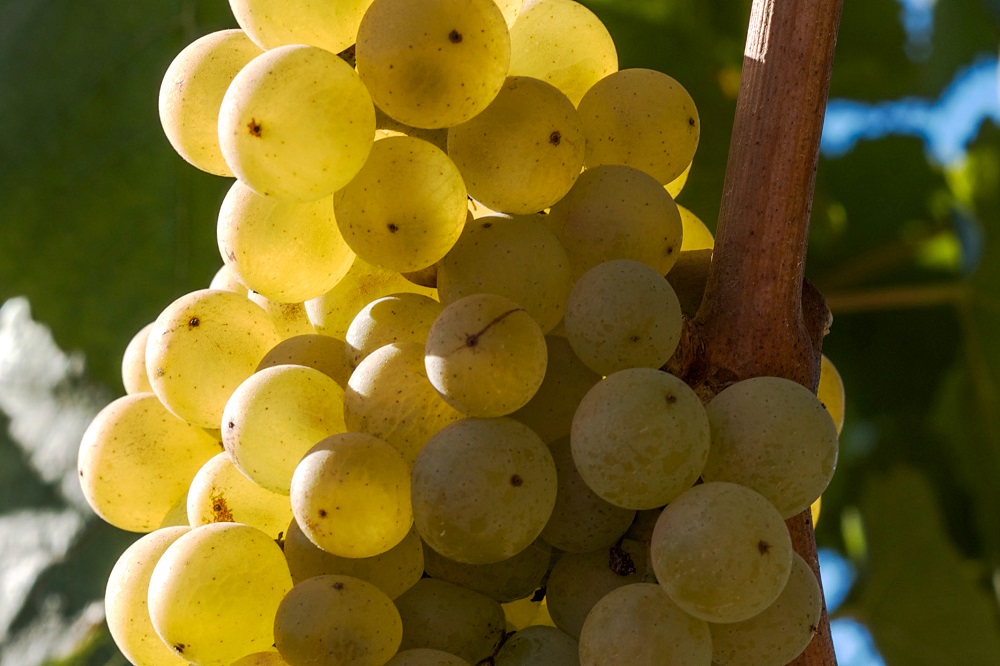 Visitors to the beautiful Loire region know what we're talking about: Melon de Bourgogne is responsible for Muscadet, one of France's greatest white wines (yes, honestly!). Obligatory with freshly-caught oysters enjoyed in the afternoon sun, it is impossible to track how many bottles are sold every weekend in the cities of Nantes and Tours. Granted, Melon de Bourgogne will never be considered in the same league as white Burgundy or top Chenin Blanc from Savennières  – it has neither the structure nor complexity of those two viticultural icons. But in terms of delivering raw, unadulterated pleasure, there are few varieties to match it.
Read more about French White Wine
History and viticulture
The role of Melon de Bourgogne has evolved considerably over the centuries. Wine historians believe it is indigenous to the vineyards of Burgundy (hence the moniker Melon de Bourgogne), where it produced very tart and light white wines. Cultivated since the days of the Western Roman Empire, Melon de Bourgogne was much appreciated by winegrowers, not least because of its ability to yield a sizable crop. Its future in Burgundy's vineyards was secure for a time.
However, after the Dukes of Burgundy assumed control in the 11th century, the region's viticultural map and priorities began to change. By the 1700s, much Gamay had been grubbed up due to the aristocracy's intense dislike of the grape – ditto Melon de Bourgogne. The establishment felt Melon could not produce high-quality wines in Burgundy's climate, a pale and unremarkable shadow of Chardonnay's greatness. Nevertheless, Melon de Bourgogne subsequently found a welcome home in the western Loire Valley that same century. Its arrival was most fortuitous: a terrible winter had killed off large swathes of vines in the Loire. Cash-strapped growers desperately needed a robust replacement to withstand the inevitable frosts and cold weather of early spring. Thus, Melon de Bourgogne was the answer to all their prayers.
Indeed, Loire Valley vignerons were enthusiastic adopters of the grape, planting an impressive acreage in the region of Anjou. The grape's ability to survive frost attacks even encouraged growers to rip out long-established varieties and replace them with Melon de Bourgogne. Meanwhile, investors from Holland had come to the Loire in the 1700s, intent on building a distillation industry unrivaled in Europe. They started to plant Melon near the port of Nantes – an ideal location from which to ship their lucrative export. It has dominated production in the Pays Nantais region ever since. By the late-18th century, wealthy Parisians regarded the idyllic landscape of the Loire as their de facto second home. Several ornate and splendid chateaux were built during this period, many of which survive today.
Sadly, the arrival of phylloxera in the 1800s shattered this bucolic paradise. In the early 1860s, growers noticed a disturbing trend in their vineyards: plants died quickly and without apparent reason. The cause was a deadly pest imported from the US called phylloxera. Its poisonous saliva laid waste to vineyards across France, although certain regions in the Loire did not report any outbreaks until the 1880s. After much trial and error, winegrowers discovered that American rootstock had developed an inbuilt resistance to the disease. As a result, a large-scale regrating program was authorized across the Loire, although certain vineyards never recovered. Côtes d'Auvergne and the upper Cher Valley are two examples of wine zones that were abandoned to their fates, as growers could not be convinced to return to viticulture.
Nevertheless, many have stuck with Melon de Bourgogne over the past few decades, as it is not particularly difficult to grow. Moreover, DNA analysis has uncovered the grape's parentage: Melon is the result of a genetic 'marriage' between Pinot Blanc and Gouais Blanc – the former is native to the Alsace region. At home in the metamorphic schist and granite terroir of the Loire Valley, Melon buds and ripens early, which offers great comfort to producers in the event of a frost attack; vines will often produce a second set of buds under these circumstances, saving the harvest. In good years, the growing season will be largely uneventful, save for the risk of fungal diseases, such as mildew, in wet weather. A judicious use of the Bordeaux mixture (copper and lime mixture) will save the plant from too much distress.
Yet it is easy to produce very mediocre and acidic wine from Melon de Bourgogne. Vigorous and prone to delivering high yields, plant growth must be strictly and diligently controlled from bud burst to harvest. Only low-yielding vineyards will produce wines with character, perfume, and balanced acidity. The alternative is not pretty: tart dross with all the charm of a mosquito bite.
Winemaking
Winemaking in Muscadet is not as unsophisticated – and rushed – as you may have heard. Or at least not when discussing the very best Melon de Bourgogne wines. Nevertheless, mass-market brands (sadly still around) are made in the blink of an eye – the overriding goal is to preserve the fruit from oxidation, ferment large volumes of must, stabilize the wine, and bottle it ASAP. The only ambition is to produce a drinkable aperitif with some citrus fruit and enough acidity to refresh. If any greatness is achieved, it is purely by accident!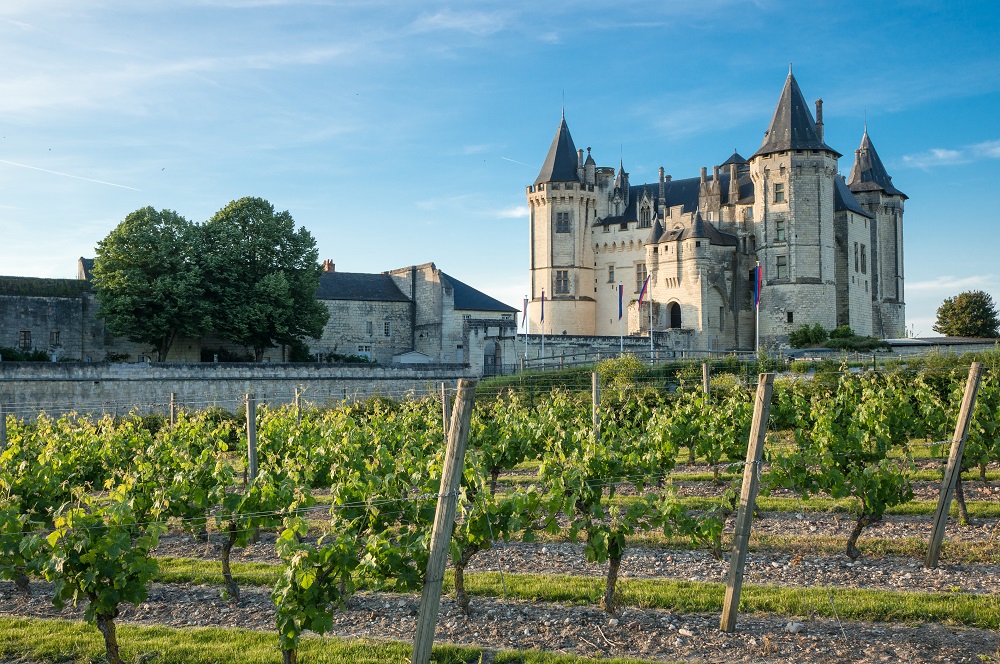 Château de Saumur, Loire valley
However, the same cannot be said for the top labels of Muscadet. It often surprises oenophiles to learn that winegrowers in the region were responsible for popularizing lees contact: lees are dead yeast cells that have multiplied during the fermentation, settling into the bottom of the tank where they resemble coarse white sand. The best Muscadet wines are always bottled straight from the fermentation vessel (sur lie) after the dead cells have been stirred into the wine over several months – occasionally longer. This brings an extra dimension of weight, texture, and richness that comes alive on the mid-palate.
Of course, there are some vital stages that take place before this happens. In the Loire, the usual practice is to undertake protective winemaking in stainless steel; sulfur dioxide will probably be added to the grapes in the press to prevent spoilage. After pressing, the juice will normally be clarified via cold-settling in tank or filtration. Next, cultured yeasts are added to the stainless steel tanks (some growers use old oak barrels or even amphorae), initializing the primary fermentation. The byproducts of this process are the all-important yeast remnants, regarded as paramount to the Muscadet tradition. Indeed, they are a potent antioxidant, and there is no doubt that they play a decisive role in keeping Melon de Bourgogne fresh and crips before bottling. In that sense, Muscadet shares certain parallels with Champagne: both regions place the highest importance on these dead cells packed full of amino acids, peptides, fatty acids, and proteins. Yet Muscadet is the only wine style routinely bottled unracked and unfiltered.
Muscadet's revival
Forget everything you've been told about Muscadet. Yes, even the bit about that unbearably tart finish (climate change has softened Melon's once notoriously fierce acid line). Contemporary wines from leading growers are fruit-driven, aromatic, and, most importantly, always hand-crafted. As a result, they offer a wonderful alternative to styles like Pinot Gris and Riesling, particularly when seafood is on the menu.
Yet Muscadet's lackluster image is partly the fault of those directly involved. Seduced by the ephemeral attraction of a quick buck, wineries massively inflated their volumes in the 1980s, damaging the category's reputation in markets like Germany and the US. It has taken a concerted effort from the emerging generation to turn things around over the past five years; in 2017, quality-focused growers set up the organization 'Vins de Muscadet,' dedicated to promoting Melon de Bourgogne as a premium alternative to New World Sauvignon Blanc. This collegiate approach, combined with improved viticultural and winemaking standards, has set Muscadet on the right track.
Moreover, the surrounding countryside is achingly beautiful. Traveling upriver from the Atlantic, the first grape you'll encounter is Melon de Bourgogne, cultivated on both sides of the river in the Pays Nantais region. There are approximately 8200 hectares under vine, split between several appellations. The most prestigious Muscadet vineyards have always been in Sevre et Maine, a subregion that carpets the hills found southeast of Nantes. Over 75% of Muscadet's total acreage is in Sevre et Maine, composed of densely planted vineyards that bask in the metamorphic schist, gneiss, and granite terroir. It is said that the villages of Vertou, Vallet and La Chapelle-Heulin yield the finest wines: structured, refined, and very fruity. Sipping top Muscadet from Sevre et Maine is one of gastronomy's most pleasurable experiences when served alongside a plate of fresh oysters or langoustines. Lunchtime diners have been known to spend over five hours in the charming restaurants of Nantes, refusing to be dislodged!
Elsewhere, Melon de Bourgogne produces racy wines on the steep slopes of Coteaux de la Loire. At the same time, the district of Cotes de Grandlieu is renowned for its warm sandy soils and concomitant higher levels of phenolic ripeness. Meanwhile, single-vineyard wines are developing a cult following among hipster sommeliers – Clisson and Le Pallet are two climats (vineyard sites) worth paying a premium for. But most important is the revolution in attitudes: producers realize that low standards and apathy won't cut the mustard anymore in a crowded marketplace. As a result, they're chasing low yields, harvesting riper grapes, distinguishing between different terroirs, and experimenting with maturation in amphorae. Does this all sound too good to be true? From one perspective, it is; poor-quality wines and lazy growers have not been completely vanquished from the vineyards of Muscadet. But, for the first time in several years, they're outnumbered by the good guys!
Top producers of Melon de Bourgogne wines:
Andre-Michel Bregeon
Julien Braud
Michel Lelu
Jean Sablenay