Malvasía de Rioja is part of a very special family of Vitis Vinifera. According to the OIV (International Organisation of Vine and Wine), there are at least 70 different genetic variations or sub-varieties of the Malvasía grape cultivated across Europe. Today, Malvasía is grown in locations as diverse as the Canary Islands, Rioja, Douro Valley, Sicily, Croatia, and northern Italy. It is used to produce both sweet and dry styles, the latter celebrated for their aromas of stone fruit, citrus, and distinct floral quality, not unlike a toned-down Gewürztraminer.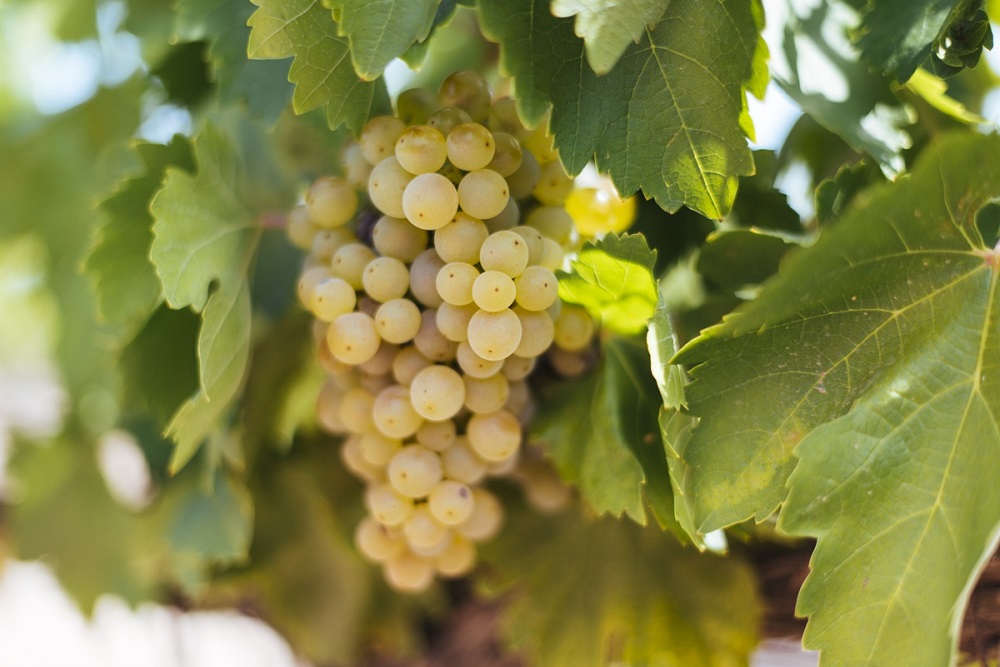 The grape has traditionally been used in the Rioja region to add spicy potency and body to the finest Rioja Blancos. Yet its usage has declined significantly in the 21st century, supplanted by more popular varieties like Viura and Chardonnay – a relative newcomer to the region. In our view, this is a great and crying shame, albeit we cannot deny that Malvasía is not easy to grow. Nonetheless, this ancient grape still has a valid contribution to Rioja's increasingly multi-faceted viticultural portfolio. Moreover, as Spain's leading appellations set sights on conquering the luxury white wine market, a welcome dose of authenticity and historical intrigue can go a long way.
Read more about Spanish White Wine
History and viticulture
Historians cannot be sure when this white grape arrived in Spain or when the mutation created Malvasía de Rioja. But we're certain that it is a very old variety, possibly introduced to western Europe during the zenith of the ancient Greek civilization. Indeed, many believe Malvasía has its roots in Greece, as its name is derived from the Greek port of Monemvasia, which was used to transport dessert wine to the Mediterranean. The Venetians had an important trading base in Monemvasia, earning a lucrative profit from this versatile grape.
Over the centuries, Malvasía proliferated across western and eastern Europe, eventually finding its way to the US. It has been part of the Mediterranean's wine culture for at least 2000 years, as evidenced by the multitude of synonyms for the various sub-categories of Malvasía. These include Malmsey, Malvasier, and Malvazia.
Before the late 19th century, Malvasía was an important part of the viticultural map in Rioja. Although the practice is generally abhorred today, winegrowers would traditionally add Malvasía de Rioja to their red blends, harnessing the grape's famous aromatics and viscosity. It was also a regular staple in the production of Rioja Blancos, often blended in equal parts with Viura.
Sadly, after phylloxera arrived in Rioja in 1899, Malvasía started a journey of long-term decline. The phylloxera louse, originally from the US, attacks vine roots, killing the plant. The only solution was to embark upon a major re-grafting program, planting European vines on American rootstock, which is immune to the pest's poisonous bite. However, by the time the project was underway, Rioja had already lost many of its vineyards – including old parcels of Malvasía Rioja. The total area under vine shrank from 50,000 hectares in 1990 to 14,000 in 1909.
This pattern has continued into the 21st century: there were just 8,000 hectares in the region by 1990. Sadly, the area under vine barely stood at 2000 hectares in 2009. But, of course, Rioja is not the only destination for this historical grape. Parcels are currently found in Valencia, Castilla La Mancha, Aragon, Catalunya (known locally as Subirat Parent) and Extremadura. There are also two distinct expressions in the Canary Islands: Malvasía de Lanzarote and Malvasía Aromática. In total, there are about 4,000 hectares found in Spain today, with about half not grown on the mainland. Meanwhile, the current Riojan estimate is very low indeed – it now accounts for approximately 2% percent of the region's plantings, overtaken by Sauvignon Blanc and Chardonnay. As a result, there are fears from some quarters that Malvasía is in danger of becoming extinct in Riojan viticulture.
But what are the reasons for this underlying apathy towards the grape, particularly from bodegas in northeast Spain? Every winegrower who cultivates Malvasía Rioja will concede that it presents formidable challenges in the vineyard, regardless of their fondness for the grape. It buds early, increasing the risk of spring frost attacks. It also ripens relatively early in the season, which can be a problem in hotter years. Malvasía will quickly accumulate sugars in warm sites before the grape is physiologically ripe; getting the balance right between ripeness and acidity is one of the toughest hurdles with this variety. Therefore, the best climats (vineyard sites) tend to be planted at higher altitudes, with a cooler mesoclimate helping to preserve acidity during the summer. Malvasía Rioja needs deep, well-drained calcareous soils to thrive.
Malvasía Rioja is also prone to developing botrytis and downy and powdery mildew. So the heavens must align if the grower hopes to pick top-quality grapes. It requires not too much heat or moisture, a well-ventilated canopy to help prevent fungal diseases, and poor, infertile soils. This is why the best terroirs for Malvasía remain closely guarded secrets in Rioja. And why many growers regard the grape as more trouble than its worth.
Winemaking
The Malvasía family plays several roles in Spanish viticulture. In the Canary Islands, Malvasía de Lanzarote and Malvasía Aromática are responsible for a little known sweet fortified style called Malvasía Canari. It is a remarkable drink, made by fermenting the must of desiccated Malvasía grapes, fortifying the partially-fermented wine with grape spirit. Different vintages are then blended and matured in oak cask before release. In Penedès, a small volume of sweet sparkling wine is made from the Malvasía grape, pioneered by Freixenet, one of the largest brands in the world.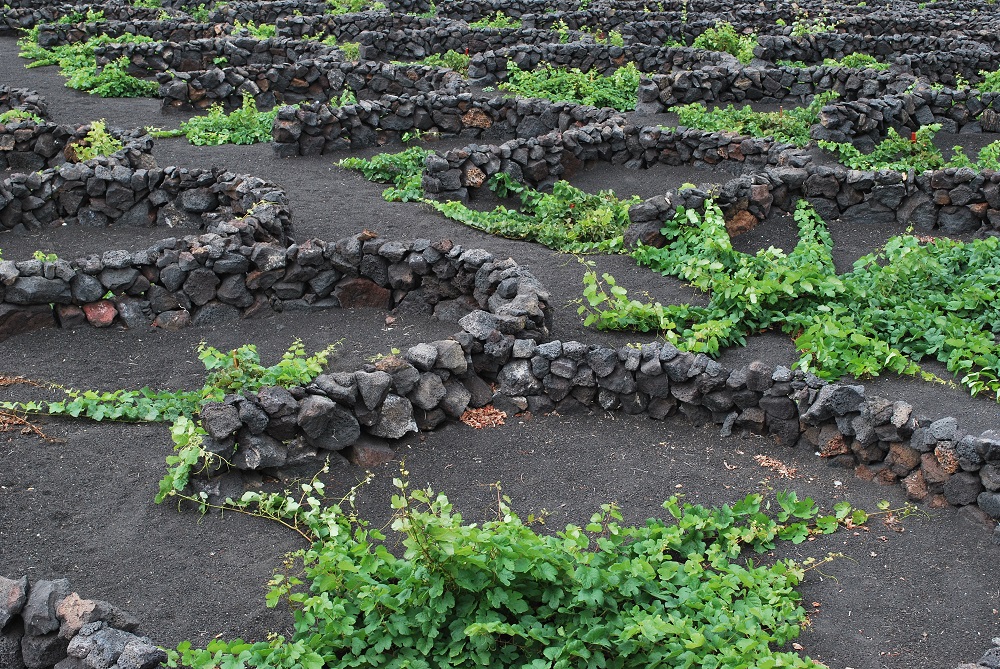 Malvasía grapevines, Canary Islands
In Rioja, Malvasía de Rioja (also known as Malvasía Castellana) is still used in certain white blends. Advocates passionately believe that 100% Viura wines lack the complexity and viscosity that high-quality Malvasía can contribute to the final product. However, it seldom accounts for more than 10% of the final blend; Remirez de Ganuza's 2013 Olgar Blanco contains just 1% Malvasía, for example. Other bodegas, such as Lopez de Heredia, prefer to use at least 10 percent, producing their white Vina Tondonia cuvèes in a staunchly traditional way.
Entering the winery is like taking a journey back in time. The Malvasía grapes are pressed using a very old wooden basket system before fermented in large wooden vats. These vessels are one of the most iconic sights in Rioja, being at least 100 years old. There is no temperature control, no cultured yeast, and no frills. After the fermentation, the wines are aged in used American oak for about a decade. The owners do not desire flavor pick-up from their barrels, utilizing wood solely for slow oxidative aging, enhancing complexity and mouthfeel. The resulting wine is utterly magnificent: simultaneously racy and powerfully structured, with enticing aromas of peach, honeysuckle, burnt toast, and caramel. Moreover, the key role that Malvasía plays in the wine is instantly apparent, particularly in its soft texture and generous finish. One hopes that Lopez de Heredia will never remove it from the blend!
However, some winemakers in Rioja have taken it one step further. Abel Mendoza took the brave decision to market a 100% Malvasía label, which critics and commentators have well received. The bodega is a relatively new face in Rioja, founded in 1988. Abel is a "quality first" wine producer, using only the finest grapes from over 35 separate parcels in San Vicente, Ábalos, and Labastida.
His approach to Malvasía de Rioja stands in complete contrast to that of Lopez de Heredia; protective handling is employed before the grapes are pressed and then transferred to new French oak for fermentation. The wine is subsequently aged on its fine lees for 4-5 months, imbuing the Malvasía with a silky mouthfeel and good structure. Yet the oak is perfectly judged and does not subjugate the wonderful exuberance of the tropical/ stone fruit. This is the true beauty of Malvasía: you can employ a myriad of different approaches in the winery and still produce excellent white wine. Every interpretation and expression of this grape is equally valid. Its diversity is matched only by its mercurial temperament in the vineyard.
The future of Spanish Malvasía
It is not easy to predict Malvasía's future in Spanish viticulture. On the one hand, the grape is hardly a global household name, cultivated by a relatively small number of acolytes in various parts of the country. On the other hand, it struggles to win over new fans due to the inherent difficulties of growing Malvasía successfully. Yet it is equally true that the single-varietal wines being made today are outstanding and that esoteric styles are becoming more popular among younger consumers and hipster sommeliers. The question is: will this be enough to stop Malvasía from being ripped out in favor of international varieties that are easier to grow?
We sincerely hope so, as this wonderful family of grapes has so much to offer. Once the source of Spain's finest dessert wines, the Canary Islands still produce small volumes of sweet nectar from Malvasía. Tenerife is the show's star, with no fewer than five DOs (appellations) producing a range of dry and sweet styles. Malvasía Fina responds exceptionally well to the island's volcanic terroir, yielding saline-infused whites that combine the smell of oyster shells with the flavor of ripe citrus. Trend-conscious sommeliers should take note: this is the land of original tastes, rather than drab, cookie-cutter imitations of long-established categories like Sauvignon Blanc.
In Catalunya, Malvasía is also used to make dry whites and dessert wines. They are based on the sub-variety Malvasía Aromatica, predominately grown in the vineyards of Penedès. Although very little is exported (about 90 hectares are cultivated today), the standard of winemaking has soared over the past ten years. Iconic sparkling wine house Recaredo makes a very fine example, called Mirabelles. With strict adherence to biodynamic methods, winemaker Ton Mata gently crushes whole bunches in the press, subjecting the juice to a brief maceration before fermentation in clay amphorae. The resulting style is fresh as a daisy and beautifully perfumed, with notes of rose petal, apricot, and honey on the mid-palate.
However, we still applaud Rioja for providing the defining benchmark of superlative dry Malvasía. Ironically, one of the finest examples is being made by an 'interloper' – South African winemaker Bryan MacRobert arrived in Rioja several years ago, determined to leave his mark. Attracted by the region's extremely varied terroir, MacRobert now owns 1.5 hectares of vineyards, producing exemplary Malvasía wines that are site-specific and always perfectly balanced. The grapes are sourced from a high-altitude plot (600 meters above sea level) found at the base of the Cantabrian mountains. This winning combination of old vines and organic methods yields small berries of high-quality fruit, which are handled with utmost care in the winery. Destemmed bunches are gently pressed and then subject to a short period of skin contact to extract just enough phenolic compounds without running the risk of bitter flavors. The juice is fermented using only wild yeasts before being matured on the fine lees for one year. MacRobert prefers to age his wines in a mixture of concrete vats and eggs, arguing that they allow controlled micro-oxygenation without extracting any oak flavors.
The wine is marketed as Laventura. It is a stupendous drink and Spain's best hope of attracting more growers to the cause. Indeed, the wine is a poster child for what can be achieved with this misunderstood variety: honeyed opulence allied to wonderful freshness and poise. The texture is pure velvet, supported by a ripe palate of stone fruit, orange peel, quince, nutmeg, and thyme. Ripe acidity, meanwhile, provides the backbone to this hedonistic delight. It is a white wine that delivers endless pleasure at a very fair price. Encouraging more people to taste styles like Laventura is Spain's best chance of securing Malvasía's future as a niche (if exciting) part of the country's viticultural landscape. We implore every wine lover to try it!
Top producers of Malvasía wines:
Abel Mendoza
Matsu Pablo Matallana