For many oenophiles and collectors, Syrah reaches the summit of perfection in Côte Rôtie. It is a magical place; terraced vineyards cling to the western slopes of the Northern Rhone Valley, overshadowing the pretty village of Ampuis. Like the great wine villages of Burgundy, Côte Rôtie's fame derives from a potent combination of first-class terroir, climate, and variety, resulting in exquisite and long-lived wines.
Yet, for decades, Côte Rôtie did not receive the respect and acclaim it so clearly deserved. Sidelined by collectors whose myopia only really extended to Bordeaux and Burgundy, this part of the world remained an insider secret. Finally, the great winemaker and skilled marketeer Marcel Guigal has done much to put Côte Rôtie on the fine wine map. His proselytizing has paid dividends; prices are continuing to rise, and the area under vine has increased significantly over the past five years. Today, aficionados speak of the single-vineyards La Mouline and La Turque with the same excitement and reverence as is paid to Chambertin and Latour. High times indeed for the wine-growing community of Côte Rôtie.
Geography and terroir
Côte Rôtie is the first major appellation you'll encounter when traversing the majestic Northern Rhone. Situated in south-eastern France, Côte Rôtie's vineyards are just south of the city of Vienne, approximately 35 kilometers from Lyon. Although the area under vine is larger than 20 years ago, Côte Rôtie is still a small (there are just over 500 hectares under vine) viticultural zone. In fact, only the villages of Ampuis, Saint-Cyr-sur-le-Rhône and Tupin-et-Semons are entitled to market wines under the appellation banner. Strict terroir delineation is at the very heart of the wine-growing culture in Côte Rôtie.
Vineyards thrive in the region's continental climate, with warm (but rarely excessively hot) summers and cold winters. It is noticeably cooler and more inclement than the southern Rhone, particularly in winter. For example, Côte Rôtie typically receives about 920mm of rainfall a year, while Avignon in the south is lucky if it surpasses the 550mm mark. But excessive rainfall can be an issue, both during flowering and at harvest time. Therefore, growers need to practice constant vigilance to harvest a good crop in Côte Rôtie, particularly concerning fungal diseases like powdery mildew.
Nevertheless, the finest sites in the appellation boast an exceptional terroir that is the envy of all across the Rhone Valley. These breathtakingly steep terraces are lined with free-draining metamorphic rock, reflecting the sun's heat into the vine canopy. This helps Syrah reach good phenolic maturity levels, even in cooler years. In addition, the southeast-facing aspect ensures that the vast majority of vines are exposed to the sun all day. Visiting Côte Rôtie during harvest time is a spectacular sight; a system of pulleys and even monorails is often needed to transport boxes of grapes from these incredibly steep slopes to the winery.
Historically, growers have split Côte Rôtie into two distinct sub-zones within the appellation: Côte Blonde and Côte Brune. There is no shortage of locals who will wax lyrical about both terroirs' differences and relative merits. However, all agree that the Côte Blonde is found on a south-facing incline just south of Ampuis, while the Côte Brune is to the north of the town, on a southwest-facing slope. In addition, Côte Blonde is renowned for its granite soils, with varying levels of sand, slate, and limestone in the bedrock. In contrast, the terroir of Côte Brune is cooler and more robust – schist and heavier clay soils predominate, with iron deposits in certain areas.
This polarity inevitably leads to stylistic differences once the wines are in bottle. During a blind tasting, critics can usually identify which wines are from Côte Blonde; the terroir is said to produce a very elegant expression of the Syrah grape, with aromatic intensity and wonderful freshness. Côte Brune is another matter entirely – powerfully structured, the wines are more firm and perhaps slightly unforgiving in their youth. One school of thought advocates blending grapes from these two sub-regions to enhance complexity and create a superior wine. Yet the subject of blending versus single vineyards has become quite contentious of late.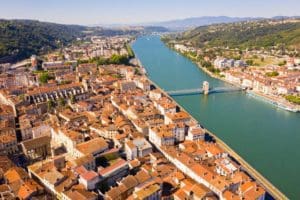 Visiting
Explore the Rhône valley region with Cellar Tours on a Luxury Food & Wine Vacation. You will dine in the best local restaurants and enjoy VIP tastings at the top wineries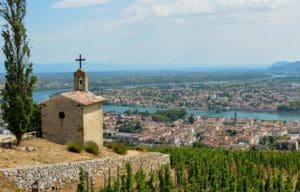 The cult of single vineyards
Marcel Guigal was never one to equivocate about the importance of celebrating terroir. On the contrary, he believed that Côte Rôtie should closely emulate Burgundy by stressing the primacy of single vineyards and the synergy between variety and site. He has since been vindicated – Guigal's collection of single-vineyard wines are among the most expensive and sought-after being made today.
However, there are still winegrowers who firmly reject this paradigm. In the 20th century, merchants would commonly blend wines from Blonde and Brune to forge a 'unified' Côte Rôtie. Some still follow this path, arguing that the fetishization of single vineyards is just pure narcissism. But many growers have been seduced by the cult of terroir expression and have been referencing the vineyard name on the label increasingly. Les Grandes Places is just one climat held in great esteem in the zone, as is La Vialliere. Unlike the Côte d'Or, there is no official stratified hierarchy of vineyards in the Rhone. Unofficially, most would concede that the best single vineyards are located immediately above Ampuis. La Mouline, La Landonne, and La Turque have become legendary among collector circles, with prices to match. La Mouline, a Guigal brand since 1966, could be described as Côte Rôtie's answer to La Tache. Complex and unbelievably refined, La Mouline will age and improve in bottle for many decades. Its sumptuous texture and an ethereal bouquet of violets, thyme, blackberry, and coffee have no equal in the Northern Rhone.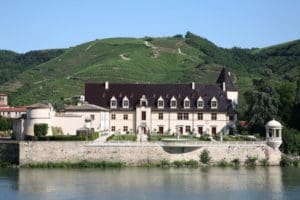 Wine Style
What is a quintessential Côte Rôtie wine? Critics and writers would traditionally speak of finesse and elegance – a 'Burgundian' style of Syrah with wonderful perfume and fine tannins. In their youth, the wines often show notes of red berries and sweet spices, complemented by white pepper on the finish. Typically matured in used barrels, the oak impact was marginal, at least in aroma and flavor. Then Marcel Guigal changed everything. Untroubled by the controversy surrounding his winemaking philosophy, Guigal started aging certain cuvées in a new French barrique, sometimes for over two years. These are wines for collectors who worship richness and power, with aromas of vanilla, cedarwood, tobacco, and chocolate. But it is debatable whether such wines represent an authentic expression of Côte Rôtie 's terroir. But, as ever, personal preference is the ultimate arbiter.
According to the appellation rules, growers can include up to 20% of the white grape Viognier into the final blend. Viognier was classically used to add perfume and freshness to the wines, a practice that is still maintained by several major houses. Few producers, however, tend to use more than 5% to enliven their already brilliant wines. As a result, an excess of Viognier in the vat can spoil the style.
Recommended Wine Producers in Côte Rôtie Wine Region