The Italians, for all their virtues, have damaged the reputation of this noble variety. Pinot Grigio: the name sends a shudder down the spine of any self-respecting wine snob. For decades, bulk producers have been churning out dilute, insipid white wines from this grape, the darling of supermarkets worldwide. The chief culprit (other than lazy winemaking) has always been yield – IGT regulations permit growers to harvest up to nine tonnes of grapes per hectare. At these volumes, premium quality is simply impossible.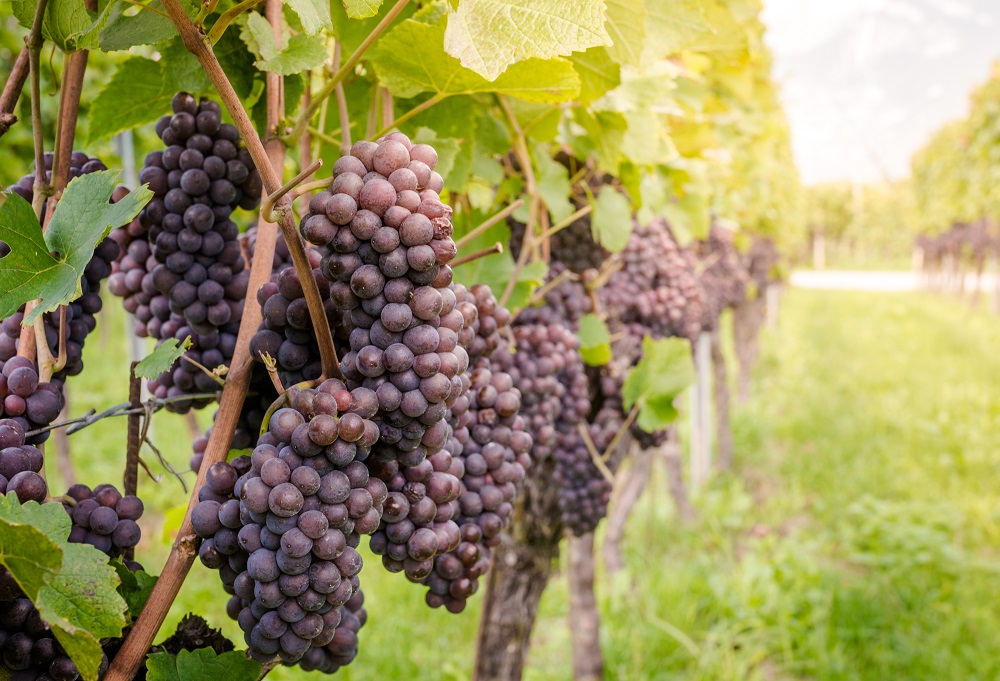 However, not every producer is content to waste the variety's potential. In recent years, a growing firmament of winemakers in Friuli-Venezia Giulia, Veneto, and Trentino-Alto Adige have debunked the myth that Pinot Grigio is incapable of greatness. Their success hinges on judicious site selection, low yields, and occasionally a dab of new oak. The result is creamy and opulent wines with tropical fruit aromas and a touch of exoticism on the finish. They belong on restaurant wine lists worldwide. Reinvented and rejuvenated, Pinot Grigio has become one of Europe's finest dry whites.
History and viticulture
Due to Pinot Grigio's longstanding association with Italy, it is often assumed that the grape is indigenous to the nation. However, viticulturists believe that Pinot Grigio originated in the Burgundy region of France, where it was once as important as Chardonnay and Pinot Noir. Known as Pinot Beurot in the Cote d'Or – its local synonym was Fromenteau in Champagne – Pinot Grigio has been cultivated since the days of the Romans. After conquering Gaul in 52 BC, the Roman fascination with the grape ensured that viticulture spread to all corners of their Empire. Starting in Provence, where the ancient Greeks had already installed vines, they moved up the Rhone Valley to the Languedoc. By the first century AD, there were vines in the Loire Valley and the Rhine; by the second, Burgundy had become a major center of winegrowing. The foundations had been laid: when the Western Roman Empire collapsed in the 5th century, much of Europe was in the wine business.
Yet it is still being determined precisely when Pinot Grigio was first cultivated on Italian soil. Historians believe that after the variety embedded itself into the vineyards of Burgundy, it spread to neighboring Switzerland in the 14th century. The Holy Roman Emperor Charles IV was a famous acolyte; Pinot Grigio was exported to Hungary at his behest. It also found its way into the vineyards of northern Italy, Germany, Slovenia, and Alsace. This explains the large number of regional synonyms – Pinot Grigio is referred to as Ruländer in Germany and Szürkebarát in Hungary.
By the 18th century, Pinot Grigio had become a ubiquitous feature across the landscape of Veneto and Friuli-Venezia. It was also very popular in Burgundy and Champagne, unlike the formerly maligned Pinot Bianco, which is now largely restricted to Alsace in France. However, the arrival of the phylloxera louse prompted a drastic rethink. First discovered in the vineyards of the southern Rhone in the 1860s, this deadly disease spread to central and northern France in the latter half of the 19th century. It devastated wine regions across Europe during this period while panicked growers struggled to find an effective solution. Eventually, producers realized that regrafting European vines onto American rootstock would save their livelihoods; plants from the US had developed an immunity to the disease. As a major replanting program got underway, growers understandably opted for varieties that would deliver a consistently high yield. Until then, local clones were unreliable, and the variety could not be counted upon in difficult vintages. As a result, a great deal of Pinot Grigio was ripped out in destinations such as Burgundy.
However, Pinot Grigio remained very popular throughout the 20th century in northern Italy. In the early 1900s, German scientists created new clones of Pinot Grigio that would produce a substantive yield in almost all climates and terroirs. Several decades later, modern equipment and viticultural techniques helped to transform Italy's ailing white wine industry. But while many producers focused on quality, the lure of a quick buck was too attractive for some. These productive clones were planted across Veneto and Friuli-Venezia and used to make characterless dross. This legacy is no less important today – a great deal of mass-market Pinot Grigio is pretty anodyne stuff. At best, it is a safe – and affordable – choice on an uninspiring wine list.
Higher-quality plant material, though, is a challenge to grow. Nevertheless, if properly managed, the best clones of Pinot Grigio will deliver a modest yield of high-quality grapes. The key is to harvest before the acidity level becomes too low – this is a difficult balancing act, as freshness can come at the expense of phenolic ripeness. In addition, Pinot Grigio can be susceptible to grapevine diseases in wet weather, including bunch rot and odium.
Winemaking
Making industrial-grade Pinot Grigio is a doddle. First, machine-harvested grapes are quickly processed with as little oxygen exposure; freshness is crucial. Next, the crushed fruit is taken directly to the press (pneumatic cylindrical presses are now standard), where great care is taken to select free-run juice. At this point, generating amounts of sulfur dioxide will be added to safeguard against spoilage. The must is cold-settled overnight before it is passed through a centrifuge to remove yeast particles and any remaining solid matter. Fermentation will then take place in gigantic stainless steel tanks; modern wineries in Europe can resemble factories, with their towering banks of steel vessels producing millions of bottles per year. After a cool fermentation, the wine is sterile-filtered and bottled with haste. It can be on the market in under ten months after the harvest. It is one of the safest and most boring choices in Italian wine.
Of course, quality-focused producers endeavor to make a Pinot Grigio as different from that of the big brands as humanely possible.
Conglomerates strive for volume and easy drinking; garagiste winemakers seek terroir expression; to the former, individuality is unimportant; to the latter, it is all-important. This is achieved via a number of different ways: many excellent Pinot Grigio wines are made using limited skin contact, a technique that adds complexity and depth to the wine. Maturation on the fine lees (dead yeast cells) is also widely practiced for the same reason. The result is an aromatic style of white, concentrated and structured, with aromas of stone fruit, honeysuckle, buttered toast, and lanolin. Such wines are always based on top-quality fruit, cropped at moderate yields. The difference is night and day.
Pinot Grigio's alter ego.
In 2023, no single Italian region holds a monopoly on producing high-quality Pinot Grigio wines. Indeed, there is much excitement surrounding the best examples emanating from Veneto and Trentino-Alto Adige. Yet, we must admit that Friuli-Venezia Giulia is in a league of its own. These beautiful vineyards, situated on the border with Slovenia, host the largest concentration of new-wave producers in Italy today. Men like Josko Gravner have transformed the region's reputation; it was formerly associated with gallons of well-made, if not homogenized, wine. But when sommeliers now promote Friuli-Venezia to their clients, they talk up a revolution in biodynamic viticulture and winemaking.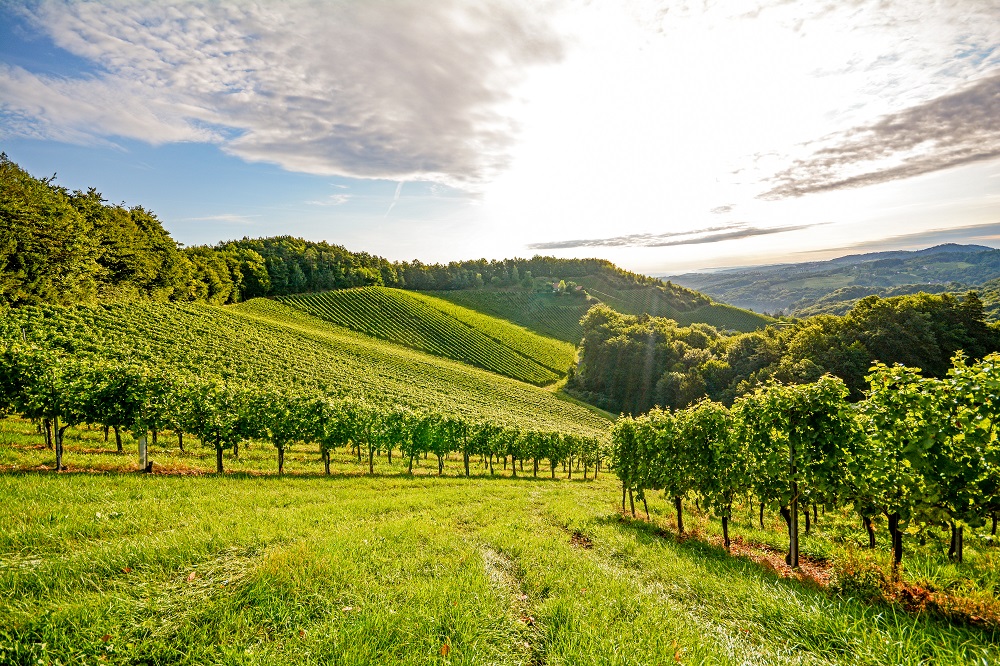 Pastoral vineyards of the Veneto
Pinot Grigio has been a net beneficiary of this cultural shift. The change has been centered around two key sub-regions: Colli Orientali and Collio Goriziano DOC. The former is located northwest of the city of Gorizia – these hills enjoy a moderately warm alpine climate, with bright summer sunshine and cold winters. Planted on marl and sandstone deposits, Pinot Grigio's vigor is naturally curtailed in these poor soils, cropped at low yields by the area's leading growers. A Damascene conversion to organic and biodynamic farming has also played an important part; the trade-off is an economically nonviable yield under challenging vintages. But this matters not to winemakers like Gravner.
This boutique estate, along with Branko, Lis Neri, and other progressives, have achieved wonders with Pinot Grigio. In the 1980s, the grape had little clout with discerning consumers. However, no upmarket retailer can now afford to omit the skin-contact wines of Friuli-Venezia. They are truly magnificent. The secret, according to insiders, is to treat white grapes with respect afforded to First Growth Cabernet Sauvignon; Gravner wrote the book on producing deeply colored and powerful styles from the variety. Observing its genesis is fascinating: hand-harvested berries are crushed and left in clay amphorae (called qvevri), buried underground. The fermentation takes a long time, allowing the juice to extract oodles of phenolic complexity from the skins. After about seven months, the wine is transferred to a small vertical press, which separates it from the remaining solid matter. It is then matured in botti (large oak casks) for six years. Although Gravner only releases a tiny volume of this superlative white, we were fortunate enough to sample a glass last year. Just one sniff and you're hooked: it offers a beguiling nose of burnt orange, hazelnuts, butter, lemon peel, and cinnamon. The palate is both opulent and focused, with an underlying cut of acidity to balance out the richness. At the time, it was hard to believe our party was imbibing a bottle of the commonly derided Pinot Grigio. Thanks to Gravner, the grape will never be ignored by wine's glitterati again.
Grigio wines: