A diverse, energetic port city sitting on the Italian-Slovenian border, Trieste is at once profoundly Italian and enticingly international. It is also the gateway to the Friuli wine region. Part of Austria until 1920, the city still retains much of its central-European flavor in its stoic city monuments, hearty cuisine, and enterprising spirit. Even the language is different; here, people speak a dialect called Triestine, and some people still speak Slovenian.
Trieste's history dates to the third millennium BC, when it was settled by an Indo-European tribe called the Carni. Several other people groups passed by before the city was taken under the Roman Empire's wing in 177 BC. Centuries passed, and in the Middle Ages, Trieste's city fathers requested that they are made subject to the Duke of Austria if they could retain a certain level of autonomy. Trieste became a free port within Austria, and this arrangement was kept until the end of the 18th century when French troops occupied it during the Napoleonic Wars. Afterward, it briefly recuperated its former status, becoming a fashionable destination for artists in the early 20th century. But after World War II, the irredentist movement (which sought to unify all lands inhabited by historically Italian peoples) successfully joined Trieste, and the rest of the Venezia Giulia, with Italy. The city had one final burst of independent spirit from 1947-1954 when it became an independent state, but it eventually returned to the fold and became an Italian territory once again.
Today Trieste is the capital of Friuli-Venezia Giulia and serves as an important commercial and leisure port on the Adriatic Sea. Hemmed in by the glistening blue of the Adriatic and the lush green of the hillsides that rise just beyond the city center, Trieste enjoys an enviable setting that has made it popular with visitors from across Europe. Its history is visible in its Roman ruins, ancient narrow streets, and imposing castles, yet the city is also confidently modern, with a glib yacht port and stately boulevards.
Gastronomy & Wine
Combining Italian, Austrian, and Slovenian influences, Trieste's cuisine is unlike the food found anywhere else in Italy. Alongside Italian staples like gnocchi, Prosciutto (the Prosciutto di San Daniele is especially appreciated here), and Cheeses like ricotta affumicata (smoked ricotta) or Montasio, Trieste also specializes in more unusual fare, like brovada (marinated turnips) and stinco di vitello (braised veal shank). Pork from this area is reputedly the best in Italy, and dried hams and salamis abound. The city's situation on the Adriatic Sea makes it an excellent destination for seafood lovers as well.
Friuli wine has made impressive strides over the past few decades, overcoming the destruction suffered in the World Wars to become a reference in Italian white wines. History, it must be said, was on Friuli's side. For centuries, this had been a favorite destination of Austrian nobles, and noble varieties like Chardonnay, Sauvignon Blanc, Riesling, Gewürztraminer, Pinot Blanc, and Pinot Grigio thrived here alongside a diverse array of native grapes. In its modern wine Renaissance, producers drew on the traditions of centuries past even as they embraced new technologies, becoming some of the first to use stainless steel fermentation tanks to produce more elegant white wines.
The DOC Carso, known for dry white and red wines, lies just beyond the borders of Trieste and keeps city restaurants stocked with its blends of Merlot, Cabernet Franc, Cabernet Sauvignon, Terrano, and Refosco dal Peduncolo Rosso; and Chardonnay, Malvasia Istriana, Pinot Grigio, Traminer, Sauvignon Blanc and Vitovska.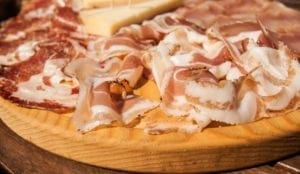 Highlights
A 19th-century construction with beautiful gardens, this is one of the city's most beautiful, most relaxing, and most famous sights. As its name indicates, it overlooks the sea from an excellent perch.

Many writers (such as James Joyce), poets and bohemians have called Trieste home, and there are some magnificent cafes such as Il Caffè Tommaseo, Il Caffè San Marco, and the Caffè Pasticceria Pirona (Joyce was a patron here).

Castle of San Giusto

Home to a medieval weapons museum and an ever-changing variety of exhibits, this grand 15th-century castle (complete with ramparts and bastions) affords terrific sea and city views.

Temple of the Holy Trinity and St. Priridio

A 19th-century Serbian Orthodox church, this splendid construction features five Byzantine cupolas.

Roman Amphitheater

Discovered in the 1930s, this Roman-era amphitheater was built into the rock bed beside the sea during the first century AD.

Caves

Trieste and the surrounding province are riddled with snaking caves, the most famous being the Grotta Gigante, whose largest cavity could fit the entire Basilica of Saint Peter inside it.