The Barolo wine region in Piedmont is an obligatory destination for the wine connoisseur. Like Bordeaux, Burgundy, and Champagne, it lays claim to appellations that ignite passions, fetches impressive prices, and lubricates the cogs of the fine wine trade. The formulae involve calcareous clay soils on the right bank of the River Tanaro in northwest Italy, which, combined with a unique climate and unparalleled expertise, grows Nebbiolo to perfection. In the best years, the results are pure bottled magic: autumnal aromas wrapped around red fruit, leather, spice, wax, and incense. The tannins, often harsh in their youth, melt into velvety elegance. In every sense of the word, Piedmont is Italy's answer to the Cote d'Or.
For hundreds of years, Nebbiolo has been grown in two distinct zones – Barolo and Barbaresco. They retain the joint title of Italy's most venerable and revered wine designation. However, Barolo is the (slightly) more famous of the two; despite the significant advances made by pioneers like Angelo Gaja in Barbaresco, collectors, and sybarites still argue that Barolo referred to as "the King of Wines," makes the better wine. That view is certainly open to debate, yet it is undeniable that Barolo is one of the most significant examples of Nebbiolo. The vineyards are located southwest of the small city of Alba – the appellation boundaries start two miles southwest of Barbaresco, with the Dolcetto vineyards of Diano d'Alba providing a 'buffer zone.' The landscape is utterly gorgeous: the undulating expanse of the Langhe hills is punctuated by two tributaries of the Tanaro River – Talloria dell'Annunziata and the Talloria di Castiglione. These streams split Barolo into three key sub-regions, with a multitude of differences in soil, aspect, and altitude, creating a patchwork of distinct terroirs.
Indeed, Barolo is surely Burgundy's Italian sibling. No other region sparks such debate surrounding the topic of terroir and vineyard expression as Piedmont; the grower and his or her vineyard hold the key to understanding Barolo. This is ultimately more important than individual preferences concerning winemaking styles: tasting twenty or so wines from different 'climats' (vineyard sites) reveals discernible variations in quality, style, aroma, and weight.
Visiting
Cellar Tours organizes exclusive luxury Piedmont Wine Tours, featuring top producers, privately chauffeured, dining in the best local restaurants, and staying in charming countryside hotels.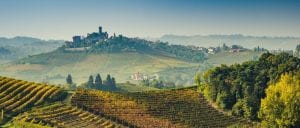 Terroir
Yet Barolo has historically been very reticent about undertaking an official terroir classification. Unlike the Cote d'Or's wines, traditionally, Barolo was always a blend of fruit from different terroirs across the region, bought by merchants whose name came first rather than that of a single site. Before the 21st century, no legally approved list of vineyard names or cru existed in the industry. However, in 2008 a landmark move was taken by the Consortium of Barolo and Barbaresco growers, who began to construct a list of sub-zones and cru – after many years of lobbying from influential figures in the industry. Their recognition of the vineyards and sub-areas was primarily based on the work of renowned winemaker Renato Ratti, who, in 1980, after years of painstaking research, created a map of Barolo crus. This was enshrined in the so-called 'Menzione Act.' Today these often minute differences are of great interest to growers, collectors, and critics, but Barolo has fallen short of creating a hierarchical ranking. A major court case involving the Cannubi vineyard and a decision to enlarge its boundaries is still a painful memory for the region. Terroir classification, it seems, is too controversial.
Nevertheless, there are remarkable differences in the vineyards of Barolo, which now total over 1,700 hectares. They are spread across 11 communes (including the hamlet of Barolo) in the Langhe hills,  which covers endless altitude variations, exposition, and mesoclimates. Barolo is a veritable paradise for any wine enthusiast, determined to uncover the secrets of the soil.
For example, vineyards planted in the circle surrounding La Morra benefit from calcareous soils similar to Barbaresco. This terroir gives some of the best wines in the region, with good color, structure, and always abundant tannins. Yet the western hills of the zone in Barolo and La Morra's areas tend to give less tense, more aromatically expressive wines that require less bottle age. Some of the most famous climats in Barolo include Brunate, Le Rocche, La Serra, and Cannubi; the last cru was the subject of a fierce legal battle some years ago.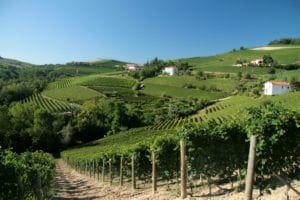 Vineyards of Castiglione
Moving further east, we encounter a very different set of growing conditions. The vineyards of Castiglione  Falleto and Serralunga d'Alba are planted on less fertile soils, often containing a layer of sandstone in the topsoil. This means warmer soils, higher ripeness levels – particularly in hot years – and more concentrated wines. But these differences continue within the sub-zone: the wines of Castiglione and Falleto tend to be softer than those of Serralunga. Equally, the valleys surrounding Barolo and Serralunga are conducive to noticeable differences in wine style.
Meanwhile, Bricco Rocche, with its sandy soils, usually gives perfumed wines with more finesse than the inferior examples of Barolo. Like Pinot Noir, Nebbiolo is adept at transmitting terroir and providing the drinker with a signposted description of its origins. In a sense, there is no such thing as Barolo pure and straightforward, as this is arguably the least homogenous vineyard in Italy.
However, the winemaking and grape variety is strictly controlled – only 100% Nebbiolo can be used, and blending is illegal. The regulations state that wines labeled as Barolo must be aged for at least 38 months' before their commercial release. This includes 18 months in oak and 20 months in bottle. Wines labeled as 'Riservas' are often aged for longer than the minimum period of 62 months.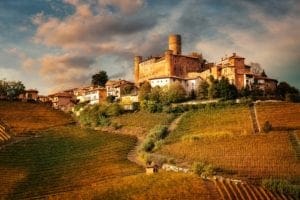 Riserva Barolo
Riserva Barolo is undoubtedly the world's most uncompromising wine, requiring decades of bottle age before those tannins soften, and the ethereal aromas emerge from the glass. In weaker years and from poor growers, the results are merely harsh, tannic, and forgettable. The traditionalists continue to make Barolo in this uncompromising way, confident that their customers have patience and good taste – superior Barolo is always worth the wait. It deserves a special gastronomic pairing: risotto with white truffle, game, venison, and beef fillet are all marriages made in heaven. Traditional Barolo, bursting with tannin, needs an equally powerful counterpart.
But other producers are changing with the times. Modern techniques have found a welcome home in some Barolo cellars, emphasizing temperature-controlled fermentation in stainless steel, aging in new French oak for shorter periods, and picking late into the season. Global warming, however, may discourage that practice from becoming widespread. These wines are equally splendid and can be approached earlier – a definite advantage if you're pitching to Millennial consumers.
The net result is that the Barolo connoisseur has never had it so good. Both styles are united by their tannins' racy cut, refreshing rather than overwhelming the palate, as was sometimes the case twenty years ago. Both methods yield excellent wines – there is no right or wrong way to make Barolo, as long as the terroir is respected. Yet even contemporary approaches rarely create a wine that delivers all its dazzling perfume and magic in the first five years. Diversity in winemaking and terroir is justly celebrated in Barolo, but there is never any rush to drink these wines.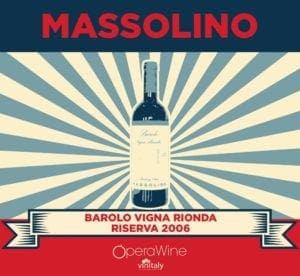 Recommended Wine Producers in Barolo Wine Region