Early this summer, we made an extensive road trip to check out wineries, restaurants, and hotels in Spain's northwestern region of Galicia, nestled just above Portugal on the Atlantic. Galicia is really unique in Spain and about as "un-Spanish" as you could imagine. The climate resembles Ireland or Scotland, the bagpipes are the main instrument used in the regional music, and Celtic dolmens can be found here! The atmosphere is misty and mystical, just wonderful. We highly encourage you to visit this special and fairly undiscovered Spanish region.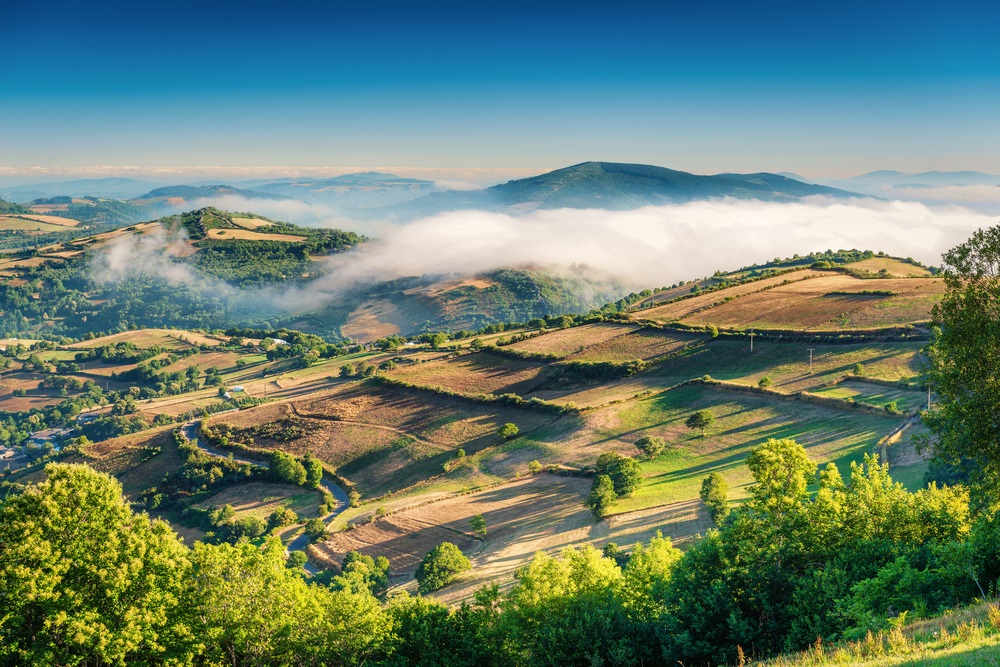 Here are some of our notes from the trip and some of our new suppliers…
We began our tour in gorgeous Santiago de Compostela. I have always loved this charming medieval city with its ancient cathedral that attracts millions of pilgrims each year following the Saint James Way (called the Camino de Santiago). We revisited the striking Parador, located in one of the oldest hotels in the world and where King Ferdinand and Queen Isabel stayed in the 15th century (!!), to do a follow-up inspection. The Hostal dos Reis Catolicos has been used as a Royal hospital (for pilgrims) and an inn since the late 1400s and today is a 5-star hotel. There is a new manager and a fresh breath of new life flowing through this historic hotel, and even though the rooms are a bit dated, there is simply no better place to stay in Santiago de Compostela.
We received the grand tour of the property and were entertained by legends and anecdotes. For example, one of the main event halls is where the ancient hospital's old maternity ward was; one of the bedrooms was used for plague victims; one staircase is called the suicide stairwell…this place is just oozing with atmosphere and history. It is THE place to stay while in Santiago.  On the other hand, we didn't like the location or decor of the other five-star hotel in Santiago, AC Palacio del Carmen, which lacked character. We also loved the Parador Monasterio de Santo Estevo;  it can be used as a base, as we did, for Ribeira Sacra, the most stunning and pristine wine region in Galicia.
STAR WINERIES
We visited many estates in Rias Baixas, Ribeira Sacra, and Ribeiro and tasted an array of Albariño, Loureira, Godello, and Treixadura-based zippy white wines and a few Mencia-based reds (Mencia is the grape used in neighboring Bierzo, one of Spain's most stylish red wine regions). The climate in Galicia's wine country is starkly different from other regions in Spain. Here in Galicia, you are right on the Atlantic. The cool and wet misty climate directly affects viticulture, and most of the vines are on pergolas to avoid the moist earth. Wineries range in size, from large estates like the prestigious Martin Codax to ultra-tiny cellars like the high-end Santiago Ruiz winery.
Here is a pick of some of our favorite estates, wines, and personalities:
PAZO DE SEÑORÁNS, RIAS BAIXAS-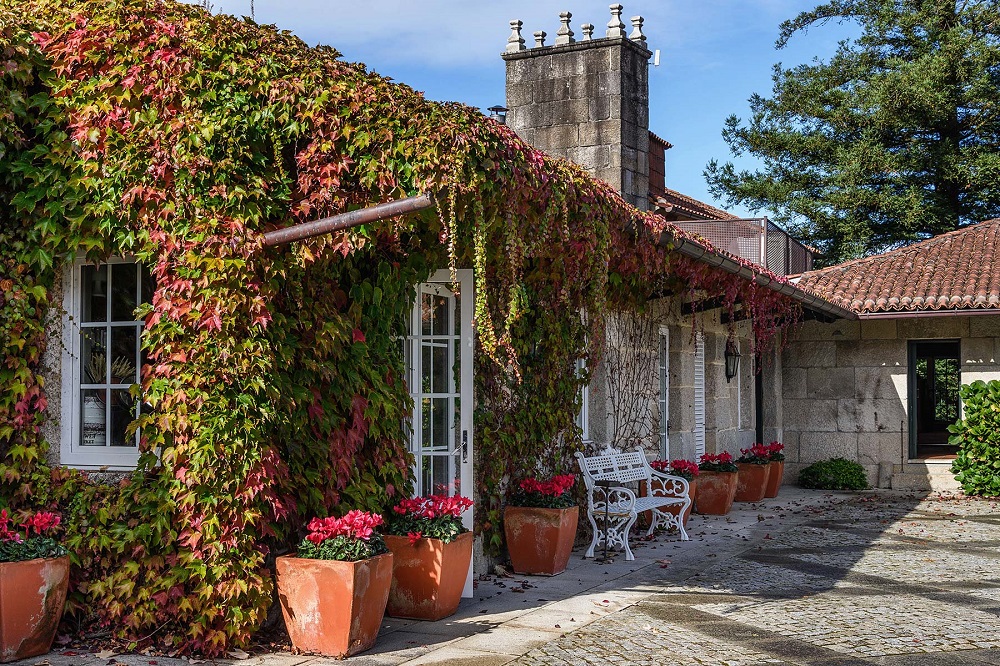 This elegant wine estate known for its Albariños is GORGEOUS. While the winery itself is small, new, and nothing interesting, the estate itself is stunning. Lush trellised vines pan out in all directions, punctuated by manicured flowerbeds flowing over with a pink, purple and blue "Hortensias" (hydrangeas), a beautiful flower so commonly seen around Galicia. The property features a 17th-century Pazo (manor house) and a spectacular Hórreo (a traditional granary you find in Green Spain) as well as a historic chapel (that, up until this year, has still been functioning and many couples have come to be married here at the winery). The owner, Señora Marisol Bueno, is one of the most famous personalities in the Rias Baixas appellation and has long been a pioneering force for quality in the region. Their Selección de Añada (specially selected vintage wine), only made in superb years made with 100% old vine Albariño and uniquely aged on its lees for over 2 years before release, is the best wine we tasted on our research trip and one of the best great white wines of Spain at the moment. Marisol´s friendly and knowledgeable daughter gave us the tour, and this estate is absolutely equipped to welcome our VIP clients.
More info on Pazo de Señoráns
AGRO DE BAZÁN, RIAS BAIXAS-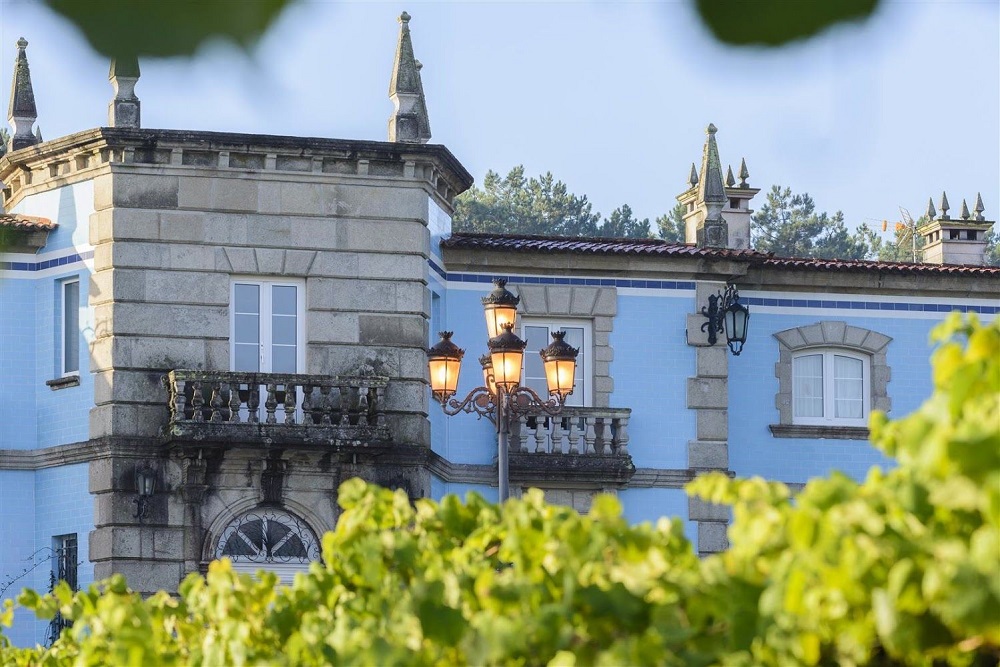 This dynamic and lovely winery (founded in the '80s) is well known for its Granbazán Albariño and their rich dry red wines made in the sister estate Mas de Bazán in the Utiel-Requena appellation in the southeast of Spain. Located in Vilanova de Arousa, the area changes every few minutes from industrial parks to a picture-perfect forest, from pockets of both lovely and built-up coastline. Once you arrive at the estate, however, you forget all about its surroundings. The vineyards are beautiful, and the traditional manor-style house seems somehow funkier with the motorbike parked right out front. Agro de Bazán boasts a young, international, and enthusiastic team making excellent Albariño wines that respect tradition.  Fabulous place and fabulous people, completely professional and ready to welcome you to their estate.
More info on Agro de Bazan
PALACIO DE FEFIŇANES, RIAS BAIXAS-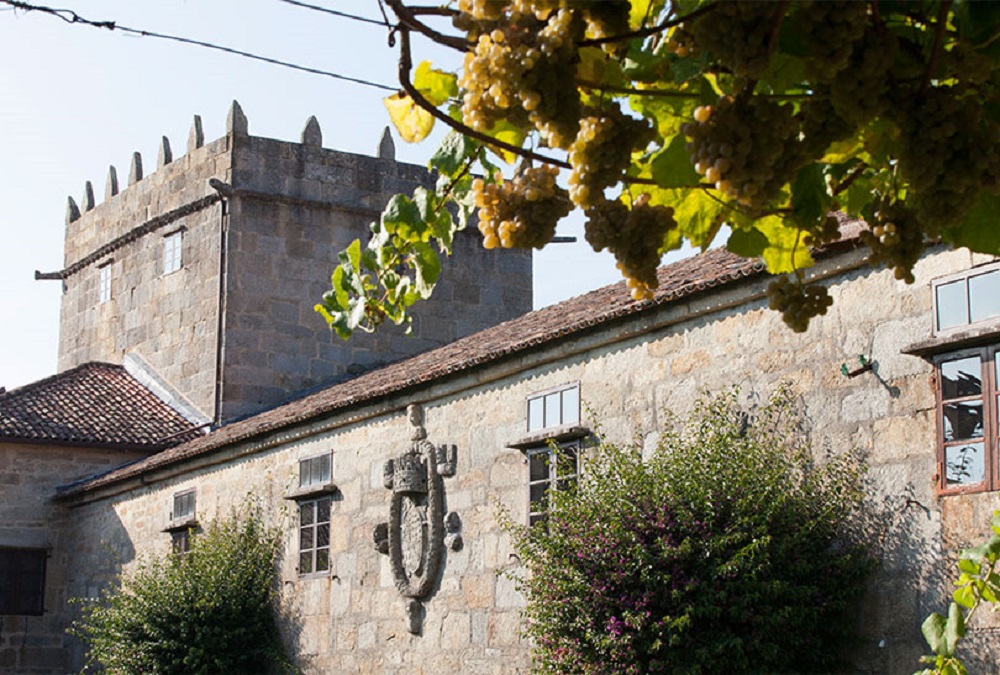 We didn´t actually have a good visit here as the woman who was supposed to receive us did not show up for our appointment, a bad start! But we were soon won over by the wine itself and the beauty of their very own wine castle and tiny, historic cellar. It is located in the prettiest part of the historic town of Cambados (also referred to as the Albariño capital, and a great place to buy wine as there are various wine shops with an extensive selection of local wines you won´t be able to find at home). The square is named after the palace and stands gracefully across the street from the attractive stone church. Palacio de Fefiñanes is the oldest winery (called "Adega" in the Galician language) in the Rias Baixas appellation, founded in 1904. The estate features a 17th-century palace cum castle and a tiny vineyard. They make one wine only, with its own grapes and other grapes bought in from small local viticultors. As the winery flaked on us for our inspection visit, we won't be including them on our tours. Still, we do believe it is worth a visit. If you find yourself in the area, so if you are near Cambados, have your hotel call ahead of time to see if anyone will be able to receive you.
More info on Palacio de Fefiñanes
PAZO CASANOVA, RIBEIRO
What a gem!!!!!!!!!!!! I loved the estate (actually, there are two estates, both with ancient Pazo houses and lush vineyards). We stomped in the vines with the charismatic owner, Carlos de la Peña.
More info on Pazo Casanova
ADEGA ALGUEIRA, RIBEIRA SACRA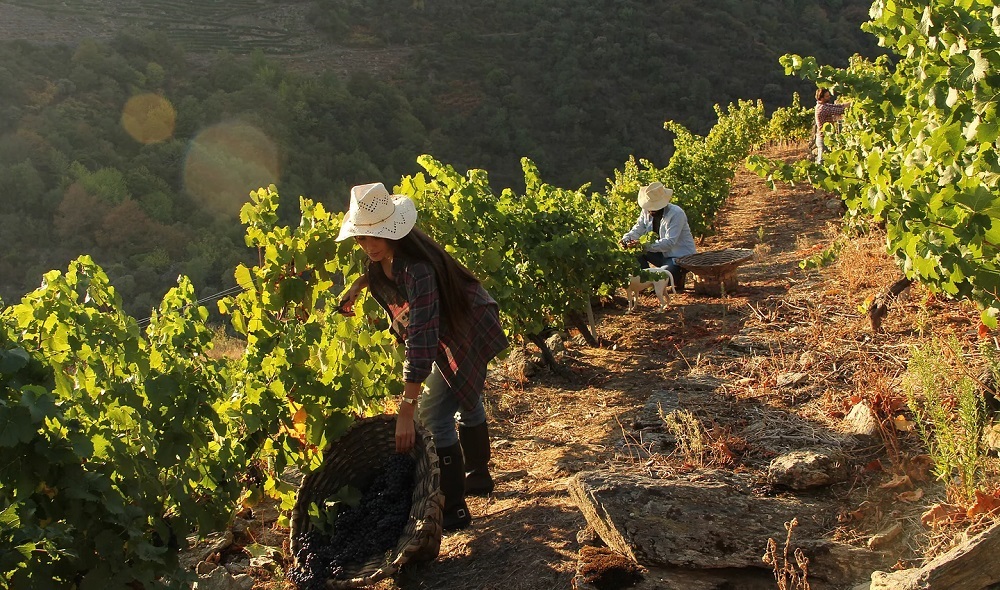 Another darling little spec of a winery with a passionate and charming owner (Fernando González) is Adega Algueira, located in an ancient stone house near the majestic terraced wine valley of the Ribeira Sacra (translated as sacred hillside). While over 15 grape varietals are allowed in the appellation, the main red grape used is Mencia (and important to note that this region, along with Valdeorras, is where Galicia´s red wines are made).  Apart from wine grape production, Ribeira Sacra is also a natural park and home to much wildlife such as Peregrine Falcons, Golden Eagles, wild boar, and badgers. So, how surprised were we to find out that this tiny winery, in a practically unknown hidden corner of Galicia, got 95 Parker points this year for their aged Mencia?!! We tasted Fernando´s wines at lunch on his rustic terrace overlooking the grounds, sublime! Again- amazing people, amazing wines, true and bonified wine discovery gem. Fernando and his wife offer lovely ideas for wine harvest experiences on the dizzyingly steep and beautiful vineyard terraces overlooking the Rio Miño and Rio Sil. We will be creating some excellent trips here.
 More info on Adega Algueira
BEST OF WHAT WE SAW:  the Parador Santo Estevo;  Santiago de Compostela, with its romantic ambiance in the quaint old town at night and many excellent restaurants like the Michelin starred Toñi Vicente and the whimsical Casa Marcelo; the above-mentioned wines and estates; the Northeastern Galician coast (unspoiled and dramatic).
WHAT TO AVOID: Virtually the entire coast south of Santiago de Compostela, barring some lovely coves and the picturesque town of Baiona, is given over to mass development and sloppy building. The cities of Pontevedra and Ourense were not nice; you can definitely skip them. Southern Galicia, in general, is quite densely populated. The regions of Ribeiro (especially Pazo Casanova!!) and Rias Baixas are definitely worth touring. Still, they don't expect a pristine wine country as there is a bit of industry and half-built houses (the building boom has gone bust). On the other hand, Ribeira Sacra is in a protected park and is ABSOLUTELY breathtaking, resembling Portugal´s Douro Valley.
Related Blog Posts: