Catalonia lies in the northeastern corner of Spain hugging the Pyrenees and bordered by the Mediterranean Sea. This historic autonomous community, known as Cataluña in Spanish and Catalunya in Catalan, is one of Spain's most prosperous regions. Each year, millions of travelers flock to Catalonia annually to experience Catalan culture, dynamic cuisine, and unique customs. Barcelona is the region's most sought-after city. Visitors can wander the lively Las Ramblas, admire Antonio Gaudí's innovative architecture, revel in great works of art from masters like Salvador Dalí, or get swept up in bustling nightlife. Alternatively, visitors can soak up the Mediterranean sun on the Costa Brava stretching from Barcelona to the French border. Or head inland to adventure through mountains and national parks. Catalonia also has plenty in store for food and wine lovers. Catalan cuisine is diverse enough to keep the most curious gourmet satisfied. While Cava from Penedès, complex reds from Priorat, and gems from lesser-known regions captivate the palates of wine travelers worldwide.
Read more about Spanish Cuisine
You can explore this region of Spain with Cellar Tours on a private Luxury Food and Wine Vacation, dine in the best local restaurants, and enjoy VIP tastings in the top bodegas.
Catalan Cuisine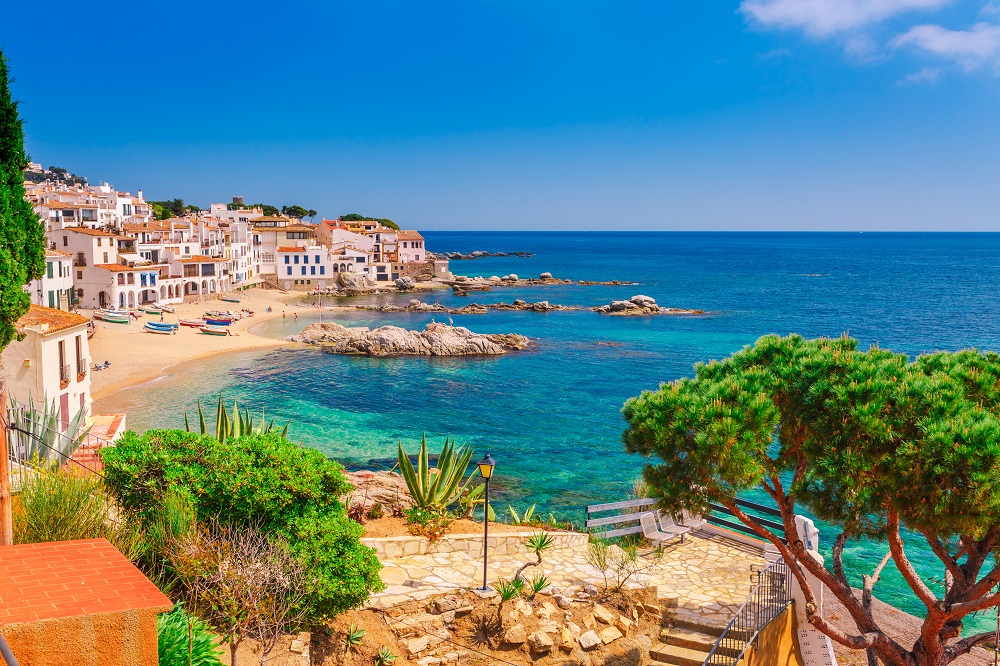 The Greeks, Romans, Italians, and the French have left their mark on Catalan cuisine over the centuries. Though overall, Catalan food falls under the umbrella of Mediterranean cuisine. Olive oil is quintessential to the Catalan kitchen and other Mediterranean ingredients like garlic, onions, tomatoes, fresh herbs, and cod. Rice, olives, legumes, nuts, seasonal vegetables, and a combination of both meat and seafood are consumed regularly. In addition to other land-based ingredients, such as snails and various wild mushrooms called bolets.
Catalan cuisine varies by province, too. So, expect to encounter different dishes depending on where you plan to travel. Seafood abounds in Costa Brava near the Mediterranean Sea. Plan on savoring sea urchins, rockfish, an array of seafood stews, and more. Heading inland from Costa Brava into Girona, Catalan cuisine offers one-of-a-kind dishes featuring land and seafood combinations like 'pollastre amb escamarlans' or chicken with crayfish. The province of Lleida, located amidst the Pyrenees, has mountain cuisine, and this is where Catalans go to forage wild mushrooms every autumn.
In Tarragona, along the coast, seafood proliferates the cuisine. The climate and terrain of the Ebro Delta support an abundance of local produce like Avellana de Reus DOP hazelnuts, Clementines de les Terres de l'Ebre, and the Calçot de Valls. The latter of which has become an emblematic dish of Catalan cuisine. Each region embraces its recipes and local ingredients. Yet all can be savored in the Catalan capital of Barcelona. Different styles of Catalan cooking meet in the bustling city, and many can be found at La Boquería, one of Europe's most impressive markets dating back to medieval times. With such a treasure trove of ingredients, it's easy to see why internationally renowned chefs like Ferran Adrià, Carme Ruscalleda, and the Roca brothers all hail from Catalonia.
Catalan Olive Oil
Spain produces over half of the world's olive oil. Second, to Andalucía, Catalonia is one of the leading Spanish regions for olive oil production. The region has the ideal combination of steep hills to protect the olive trees from damaging winds and sun with Mediterranean Sea breezes to temper scorching heat. Catalan olive oils have a smooth texture and subtle mineral character with sweet fruity flavors and notes of almonds or apples; they are mainly made with the arbequina variety of olive. Catalonia has five Denominations of Origin for its extra virgin olive oil: Siurana, Les Garrigues, Terra Alta, Baix Ebre-Montsià, and Empordà. Olives and olive oil have been an integral part of Catalan culture for millennia. There are roughly 100 olive oil producers and 40 olive oil mills in Catalonia. Read more about Spanish Olive Oil
Rice from the Ebro Delta
Rice is a staple ingredient in Catalan cuisine. Most of the regional rice production occurs in the Ebro within Tarragona. This major crop claims 22,000 hectares of the Catalan landscape. It is produced under the Arròs del Delta de l'Ebre Protected Designation of Origin. Established in 1992, the DOP incorporates six different rice varieties grown in seven different zones. Ebro Delta rice is recognized for its exceptional quality worldwide and has a semi-long round grain. There's a rice harvesting festival held annually in October for travelers curious to see the artisanal methods used to pick grains.
The Famous Wines of Catalonia
Catalonia is an exceptional place to discover what the Spanish wine industry offers. There are 11 Denominations of Origin as a testament to the sheer diversity of wine available here. First, nearly all Spanish Cava is made in Catalunya, and most of that production is concentrated in D.O. Penedès. This large D.O. stretches southwest from the coast and into the hills. Penedès cultivates a plethora of grapes with a hot coastal plain, slightly cooler inner valleys, and vineyards further inland at 800 meters above sea level. Xarel-lo, Macabeo, and Parellada are widely planted, as these are the essential grapes for Cava production. Additionally, there are Chardonnay, Riesling, Sauvignon Blanc, Merlot, Cabernet Sauvignon, Tempranillo, and other indigenous varieties.
Secondly, the Priorat region lies inland from the city of Tarragona. And in recent years, the region's wines have risen to critical acclaim. Priorat's climate is hot, dry, and arid with low annual rainfall, ideal for old Garnacha and Cariñena (Carignan) vines. These two red grape varieties account for most of the blend for red Priorat wines; however, some international varieties like Cabernet Sauvignon are occasionally included. Priorat produces deeply colored red wines with high tannins, high alcohol, and intense, concentrated black fruit flavors with toasty aromas from oak aging.
Lesser-Known Catalan Wines
Additionally, the D.O. Catalunya covers still wines for the entire region. Plus, the following are some of Catalonia's lesser-known D.O.'s waiting to be discovered:
Must-Try Catalan Cheeses
Where there are great wines, there's bound to be fantastic cheese. As with other Mediterranean countries, Spain has a ton of mouthwatering cheeses to savor. Here are the top cheeses to try while in Catalonia.
Tupi – is a fermented cheese made in the Pyrenees from sheep, goat, or cow's milk and an aniseed liquor. Tupi has a spicy, tangy, pungent flavor traditionally made in clay pots.
Mato de Montserrat  – is a fresh cheese eaten when it's only a few days old and typically for dessert with honey or jam.
Tou del Tillers – is a raw cow's milk cheese from the Province of Lleida with a Brie-like consistency.
Costa Negra – is a raw cow's milk cheese with a soft texture and covered in ash, giving it a black rind.
Drap Cheese – with a creamy, sweet flavor, this raw cow's milk cheese is made in a fresh style with no rind and a more tender version with a yellow rind.
Alt Urgell-Cerdanya  – the first Catalan cheese to receive a D.O. designation; the cheese is made from pasteurized cow's milk and ripened for 45 days, resulting in a semi-soft, creamy texture and grassy, nutty flavors.
Sarró de Cabra – is a traditional goat's milk Spanish cheese wrapped in a napkin to take its shape; known for its buttery texture and intense, tangy flavors.
Catalan Sausages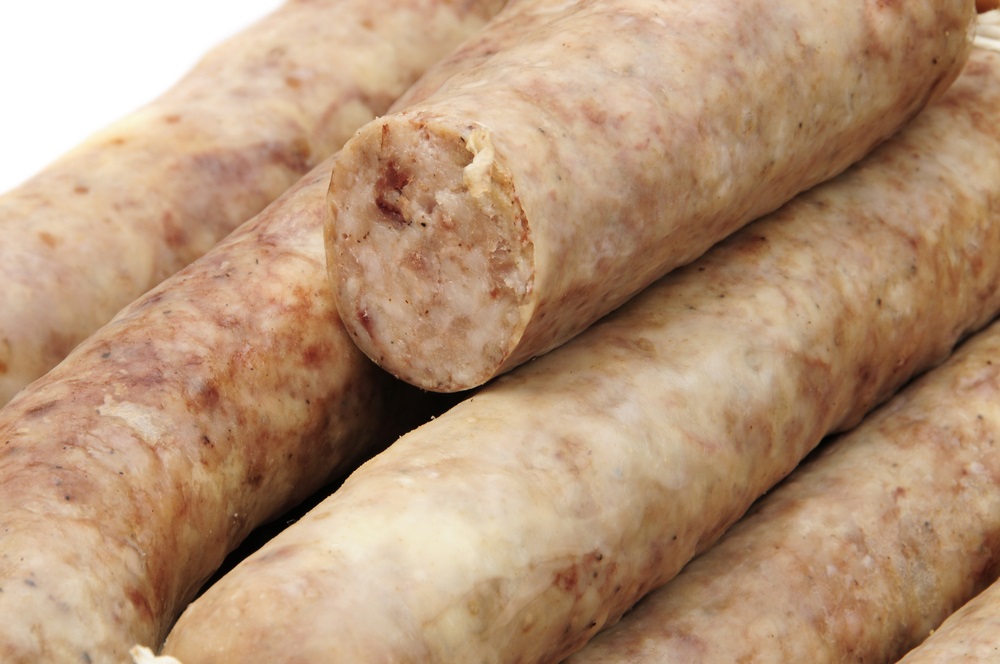 Catalan white sausage, Botifarra Blanca
While other parts of Spain are known for jamón, the Catalans are master sausage makers. In Catalonia, cured, dried sausages are called embotit. There are several recipes and variations to choose from; however, fuet, llonganisa, and botifarra are three of the most admired. First, the fuet sausage is made from minced pork meat and fat seasoned with salt, pepper, and other spices. Next, the mixture gets stuffed into a thin pork casing to make the thin salami-style sausage 40mm in diameter.
Next, llonganisa sausage, also known as Vic Longaniza or Llonganissa de Vic, comes from the Vic plain in Catalonia. The sausage is made with lean pork meat mixed and diced bacon plus seasoned with salt and pepper. Once stuffed into its casing, longaniza must be left to dry for a minimum of 45 days.
Lastly, botifarra blanca is a pork sausage made mostly with lean meat and just a bit of fat seasoned with salt and pepper. The meat is boiled first, seasoned, and stuffed into natural intestine casings. Once the sausages are made, they are slowly poached in hot water. Additionally, there are other variations of botifarra, including botifarra negra made with fresh pig's blood and botifarra d'ou made with the addition of egg.
Top Sauces in Catalan Cuisine
Salsa Aioli
There are a handful of sauces packing a flavorful punch in Catalan cuisine. First, there's the Catalan oil and garlic sauce called salsa aioli. It's traditionally made by pounding garlic into a paste using a mortar and pestle. A little salt is added, then olive is slowly stirred in drop by drop until the sauce becomes thick and dense. Aioli tops a variety of fish, vegetable, and potato dishes.
Romesco sauce
Next, romesco sauce originated in Tarragona. This Catalan sauce is made by roasting garlic and tomatoes. They are then blended with blanched romesco peppers, dry toasted bread, almonds or hazelnuts, oil, vinegar, salt, and sugar. Romesco sauce is eaten with grilled calçots in Tarragona and is also a key ingredient in a seafood dish called romesco de peix or cassola de romesco.
Tapas in Barcelona
Tapas are an integral part of Spanish culture. As a result, there are plenty of stories about their origin. Although each region has its own spin on this culinary tradition, Barcelona is a hot spot for tapas bar hopping. And you will find many of the traditional Spanish tapas, including patatas bravas, jamon, croquetas, etc., in the local bars. Below are popular local tapas you will likely encounter while dining in the bustling city.
Pà amb tomàquet (pan con tomat) – a Catalan creation of toasted sliced bread rubbed with tomatoes, drizzled with olive oil, and sprinkled with salt.
Anchoas – salty anchovies from the Mediterranean coast north of Barcelona or the Cantabrian coast.
Buñuelos de bacalao – deep fried cod fritters also called bunyols in Catalan
Esqueixada – is a traditional Catalan salad made with cod, onions, tomatoes, black olives, red peppers, and sometimes boiled egg or anchovies.
La bomba – is a fried potato croquette filled with ground beef and topped with aioli and bravas sauce.
Cargols – snails cooked in a spicy tomato sauce.
Catalan Vegetable Dishes

Calçots onions cooking on a fire made with vine cuttings
Calçots
Calçots are green onions with a milder flavor than regular onions. They've become synonymous with the province of Tarragona. The name comes from the unique cultivation method developed by a farmer in Valls during the late 1800s. It involves covering the calçots with the earth, so the edible part of the onion doesn't turn green and remains very tender. Customarily, the calçots are cooked on the grill over an open fire until the outer layers turn black. They are then gathered in groups of 20-25 onions and wrapped in newspaper to finish cooking in their own heat. Calçots are served with romesco sauce for a simple yet flavor-packed dish. They are so popular that their gastronomic festivals known as calçotadas have spread beyond the borders of Catalonia. A crisp glass of Cava is the ideal palate refresher alongside the mild, delicately sweet grilled onions and bold, zippy salsa romesco.
Samfaina Catalana & Escalivada
Samfaina is reminiscent of the French vegetable dish called ratatouille. It's typically made by sautéing vegetables like eggplant, zucchini, red and green peppers, onion, and occasionally garlic or tomatoes with olive oil. Samfaina can be served as a side dish with meat or fish, as a sauce for rice or pasta, or atop the Catalan-style pizza called coca de samfaina. Enjoy this Catalan vegetable dish with an energetic rosé from D.O. Empordá. Made from Garnacha, Cariñena, and Lledoner grapes, these fruity, full-flavored rosés will beautifully complement the fresh Mediterranean vegetable flavors.
Otherwise, another popular vegetable dish in Catalan cuisine is usually served as an appetizer or alongside meat or fish. For example, Escalivada features eggplant, bell peppers, and sometimes onions or tomatoes grilled over hot embers. They're peeled, seeded, and seasoned with olive oil and salt. In the past, the vegetables were cooked directly in hot embers. Consequently, the name for the dish comes from the Catalan verb escalivar, which means to cook in ashes.
Xató Salad
Xató salad consists of endive leaves, anchovies, salt cod, tuna, and Arbequina olives. The salad is dressed with xató sauce, traditionally made using a mortar and pestle. Breadcrumbs, garlic, hazelnuts, almonds, vinegar, dried nyora peppers, olive oil, and salt are ground together, resulting in a delicious, savory dressing. Pair xató salad with a light-bodied, aromatic white blend from D.O. Alella, whose elegant character complements this salty, seafood-laden salad.
Rice and Noodle Catalan Cuisine Specialties

Fideuá, seafood paella
Paella Catalana & Other Rice Dishes
Paella Catalana is a representative dish of Catalan cuisine in which land meets sea. The plate is an amalgamation of flavors with saffron-seasoned rice, chicken, longaniza sausage, and crayfish; artichokes or peas might be added depending on the season. Other variations of paella featuring only seafood or only land-based meats are also common in Barcelona.
Catalan cuisine has a couple of other rice dishes worth seeking out. Arròs parellada is especially well known in Barcelona. The rice is cooked with a plethora of ingredients, such as chicken, pork sausage, mussels, prawns, squid, cuttlefish, peas, tomatoes, bell peppers, onion, water, fish broth, and seasonings. Whereas arròs negre, most common in Tarragona, is prepared with squid or cuttlefish, onion, garlic, stock, and black cuttlefish ink.
Pair your rice dish of choice with wines from D.O. Pla de Bages, choosing a white or rosé for seafood-based dishes and reds for those incorporating meats. The crisp minerality and aromatic nature of these wines drawn from the wild herbs and plants near the vineyards are an excellent match for the complex flavors of these dishes.
read more about Paella and Wine Paring
Fideuá
Fideuá resembles a Spanish seafood paella. However, instead of rice, the dish is made with a short pasta called fideo. Initially, the pasta is fried, then cooked in a saffron seafood broth, and an assortment of fish and shellfish. Like paella, fideuà is made in a shallow, large iron pan allowing the bottom to crisp up. Lemon, parsley, and aioli may garnish this Catalan dish. Savor a D.O. Monstant rosé made from Grenache and Syrah with fideuá. These rosés are light-bodied and bursting with fruity flavors for a refreshing contrast to the saffron and an excellent match for the tender seafood.
Must-Try Seafood Dishes
Romesco de Peix
In Tarragona, where romesco was created, you'll find a delectable seafood stew called romesco de peix or cassola de peix amb romesco. Salsa romesco provides the stew's flavorful base, consisting of monkfish, prawns, clams, and potatoes. Rely on the philosophy that what grows together goes together and pair romesco de peix with a white wine from D.O. Tarragona. These wines have a Mediterranean character with fresh aromas and a smooth, balanced palate to complement the dish.
Llagosta a l'Ampurdán
Llagosta a l'Ampurdán is a lobster dish from Empordà in Catalonia, combining flavors of land and sea. The dish consists of spiny lobster cooked with snails in a rich nut sauce. A mortar and pestle are used to create the sauce with blanched almonds, hazelnuts, garlic, saffron, parsley, fried bread, and seasonings. Then, the lobster is cooked with onions and chiles. Finally, the snails are stewed in the nut sauce, and all the components are combined before serving with fried bread. This luxurious lobster dish in Catalan cuisine calls for an aged Cava full of complexities and texture from lees aging to match the decadent lobster.
Suquet de Peix
Suquet de peix is a memorable Catalan stew made with potatoes, saffron, white wine, paprika, and the day's fresh seafood catch. The stew gets even more flavor from a picada sauce prepared using a mortar and pestle. Roasted almonds or hazelnuts, garlic, chili powder, and fried bread are ground together to make the picada that tops the stew—pair suquet de peix with an aromatic Sauvignon Blanc or Riesling from Penedés. High-acid, aromatic white wines like these will make the flavors of this seafood stew pop.
Meat Dishes in Catalan Cuisine

Fricandó, a veal dish
Pollastre amb Escamarlans
Yet another example in Catalan cuisine combining ingredients from land and sea, pollastre amb escamarlans, marries prawns and chicken. Alternatively, it can also be made with clams, lobster, or rabbit. Pollastre amb escamarlans is flavored with a sauce of ground almonds, biscuits, parsley, garlic, and brandy. First, the chicken is browned, and the prawns are cooked separately. Next, a simple sauce of sautéed onions and grated tomatoes is prepared. Then, the chicken is added along with a splash of brandy, which takes to flame. Next, water or chicken broth are added along with a bit of flour, and everything simmers together to create a stew-like consistency. The sauce and prawns join towards the end, and occasionally a pinch of dark chocolate is thrown into the mix. A fruit-forward Grenache with velvety tannins and a touch of spice makes a delightful match for pollastre amb escamarlans.
Fricandó
Fricandó, also known as fricandó amb moixerons, is a veal recipe with many variations. The original recipe from the 18th century includes small, flattened slices of veal cooked with onions, carrots, tomatoes, and moixernons mushrooms. A sauce made from these vegetables coats the meat, and a picada of parsley, garlic, and biscuits top the fricandó. An aged Priorat whose robust tannins have mellowed and dark fruit notes have turned to tertiary flavors is the ideal wine pairing for fricandó.
Escudella i Carn D'Olla
A traditional Christmas dish in Catalan cuisine, escudella i carn d'olla, is made with many comforting ingredients. It's a heartwarming soup or stew starring a giant 'pilota' meatball of ground pork seasoned with garlic and parsley. In addition, escudella i carn d'olla includes chicken, veal shank, ham, botifarra negra and blanca sausages, and chorizo. Plus, wintery vegetables like parsnips, cabbage, carrots, potatoes, celery, and garbanzo beans. The water from these hearty ingredients is then used to cook a shell-shaped pasta called galets. A robust dish like this can be paired with a refreshing palate cleanser like Cava or a bolder red wine like those from Priorat.
Desserts in Catalan Cuisine

Crema Catalan dessert, similar to Crème Brûlée
Crema Catalana
One of the most well-known Catalan desserts, crema catalana, is like French crème brûlée but with a Spanish twist. The baked custard dessert is made with milk, cornstarch, and egg mixture, which can be flavored with cinnamon or lemon zest. After the custard is baked and has cooled, sugar is sprinkled on top and then burnt with a torch or under a broiler to form a crispy, caramel top layer.
Panellets
Panellets are a sweet treat traditionally made on All Saints Day and often served with a glass of Cava or Moscatel. They are prepared with cooked sweet potato purée mixed with a sugar syrup, ground almonds, and egg yolks. This dough is rolled into small balls, which are, in turn, rolled in egg white and pine nuts.
Xuixo
Finally, xuixo is a famous pastry from Girona made in a gorgeous cylindrical shape. The pastry is fried, covered in sugar, and filled with luxurious crema catalana. Legend has it that an adored acrobat named Tarlà fell in love with the daughter of the local pastry chef. In the famous story, the girl's father discovers his daughter's hidden lover in his bakery when flour causes Tarlà to sneeze. His sneeze sounded like "Xui!" hence the pastry's name.
---
About Nicole Dickerson
WSET-certified international wine writer with a passion for rare varieties and cellar hand experience in both hemispheres. Join me in the vineyards and cellars of the wine world at palmandvine.com.