Basque Country is the ultimate destination for foodies and hungry travelers. The region lies in northern Spain, bordered by the western Pyrenees Mountains on the French frontier. While the southernmost piece of the Bay of Biscay, known as the Cantabrian Sea, hugs the coast of Basque Country. Here you'll find the coastal city of San Sebastian, one of the world's most famous culinary hotspots and home to 11 Michelin starred restaurants. The region's geographic features and natural bounty from mountains to sea shape Basque cuisine.
Three provinces make up Basque Country, and each has its distinctive culinary customs. Vizcaya is bordered by 80km of coastline along the Cantabrian sea. Consequently, fresh fish and seafood are staples in local dishes. The Basque people are avid fishermen, and a variety of fish make their way into Basque kitchens, including hake, bonito, sea bream, spider crab, and cuttlefish. The world's best anchovies supposedly come from the Bay of Biscay, and salt cod, called bacalao locally, is also prominent in Basque cuisine. Once used to stave off famine on the mainland, salt cod today is essential to several classic Basque recipes like cod omelets, cod with pil-pil sauce, cod-stuffed Gernika peppers, and more.
Next, Álava is the southernmost Basque province. Full of mountain ranges and valleys, Álava is a landlocked region with a cool climate. Basque cuisine here emphasizes beef, veal, and small game, such as pigeon or turtledove. Plus, produce like potatoes, beans, and flavorful mushrooms called perretxikos.
Finally, Guipúzcoa is Basque Country's northernmost province bordering France, the Pyrenees, and the Atlantic coast. Specialties here include baby eels (angulas), spring onions, broad beans, and Basque-style stuffed spider crab called txangurro.
Read more about Spanish Cuisine
You can explore this region of Spain with Cellar Tours on a private Luxury Food and Wine Vacation, dine in the best local restaurants, and enjoy VIP tastings in the top bodegas.
Basque Cuisine Guide

Noteworthy Culinary Traditions of Basque Country
Txokos
Food is such an integral part of Basque culture, one of Europe's oldest civilizations, that certain food-centric traditions have evolved over the years. For example, gastronomic societies known as txokos are prevalent throughout Basque Country. The first txoko was established in 1843 in the culinary paradise of San Sebastian. These male-only clubs allow members to cook meals together, eat, drink, and socialize. The txokos have a kitchen, dining room, and everything necessary for creating a memorable dining experience. These culinary societies have also opened to women and visitors in recent years.
Pintxos
In Basque Country, tapas are known as pintxos, and hopping from bar to bar to sample the impressive variety on offer is essential. The old quarter in San Sebastian is full of Pintxos bars to practice this very Basque pastime. Traditionally, these bite-sized dishes were served on bread and held together by a toothpick. Hence the name pintxos or pinchos in Spanish from the verb pinchar meaning to pinch. Pintxos options are endless, and bars like to compete for who has the best fare. Here are a few must-try pintxos to watch for. Just be sure to wash them down with a glass of Txakoli, Rioja, or local cider.
La Gilda – an anchovy, olive, and spicy guindilla pepper skewered on a toothpick for an explosion of flavor.
Tortilla – a Spanish omelet usually made with potatoes and eggs; Basque Country also has the tortilla de morcilla made with black pudding and the tortilla de bacalao made with salted cod
Anchovies – are fried, grilled, cured, or pickled and paired with a variety of sauces or blueberry marmalade.
Gambas – shrimp, often grilled or fried, served on a slice of bread with a drizzle of olive oil and salt.
Idiazábal cheese – is a Basque cheese made with the milk of the Latxa and Carranzana sheep known for its nutty, buttery, and smokey flavors. It's often served on bread with quince and walnuts, in croquettes, and a whole host of other dishes.
What to Drink in Basque Country
Txakoli
Txakoli is a refreshing, gently sparkling white wine produced in the Getariako, Bizkaiko, and Alava wine regions. Made from the Hondarrabi Zuri variety, Txakoli wines have high acidity, ideal for pairing with various foods. With bright aromas of citrus and orchard fruits, these wines are low in alcohol, making them the perfect sipper for a pintxos crawl. We recommend you look out for Itsasmendi or Talai Berri txakoli wine
Rioja
Rioja Alavesa, a sub-region of the Rioja appellation, lies within the Basque province of Álava. Accordingly, Rioja wines are widely enjoyed in Basque Country. Rioja reds are dominated by Tempranillo with a blend of Graciano, Garnacha, or Mazuelo grapes. These wines have concentrated fruit flavors with bright acidity and exceptional aging potential.
Cider
Cider made from local apples is another widespread drink in Basque Country. Local cider bars (sideria) are an ideal place for savoring a glass where visitors can frequently serve themselves directly from casks known as kupelas.
Sauces of Basque Cuisine
Many of Basque cuisine's most famous sauces were created for salted cod, although today, they're used with other types of seafood in numerous recipes.
Pil Pil Sauce
Pil pil sauce was developed for a dish called bacalao al pil pil. The simple sauce is prepared with salt cod, olive oil, garlic, and dried guindilla peppers. As the cod cooks in the oil flavored with the garlic and chili peppers, the fish releases gelatin which helps emulsify the creamy sauce. Bacalao al pil pil is one of the most emblematic dishes of Basque cuisine.
Biscay Sauce a.k.a. Vizcaina Sauce
Biscay sauce is made with red onions, garlic, choricero peppers, olive oil, and stock. Once sautéed together, the ingredients are added with the stock and blended to reach a sauce-like consistency. Biscay sauce was traditionally served over salt cod but is also delicious poured over crispy potatoes, pork shanks, or other grilled meats.
Salsa Verde
Basque green sauce is a simple yet flavorful preparation of olive oil, garlic, fish stock, and loads of fresh chopped parsley. The salsa verde is regularly served with hake, fresh clams, or a combination of the two. In the case of hake with salsa verde, the fish is lightly coated in flour before being griddle or pan-cooked, then covered in the savory sauce.
Seafood Dishes in Basque Country

Tuna and potato stew, Marmitako
Marmitako
Marmitako is a seafood stew centered around fresh tuna and potatoes. The dish's name is from the Basque word marmita, which means pot or casserole. Marmitako is cooked in a pot with other ingredients like tomatoes, chili, onions, parsley, and bell pepper. A crisp glass of Txakoli or a fruity, high acid Garnacha rosé are outstanding wine pairings for marmitako.
Ttoro
More of a catchall seafood stew commonly savored in coastal towns, ttoro is a true fisherman's soup with many variations depending on what's fresh. The stew usually includes white fish like hake, monkfish, or cod. Plus, other seafood, such as mussels, shrimp, baby octopus, langoustines, or clams. It's flavored with various fresh herbs, onions, leeks, carrots, celery, and bell pepper. The fresh seafood in ttoro calls for a vibrant, lively white wine like Albariño from Rías Baixas, whose sea spritz and zesty flavors complement the aromatics and seafood in the dish.
Txangurro
Txangurro is a Christmas seafood specialty in Basque cuisine featuring spider crabs from the Bay of Biscay. The dish is typical of Bilbao and San Sebastian, where it's found in pintxos bars year-round. Txangurro sees the crab meat baked in its shell with a mixture of leeks, onions, tomatoes, breadcrumbs, and butter. A white Rioja made predominantly from the Viura grape is an excellent pairing for txangurro. The wine's lemon, lime, melon, and tarragon aromas with a hazelnut-laden finish beautifully match the luscious baked crab.
Other Basque Seafood Specialties
Angulas a la Bilbaína – baby eels with a delicate, tender texture usually prepared in oil, garlic, and hot peppers; known as the caviar of Northern Spain for their high price tag.
Zurrukutuna – is a Basque Country bread soup made with salted cod, onions, garlic, olive oil, paprika, and salt.
Kokotxas – fish heads of hake or cod sautéed with garlic, olive oil, white wine, flour, and parsley.
Bacalao ajoarriero – salted cod traditionally cooked in a clay pot over a fire with chopped tomatoes, garlic, onions, bell peppers, chili peppers, and potatoes.
Tigres – mussels stuffed with onions and flour, then cooked in wine.
Chipirones en su tinta – seared and poached baby squids in a squid ink tinted purée
Basque Meat Dishes

Basque Ribeye, villagodio 
Villagodio: The Dish for Meat Lovers
Carnivorous travelers should order a villagodio while in Basque Country. It's a local cut of rib steak that comes from the primal rib of a cow. The cut must weigh between 1-1.5 kilos and be 5-6cm thick. Skilled Basque chefs cook this impressive piece of meat on hot grills seasoned simply with salt. Pair a villagodio with a robust Reserva or Gran Reserva Rioja with the tannins and bold fruit flavors to stack up to the meat.
Vegetable Dishes in Basque Cuisine
Vegetable lovers can look to the pimiento de Gernika, which grows in the northern part of Basque Country. They're typically lightly charred, drizzled with olive oil, and sprinkled with salt before serving. However, you'll also find them stuffed with goat cheese and fried.
Additionally, Basque cuisine highlights dishes made with Tolosa beans, a variety of red kidney beans that are dark purple or black. Tolosa beans are best enjoyed during the cooler autumn months, frequently appearing in heartwarming stews with different cuts of meat. For example, piperade is a traditional Basque stew made with tomatoes, onion, bell peppers, Espelette peppers, garlic, and ham. Finally, porrusalda is a Basque soup made with leeks, carrots, and potatoes flavored with garlic, salt, or salt cod.
Desserts in Basque Country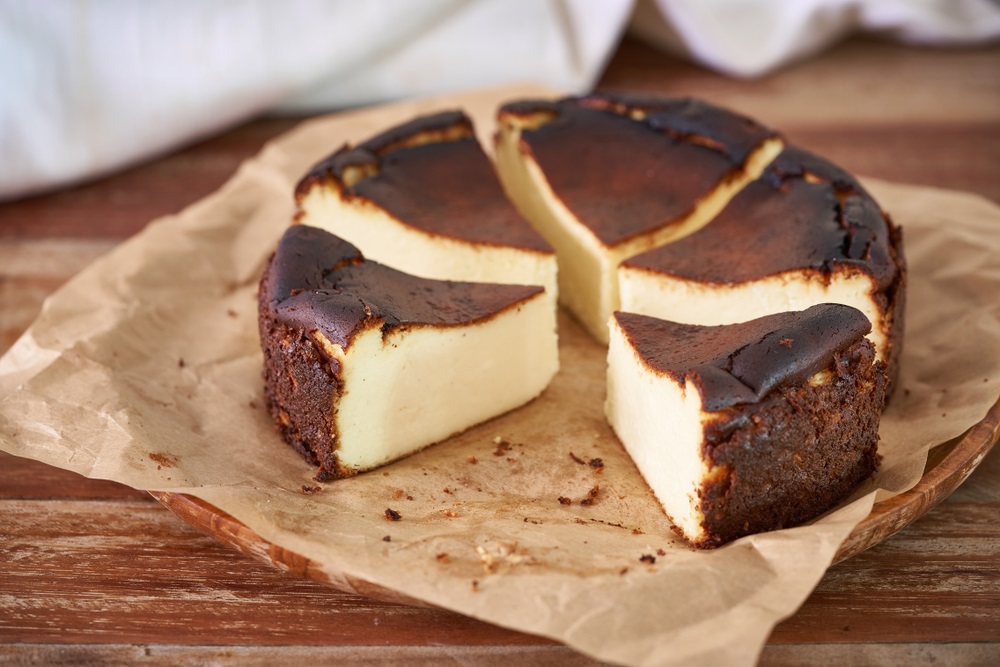 Burnt Cheesecake
Many Basque desserts are milk-based due to the extensive agricultural customs of the mountainous region. Here is Cellar Tours selection of must-try delicious postres.
Basque cheesecake
The cake is also known as a tarta de queso or gazta tarta. The cheesecake is made with sugar, heavy cream, cream cheese, and eggs; the Basque version doesn't have a crust. As a result, the cheesecake becomes caramelized on the outside while remaining soft and creamy at the center.
Other Basque desserts to try
Mamía – one of the oldest desserts in Basque Country; curdled sheep's milk with sugar, cinnamon, and honey
Pantxineta – custard-filled, fried puff pastry
Intxaursaltsa – walnut cream made with milk, sugar, cinnamon, and walnuts traditionally served on Christmas Eve
---
About Nicole Dickerson
WSET certified international wine writer with a passion for rare varieties and cellar hand experience in both hemispheres. Join me in the vineyards and cellars of the wine world at palmandvine.com.